Vivo's newest phone 'Apex' features an in-display fingerprint scanner along with a pop-up selfie camera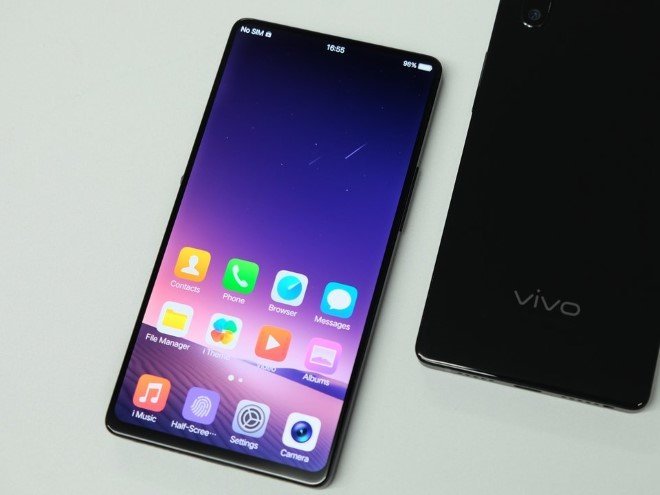 Isn't it quite difficult to predict the future of smartphones now since we've already witnessed the greatest transformations? From a simple keypad phone with a below average quality back camera to a touch screen smartphone with 16 megapixels front camera that highlights each and every pore on your face – what could possibly be next?
Vivo, a Chinese technology company, has released its latest concept smartphone by the name 'Apex'. This smartphone proves the fact that creativity has no limits, and thus smartphone development can never come to a halt. Let's get to the phone's specifications. Much like the Samsung Galaxy S8, Apex has almost no bezels at the front. Apparently, a bezel-less phone is the target of every company – be it Apple, Google, or Samsung. Apex, in this aspect, has an OLED display panel with bezels at the top and bottom measuring 1.8mm and 4.3mm respectively.  The company's aim is to reduce the size of the bottom bezel down to 1.8mm as well.
Vivo has used the Half-Screen In-Display Fingerprint Scanning Technology which basically means that the user can touch anywhere on the lower half of the screen to unlock the phone. No longer do users have to struggle to find that little fingerprint scanner typically located at the back or side of the smartphone. Many might not approve this feature as it means anyone can unlock their phones hence Vivo is thinking of improving the security by requiring the user to use two fingers simultaneously on the screen's scanner.
Recommended for you (article continues below)
Surprisingly, there are no speakers in this phone! Yep – you read that right. The company has taken an innovative risk and used what they call Screen SoundCasting Technology. This technology basically uses the screen itself as a large flat speaker and sends vibrations through the screen! And in order to save more circuit board space inside, trio of amps and DAC have been fused into one unit. This prevents the leakage of sound hence providing a balanced listening experience. According to Vivo, this mode of audio output consumes less battery than conventional speakers.
Coming towards the most important feature in today's time i.e. the front camera, Apex has an 8MP front camera that is located inside the phone since the top bezel is almost non-existent. So, how does one use this camera then? Vivo has introduced an elevating selfie camera which rises up in less than a second to take a picture and then goes back inside the phone when not in use – think of it as a CD drive. The Apex also has an ambient light sensor and a proximity sensor that enhances the display real estate.
Okay, time to come back to reality for the Apex is just a concept smartphone right now!
Source: The Verge