How to Switch to YouTube TV and Save on Cable
Cable TV in the USA is expensive to say the least. In fact, according to a report, the average cable bill costs more than all other utility bills combined. If you live in the US and are looking for a substitute for your cable subscription while saving money, YouTube TV has got your back. With over 80 traditional cable and broadcast channels, this Google's live TV streaming platform launched back in 2017 is considered the best by several critics.
What Makes YouTube TV the Best Live TV Streaming Platform?
YouTube TV is evidently the ultimate choice of millions of other users, as Google reported that YouTube TV has over 3 million paid subscribers as of October 2020.
Among its competitors including Hulu Plus Live TV, Sling TV, fuboTV, and AT&T TV Now, it's the only one that includes PBS stations and content.
How many accounts can I create?
YouTube TV also allows customers to create 6 sub-accounts and 3 of them can stream different content simultaneously, making it suitable for the whole family. For now, there is no option to upgrade to a higher plan.
What devices does YouTube TV support?
The device you use is most likely already supported by YouTube TV, as it is available on a wide variety of devices such as Android TV, Apple TV, Chromecast, Fire TV, the Xbox One, Roku TVs, and other Roku devices including the Express, Ultra, and Stick. It also works with all the LG or Samsung smart TVs manufactured in 2016 and onwards as well as all Vizio SmartCast TVs, all models of the Xbox One, and Android and iOS devices.
What makes it stand out, though, is that it's the only live TV streaming service available on the PS4 and 4 Pro as of February 1, 2020. According to Google, select LG, Samsung, Vizio, Sharp, Hisense, and Sony smart TVs from 2014 and 2015, as well as the Apple TV, should also be getting YouTube TV "soon."
Features on YouTube TV:
Another feature of YouTube TV that no other streaming platform offers is a cloud-based DVR. While most services already have the option to record shows, it is either available for purchase separately or only offers limited storage. YouTube TV offers unlimited storage for free, but stores it for up to nine months. The DVR feature was recently updated to allow pause, rewind, and fast forward through all recorded shows, regardless of network. However, it is not possible to skip through commercials on all recordings yet.
The video below demonstrates how to navigate the service's cloud DVR and discusses some of its additional features.
If you couldn't manage to record a show when it aired, you can still watch it as YouTube TV also offers on-demand content.
YouTube also has a uniform white/light gray interface across all devices which is
easy to navigate. At the top, there are three tabs labeled Library, Home, and Live. All your DVR content can be found in your Library. There you will find New Episodes, Most Watched, Recordings, Shows, Movies, Sports and Events on the left.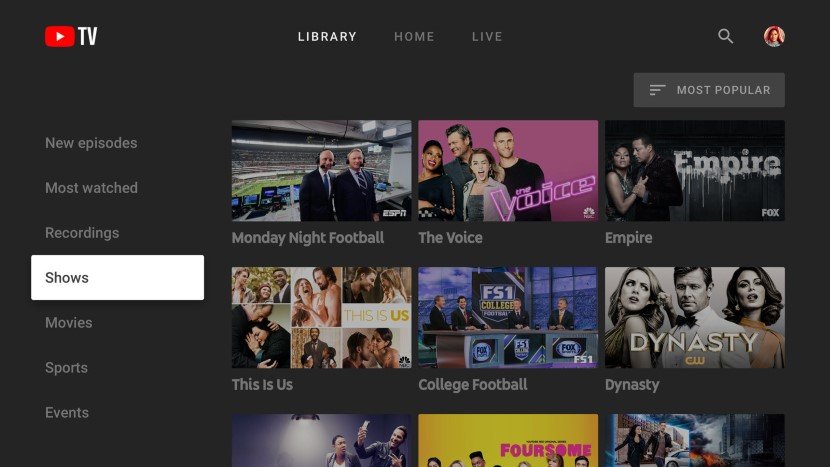 You can tap the "+" button next to programs you'd like to add to your library, and YouTube TV will automatically record all programs as they air. You can then access all of them in the Library tab.
Home is where both featured and live thumbnails appear. Content suggested by YouTube TV also appears on this screen.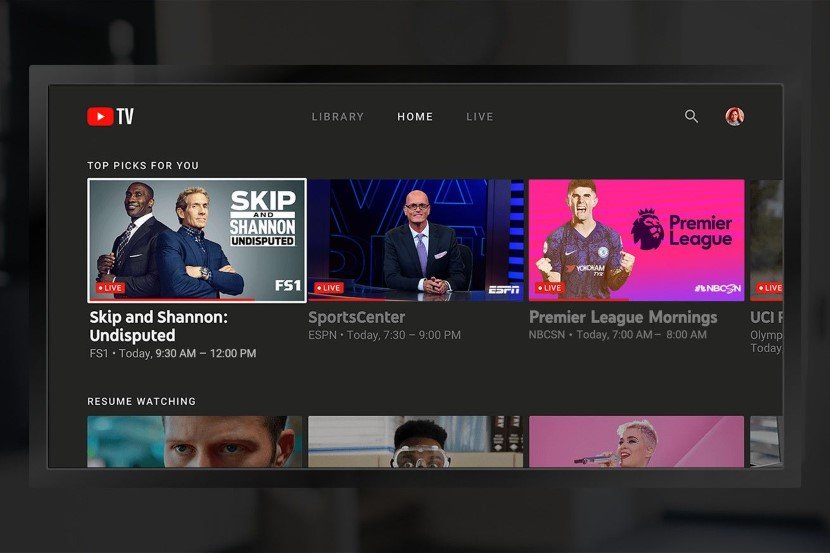 The Live tab shows currently playing and upcoming shows. You can check out your local live broadcast channels and watch sports, local news, or catch primetime shows airing on those broadcast networks. You can scroll down further to see over 70 popular cable networks and local sports networks.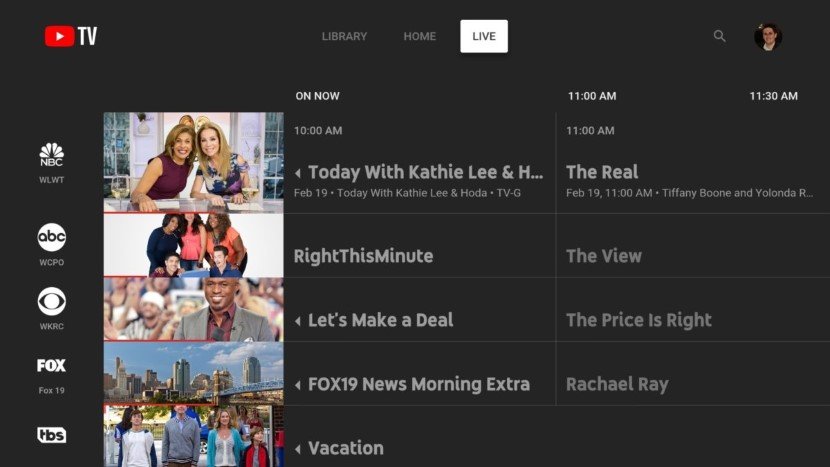 You can customize your Live screen by removing any channels you don't wish to see as well as rearranging them to show your favorite channels first.
You can also search for content yourself by clicking on the magnifying glass beside the three main tabs. It is also possible to search using Google Assistant or any compatible voice remote. You can even concatenate searches. For example, searching for "Oscar-winning movies" will give you all the movies which have won an Oscar and are available on YouTube TV.
Besides the search button, you will find the settings panel where you can manage subscription details, billing information, and any subscriptions to add-on channels. You can also manage your family accounts here, customize your channel guide, and tracking or pausing your watch and search history.
YouTube TV also allows users to customize the subtitle text, including the font, font color, and background opacity. However, it still lacks an option to change the text position.
YouTube TV has also now made it possible to speak out your commands via its mobile app or a Google Home speaker if you use a Chromecast device. With this feature, you can change channels, control volume, record a show, and use playback functions like play, pause, resume, and rewind, with your voice. If you want to know how to use voice control with your speaker and Chromecast, here's a guide.
Dark mode has now become a necessity for applications and browsers as a majority of the users prefer it over daylight mode. Keeping this in mind, YouTube TV also allows users to opt for a darker theme to reduce eye strain.
In an update in June this year, YouTube TV introduced a new feature that allows users to skip to a segment within news programs on TV. This feature makes it easy to skip right to the topics you're interested in without having to spend any time watching the whole program or manually skipping to the part you need.
If you're an Android user, you're at an advantage. YouTube TV also supports picture-in-picture, which means you can open a minimized window on your phone and watch YouTube TV while doing other tasks. If you have an iPhone, this feature won't work unless you're using an iOS 14, but it works if you have an iPad that supports multi-tasking.
Channels are the most important thing to consider while choosing a streaming service; a long list of channels is meaningless if none of them interest you. Fortunately, YouTube has a wide range of channels available.
If you're a sports fanatic, you're in luck because YouTube TV offers a variety of sports networks including four ESPN channels, The Big Ten Network, CBS Sports, NBC Sports, The Tennis Channel, the SEC Network, NESN, and the Olympic channel. YouTube TV also added the NFL Network to the lineup on Sept. 3, in time for the 2020 NFL season.
In addition, YouTube added 14 new channels after a content deal with ViacomCBS including, BET, CMT, Comedy Central, MTV, Nickelodeon, Paramount Network, TV Land, VH1, BET Her, MTV2, Nick Jr., NickToons, TeenNick, and MTV Classic.
YouTube TV also announced its new Sports Plus Bundle as an add-on. It costs $10.99 per month and includes NFL RedZone, Fox College Sports, GOLTV, Fox Soccer Plus, MAVTV, TVG for horse racing, and the Stadium network as well.
Unfortunately, YouTube TV recently lost all FOX regional sports networks (RSNs), but they weren't alone, as fuboTV and Hulu + Live TV dropped them as well. YouTube TV also lost the YES Network because of a contract negotiations dispute with Sinclair.
To bring you 85+ channels, we periodically renegotiate contracts with content owners. In February, we announced we had negotiated an extension with Sinclair to continue providing FOX Regional Sports Networks (RSNs) through the end of MLB, NHL and NBA seasons.

— YouTube TV (@YouTubeTV) September 29, 2020
Below is a list of all the channels available on YouTube TV as of December 20, keeping in mind that not every channel is available in every region. Also, certain local channels are available in specific regions.
The channels included in the YouTube TV subscription are:
ABC
CBS
FOX
NBC
ACCN
AMC
Adult Swim
Animal Planet
BBC America
BBC World News
BET
Bravo
Big Ten Network
Cartoon Network
CBS Sports Network
Cheddar Business
Cheddar News
CNBC
CNBC World
CMT
Comedy Central
CNN
Comet
NBC Sports
COZI TV
Court TV
The CW
Discovery Channel
Disney XD
Disney Channel
Disney Junior
SEC Network
E!
ESPN
ESPN 2
ESPN U
ESPN News
Food Network
FOX Business
FOX News
FOX Sports
Freeform
FS1
FS2
FX
FXM
FXX
NBC Golf
HGTV
HLN
IFC
Investigation Discovery
LAFC
MLB Network
MLB Game of the Week
Motor Trend
MSNBC
MTV
MyNetworkTV
National Geographic
National Geographic Wild
NBA TV
NBCSN
NBC Universo
NBCLX
Neon
National Geographic
National Geographic Wild
Newsy
Nickelodeon
NFL Network
Olympics Channel
Orlando City SC
Oxygen
OWN
Paramount Network
PBS
Pop
SEC ESPN Network
Seattle Sounders
Smithsonian Channel
SNY
Start TV
Sundance TV
SyFy
Tastemade
TBS
Telemundo
Tennis Channel
TLC
TNT
TCM
Trvl Channel
TruTV
TV Land
Universal Kids
Universo
USA
VH1
We TV
TYT
YouTube Originals
The channels that are available as add-ons are:
Acorn TV: $6 per month
AMC Premiere: $5 per month
Cinemax: $9.99 per month
Curiosity Stream: $3 per month
Epix: $6 per month
FOX Soccer Plus: $15 per month
HBO Max: $14.99 per month
NBA League Pass: $39.99 per month
Showtime: $7 per month
Shudder: $6 per month
Starz: $9 per month
Sundance Now: $7 per month
Urban Movie Channel: $5 per month
Sports Plus bundle (NFL Red Zone, Fox College Sports, Gol TV, Fox Soccer Plus, MAVTV, TVG, Stadium) $10.99 per month
A major flaw about YouTube TV is that it does not support offline viewing unlike some of its rivals including Hulu Plus Live TV. Users can not download content to their mobile devices to watch on the go without an internet connection. So, if you're one of the people with long commutes or restrictive data plans, this drawback must be considered before deciding to purchase the subscription.
If you still find it hard to decide whether YouTube TV is worth your money, you can get the hands-on experience by taking advantage of the one-week free trial provided by Google. DigitalTrends suggests you sign up for this trial on your desktop computer or web browser because a glitch in the mobile app won't show you the free trial option if you attempt to sign up using an Android or Apple device.
How much will YouTube TV cost me?
YouTube TV was previously priced at $50 per month, but this cost increased significantly in June 2020 after their deal with ViacomCBS, reaching $65 per month. This price hike left YouTube TV users furious. One of those users is Clark Howard, who expressed his disappointment at this increase in price: "This is one of those moments when you have to look at alternatives because what was a great deal at $50 becomes no deal at all at $65," he says. "Unless you like a ton of the new channels, look at the other options that are cheaper than YouTube TV's new $65 a month."
The new price also left critics wondering if YouTube TV maintained its position as the best live streaming service, and many changed their views. PCMag says: "Other live TV services may offer a better range of content for specific areas. For example, fuboTV matches YouTube TV's sports lineup and differentiates itself with international sports content. Philo is specifically focused on lifestyle and entertainment channels; if that is all you want to watch, you can save money by subscribing to it instead of YouTube TV."
PCMag also compares the new price to other services, deducing that the total price after including the add-ons is still more reasonable. "AT&T TV Now starts at a more reasonable $55 per month, but more complete channel packages cost significantly more than YouTube TV. FuboTV starts at $59.99 per month now, but it too offers pricier plans. On-demand services are much cheaper, but appeal to a different subset of subscribers. Netflix, for example, starts at $8.99 per month, while Disney+ is $6.99 per month."