Tesla's Cybertruck Camper is the Future of All-Electric Camping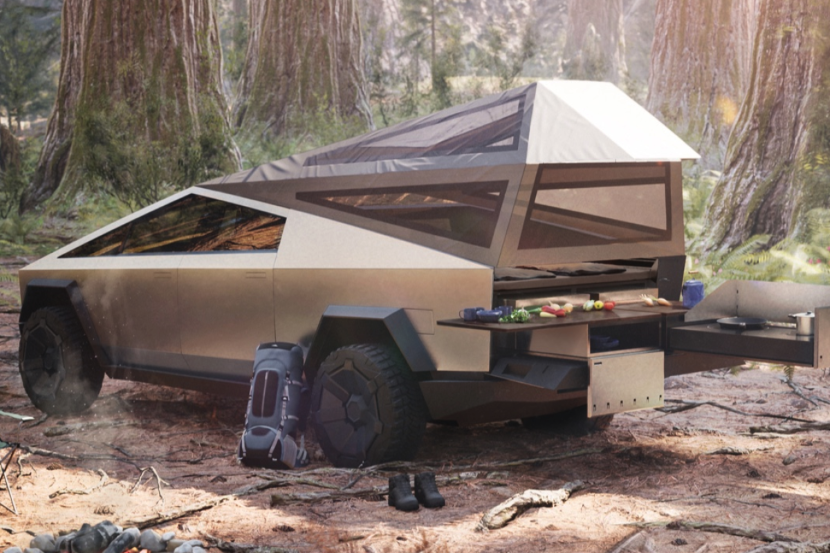 Image Courtesy: Tesla
Tesla's Cybertruck Camper, revealed back in November 2019, offered a glimpse into the future of all-electric trucks. This high-strength stainless-steel electric truck has a robust polygonal exoskeleton, sporting "Ultra-Hard 30X Cold-Rolled stainless-steel structural skin to Tesla armor glass," as described on Tesla's website.
The unveil, which took place on 22nd November, 2019, boasted the truck's impressive specs which undoubtedly left the audience in awe. The truck showed off its exceptionally strong structure by enduring a few strikes by a sledgehammer. Despite the allegedly shatter-proof glass window shattering during the demo, the Cybertruck garnered 200,000 reservations over the weekend following the unveil. Elon Musk added that there would probably be "a lot of deliveries in 2022 and some deliveries towards the end of next year if things go well."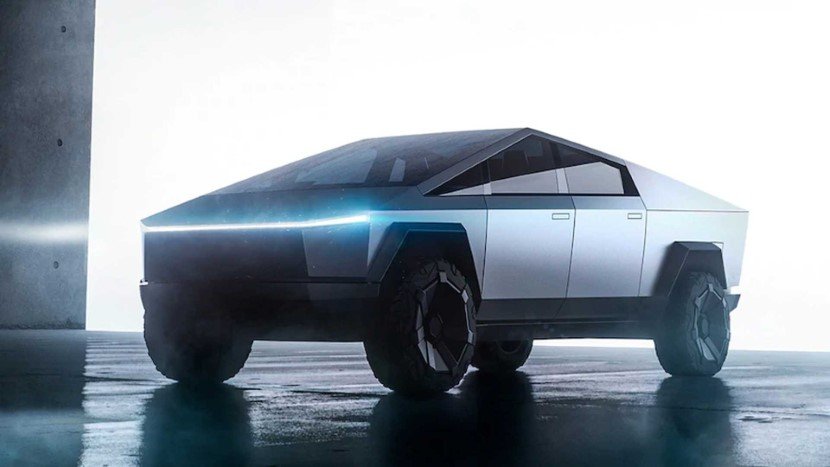 Tesla also shared some images of the Cybertruck on its website, and offered us a glimpse of the Cybertruck Camper, an add-on to the Tesla truck. Although it wasn't evident whether the add-on was an official product or not, as it had not been mentioned during the unveiling presentation, Musk confirmed that it indeed was on Twitter, where a user had posed the question regarding the camper's availability.
Yes

— Elon Musk (@elonmusk) November 22, 2019
Tesla wrote about it on its website:
"From rugged to refined, Cybertruck is completely adaptable for your needs. Prepare for every experience with a versatile utilitarian design — including on-board power and compressed air."
What We Know About the Cybertruck Camper So Far
The rendering shows a pop-up tent that can be attached to the back of the truck, as well as a 6.5-foot bed platform underneath. It also shows a foldable countertop and an area for kitchen equipment on the right-hand side which appears to slide out from underneath. The camper itself seems to be made of the same stainless-steel as the rest of the truck. New Atlas suggests that "Adding an induction cooktop, fridge/freezer, control/entertainment tablet, stereo and/or other electrical accessories would also help highlight the benefits of camping atop a huge lithium-ion battery and perhaps popularize the idea of EV camping in general."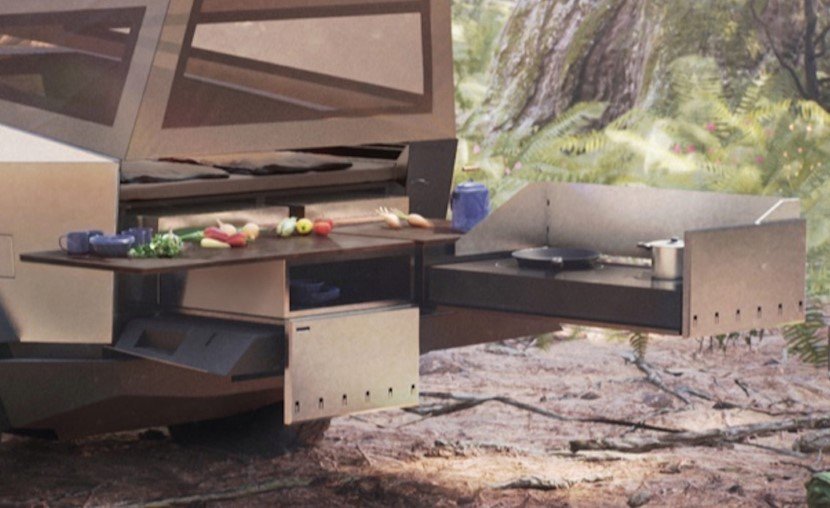 The Eye-Catching Fan-Made Cybertruck Camper Design
Critics did not seem to get along with the Cybertruck Camper's design very well, and one Canadian fanatic, namely "joeguy07",  posted his own version of the Tesla Camper on a fan website, Cybertruck Owners Club, which became the center of attention among the people.
This design includes both "solo" and "duo" variants which can be mounted on the back of the Cybertruck. They solo version appears to be sleeker in design while the duo version adds some considerable height to the truck.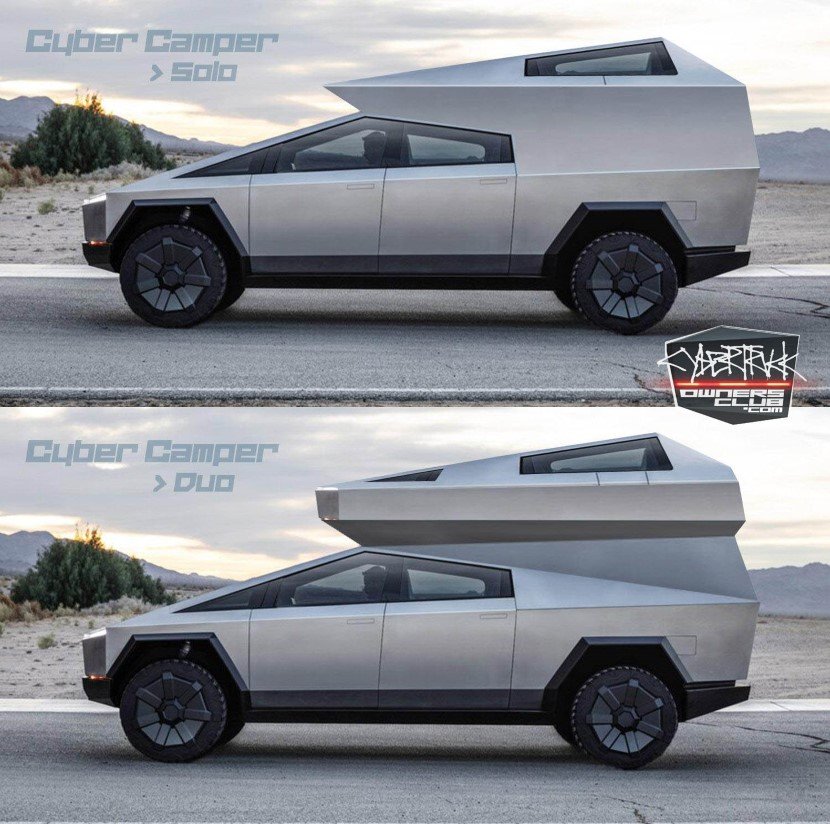 "So I'm liking something a bit larger, like this insert camper that you can add to the vault of the Cybertruck," Joe wrote on the website. "These renders need work, but I want something in the vault so no need to tow and can travel almost anywhere all the time. So hope that there will be a camper style like this by Tesla or 3rd party companies that would be amazing."
All You Need To Know About Tesla's Cybertruck Camper
Along with the "party and camper mode" announced by Tesla back in 2018, the Cybertruck Camper gives the complete all-electric camping experience. So far, Tesla has not revealed much about the camper add-on, but here is what we know about the Cybertruck.
Specifications:
The truck already has a range between 250 and 500 miles (400 and 800 kilometers) depending on which model you choose to purchase, and Musk mentioned a solar generating option under a tweet suggesting a solar-powered tonne cover, which can add a further 15 miles (25 kilometers) to the range, which may even reach 30 to 40 miles (48 to 64 kilometers).
Will be an option to add solar power that generates 15 miles per day, possibly more. Would love this to be self-powered. Adding fold out solar wings would generate 30 to 40 miles per day. Avg miles per day in US is 30.

— Elon Musk (@elonmusk) November 22, 2019
The truck can go from zero to 60mph in 6.5 in the single motor model to an astounding 2.9 seconds in the tri motor model, with a top speed of 130mph. It also has a towing capacity of 7500 pounds to over 14000 pounds (3400 to 6350 kilograms).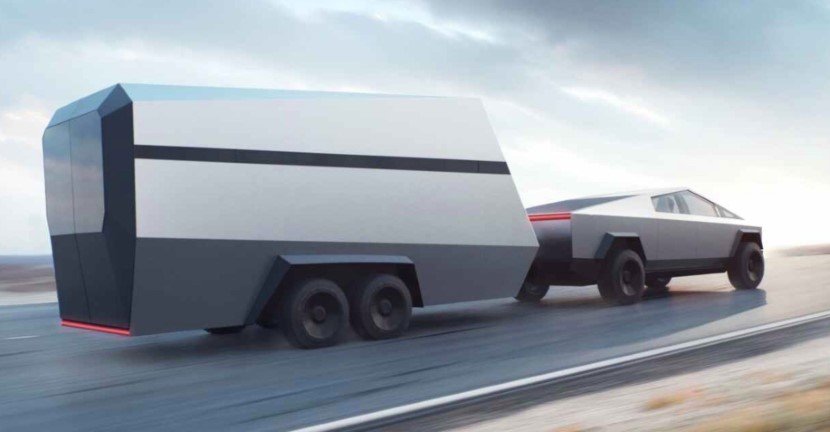 The Cybertruck is also open for improvements, as Musk mentioned:
"[W]e always want to make the car that we deliver be better than the car we unveil. And that's the goal with the Cybertruck… a lot of small improvements compared to what was unveiled. I think it's going to be better than what we showed."
He also responded to a suggestion regarding storage space by a Twitter user, simply saying that it was "worth considering."
Worth considering

— Elon Musk (@elonmusk) June 11, 2020
Availability of Cybertruck:
There are three models of the Tesla Cybertruck available for order on their website. Customers can choose between the Single Motor RWD, costing $39,900, Dual Motor AWD which costs $49,900 and Tri Motor AWD for $69,900. Each added electric motor gives the truck quicker acceleration, longer driving range and greater towing capacity. Every model will also sport Tesla's autopilot feature, and a full self-driving option will also be made available for an additional $10,000. According to recent announcements, deliveries will start in late 2021 to early 2022.
You can reserve the Cybertruck now for $100, which is refundable in case you change your mind.
The Cybertruck managed to bag over 650,000 reservations, which is more than the deliveries of Tesla's other vehicle models between 2018 and 2019 according to data. This may also cause a significant delay in the delivery of truck. Musk also clarified that the Cybertruck is envisioned as a North American product only, as it would not comply with requirements in many foreign markets. The CEO recently said he would consider a smaller, more "normal-looking" version of the Cybertruck for international markets.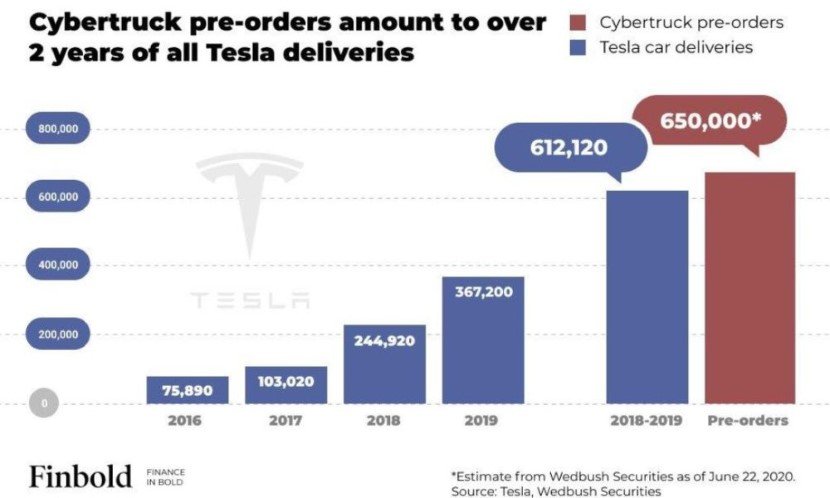 The Cybertruck Camper is highly anticipated by all the adventure and technology enthusiasts, and perhaps with all the promised improvements, the Tesla Camper may exceed our expectations.