Meet the Tesla Model Y; An Affordable Alternative to the Model X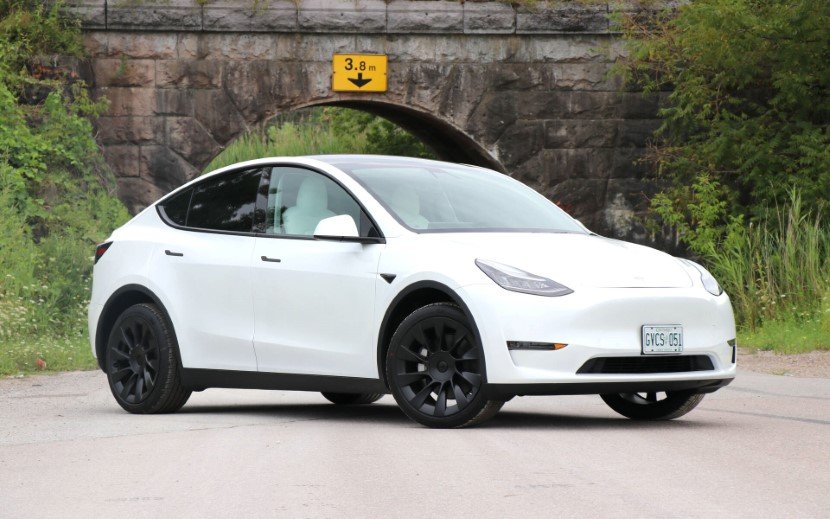 Image Credits: Antoine Joubert | The Car Guide
The Tesla Model Y, which was released in March 2020, is one of Tesla's most awaited SUVs. It is very similar to Tesla's most affordable vehicle, the Model 3. It is less pricy than Tesla's previous SUV, the Model X, which was, as Elon Musk put it, "the most difficult car in the world to build."
Safety features of the Tesla Model Y
Tesla has always considered safety as the top priority in their vehicles. Just like all other Teslas, the Model Y's unique exterior keeps the passengers secure in case of an accident. The absence of a combustion engine at the front helps to create a larger crumple zone. The rigid body structure and low centre of gravity (thanks to the floor-mounted battery pack), also contribute to the safety of the vehicle.
Although, the Model Y has yet to be tested by the Insurance Institute for Highway Safety (IIHS), National Highway Traffic Safety Administration (NHTSA), and the European New Car Assessment Programme (EuroNCAP), the five-star ratings of the Model X and the Model 3 build high hopes for the Model Y.
The notable safety features of the new Tesla SUV include; standard automated emergency braking, standard lane-departure warning, and available adaptive cruise control with semi-autonomous driving mode.
Tesla's autopilot feature makes use of several cameras, multiple sensors, and radars to detect objects, people, and other vehicles. This includes the auto park and auto lane changing features as well as optional features such as navigation and summoning. Unfortunately, Tesla's autopilot feature isn't completely autonomous yet and must be used within the driver's supervision.
Tesla Model Y specifications and features
1. Dimensions
Wheelbase: 113.8 in (2,891 mm)
Length: 187 in (4,750 mm)
Width: 75.6 in (1,920 mm)
Height: 64 in (1,626 mm)
2. Exterior
The Tesla Model Y is available in 5 colors including; Pearl White Multi-Coat, Midnight Silver Metallic, Solid Black, Red Multi-Coat, and Deep Blue Metallic.
3. Interior
The SUV can seat five passengers, but an optional seven-seater configuration is expected to come out this year. The interior is originally all black, but buyers can also opt for a black-and-white look. The 15-inch screen mounted on the dashboard can be used to manage the vehicle's settings and systems, including the speedometer, which normally sits behind the steering wheel. It includes Netflix, Hulu, and YouTube apps as well as video games. However, the driver is locked out of them while driving.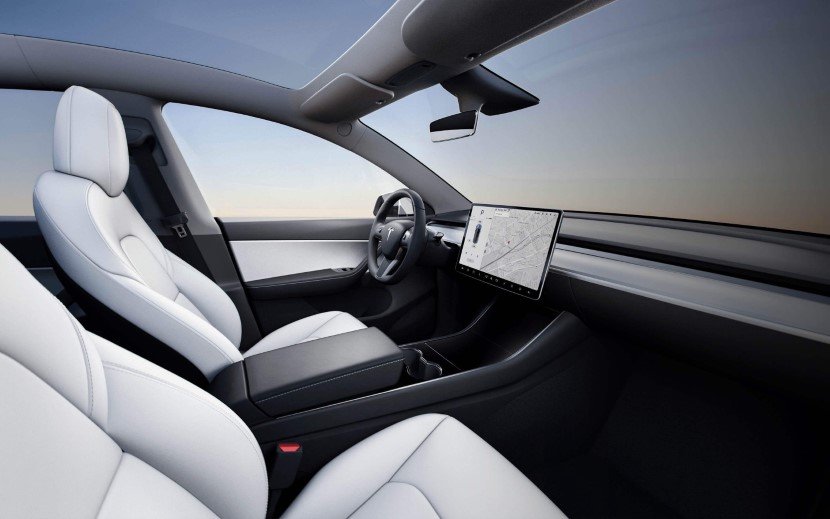 The Model Y also includes a 14-speaker audio system. It supports a tinted, all-glass roof for a seamless view of the sky.
Looking up in Model Y pic.twitter.com/iAfpJ491Zz

— Tesla (@Tesla) August 6, 2020
4. Cargo and towing capacity
The Model Y has a cargo capacity of 68 cu ft. Although, the towing capacity has been left unmentioned on the website, the SUV is expected to have a towing capacity of 3500 with the optional tow package.
5. Battery and charging
The SUV is equipped with a 75kWh battery. Tesla also announced that Model Y will get a structural battery pack that requires 4680 cells. In November 2020, Tesla signed an agreement with LG Chem to supply battery cells for Model Y production in China.
For charging your vehicle, Tesla sends you three different types of adapters with the purchase of your vehicle. The NEMA 5-15 is a 125V charger that can plug into a wall outlet and charges up to 3 miles of range in an hour. This is the slowest charger available and is good for overnight charging. The NEMA 14-50 is a high-powered 240-volt wall outlet that can fully charge your Model Y in 10.5 hours. The last adapter can be used if you wish to install an at-home wall connector charging station that can charge the Model Y in 6.5 hours.
Tesla vehicles can also be charged at public charging stations. These superchargers are installed in over 20,000 locations and can charge your vehicle in 30 minutes to an hour. If your destination exceeds the range of your Tesla SUV, it will plot a route to the next supercharger.
6. Trim Levels
The Tesla Model Y has two trim levels: Long Range AWD and Performance. A Standard version was also expected to come out in 2021, costing $39,000, but was cancelled by Tesla. Both models have dual electric motors.
According to Drew Dorian from Car and Driver, who was able to take the Long Range for a test drive, the Model Y doesn't "deliver the same level of driving satisfaction as the Model 3". He wrote, "The SUV body creates a higher centre of gravity, which dulls the sharp edge of the Model 3's handling, and the Y's ride is considerably rougher over road imperfections as well".
i) Long Range AWD
The Long AWD model has a range of 326 miles (525km) and weighs 4,416 pounds (2,003 kgs). It can go from 0 to 60mph in 4.4 seconds with a top speed of 135mph (217kmph). It has a total power output of 384 horsepower. This model starts at $42,190 and can cost up to $62,490.
ii) Performance
The Performance model has a decreased range of 303 miles (488km) and weighs 4416 pounds like the previous model. It can hit a top speed of 150mph (241kmph) and go from 0 to 60mph in 3.5 seconds. It has a total power output of 456 horsepower and starts at $52,190, costing up to $72,490.
7. Wheels
The Model Y comes with 19" Gemini wheels and 20" Induction wheels for the Long Range AWD and 21" Überturbine wheels with the Performance model.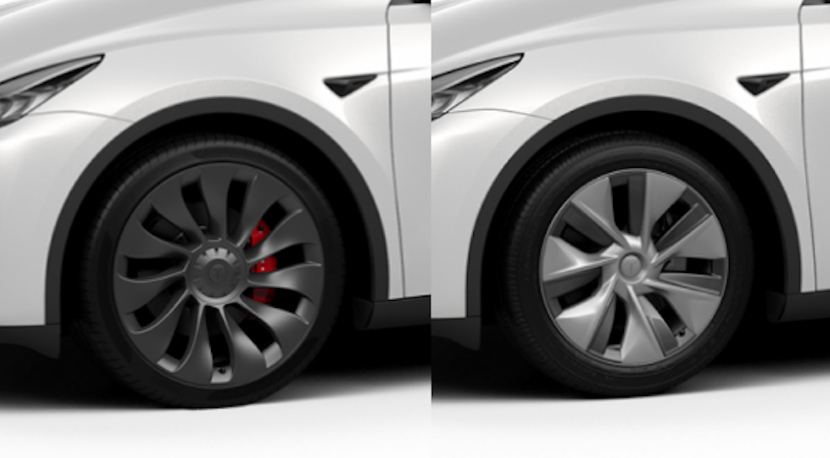 Add-ons in the Tesla Model Y
The tow package for the Model Y can be purchased separately for $1200 or with the order of your SUV for $1000. The full self-driving option which includes a Summon function and auto-steer, can be purchased for $10,000.
The Summon function will allow the car to autonomously back out of the parking space or garage and find its owner from a modest distance via a button on the key fob. For the exterior, Solid Black, Midnight Silver Metallic, and Deep Blue Metallic colors cost an additional $1000, whereas, the Red Multi-Coat can be purchased for $2000. For the interior, buyers can buy the black-and-white interior for $1000. The third row of seats will cost an additional $3000 when they are made available.
Warranty of the Tesla Model Y
Tesla covers the Model Y with a four-year or 50,000-mile basic warranty and an eight-year or 120,000-mile warranty for the battery and drive unit.
With the Model Y, Tesla has offered buyers a much more affordable alternative to the advanced Model X. For buyers who wish to experience almost all of the benefits of the Model X without having to pay a hefty amount for features they don't necessarily need, the Model Y is the right choice.
There isn't a lot planned for the Model Y in 2021, except for the optional third row of seats. However, we can only wait to find out what Tesla has in store for us.
Image Credits: Tesla