How Does Tesla Cybertruck Fare Against its Competitors; Electric Pickups Compared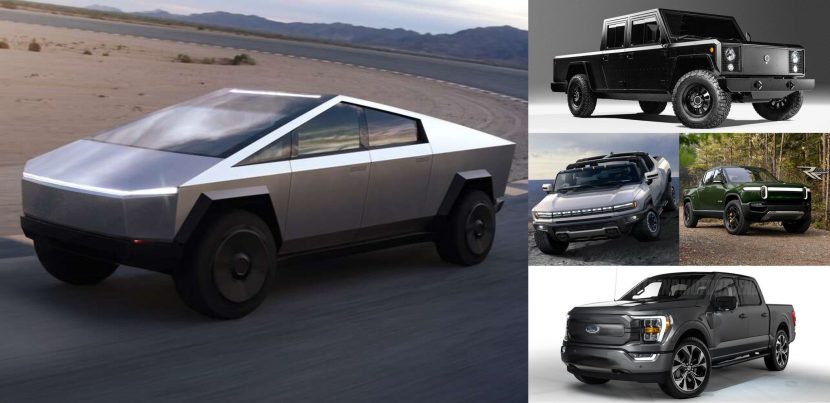 Image Credits: Tesla, Bollinger, General Motors, Rivian, Ford
When Tesla unveiled its electric pick up, the Cybertruck, it had jaws dropped on the floor. It was unlike any vehicle anyone had envisioned, much rather a pick-up truck. This space-age, dystopian truck sparked a buzz for electric pick-up trucks that even rippled across an audience that was never into pick-ups. With a whole line-up of electric pick-up trucks on the horizon, it is a glaring question whether Tesla Cybertruck can match them in other aspects.
From established and acclaimed names, like Ford and Hummer, to start-ups that just entered the race, like Rivian and Bollinger, Tesla's Cybertruck has competitors coming in every direction. Whether you're looking for a practical pick-up truck that closely matches your needs, or you're just a pick-up truck aficionado, we've made a detailed comparison for the Cybertruck against other electric trucks to help you take your pick.
Performance of the Tesla Cybertruck
If compared with the conventional combustion engine trucks, electric pickup trucks all have better figures stacked up. In terms of horsepower and torque, Tesla is yet to announce the exact capacity of each, but experts estimate Cybertruck will have around 800 horsepower and 1000 pound-feet of torque, owing to its tri-motor configuration.
GMC announced that the Hummer EV will boast a whopping 1000 horsepower with 11,500 pound-feet of torque (which most likely is the axle torque). The Rivian R1T closely matches the Cybertruck in terms of several motor variants, the top-spec truck will make 750 horsepower and 829 lb-ft. The Bollinger B2, while is built for some great off-road experience, musters 614 horsepower and 668 lb-ft of torque from its dual-motor setup. Ford's electric F150 packs 450 horsepower and 510 lb-ft of torque, based on the 3.5-liter EcoBoost V-6.
Cybertruck's powerful drivetrain and low centre of gravity provide extraordinary traction control, allowing acceleration to achieve 0-60 miles per hour in under 3 seconds (2.9 to be precise) for the tri-motor, all-wheel-drive model. Dual and single-motor models need less than 4.5 and 6.5 seconds, respectively, to hit the same mark, according to Tesla.
The acceleration is neck-to-neck with GMC Hummer and Rivian's tri-motor R1T, both coming in at 3.0 seconds for the 0-60 mph. The dual-motor and single motor of the R1T can make the mark at 3.0 seconds and 4.5 seconds respectfully. Bollinger B2 can achieve 0-60 mph in 4.5 seconds, while the electric F150 hits 60 in 5.1 seconds.
Range
How far would a single charge take you is a serious concern for most buyers. The electric trucks are setting a whole new bar for expecting buyers when it comes to range. Cybertruck's lowest motor variant gives an impressive 250 miles, which boosts significantly to 500 as you move to the tri-motor variant. The Hummer EV will offer up to 350 miles of driving range before needing a charge. Rivian announced that its "Large pack"  would give more than 300 miles of EPA range, with the 135-kWh pack. Additionally, a longer-range R1T with more than a 400-mile range will be available starting in January 2022. That's not all, variants with more than a 250-mile range, incorporating a 105-kWh battery pack, will also be released by Rivian after the start of the truck production. Bollinger B2's massive 20kWh battery pack would take you 200 miles in one charge.
Ford initially had no figure to offer for the F150's range, making experts guess around 300 miles. However, they recently announced its range-booster that is expected to "up the range to 700 miles".
Off-Road Compatibility
Tesla hasn't made claims about what the off-roading experience would be like with the Cybertruck. With the impressively sized 35×12.50 all-terrain tires under the fender wells, it is safe to say that the Tesla Cybertruck in the same league as Ford Raptor, Ram Power Wagon, and Jeep Gladiator Rubicon. We can't deny, however, the truck-experts' concerns for the little ground clearance and potentially heavyweight of the Tesla Cybertruck hindering its off-road capabilities. Tesla would have to confirm the truck's potential before we can make solid claims.
The Hummer EV is a strong contender in this aspect, practically built to face nature's challenges. It has four-wheel steering and can climb stairs and verticals up to 18 inches tall. Not to miss its unique CrabWalk feature that allows the truck to move diagonally like a crab.  It also has cameras underneath the truck to help drivers avoid obstacles.
Rivian left nothing to the imagination when it comes to off-roading on the R1T. In a detailed blog on their official website, the R1T is promised to perform excellently in testing terrains, from twisty paved roads to rocky climbs and all the dirt, mud and sand that come in between. What's more, the R1T comes with a stand-out feature that gives it a flashy upper hand over other trucks in its category. What they call a "Tank Turn", the truck can perform a 360-degree turn by spinning in place like a tracked vehicle. This is because each wheel is powered by its own electric motor and controlled individually, allowing the Rivian to simultaneously spin the left and right wheels in opposite directions. The Rivian R1T looks like a beast built for a challenge.
The military-style Bollinger B2 doesn't come in slow with its massive 10 inches of suspension travel and 15 inches of ground clearance, and able to wade through waters 3 feet deep. To deliver that extra ground clearance, Bollinger used what are called portal axles. This makes use of separate gearboxes with the aim to raise the axles out of the undercarriage. This frees up more space between the vehicle and the dirt. Bollinger also developed its own two-speed transmission for each motor, delivering higher top speeds and greater acceleration. Bollinger B2's glass surfaces, doors, and roof panels are removable, so when you're off-roading you can enjoy the views as well.
Ford is yet to release details on its F150's off-roading experience, but from the lack of the aerodynamic front- replaced with skid-plates, and the giant BFGoodrich tires, there is no doubt that the F150 EV will fare well in the mud. For now, all we have is a tweet by Ford showing a prototype doing doughnuts in the snow.
Curious how the #FordF150 BEV prototype stacks up in the snow?​

See for yourself. pic.twitter.com/YAN7nTL7pk

— Ford Trucks (@FordTrucks) December 21, 2020
Towing and Payload
What's a pick-up truck that can't haul and tow something large, heavy and crazy? Electric pick up trucks is redefining the possibilities with new limits. The Tesla Cybertruck, in Tri-Motor trim, offers up to 3,500 pounds of payload capacity and adjustable air suspension, and a towing capability of over 14,000 pounds. That is more than the combustion engine counterparts like Ford's F150 that can haul 13,200 pounds and 3270 pounds of payload.
The GMC Hummer EV's towing and payload figures are still being determined and aren't expected to be issued until the launch of the truck, but since the brand has earned it repute so far, we expect nothing like the ordinary.
Rivian R1T delivers up to the mark as well with 11,000 pounds of towing capability and 1760 pounds of payload. That is a massive figure and compels to take into account the battery drainage that comes with it. For the buyers expecting to utilize this feature to the maximum should also consider buying the largest battery pack variant, just to be on the safe side.
The beefy Bollinger B2 offers 7500 pounds of towing capacity and can carry a payload up to 5001 pounds, being a class 3 truck with a GVWR of 10,001 lbs.
Ford's electric F150 keeping up the pace with a towing capacity up to 12,700 pounds and a 2120-pound maximum payload. In a YouTube release, Ford demonstrated the prototype towing 1 Million+ pounds of weight. See it here:
Exterior Design of the Tesla Cybertruck
The exterior of the Tesla Cybertruck is what hauled in so much criticism from truck enthusiasts, even mocked for its looks. There is a reason behind why the Cybertruck is designed this way, and yes it is more than just because Elon Musk is being Elon Musk. The exoskeleton of the truck, or the unibody construction, gives it massive strength, as opposed to the traditional body-on-frame construction. The panels used in the exoskeleton are 3 mm slim Ultra-Hard 30X Cold-Rolled Stainless Steel, and can only be bent, that too only along a straight line. This design makes for the stress or pressure on the panels or on anywhere on the truck to be divided more evenly.
GMC's Hummer EV features a fascinating rebirth of the conventional Hummer design, while keeping consistent the tall, wide stance, the broad proportions and a demeanor that exudes attitude and muscle. Its big wheels are mounted underneath a jacked-up suspension and sturdy-looking protective plating underneath the body. This keeps the vital components and equipment safe against bits of terra that may damage the structure.
Rivian's R1T maintains a conventional pick-up truck look, with daring headlights sitting in another light bar running across the front. This light bar doubles as a battery indicator as well. Under the bar on both sides sit LIDAR sensors, which are light-based depth sensors. It sports a versatile aluminium body.
Bollinger's boxy and rugged B2 offers a highly customizable design that is far from the futuristic aesthetic of the Tesla Cybertruck. It boasts an exceptionally wide frunk (front trunk), with a raised beltline — where the windows meet the doors — allowing space under the frunk, adding more head clearance for passengers and improving visibility. The bed is independent of the cab, making commercial chassis cab applications, repair and replacement much easier.
Ford F150 electric looks almost indistinguishable from the fuel-powered counterparts. It has a huge, buff exterior with the traditional Ford fenders and mirrors. The glaring difference is LED strip that surrounds the headlights and the grille bar that adorns the front of the trunk.
Specifications, Interior and Cargo
The Tesla Cybertruck features a 6.5-foot long, 100-cubic-foot capacity cargo bed and a six-passenger crew-cab. It's 231 inches long, which is comparable to other large pickups. The interior has one large eye-catching touchscreen embedded on the dashboard. The truck has squared steering that appears to have an illuminated display, although there is no word about it. The Tesla Cybertruck will also be able to seat up to six people, and its 6.4-foot cargo bed offers 100 cubic feet of volume. The slide-out tailgate doubles as a ramp to load four-wheelers and motorcycles as well.
The bed length announced for all GMC Hummer EV models is about five feet or 1.5 meters. The wheelbase of the truck will be about 135.6 inches and a total length of 216.8 inches. However, the tailgate panel can be raised into a "load stop" position, that expands usable bed space to about six feet and ten inches, accommodating larger items. The cabin is both spacious and gorgeous with the dual-tone colour theme. The truck offers a panoramic glass roof for an amazing view, yet the four transparent removable roof panels make it optional to have a roof at all.
The Rivian is 217.1 inches long overall and has a 135.8 in wheelbase with a 4.5 foot-long bed. The R1T has a large trunk under the front hood, a big storage compartment behind the cab plus a lockable in-bed compartment. It also has 12 cubic feet of lockable storage. The truck's expandable and collapsible crossbar system allows for mounting gear over the bed and cabin.
The Bollinger B2 has a 6-feet long bed, but the mid-gate can extend the bed to 8-feet with the tailgate closed. Inside, the hollowed-out interior can accommodate a 16-foot long piece of lumber as a pass-through with both front and rear closed. The cabin also features a fold-away rear wall, that opens it up and extends the 5-foot-9-inch cargo bed by more than two feet, giving the truck an edge in the bed length when stacked up against the conventional trucks. The B2 has removable body panels that include the doors, windows, roof panels, and windshield, has a good air-conditional system and also heated seats.
There are not many details released for the Ford F150 electric truck, so much can't be speculated. It is expected that Ford would offer the F-150 Electric in various trims and with a number of cabs and bed length.
Cost of the Tesla Cybertruck
Now that the nitty gritties of the pick-up trucks are laid out, let's talk money. If more than one of the trucks stood out for you, obviously you would want to get your money's worth.
The base price for the Tesla Cybertruck stands at $39,900, that is the single motor variant, rear-wheel drive. The model with a 300-mile range, dual motor and all-wheel drive has a retail price of $49,900. The top-of-the-line Cybertruck, tri-motor all-wheel drive with a 500-mile range will retail for $69,900.
The Hummer will also offer several variants with a different price tag for each. The Hummer EV Edition 1 will go on sale next fall (2021) for a suggested price of $112,595. This version will include Crab Mode and Extract Mode. The year after, the Hummer EV3X, with a three-motor setup, will be available at a suggested price of $99,995. Following up, the Hummer EV2X is to be released in spring 2023, with Crab Mode, Extract Mode, at a suggested price of $89,995. Finally, the Hummer EV2 is expected to hit the market in spring 2024, with just two motors, at a suggested price of $79,995.
Rivian's initial pricing for the R1T was $69,000 for the Launch Edition, however, after the announcement of the cheaper Tesla Cybertruck, the figure was revised. Rivian has now confirmed that the R1T will now be available for $67,500 for the base "Explore" version (2022) while the Launch Edition is going to start at $75,000.
The Bollinger B2 electric truck will retail for a cool $125,000. According to the Detroit-based company, buyers can reserve their truck with a refundable $1,000 deposit.
The electric Ford F-150 is expected to cost about $55,000, but Ford hasn't released a confirmed price tag as of yet.
Infotainment
The details on the Tesla Cybertruck infotainment system are to be released, but from the teasers, we know that the interior will have a big 17-inch touchscreen that is horizontally mounted in the centre of the dashboard, expected for navigation and climate control.
Hummer on the other hand has it all laid out. With collaboration with Unreal gaming engine, GMC's major support for their infotainment system along with specialized graphics, the truck offers various drive modes and several apps for specific tasks. The truck's Energy Assist system displays energy consumption, charging updates and battery temperature conditioning information. Then there are the GMC trailering apps that let you set trailer profiles, lighting tests, and towing checklists. A suite of off-road widgets lets you display the truck's various four-wheel drive, suspension, ride height, and electronic locking differential settings.
The Hummer EV will come equipped with a camera system that GMC calls UltraVision. The set of cameras would work as additional eyes on the truck itself to help you place your wheels in the right spots off-road and maneuver in tight spaces on-road. These fancy cameras come with their own lens washers, under the vehicle.
The infotainment interface in the Rivian R1T displays expandable tiles for individual features with the main options (navigation, media, climate controls, etc) available at all times at the bottom of the display. The options slide out of the side of tiles as opposed to menus popping out. Rivian hasn't unveiled much about other infotainment features, but Apple CarPlay, Android Auto, and an onboard Wi-Fi hotspot are the expected standard features.
The Bollinger B2 does not have an impressive list to compete fairly in this field, with a standard Bluetooth, the B2 offers six 110-volt outlets and an unspecified audio system at best.
The F-150 Electric from Ford is estimated to have a starting price of $70,000 with loaded models going into the six-figure range.