30+The Most Expensive Shoes In The World
Image Credits: Lifestyle Asia
Most Expensive Shoes
While it's true that shoes silently define a person's taste in fashion, to most people they merely serve to protect and comfort the feet. How much is somebody willing to spend on a pair of shoes could leave many of us in disbelieve. Of course, diamonds are a girl's best friend, and what is a gentleman that isn't dressed to the nines? Does this justify wearing on your feet something that could cost as much as (or even more than ) a mansion?
Today, there is a vast market for beautifully handcrafted shoes that have the most complicated patterns and stitches, bejeweled with precious stones, and created out of expensive materials like durable leathers such as alligators, crocodile, and calfskin. It is surprising, however, that these aren't the only reasons making a pair of shoes expensive, but we will get to that in a bit.
These shoes aren't just sold at any market but are often auctioned. Few are not even meant to be sold at all, but sit in a museum behind glass walls. We have ranked them as a countdown of the most expensive shoes out there. How many of these would you fancy if you ever became a millionaire?
34. Amadeo Testoni Antiqued Leather Oxfords – $1,755
Amadeo Testoni is a well-recognized name in Italy for luxury shoes that are worth a pretty penny, much like this pair of Antiqued Leather Oxfords. Stitch detailing highlights the raised elements that make them unique, exemplifying a perfect combination of craftsmanship and design. Its antique calfskin leather oxford shoe offers everything, including a handsome appearance, waterproof protection, and a surprising amount of flexibility so you can walk in comfort and confidence.
33. Gucci Princetown Crocodile Slipper with Double G – $2,650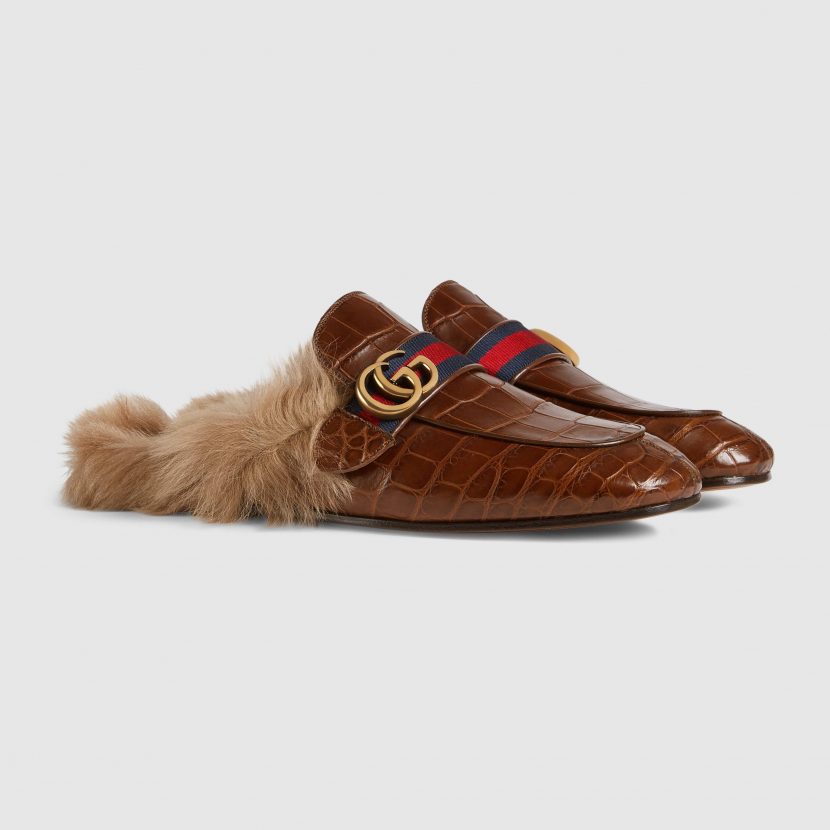 This Princetown fur-lined leather slipper might not be a shoe, but in the list of slippers, it is the most expensive there is. Adorned with a leather strap across the front with a House Web stripe and Double G hardware, the Princetown slipper has become a mainstay of Gucci collections. Unconventional yet entirely modern, the influential accessory from Creative Director Alessandro Michele's aesthetic vision is a contemporary interpretation of the Horsebit loafer.
32. Prada Crocodile Leather Sneakers – $2,900
Prada designed these steeply-priced, steezy alligator sneakers to beat the cold winter months, featuring a rubber lug sole and shearling lining for greater warmth retention. These chunky sneakers are made of luxurious crocodile leather with an opaque finish that has an exclusive, contemporary design, giving a sporty attitude to the shoe.
31. Salvatore Ferragamo Single Monk-Strap Shoe – $3,000

Salvatore Ferragamo is the luxury good guru in Italy and makes some of the most expensive shoes in the country. These handmade dress shoes are not only handsome but are a contemporary interpretation of the classic single monk strap shoe, detailed with a thin Gancini buckle on the side. Made with a brushed leather toe and tonal lizard skin upper for refined material combinations. It is crafted with the highest specifications in the "Tramezza" process that takes expert cobblers several hours and involves 320 steps to ensure the utmost sturdiness and durability while maintaining comfort, flexibility, and great overall versatility.
30. Saint Laurent Wyatt Boots in Ostrich – $4,000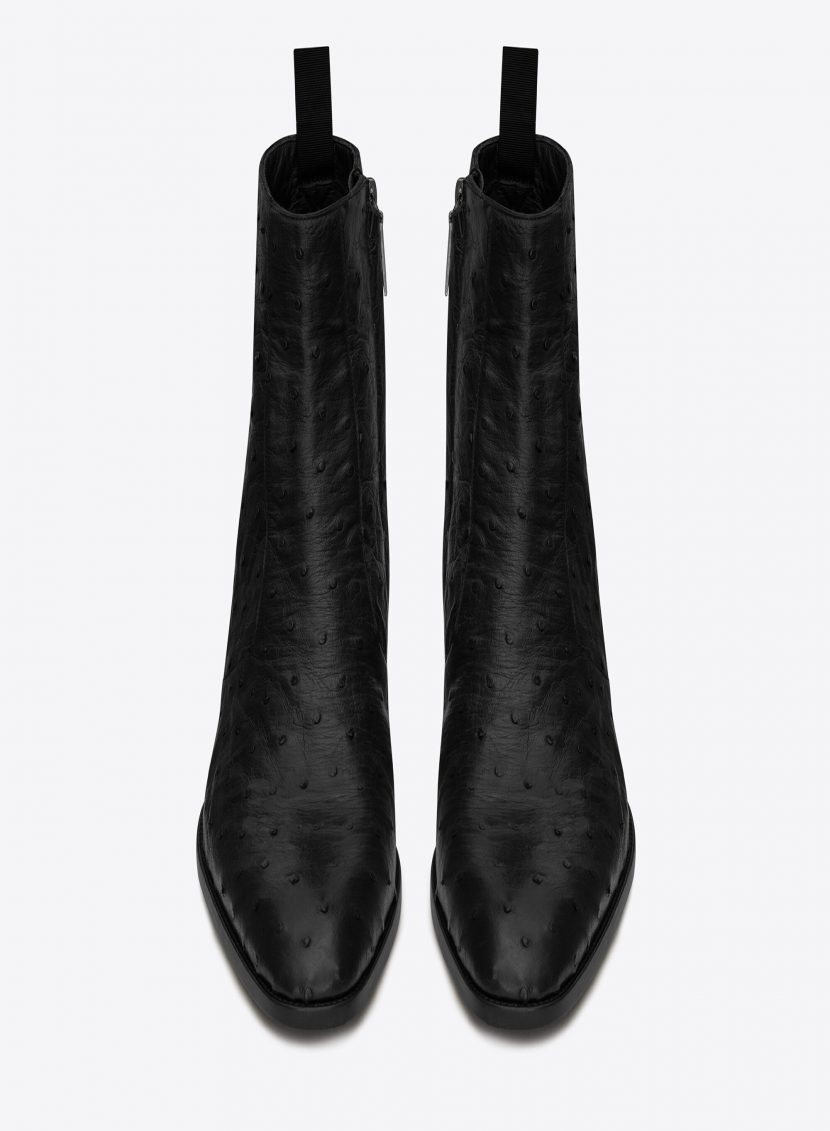 While these boots just might be the perfect thing to complete your look, there is something highly unusual about them that gives them a whopping $4000 price tag. These Saint Laurent boots are crafted out of 100% ostrich leather, which is one of the most intricate, specialized, and expensive processes in leather craftsmanship.
29. Aubercy Diamond Shoes – $4,510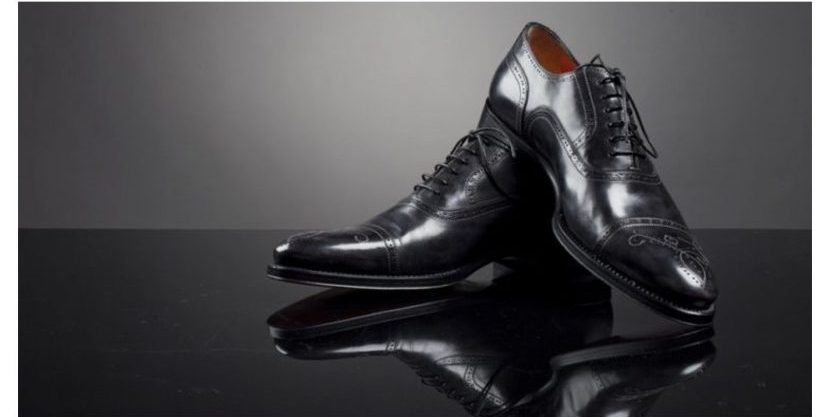 Aubercy is renowned in the shoe industry for producing top-quality luxurious shoes. These diamond edition shoes have us believing that even men can pull off diamonds. However, they have been released in strictly limited numbers and the company reports selling a few pairs, adding to their exclusivity. Despite the $4500 price tag, the popularity doesn't seem to wane at all. In fact, Aubercy specializes in exquisite, handcrafted shoes that shine with hand-sewn, perfectly placed diamonds to create some of the most expensive shoes, For their line of shoes, the number of diamonds per pair can vary according to the requirements and budget of their customers while keeping the general air of opulence, extravagance, and beauty.
28. Louis Vuitton Manhattan Richelieu Men's Shoes – $10,000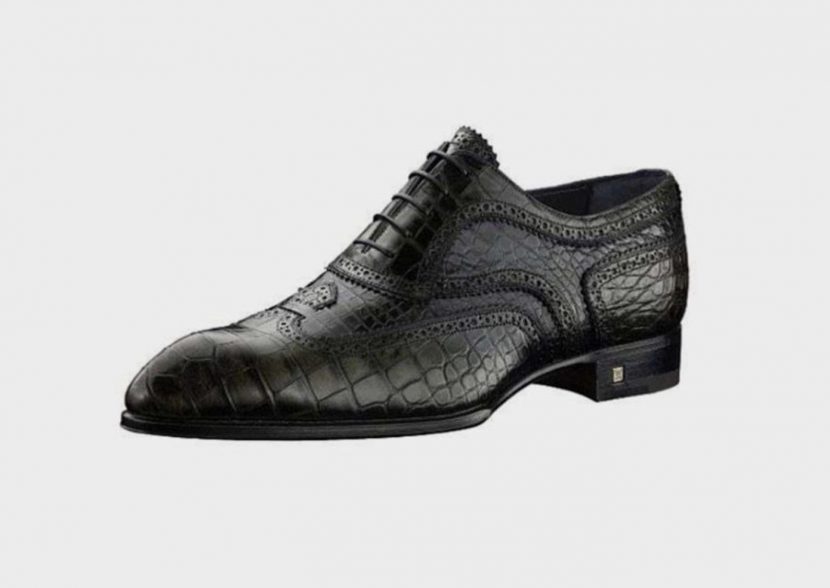 Arguably the most expensive of the Louis Vuitton men's dress shoes, these wingtips are priced at $10,000. The wingtip is called the Manhattan Richelieu and is handmade using Blake construction to give the most supple appearance to the leather. This classy pair of Louis Vuitton men's shoes have a hand-painted leather sole and a ruthenium-finish LV cube embedded in the leather heel. The care that these shoes would need plus the price tag makes this pair better suited behind glass than to be worn in the outdoors.
27. Berluti Cursive Galet Alligator Leather Loafers – $11,800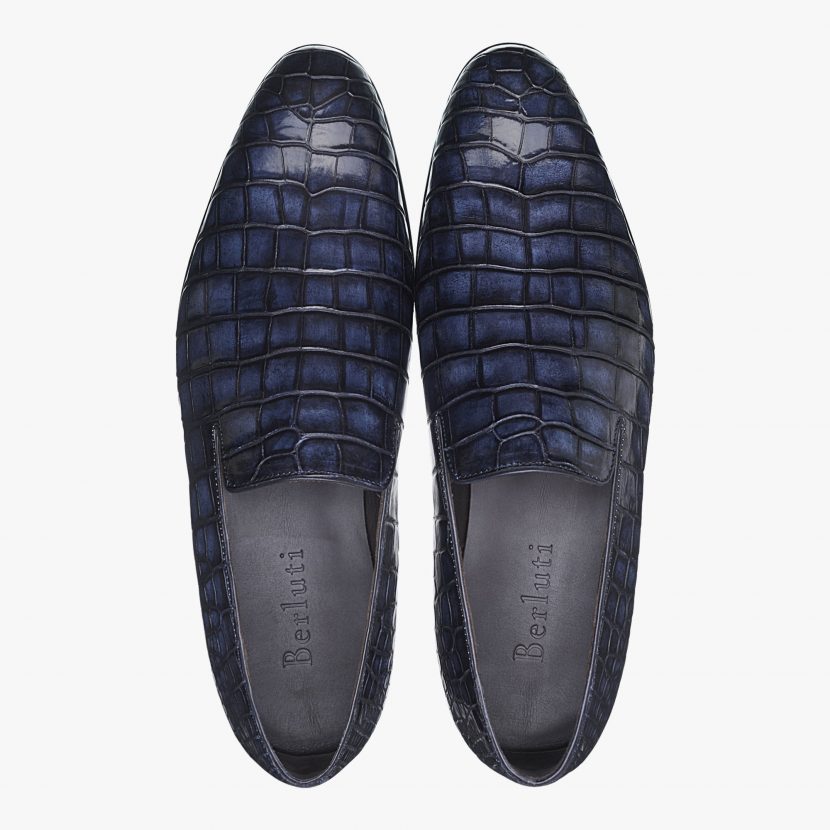 What makes these Berluti Cursive Alligator loathers worth the price tag of almost $12000 is that it is designed to complement the individual's foot shape, offering the most comfortable, walking-on-clouds-like experience. These shoes come in both loafers and oxford styles, with both blue and brown color variants. The leather is extremely soft and supple while the design is intricate, adding the right amount of flexibility to the visual aesthetics.
26. Tom Ford Edgar Alligator Hand-Polished Zip Boot – $14,990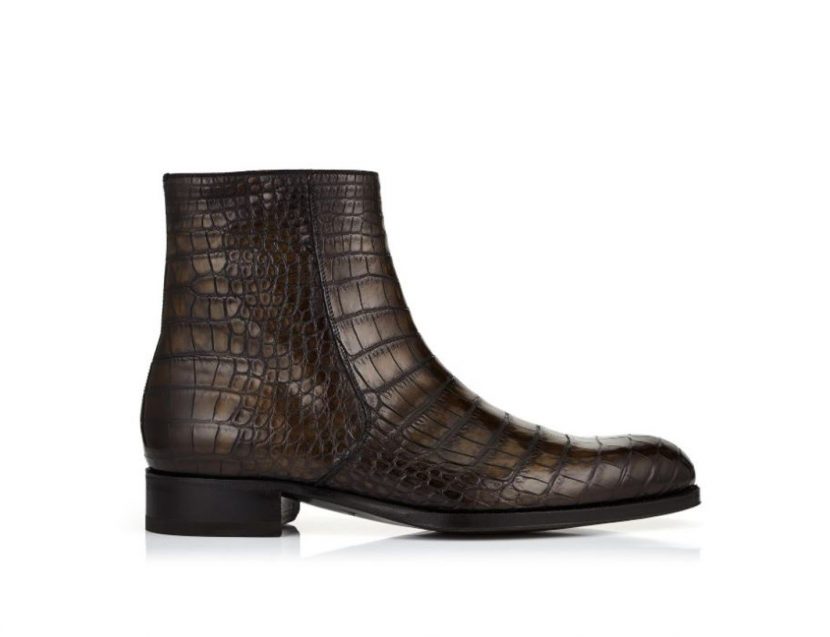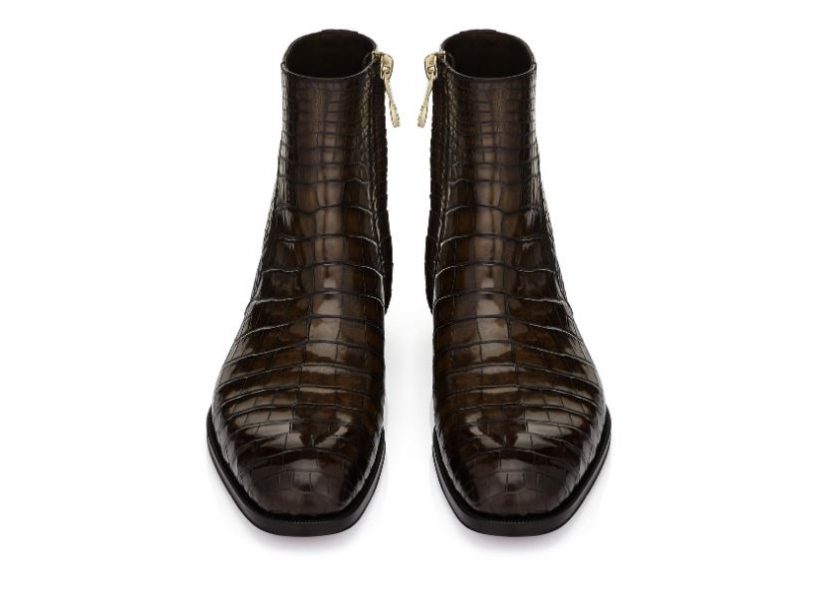 These Edgar alligator boots by Tom Ford are hand-polished, stitched with Blake construction, and feature the luxury Edgar zip design for style and performance. These boots prove that comfort and style can go hand in hand, but it does cost just under $15000.
25. Nike Air Mag 2016 – $26,000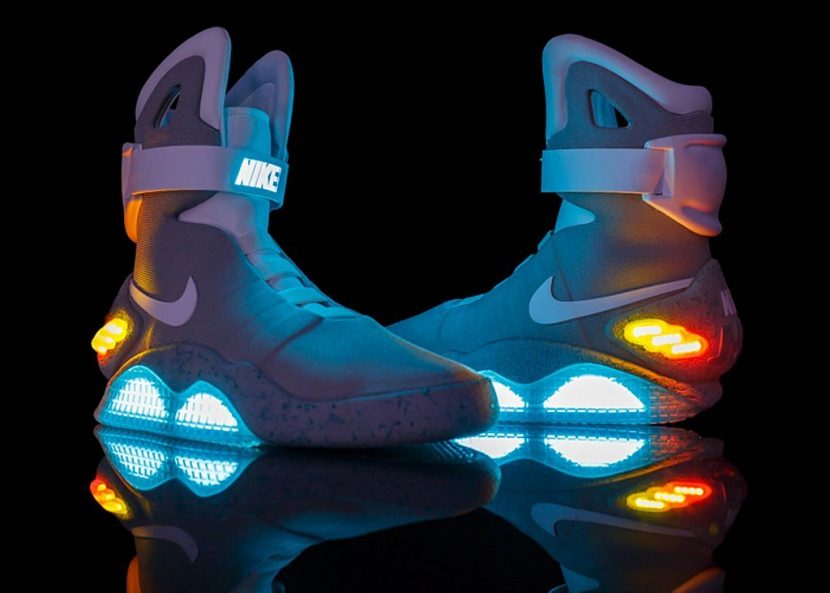 The story behind these sneakers is almost as fascinating as themselves. Inspired by the shoe worn by Marty McFly in the motion film Back to the Future II, these sneakers originally retailed for $10 according to Kickgame. There were only ever 89 pairs of these produced and they were raffled by Nike in 2016, for $10 per ticket (unlimited entries). Nike Inc.'s designer Tinker Hatfield created a self-lacing technology (Electro Adaptive Reactive Lacing), which was incorporated in these sneakers, completing the futuristic look with glowing LED panels.
These were designed to glow for up to 5 hours from the built-in battery and would be functional for about 3000 hours until you'll need to replace the battery. These are the first rechargeable sneakers from Nike. The box includes an anti-gravity magnetic case, a battery charger, and even a commemorative pin. All proceeds from the raffle were donated to Parkinson's research. Additionally, Nike raised $6.75 million for the Michael J. Fox Foundation for Parkinson's Research.
24. Testoni Men's Dress Shoes – $30,000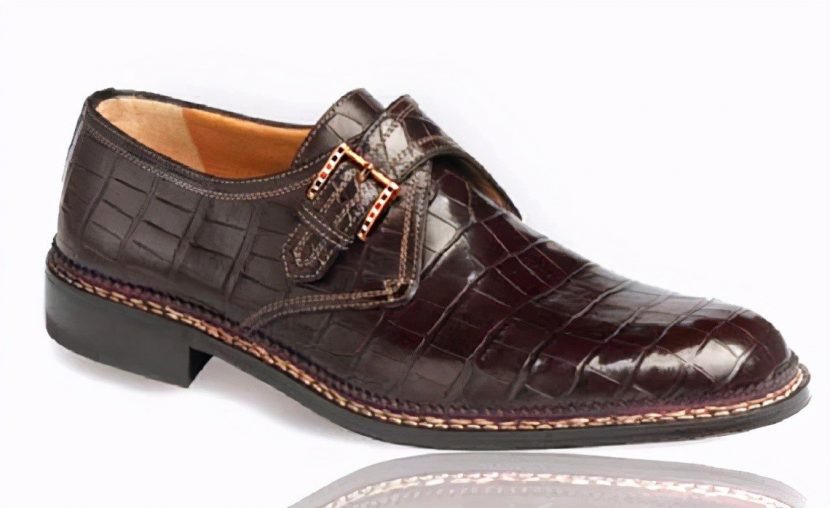 When it comes to comfort and durability in men's shoes, Testoni has name and fame internationally despite starting as a small-time shoe company in 1929. These dress shoes live up to the brand's name, crafted from goatskin and adorned with a diamond and a gold buckle. These shoes are renowned for their weightless form, water-resistance and a special soft kidskin lining that fits like a glove providing unmatched comfort.
23. Testoni Shoes – $38,000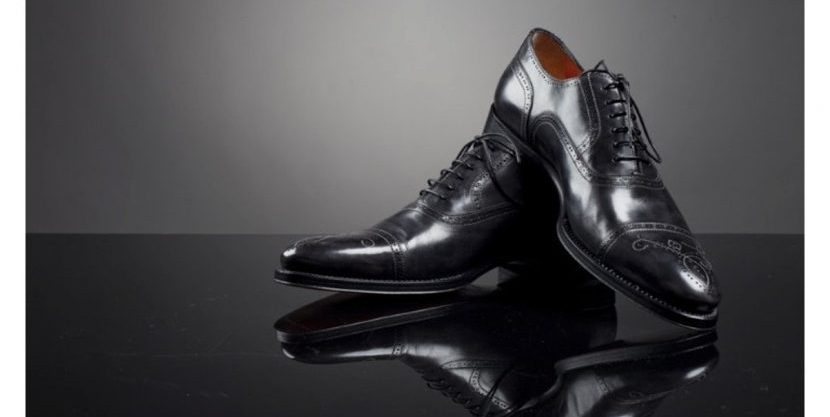 Another one from Testoni, these dress shoes are priced at $38,000. The worth is justified by the exotic alligator leather material that is finished off with a gold and diamond buckle. The shoes are crafted with the innovative Norvegese technique, are incredibly lightweight and can withstand a great deal of wearing against the elements. However, it would be sensible not to spend so much for shoes you're going to be wearing so casually.
22. Nike So Cal Air Force 1 Supreme Max – $50,000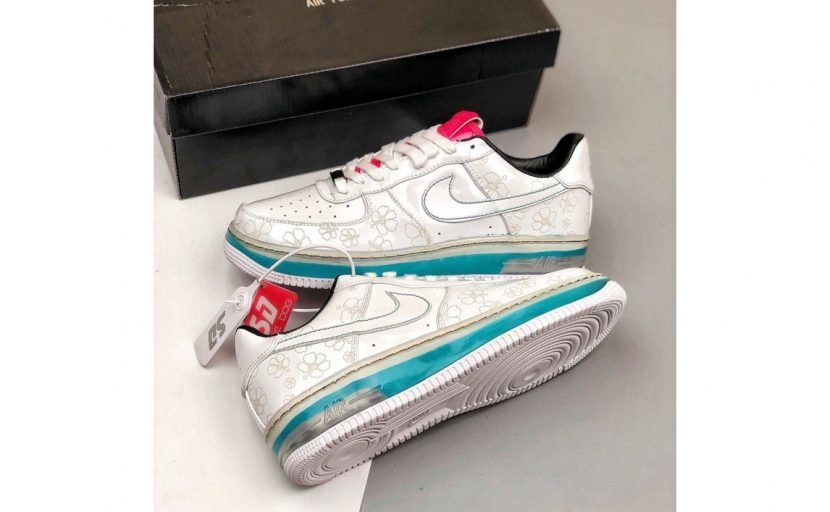 The Nike Air Force 1 became the brand's most popular shoe when it was released in 1982. With 1,700 color variations offered for Air Force 1, the primary design has remained nearly the same over the years. This particular pair, the one-off Air Force 1 Supreme Max were a one-off pair of sneakers, created by a collaboration of Atlanta sneaker boutique Laced Up and jeweler P&C Diamonds. It features 11-carat champagne diamonds and gold accents. The shoes are built to compete for fashion and functionality alike. They are accented with bright neon and integrate modern reflective material with premium leather and bright green laces that give them a signature look.
21. Air Jordan Silver Shoes – $60,000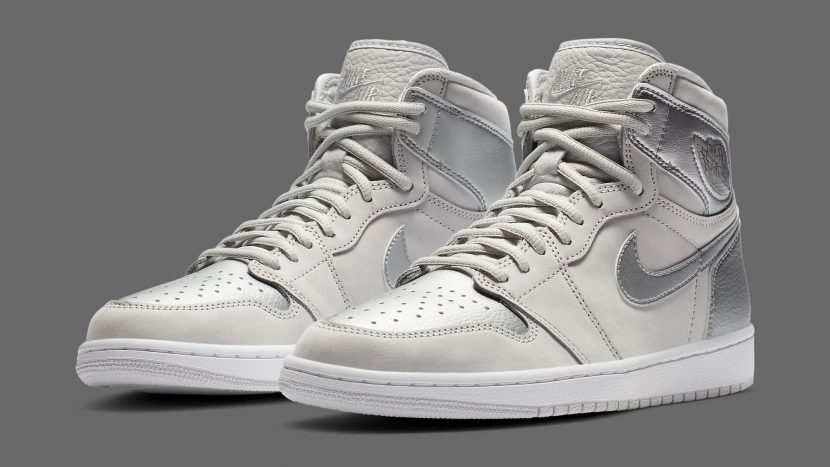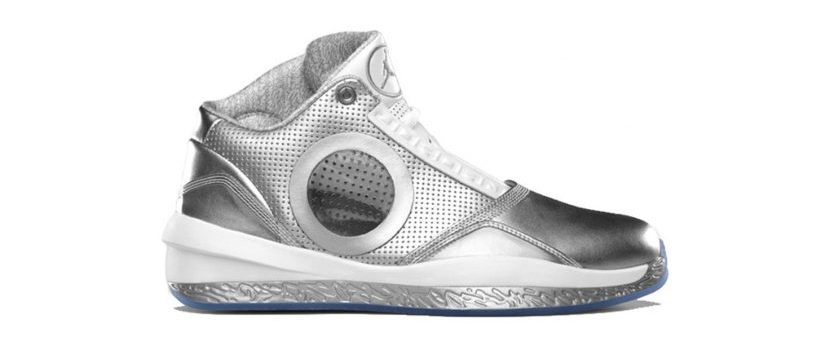 What sets this pair of Air Jordans from the rest of the Jordans, is that there were only 10 pairs ever released, the first one being owned by Michael Jordan himself. The intimacy with the superstar is probably what makes the price tag so high, and makes it to the list of the most expensive shoes in the world. However, these are far from the actual pair that Michael Jordan received, as those were plated with handcrafted sterling silver before they were presented to him.
These shoes have long been every basketball fan/collector's dream. It features a design that is unlike the usual Jordans that are primarily known for performance, as it makes for a comfortable walk in them for day-to-day. This is, in part, why they were differentiated from other brands of Jordan shoes which were used exclusively by athletes.
20. Air Jordan 12 Flu Games – $104,000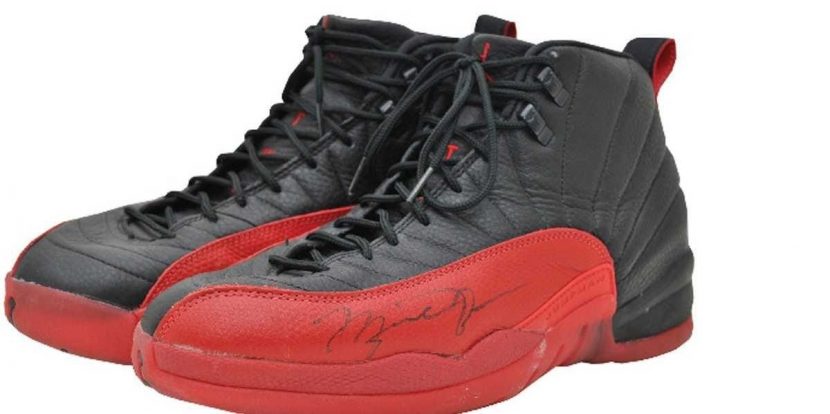 Michael Jordan wore this pair in his famous "Flu Game" and was sold for $104,765. These Jordans were worn during the Game 5 of the 1997 NBA Finals in which Jordan scored 38 points for the Chicago Bulls even while sick from food poisoning. The Bulls ultimately became champions that year, adding to their winning streak of six playoffs within the 1991-1998 seasons.
The shoes were brought to the market by Grey Flannel Auctions and consigned by former Utah Jazz ball boy Preston Truman, to whom Jordan gave them the pair after the game. The red and black sneaker pair was signed by Jordan himself, and a picture that went viral gave solid proof of the authenticity of the shoes.
19. Buscemi 100 mm Diamond Shoes – $132,000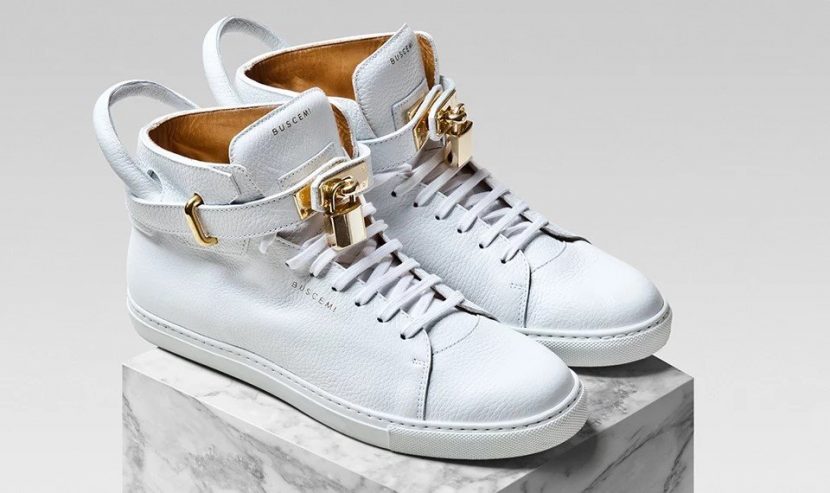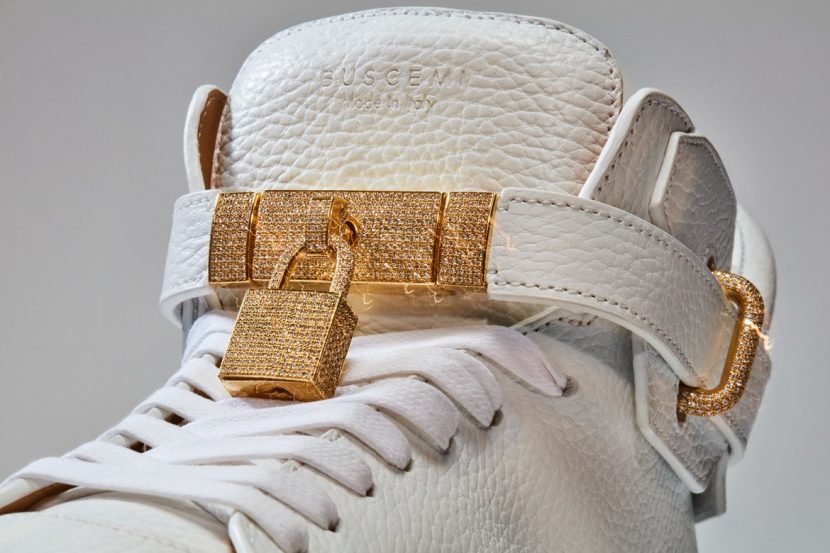 Buscemi is a well-recognized name for top quality, high-end, luxury shoes, owing to the promise of premium materials, subtle touches of elegance, and top-quality craftsmanship. These dazzling white sneakers feature actual diamonds; precisely 11.5 carats of diamonds divided into small keys. It does not stop there as the decoration is made out of 175 grams of 18-carat gold, difficult to miss as the padlock in the front.
The material is Italian leather, considered one of the most expensive shoes in the world for the amount of craftsmanship it requires. All these play a significant role in driving the price to $132,000.
This particular pair of sneakers has been claimed to be designed just for the fun of it which makes you wonder what an actual effort-intensive pair would have looked like if Buscemi was up for it. Buscemi opened a flagship store in SoHo New York which is the only place where you can get these sneakers from.
18. Nizam Sikandar Jah's Shoes – $160,000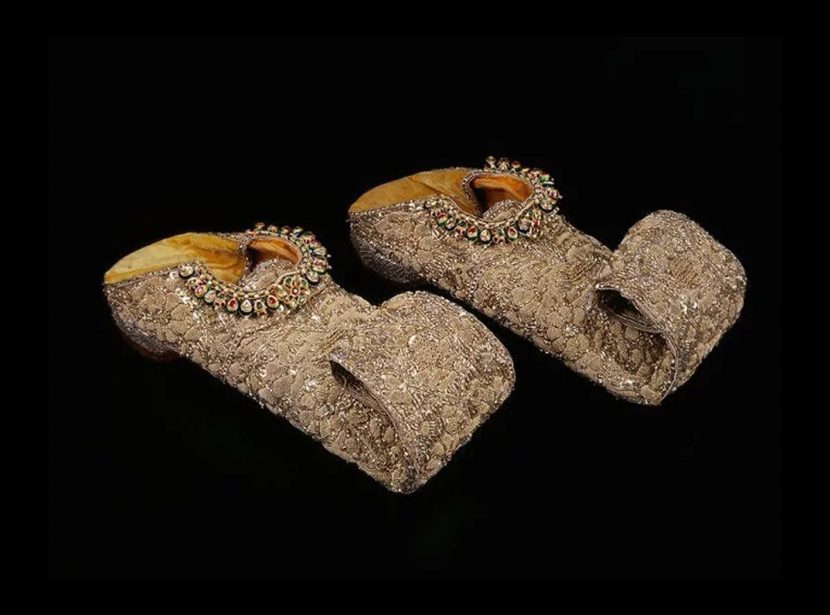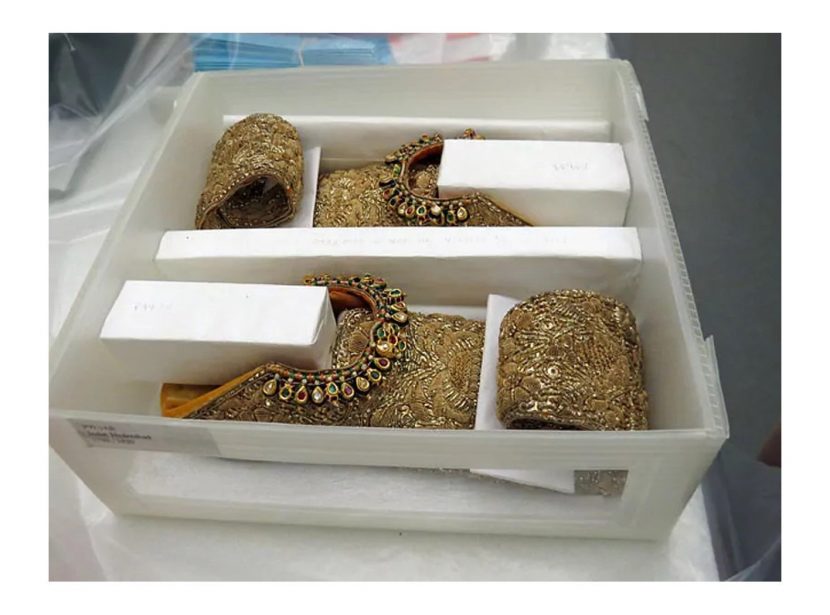 There is nothing humble about these shoes even at first glance, so it's no wonder why they are considered to be one of the most expensive shoes in the world. To be fair, these were the shoes of royalty after all. Owned by the 18th century Nizam of Hyderabad, Sikandar Jah, the golden slippers are heavily embedded with numerous rubies, emeralds, diamonds, and other expensive gemstones embroidered together by gold threads. Designed similar to elf slippers, these shoes have a complex, curled toe design. These slippers were handed down with the throne after the Nizam's demise along with the throne.
Inherited by heir after heir, the shoes eventually found their way to Toronto and became the property of Bata Shoe Museum, where they are insured for $160,000.The museum acquired these shoes by a British dealer in 1999 and displayed them for the first time on September 22, 1999. They were reported to be stolen in 2006. Their condition had deteriorated while they were not under the museum's ownership and were turned up at a local church, probably when the thief realized the only worth is historic about this pair.
17. Converse Fastbreak (Worn By Michael Jordan) – $190,373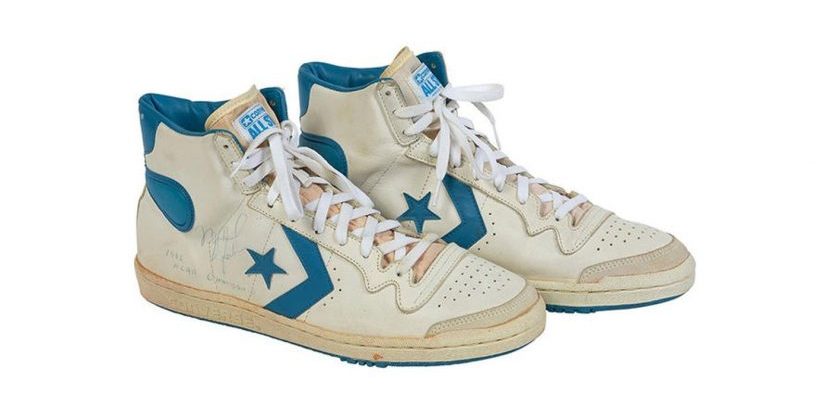 Michael Jordan has lived a very successful life, the proof of which lies in the collector's items on the market used by him. These sneakers were the very first pair that Michael used during his college career, even before he was an NBA star, so naturally, the pair has a rich play history dating back to college days. These fastbreaks were worn by Michael when he and the USA team won the Gold Medal at the Olympics in 1984. Signed by Michael Jordan himself, these shoes went for $190,373 in an auction.
16. Stuart Weitzman Diamond Kathryn Wilson's Pump – $400,000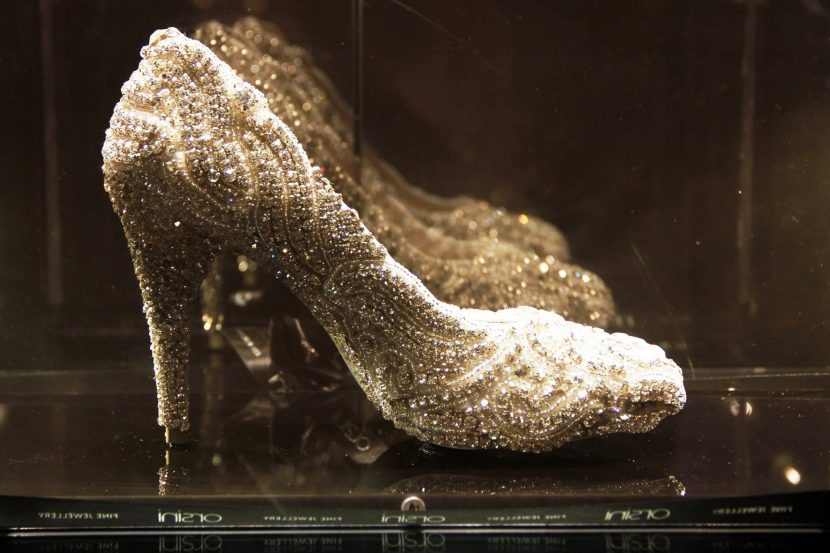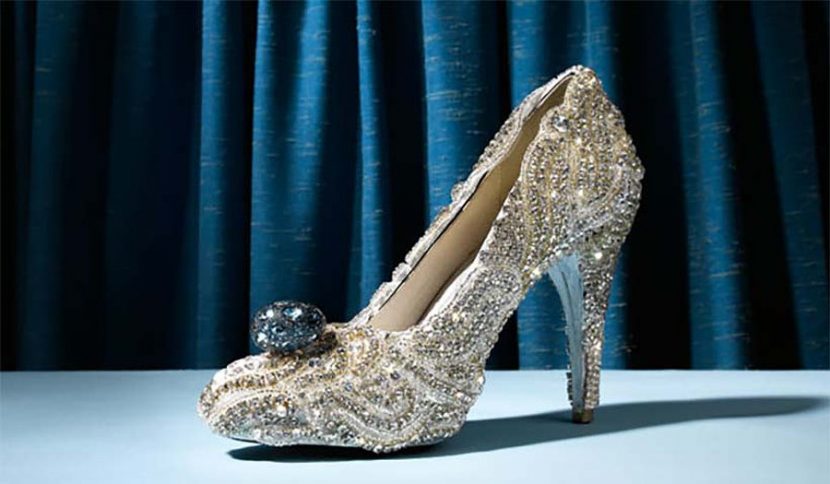 Designed and created by a  New Zealand-based shoe designer, Kathryn Wilson, these pumps sparkle and dazzle more than any other shoe ever created. The shoes have 21.8 carats worth of diamonds and, therefore, making it worthy enough to be one of the most expensive shoes in the world. Wilson made these shoes in collaboration with Sarah Hutchings of Orsini Fine Jewelry.
Kathryn Wilson tediously sketched in pencil the placements of the diamonds on the pump before diving in with the stones. Then she painstakingly positioned each stone by hand with a pair of tweezers and a special adhesive, tallying up over 50 hours of work on the shoes. The pumps were sold in 2013 at an event the designer held for $418,450.   All the proceeds from the event were donated to the Ronald McDonald House charity.
Wilson shared that during her work on these shoes she had a high-security team by her side. "I had two security guards in cars follow me at all times when I was transporting the diamonds and shoe," she told The Daily Mail. "It was quite exciting, like being in a James Bond movie."
15. Nike Waffle Shoe – $475,000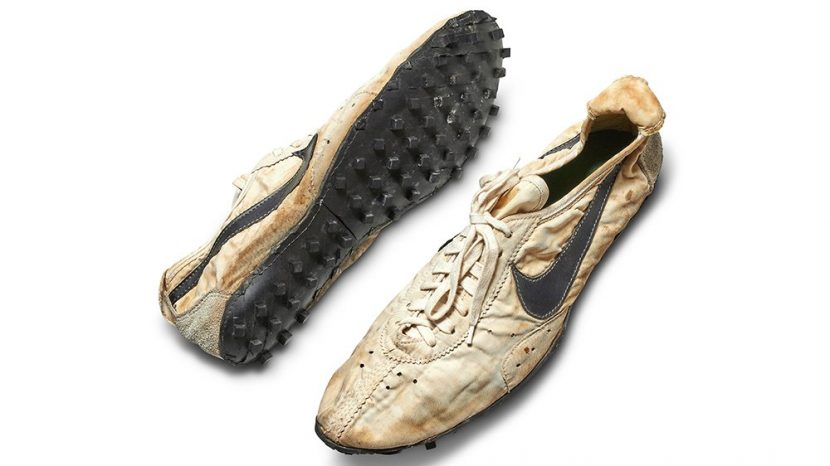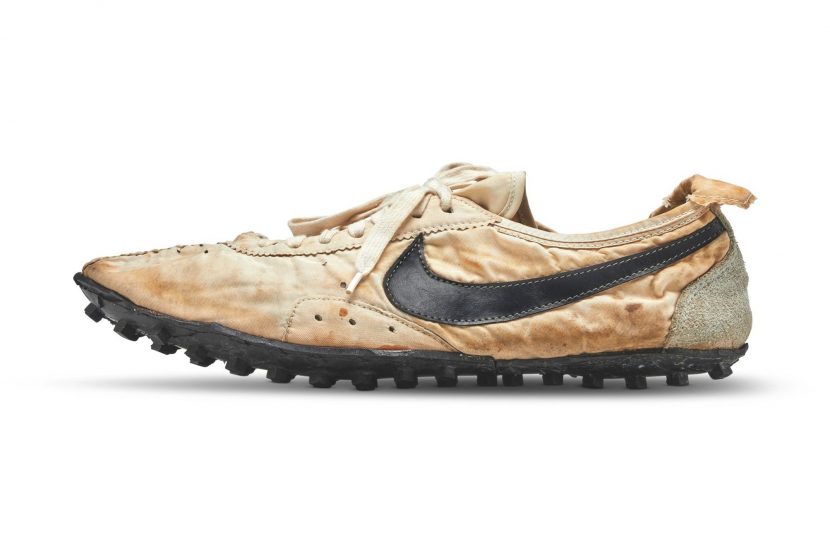 This pair of 1972 Nike running shoes made history as the most expensive shoes, specifically sneakers, to have ever been sold at an auction, fetching $475,500 at Sotheby's. Fully named as the1972 Nike Waffle Racing Flat "Moon Shoe", the pair was in all seriousness made by Nike co-founder Bill Bowerman, who used his wife's waffle iron to create a new kind of running shoe with a waffle-patterned sole to help runners improve speed. Nike continued to make 12 of these shoes for runners in the 1972 Olympic trials, helping Nike become a global sneaker powerhouse.
This pair, bought by Canadian entrepreneur Miles Nadal, was the only one that had never been worn. It was one of the 100 of the rarest sneakers that were ever made that was being sold by Sotheby's, and Nadal purchased the remaining 99 as well for $850,000. The complete million-dollar collection is displayed in his 94,000-square-foot private museum in Toronto.
14. Michael Jordan's Signed Nike Air Jordan 1s – $560,000
The only sneaker's to break the record of the previously mentioned 'most expensive shoes' on this list, the Nike Waffle Shoes, are these Air Jordan's, owned by Michael Jordan. These were exclusively made for the legendary NBA Chicago Bulls player, with one shoe a size 13 and the other 13.5, as allegedly preferred by Michael to play on the court. The sneakers were put up for bidding at an online auction held by Sotheby's, on 17 May 2020, initially expecting to rake in between $100,000 to $150,000. Surprisingly, the bidding increased by $300,000 within the final twenty minutes of the sale and landed these Jordans straight in the Guinness Book of World Records.
13. Stuart Weitzman "Marilyn Monroe" Shoes – $1 Million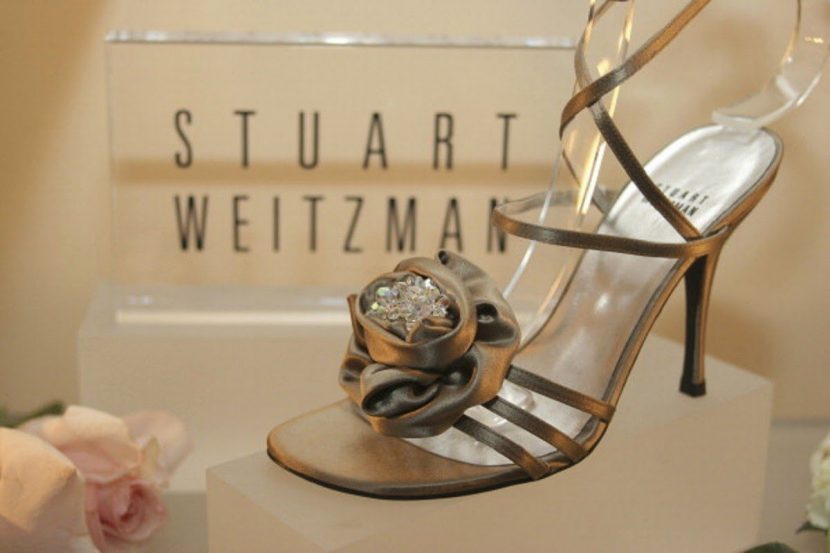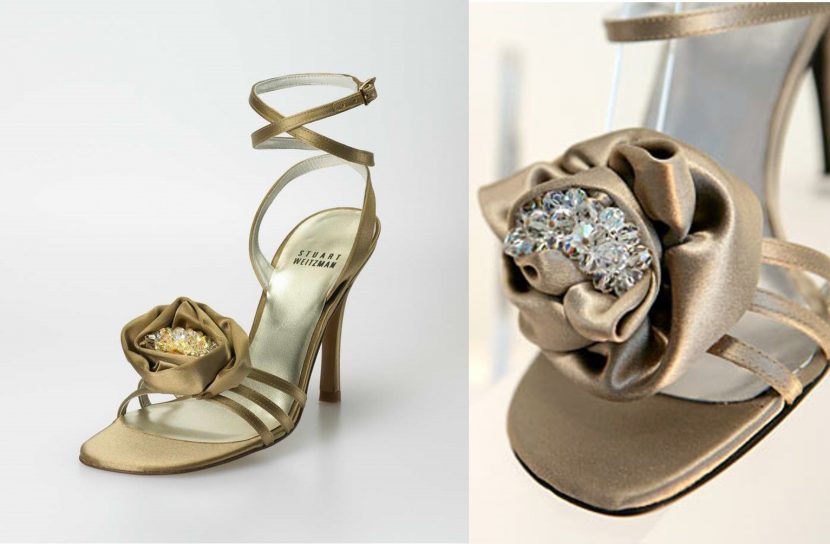 At first glance, these feminine shoes seem very pleasing to the eye – not revealing their actual cost which is a whopping $1 million. These elegant, nude evening shoes with a satin rose at the focal point, which surrounds a cluster of shimmering Swarovski crystals are one of Weitman's most famous creations, despite his usual shoes costing around a million anyway and being owned by famous people.
What sets these shoes apart are the Swarovski crystals – They're a pair of earrings once owned and treasured by Marilyn Monroe. Actress Regina King wore the shoes to the 2005 Oscars when she was nominated for her role in the movie "Ray." After the red carpet event, Weitzman replaced Marilyn's earrings with replicas and auctioned off the shoes in the Celebrity Rags 4 Charity Riches auction.
12. Stuart Weitzman Retro Rose Pumps – $1 Million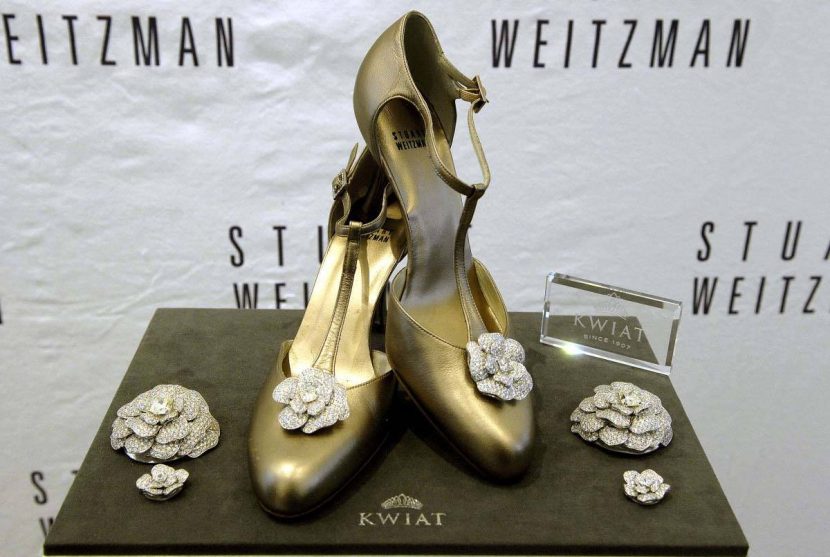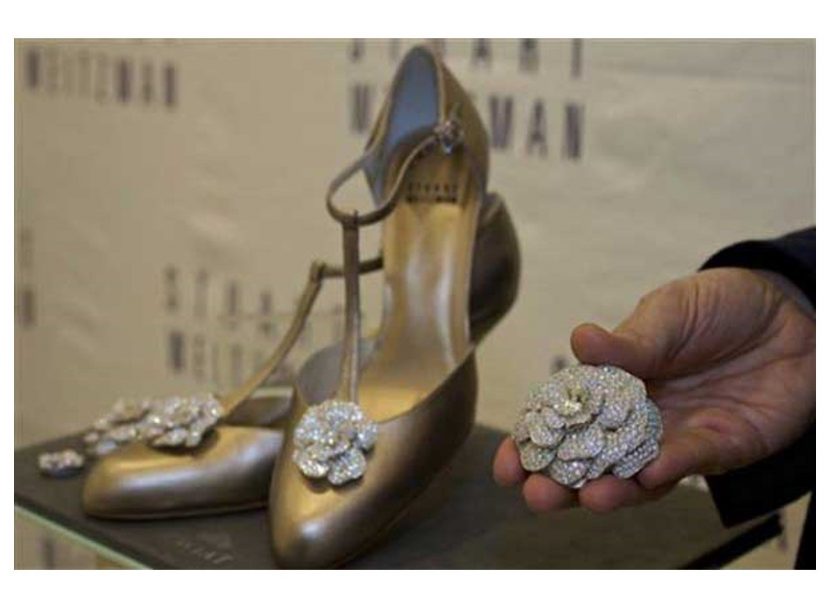 These vintage-inspired slippers are a signature of the 1940s trend featuring the classic T-strap. The roses alone are 100 carats of 1,800 Kwiat diamonds. Additionally, 400 more Kwiat diamonds embellish the shoes throughout. As if the shoes aren't themselves dramatic enough, they have quite a story to them too. When Stuart Weitzman selected screenwriter Diablo Cody to wear the shoes back in 2008 for Oscar Awards, she refused to wear the million-dollar shoes. The actress was nominated and won Best Original Screenplay for her movie "Juno", she told reporters on the red carpet that she thought "it was a cheesy publicity stunt".
11. Stuart Weitzman Platinum Guild Stilettos – $1.09 Million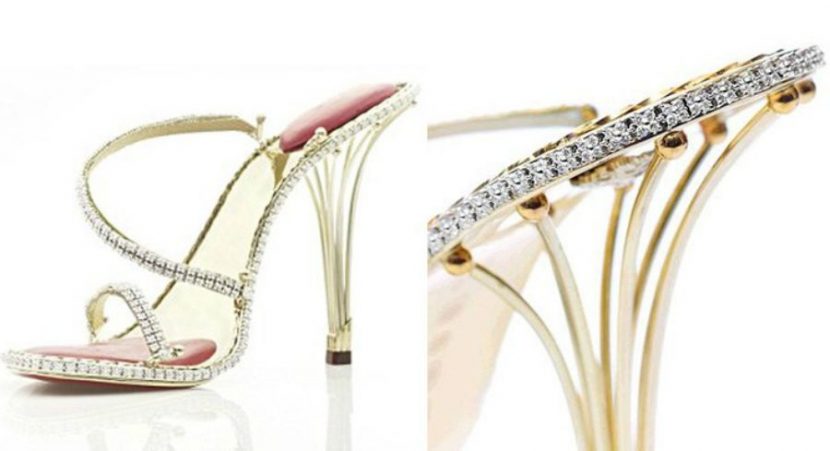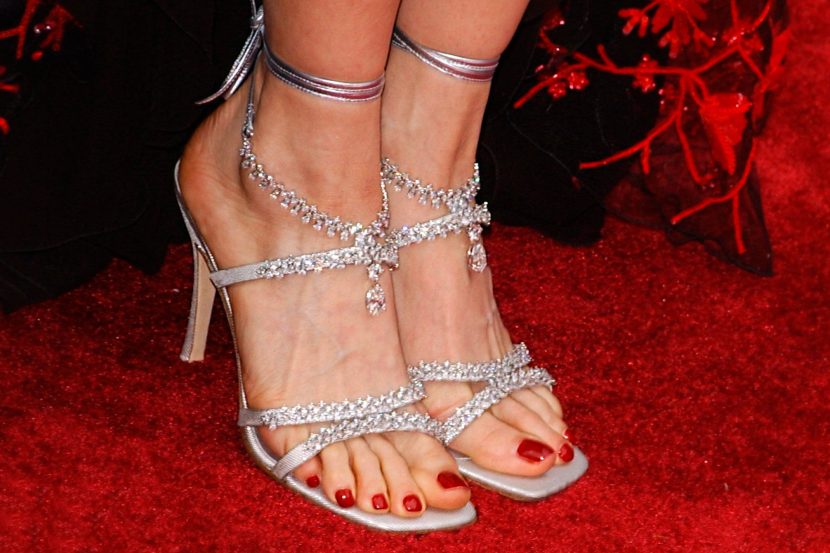 By now you might be wondering why would anyone wear diamonds on their feet when they might as well use them as necklaces? This beautiful pair of stilettos is a good answer- why not both? Another of Stuart Weitzman's extravagant creations, these Platinum Guild Stilettos are designed with platinum fabric that is encrusted with 464 sparkling diamonds sourced by jeweler Kwiat. The diamonds are removable so they can also be worn as jewelry. Former Miss USA plus actress Laura Harring was spotted sporting these shoes at the 2002 Academy Awards.
10. Stuart Weitzman Wizard of Oz Ruby Stilettos – $1.6 Million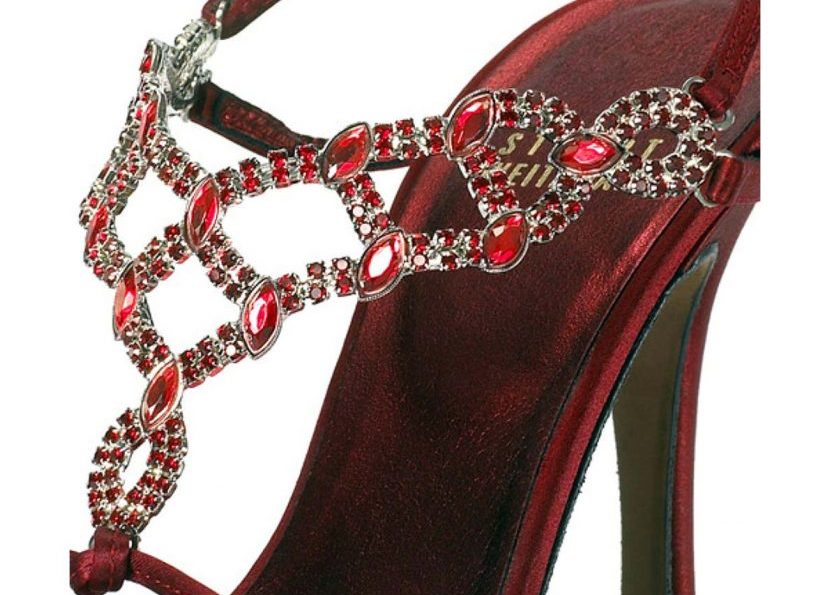 Inspired by the ruby shoes from the Wizard of Oz, Stuart Weitzman designed these shoes featuring a cherry red insole, a red satin upper and encrusted with 642 Burma rubies, weighing half a pound of platinum and boast a total carat count of 123.33. The upper is stitched to the sole with premium platinum threads. The precious rubies can be removed from the shoes to be worn separately as jewelry. These shoes were set to be revealed in the Oscars of 2003, faced a delay in their red carpet run, owing to the general atmosphere of the country during the war with Iraq.
Stuart Weitzman made this decision as a sign of respect, while the shoes remained in a bulletproof case at Harrods in the Knightsbridge store, before being sold for $1.6 million. Weitzman hoped to share his creative masterpiece with more people, which led to a limited number of replicas of this shoe being released for a more affordable price of just $390 per pair.
9. Tom Ford Custom by Jason Arasheben – $ 2 Million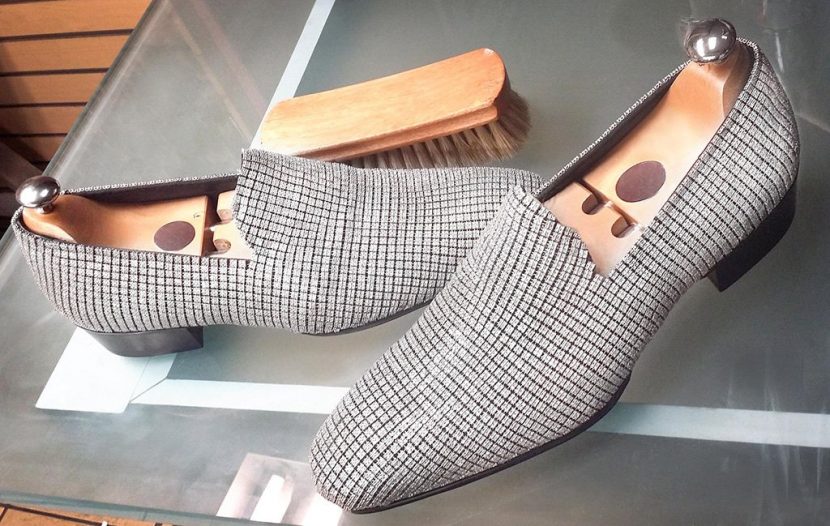 For the 2014 America's Got Talent season finale, the host, Nick Cannon decided it would be a memorable fashion statement to wear a set of shoes entirely covered with diamonds. It did, however, take up to 2000 hours of labour, almost a year, to complete the pair. Custom-made and commissioned for the TV host by Jason Arasheben of Beverly Hills, an L.A.-based jeweler, the shoes feature 14,000 full-cut round diamonds totaling a weight of 340 carats. The diamonds were also placed in white gold on a Tom Ford sole, making the pair astoundingly intricate. Cannon donated the shoes to charity later that year.
8. Stuart Weitzman Tanzanite Heels – $ 2 MILLION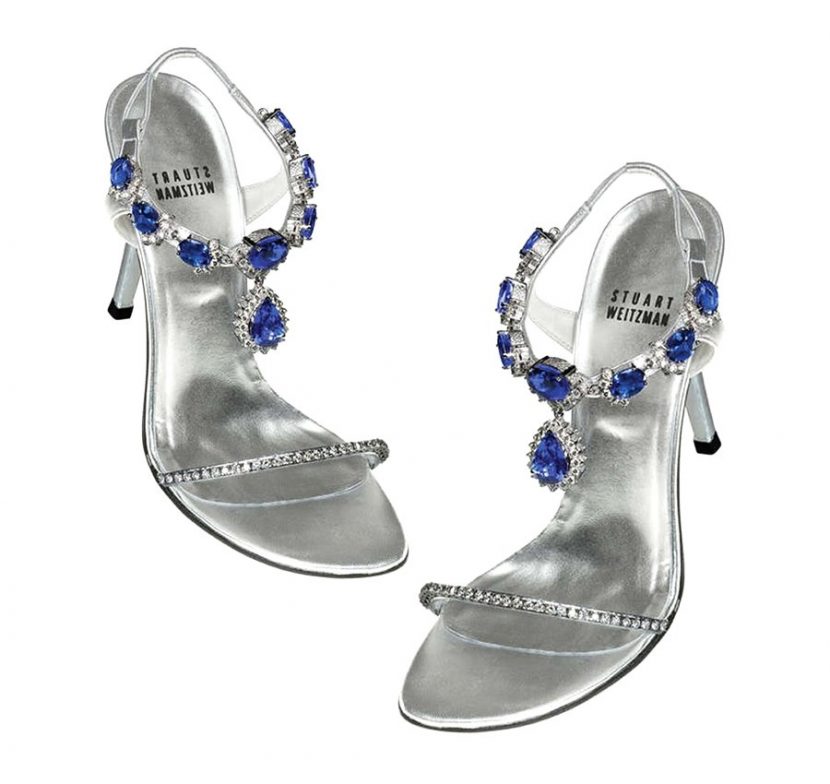 A pair of heels worth $2 million, that does not even covered in diamonds? Maybe, but there is so much more to this pair that makes it worth the price tag. Stuart Weitzman has another contender on this list of most expensive shoes. In collaboration with Eddie Le Vian, he created this extravagant shoe featuring silver cowhide for the straps, metal platinum for the heels and, of course, the gorgeous pattern of blue tanzanite stones adorning the front of the shoe. For an added aesthetic, there is a suspended precious tanzanite pear-shaped drop in the front that weighs 16 carats alone.
The total precious stone carat weight is 185 carats. So what makes this shoe so rare and valuable? The rarity of the Tanzanite itself; the gems are found in the only known mine (in  Kilimanjaro) known to exist and its expected lifespan is just 30 years. It is prized even more than diamonds. This makes them the only known shoes featuring tanzanite. The heels were displayed to the public for the first time in January 2007 at the New York Public Library.
7.  Stuart Weitzman Cinderella Slippers – $2 Million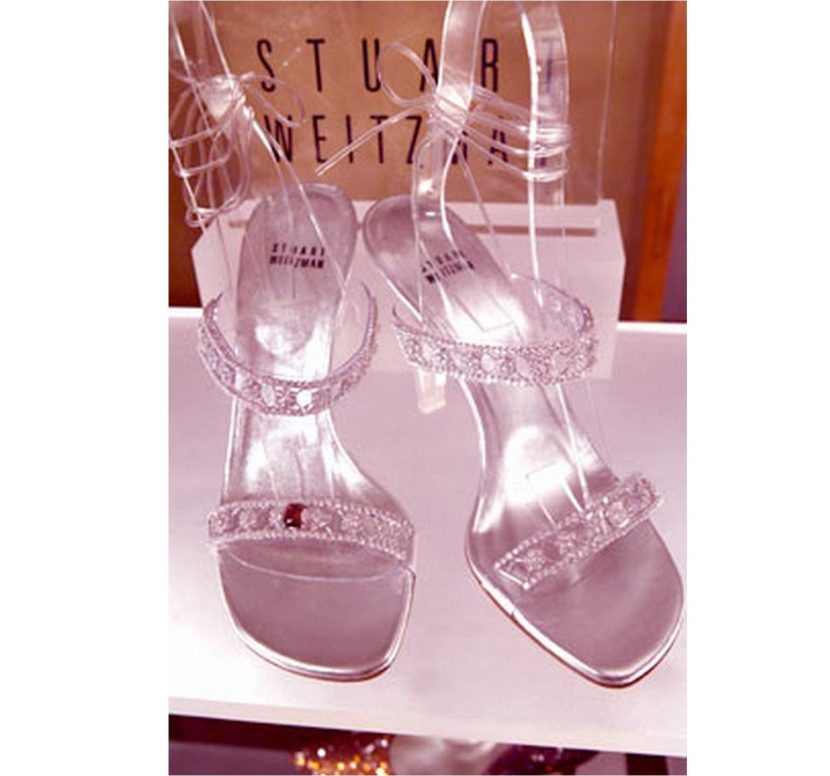 Much like the ruby shoes from the Wizard of Oz, the iconic glass slippers from the fairytale "Cinderella" were another irresistible inspiration for Stuart Weitzman. As you might have guessed from the other entries in this list, Weitzman spares no effort nor holds back on expenses to craft his masterpieces, truly making exemplary shoes. The same can be expected from these glimmering and dazzling set of slippers that are almost invisible except for 565 Kwiat diamonds making for 55 carats of precious stones.
Even though the original ones in the story were made of glass, because of the impracticality, Weitzman found the next-best as a substitute. The frame is made from the highest quality Italian leather, while the diamonds sit in a platinum setting. The only glint of color in the shoes comes from a rare 5-carat amaretto diamond in the right slipper. The "princess" associated with these real-life magical slippers is Allison Krauss, a country singer with her own story of hard-work that changed her life. She was spotted sporting these in the 2004 Oscars.
6. Solid Gold Ovo X Air Jordans
The good thing about Air Jordans is that any client can have custom made shoes to fit their style. So when Drake dreamed up solid gold kicks, he, of course, went to Nike for these Air Jordans. The sneakers feature the logo details on the bottom of the sole, with every detail perfectly replicated. They even include the embroidered Jumpman on the heel, making the shoes accurate down to the tag on the tongue's interior. Artist Matthew Senna made the painstaking effort to coat each sneaker in 24-carat gold, resulting in each of the two weighing 50 pounds, making these sneakers one of the most expensive shoes in the world!
5. Stuart Weitzman Rita Hayworth Heels – $3 Million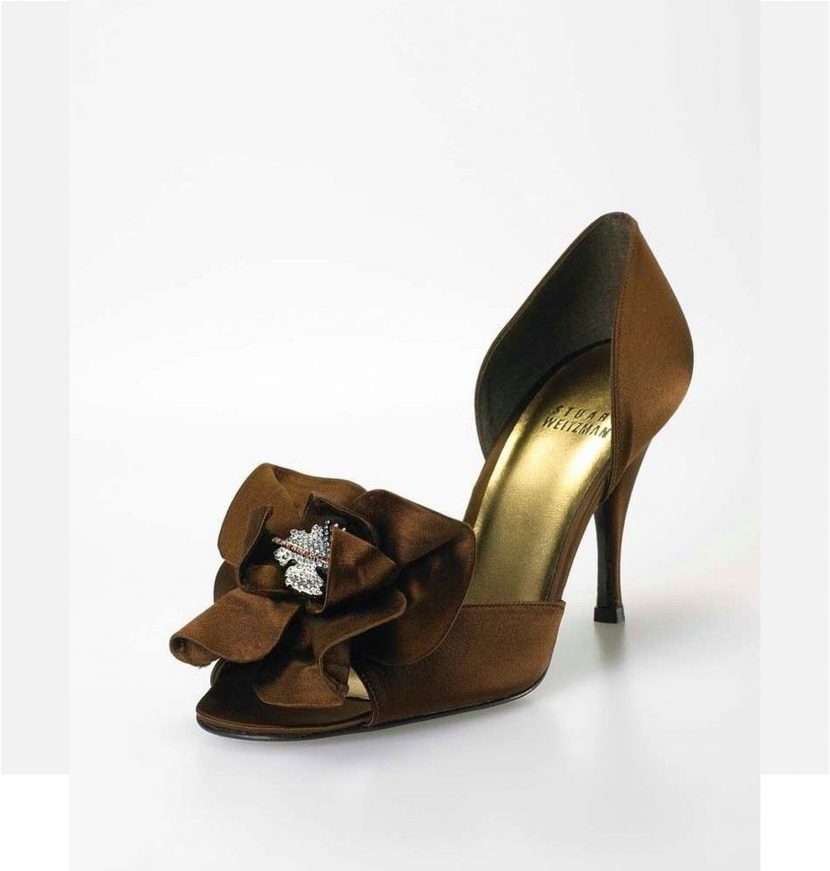 For someone to be so famous to have shoes inspired after them by Stuart Weitzman – but also not be from a fairytale – might be a big ask, but what better option that the film icon, Rita Hayworth. Rita Hayworth is remembered as the most famous pin-up girl for WW II GIs, in addition to being an actress and dancer. Her beauty turned heads and dropped jaws all across the globe. This is what Stuart Weitzman hoped to happen again when he designed these beautiful rusty heels. Nestled in the ruffled satin flower on the peep-toe, closed heels, gleam every kind of precious stones like rubies, sapphires and diamonds.
The simple yet classy heels are in an unusual colour and not as glittery as their other million-dollar-counterparts on the list, yet they make for a mature aesthetic. It's not the association of Rita Hayworth's name with the heels that gives them their price tag – rather the stone-cluster on the satin ruffle, which was formerly earrings worn and adorned by Rita herself. The heels commemorate the one-of-a-kind actress much by being one-of-a-kind footwear. Worn once by singer Kathleen "Bird" York at the 2006 Oscars, the shoes went to Princess Yasmin Aga Khan, the daughter of Rita Hayworth. Even though the shoes are valued at a staggering $3 million, they are not up for sale and are property of Princess Yasmin.
4. Harry Winston Ruby Slippers – $3 Million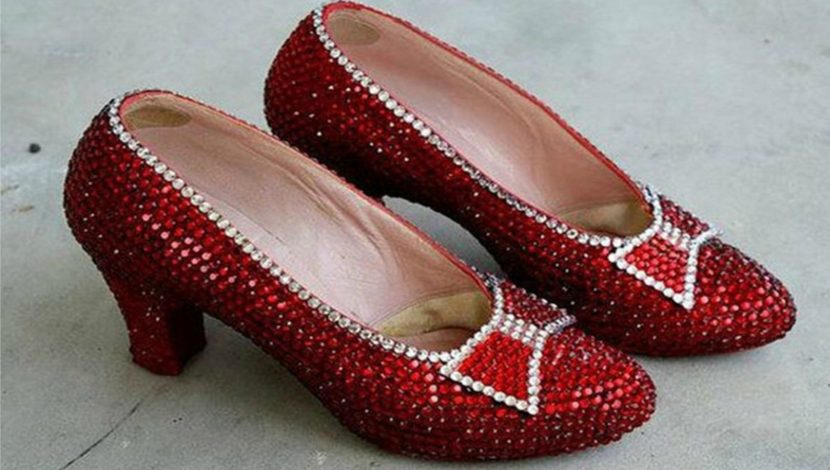 For the 50th anniversary of the classic film, "The Wizard of Oz", the famous jewelry designer Harry Winston recreated the iconic ruby slippers worn by Dorothy Gale's character. The original slippers featured red sequins that were adorned on white pumps, covered with red fabric, painted red soles, and bows made of stiff cotton with three kinds of beads and rhinestones.
However, Winston went above and beyond with his iteration of the pair, encrusting 4,600 rubies making 1,350 carats of rubies, with additional 50 carats of diamonds. Costing up to a staggering $3 million, the pair ended up becoming a lot more expensive than any of seven pairs of prop-shoes for the film, for which the highest bid was $612,000, making it one of the most expensive shoes in the world that exist. The shoes took 2 months to complete.
3. Nike Shoes Thrown At President George W Bush – $10 Million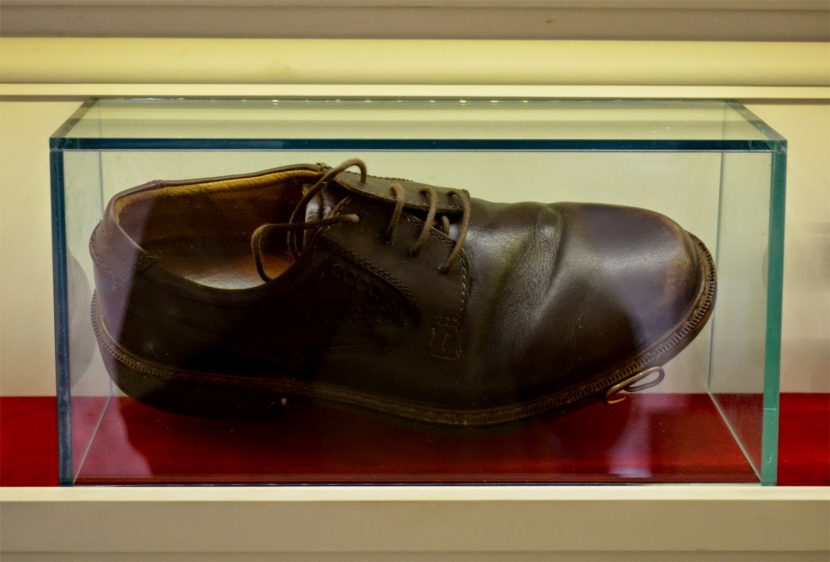 This pair is probably the least expected to make the list. The story behind this shoe may mean more to some than others, so much that it was bought for a cool $10 million. It was December 14, 2008, that an Iraqi correspondent for the Baghdadiya television station, Muntadhar al-Zaidi made headlines internationally when he took off his Nike shoe and threw it at then-President George Bush. This pair of Nikes were bought for $10 million by a sixty-year-old man named Hassan Mohammad Makhafa, from Aseer. To him, he said the shoes represent a medal of freedom that he wouldn't mind selling off all of his fortunes to acquire. As if that isn't wild enough, the shoe manufacturers at Nike received over 500,000 orders for the same shoe within a week of the incident as well.
2. Debbie Wingham Heels – $15.1 Million
British designer Debbie Wingham was commissioned by an unnamed family in Dubai in 2017 for crafting the most spectacular pair of stilettos. In collaboration with Chris Campbell, a contemporary artist based in Florida, the shoes were made resembling a cake- since they were for a birthday. The heels are loaded with precious gems including three-carat rare pink diamonds and one-carat blue diamonds, which alone cost over $128,000, making them one of the most expensive shoes in the world.
The gem count doesn't stop there as there are further four three-carat diamonds and 1,000 pointer diamonds set in platinum framing. The pair also features gold soles and zippers, as well as 24-karat gold paint on the leather. The stitching was done with an 18 karat gold thread and features a gold thread inlay. The shoes were finished off with a rose gold accent and topped with handcrafted Arabian Jasmine flowers at the center of each shoe. Debbie contributed to the design, while Chris did the crafting, taking hundreds of hours.
1.
Jada Dubai And Passion Jewellers Passion Diamond Shoes – $23.6 Million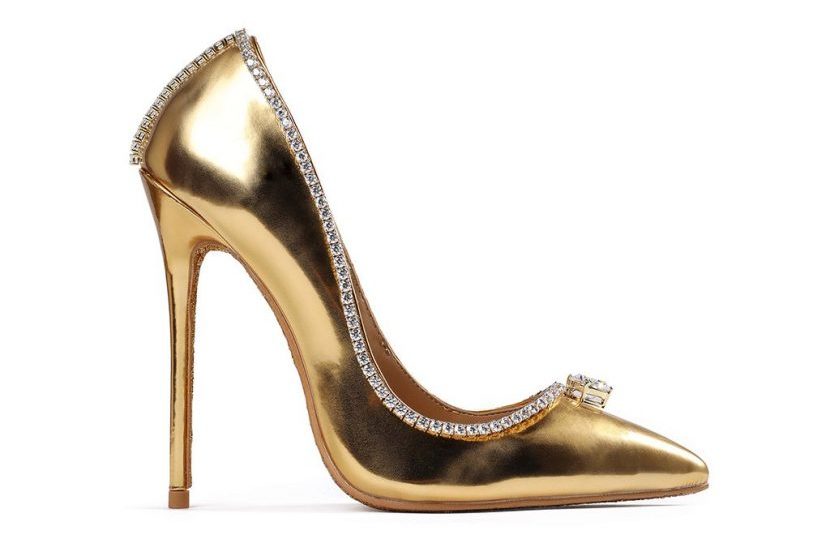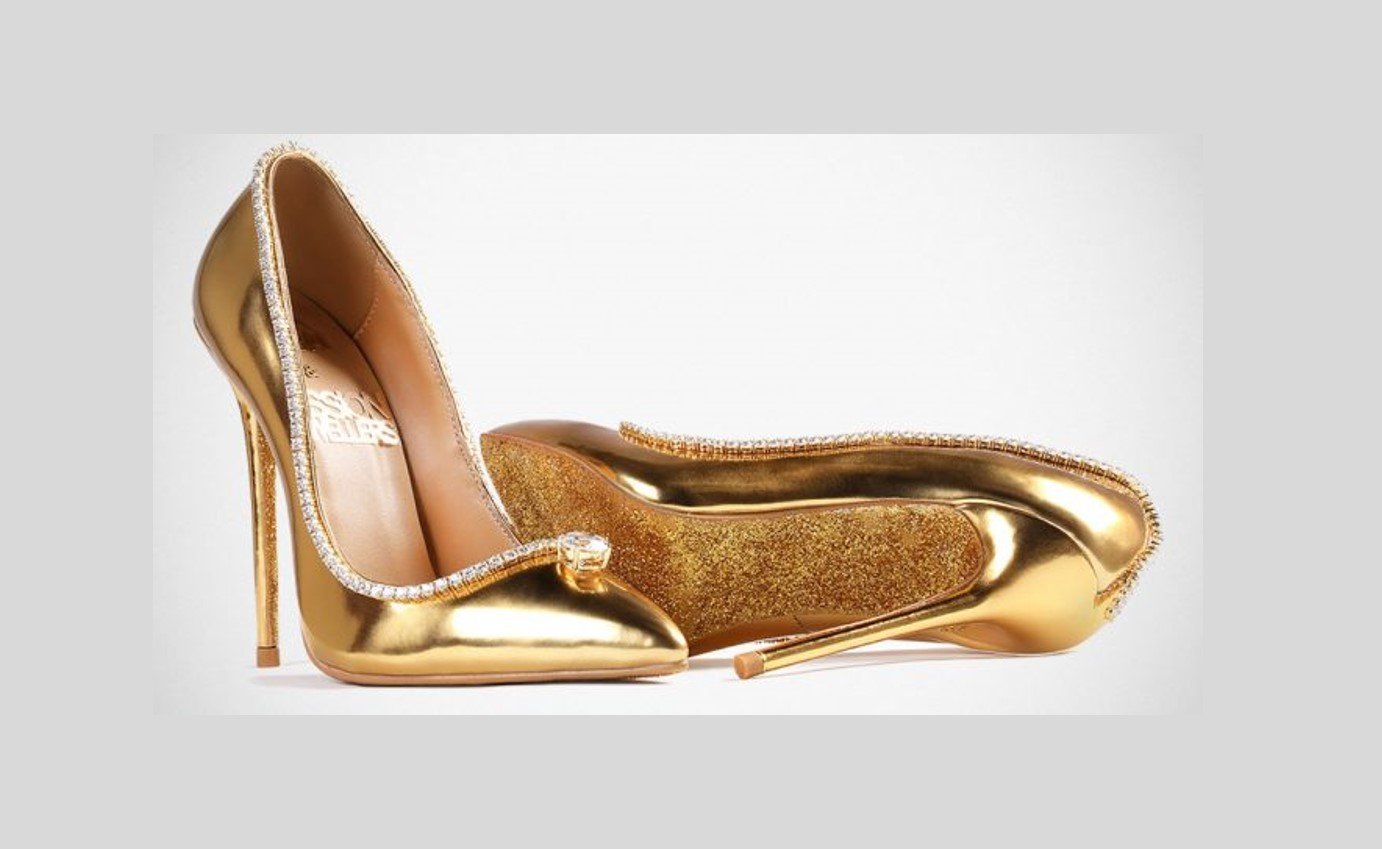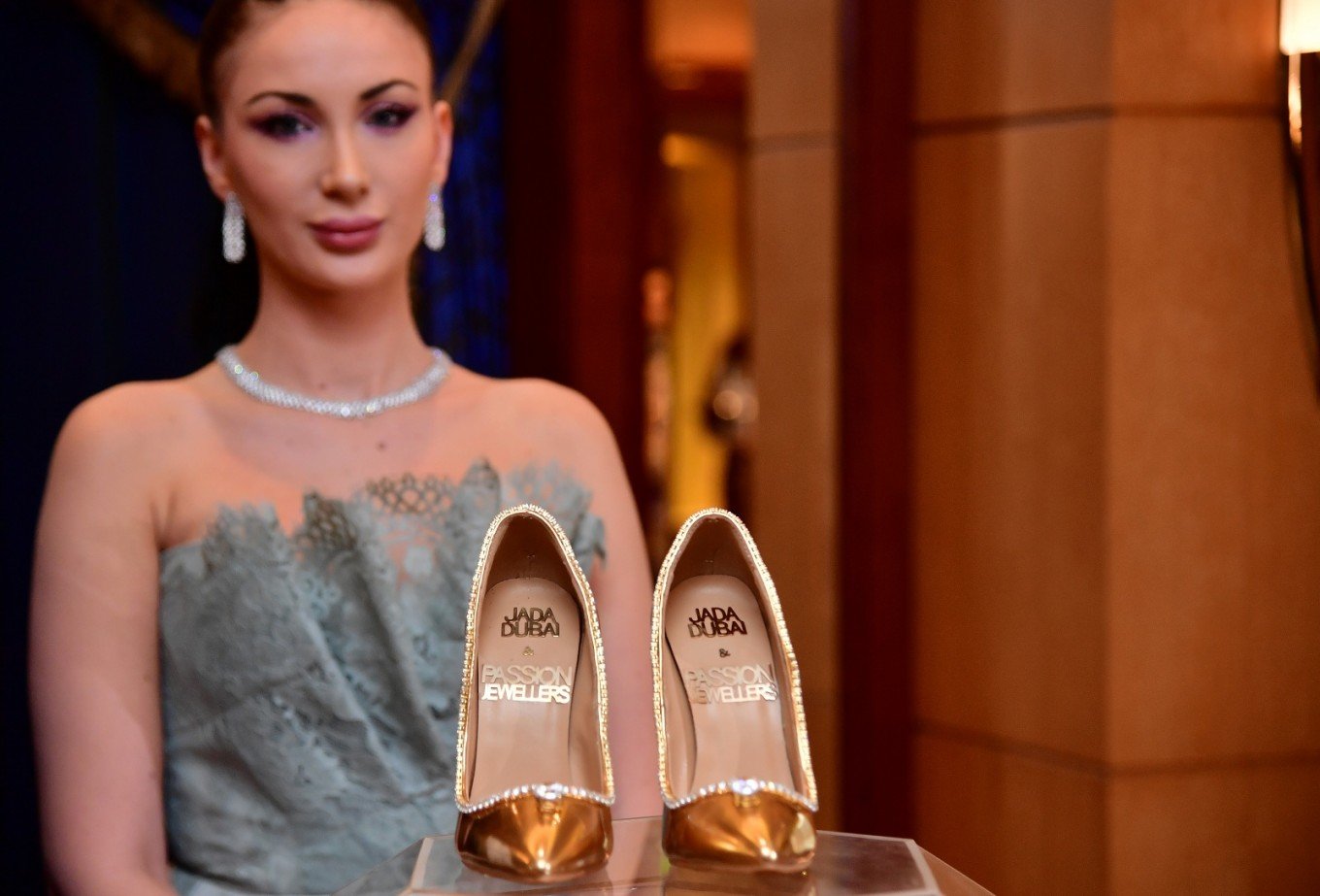 Jada Dubai, a United Arab Emirates-based brand, created the world's most expensive shoes,  partnered with a high-end jeweler, Passion Jewelers. Jada Dubai is a big name for beautiful shoes for women. Their signature style is elegant and simplistic looking, however, they do always feature diamonds in them. This is perfectly encompassed in the Passion Diamond Shoes. 
The pair of high heels is made out of four main materials: gold patent leather, silk, gold, and diamonds and took about 9 months to create. The  5-inch  golden stiletto has an upper lined with brilliant small diamonds – all 236 of them. At the center of each of the shoe sits one flawless and stunning 15-carat D diamond.  The insole bears the name of both companies, embossed in pure gold, that worked on the shoes: Jada Dubai and Passion Jewelers.
The Passion Diamond shoes were unveiled to the public in September 2018, at a launch event in Dubai that was nearly just as luxurious as the shoes at the only 7-star hotel in the entire world, the Burj Al Arab. The event was so exclusive that only 50 guests were invited. To date, there have been no buyer's that expressed their interest in buying the stunning heels. In part that these are more of a collector's buy than to be worn, but mostly because of their staggering price. All eyes are fixed on these beauties for when and who will they finally go to.