All You Need To Know About the Tesla Model X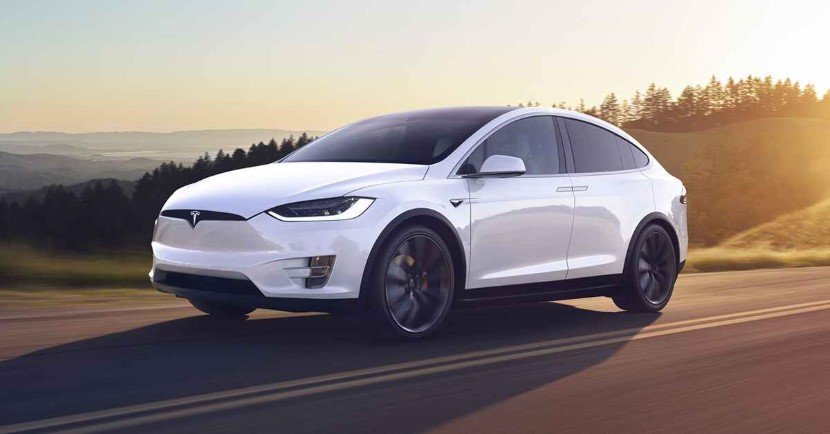 Image Credits: Tesla
The Tesla Model X was ranked seventh among the world's best-selling plug-in cars in 2016, after being released in September 2015 in the San Francisco Bay Area. According to Elon Musk, this SUV was "the most difficult car in the world to build".
This SUV outperforms all others, in terms of speed, performance, utility, safety, and range, all the while boasting a magnificent appearance. However, it also carries a hefty price tag.
Recommended for you (article continues below)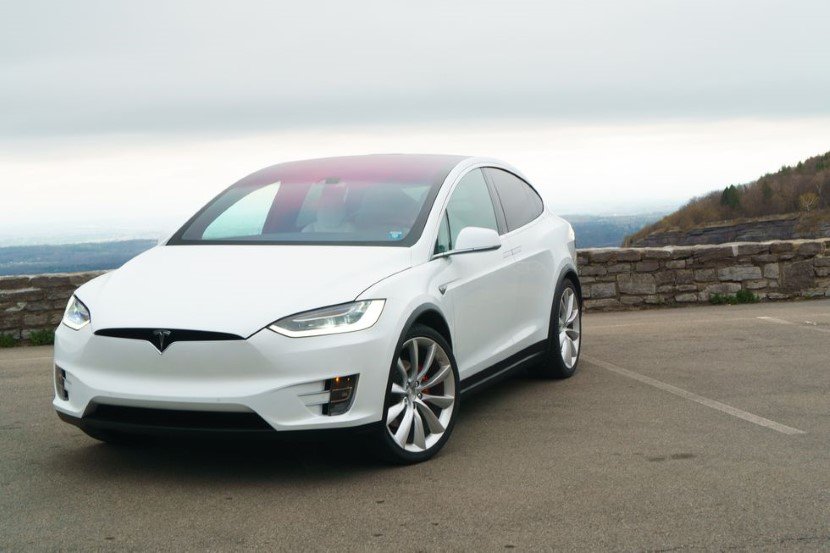 What makes the Tesla Model X so safe?
Tesla's Model X became the first SUV ever to achieve a perfect safety rating by the National Highway Traffic Safety Administration (NHTSA). This SUV obtained five stars in all categories, including frontal crash, side crash, and rollover.
It also received a five-star rating from the European New Car Assessment Programme (Euro NCAP). Model X achieved a nearly perfect score of 98% in the Adult Occupant Protection category, 81% in the Child Occupant category, 72% in the Vulnerable Road Users category, and 94% in safety assist. It also scored a full 8 out of 8 points on the Frontal Offset Deformable Barrier test, and 16 out of 16 points on the Side Impact test.
As explained on their website, the Tesla Model X has a large crumple zone due to the absence of a combustion engine usually found in a gas vehicle, decreasing the frontal impact. SUVs are usually responsible for most of the rollover accidents due to their high centre of gravity, accounting for one-third of collision-related deaths.
According to the Insurance Institute for Highway Safety, in 2015 alone, there were 22,543 deaths involving occupants of passenger vehicles, out of which 7,210 died in rollover crashes. But Tesla's Model X has a floor-mounted battery pack, providing a lower centre of gravity and consequently, a lower rollover risk.
The notable safety features of the Tesla Model X SUV include; standard automated emergency braking, standard lane-departure warning, and available adaptive cruise control with semi-autonomous driving mode.
The Model X's autopilot feature makes use of several cameras, multiple sensors, and radars to detect objects, people, and other vehicles. This includes the auto park and auto lane changing features as well as navigation and summoning. Unfortunately, Tesla's autopilot feature isn't completely autonomous yet and must be used within the driver's supervision.
Tesla Model X specifications and features
1. Dimensions
Wheelbase: 116.7 in (2,964.18 mm).
Length: 198.3 in (5,036.82 mm).
Width: 81.5 in (2070.1 mm).
Height: 66.3 in (1,684.02 mm).
2. Exterior
The Tesla Model X is available in 5 colors including; Pearl White Multi-Coat, Midnight Silver Metallic, Solid Black, Red Multi-Coat, and Deep Blue Metallic. The SUV supports "incredible aerodynamics and the lowest drag coefficient of any vehicle in its class."
However, the most highly anticipated feature of the SUV was its Falcon Wing doors. These automatic top-hinged doors with sensors are designed to open in even the tightest of parking spaces.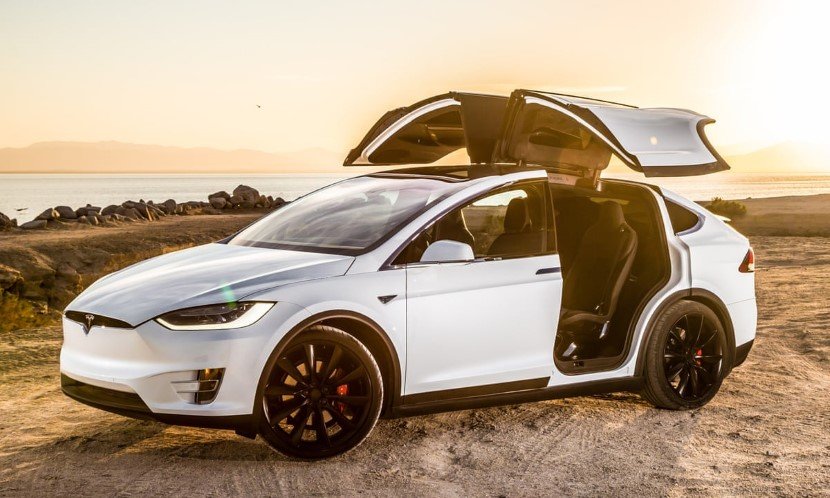 The front doors also open automatically as the driver approaches them with their key fob and can be closed by tapping the brake pedal.
3. Interior
The Tesla SUV can seat five to seven passengers and has a central 17-inch touchscreen as well as a second screen located behind the steering wheel. The screen comes pre-loaded with Spotify but does not have Apple CarPlay or Android Auto capability. The SUV is also equipped with 17 speakers. Buyers can also choose between black and white, cream or all black leatherette seats.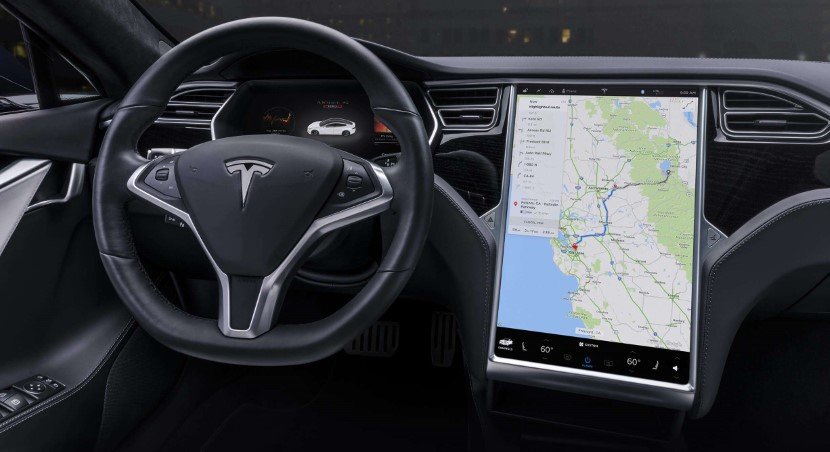 The second and third-row seats can fold flat, and a second trunk located at the front allows for maximum cargo space. The windshield also extends from the base of the hood, up over the front-seat passengers, to provide a panoramic view with solar tinting. This windscreen is the largest single piece of glass on any production car on the road.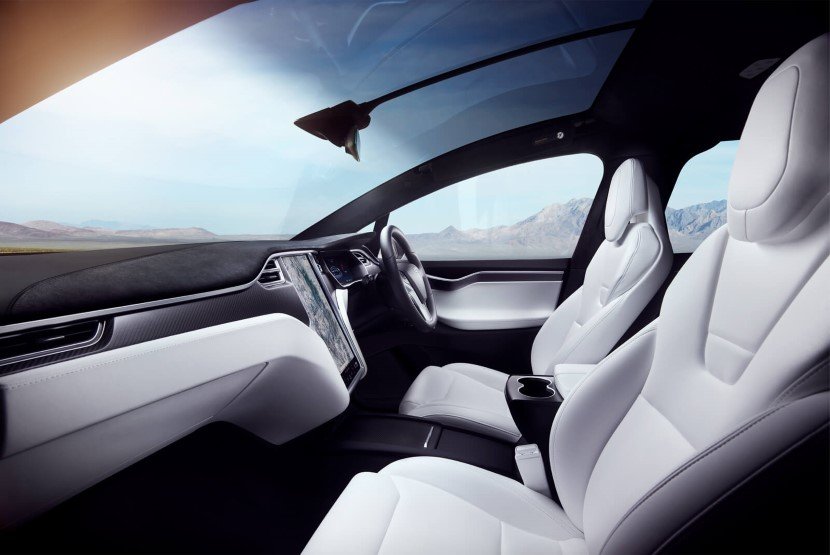 The Tesla Model X is also equipped with a High-Efficiency Particulate Air (HEPA) filter and a Bioweapon Defense Mode. This air filter is "inspired by the air filtration systems used in hospitals, clean rooms, and the space industry" and it is "capable of stripping the outside air of pollen, bacteria, and pollution before they enter the cabin and systematically scrubbing the air inside the cabin to eliminate any trace of these particles."
The HEPA particle filter is 10 times larger than the filter of a normal car and 300 times better at filtering bacteria, 500 times better at filtering allergens, and it can even filter out viruses.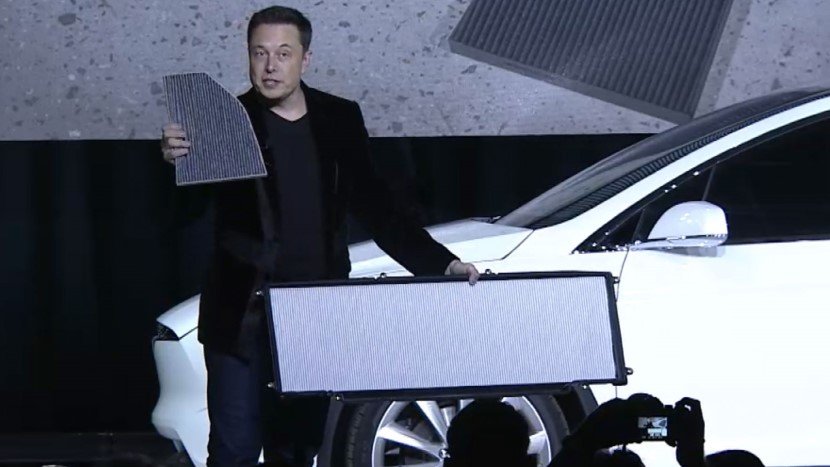 4. Cargo and towing capacity
The SUV can hold around 88 cu ft. of cargo and tow 5000 pounds (2268 kgs). In 2018, the Tesla Model X set a Guinness world record by towing a 287,000-pound (130,181 kgs) airplane at 1,000 feet (305m), showcasing the power and efficiency of an electric powertrain.
5. Wheels of the Tesla Model X
The Tesla Model X offers the 20" Silver standard wheels and the 22" Onyx Black premium wheels.
6. Battery and charging
The Tesla Model X has a lithium-ion battery pack that weighs half a ton and is made up of 18,650 regular AA-sized batteries. On the purchase of a Tesla vehicle, the buyer obtains three different types of adapters to charge their car.
The NEMA 5-15 is a 125V charger that can plug into a wall outlet and charges up to 3 miles of range in an hour. This is the slowest charger available and is good for overnight charging. The NEMA 14-50 is a higher-powered, 240-volt wall outlet that can fully charge your Model X in 10.5 hours. The last adapter can be used if you wish to install an at-home wall connector charging station that can charge the Model X in 6.5 hours.
Tesla vehicles can also be charged at public charging stations. Tesla has installed superchargers over 20,000 locations and can charge your vehicle in 30 minutes to an hour. If your destination exceeds the range of your Tesla SUV, it will plot a route to the next supercharger.
7. Trim levels
The Tesla Model X is available in two trim levels, both making use of two electric motors at the front axle and the rear, enabling all-wheel-drive capability.
i) Long Range Plus
The Long Range Plus has a range of 371 miles (597 km) and weighs 5437 pounds (2466 kgs). It can reach 0 to 60 mph in 4.4 seconds with a top speed of 155mph (250kmph). Both motors have a power output of 259 horsepower each. Model X starts at $79,990 and with all available options, can cost as much as $103,990.
ii),Performance
The Performance model has a lesser range of 341 miles (548 km) but can go from 0 to 60 mph in a mind-blowing 2.6 seconds with its Ludicrous mode, also with a top speed of 155mph. It is slightly heavier than the previous model, weighing 5498 pounds (2493 kgs). This model has a power output of 259 horsepower on the front motor and 503 horsepower on the back. Upgrading to the Performance trim significantly increases the price to $99,990 and can cost as much as $123,990 with added features, making it one of Tesla's most expensive vehicles.
Add-ons in the Tesla Model X
A seven-seat layout is optional for $3,500 and a six-seat layout is available for $6,500. The set of 22-inch premium wheels is optional for $5,500. An upgraded suite of driver-assist feature is available for $10,000, and it adds the auto park, summon, and auto lane changing abilities. For the exterior, Midnight Silver Metallic, Solid Black, and Deep Blue Metallic are available for $1500, and Red Multi-Coat is available for $2500. For the interior, cream and black-and-white are optional for $1500.
Warranty of the Tesla Model X

Tesla covers the Tesla Model X with a four-year or 50,000-mile basic warranty and an eight-year or 150,000-mile warranty for the battery and drive unit.
Tesla has never failed to amaze car enthusiasts with its innovative vehicles. From the Model 3 released in 2017, to the Cybertruck which is yet to be released, Tesla has always outperformed most of the vehicles in the industry.