'Lex' wearable folding chair lets you sit anywhere you want without any hassle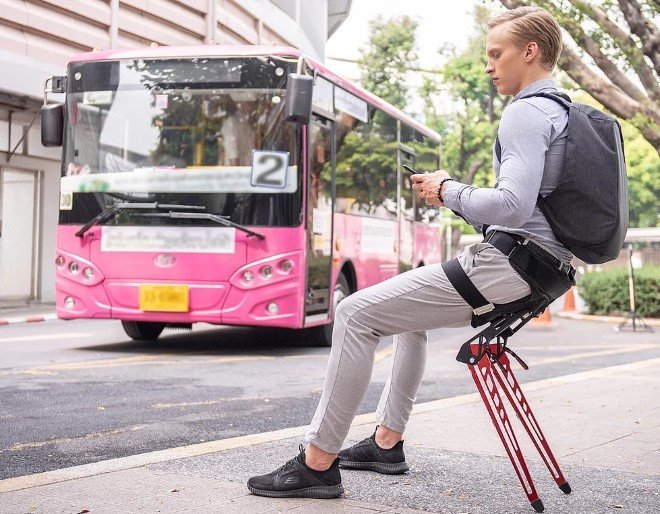 Finding a seat on the bus will no longer be a hassle because you can now just bring yours along. The company Astride Bionix is working on an innovation that we did not realize we required. The upcoming portable chair, Lex, allows luxurious sitting anytime, anywhere. Its easy-to-wear feature disguises with your everyday attire ensuring no hindrance in your movement and activities.
The retractable frame comprises of two legs made of durable aluminum, can effortlessly be reopened and positioned as you like while giving you the comfort and feel of a normal chair.  The foldable chair weighs around over a kilogram and hence being lightweight, it allows optimum portability and can strap around the person's body leaving room to carry on with other daily tasks. Two levers on the underside of the frame can be pulled to liberate the legs of the chair when needed.
RECOMMENDED: Scewo stair-climbing wheelchair comes as a blessing for differently abled
Image: LEX
It not just provides a functional seat but is ergonomically friendly to your body. For backpack carriers, a flexible panel from the base of the bag transfers half the load from their shoulders to their body core and so makes your shoulders feel unburdened. Once seated, it maintains a 120 degrees body thigh posture that amplifies a body's blood flow, renders good posture and is beneficial from other health perspectives.
Recommended for you (article continues below)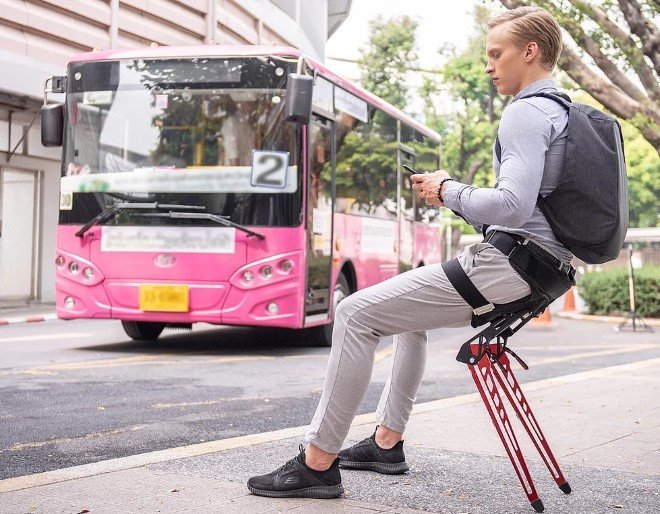 Image: LEX
Though the portable chair weighs a minimum, it can support a maximum weight of about 120kg, which means it can bear the weight of two average sized humans. Multiple routine chores can now be carried out while carrying around your wearable chair. Office meetings, and daily commuting are just to name a few. At an early bird price of US$256, Lex is available in four colors of at Kickstarter and will be ready to dispatch by December.
SEE ALSO: PowerWalk generate electricity to recharge devices for US marines as they walk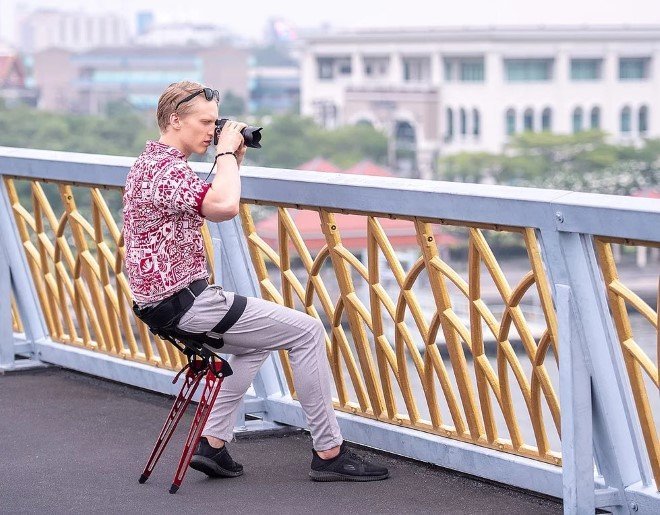 Image: LEX
References: New Atlas, Astride Bionix