These smart food swaps will help you shed that stubborn excess weight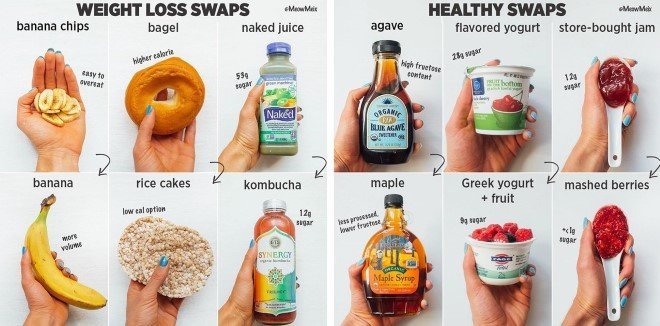 Contrary to the popular belief, you do not really have to starve yourself and survive on bland diet food in order to get in shape. Nutrition blogger Amanda Meixner is debunking the diet food myth one post at a time on Instagram and it is just these minor tweaks that she highlights that make all the difference in the world!
Meixner shares attractive infographics to inform her 700K followers on Instagram about smart food choices against the silly ones that we usually make to enjoy the taste for a few minutes at the expense of a huge number of calories. Try switching to these smart and frankly, quite simple food choices from the infographics shared below and embrace a healthier lifestyle!
RELATED: Dietician reveals subtle differences between high and low calorie meals
 

View this post on Instagram

 
 

View this post on Instagram

 
 

View this post on Instagram

 
 

View this post on Instagram

 
 

View this post on Instagram

 
 

View this post on Instagram

 
 

View this post on Instagram

 
 

View this post on Instagram

 
 

View this post on Instagram

 
Recommended for you (article continues below)
 

View this post on Instagram

 
 

View this post on Instagram

 
 

View this post on Instagram

 
 

View this post on Instagram

 
 

View this post on Instagram

 
 

View this post on Instagram

 
 

View this post on Instagram

 
 

View this post on Instagram

 
 

View this post on Instagram

 
 

View this post on Instagram

 
CONTINUE READING: Initial study reveals health benefits of '16:8′ intermittent fasting