BMW introduces Personal Mover Concept for people working in expansive factories or warehouses
Industries with large warehouses or working spaces can certainly put a toll on workers who have to cover large distances by foot to do their jobs. When it comes to the famous automotive industry, BMW, workers sometimes walk up to 12 km (7.5 mi) a day and they are more than often carrying something. To ease this burden, the company is working on developing a Segway-esque vehicle that allows employees better workplace mobility and increased efficiency of work.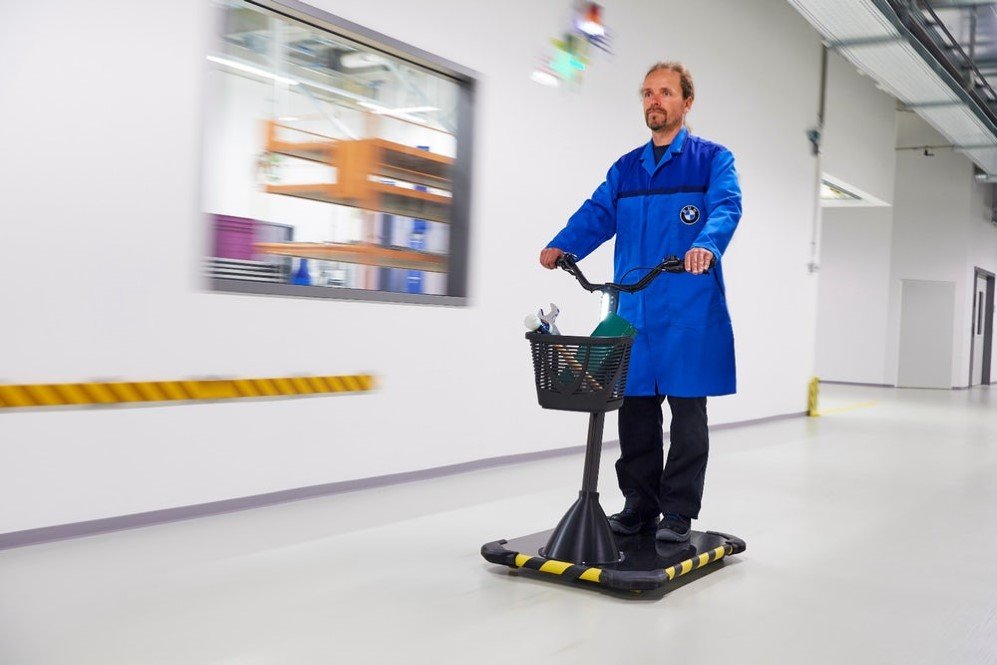 Image Courtesy BMW
Currently named the Personal Mover Concept, this five-wheeled electric vehicle offers to carry one person over short distances within BMW's workspaces. A person stands on a 60 x 80 cm (23 x 31.5 in) platform that also allows him/her enough space to place heavy objects next on the platform instead of having to carry it the entire way.
In terms of electronics, the handlebar is where everything is located. It measures up to 110 cm (3.6 ft.) in height and lies in front of the platform where the drive wheel, which can turn 90 degrees to the left and right, is located. Furthermore, two wheels in the front of the vehicle can rotate 360 degrees, allowing for greater maneuverability and stability while taking sharp turns.
RELATED: Meet the Kiva Robot – Amazon's Busiest Warehouse Employee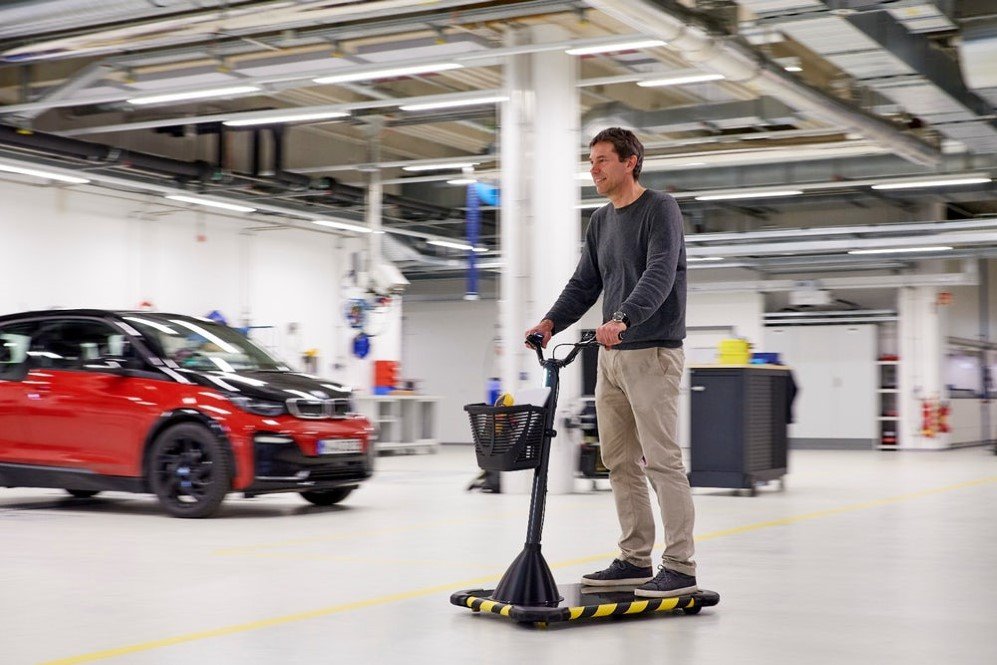 Image Courtesy BMW
In order to move forward, riders toggle with a thumb throttle on the right grip and come to a halt with the brake located on the left grip. Equipped with regenerative braking that is similar to the BMW i3, the personal mover concept covers a range of 20 to 30 km (12.4 to 18.6 mi). Furthermore, the electric vehicle is easily rechargeable as long as there is a regular wall socket nearby.
Recommended for you (article continues below)
Its extra features also include LEDs and a safety bell as it scoots across the factory with a top speed of 25 km/h (15.5 mi). This speed is adjustable given the requirement, and given that, BMW's factory grounds permissible limit is only 12 km/h (7.5 mi), the top speed setting is rarely ever used.
SEE ALSO: Nuro is a self-driving delivery vehicle to deliver your grocery on your door step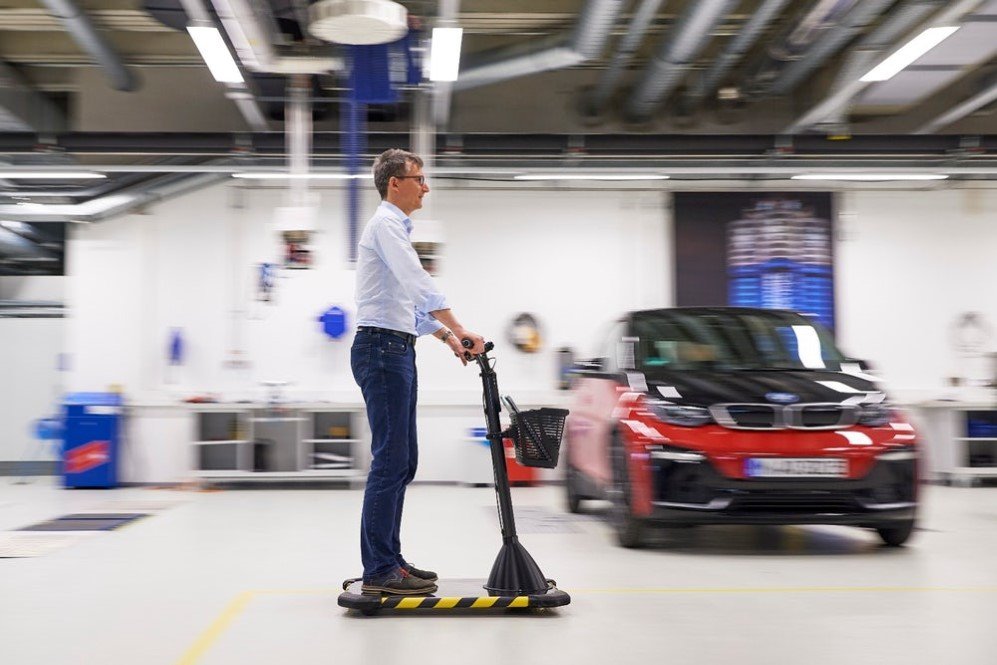 Image Courtesy BMW
So far, there are only five models of the Personal Mover Concept, which are currently being tested at FIZ research center at Munich. The company envisions using these vehicles all across BMW's work places as well as in airports, shopping malls and even exhibition centers. As good as it may be, this invention will certainly take years before we get to see it in a shop window up for sale.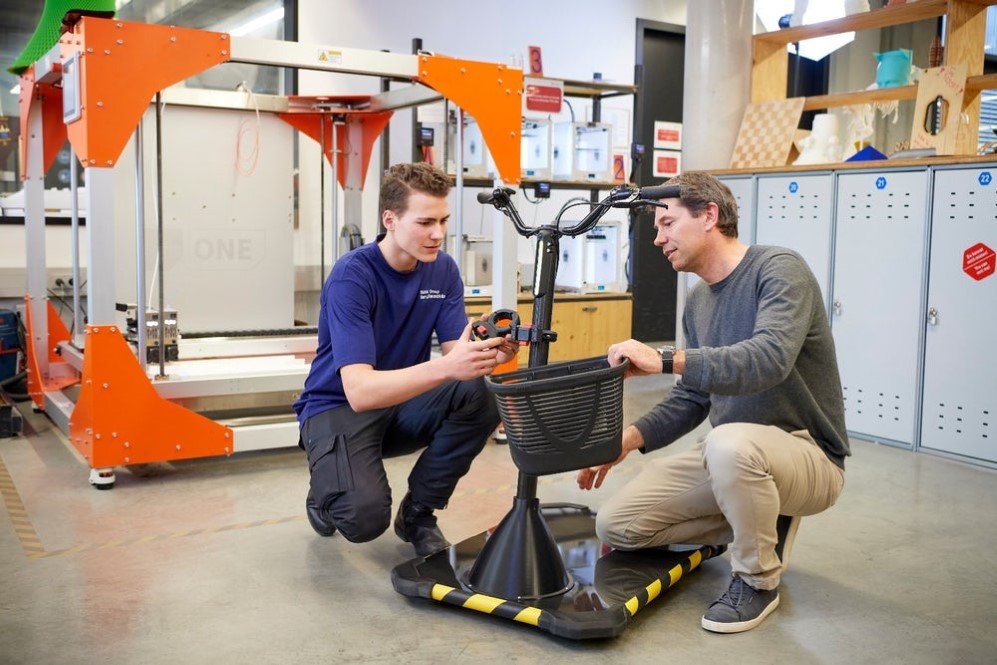 Image Courtesy BMW
CONTINUE READING: Top Ten Wacky Vehicles of the World
h/t: New Atlas