Top Ten Wacky Vehicles of the World
Bizarre, ingenious, imaginative or stupid, call whatever you like but some people take the idea of 'being creative' too seriously and take it to a unique level. Here is a list of ten wacky vehicles that would make you feel flabbergasted.
Recommended for you (article continues below)
SEE ALSO: World's Largest Truck
---
10. Largest tricycle
The largest tricycle was made by Kanyaboyina Sudhakar of Hyderabad, India. On 1st July 2005, being ridden for the first time, thetricycle had the largest pedal measuring 11.37 m (37 ft 4 in) long and had an overall height of 12.67 m (41 ft 7 in).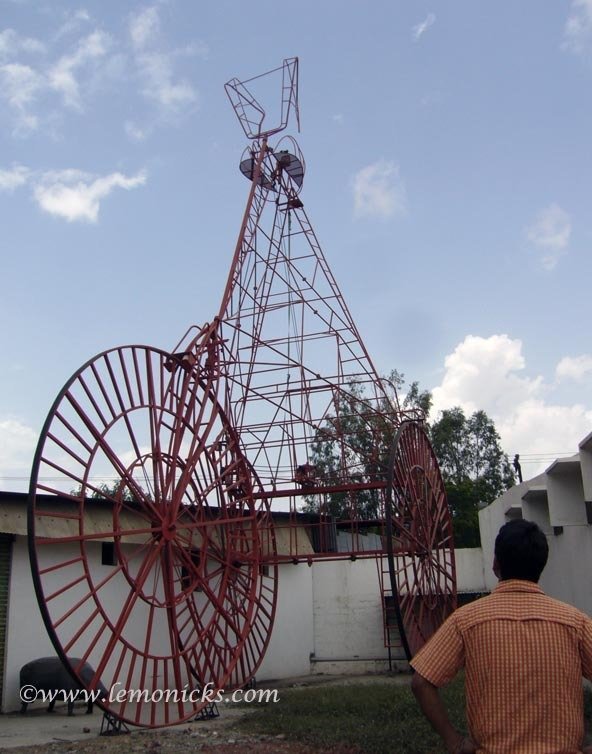 ---
9. Longest bicycle
The longest true bicycle (with two wheels and no stabilizers) built by the Mijl van Mares Werkploeg  in Maarheeze, Netherlands, measures 35.79 m (117 ft 5 in). It was ridden on 5th August 2011 for the first time.  Two persons are required to ride this bike: one steers at the front and one pedals at the back.
---
8. Bicycle powered by electric-ducted fans
On 24th August 2011 Ortis Deley form United Kingdom recorded a top speed of 115.87 km/h on a bicycle fitted with electric ducted fans.  The fans, along with about 10 kg of batteries, were fixed to the back rack of the bike.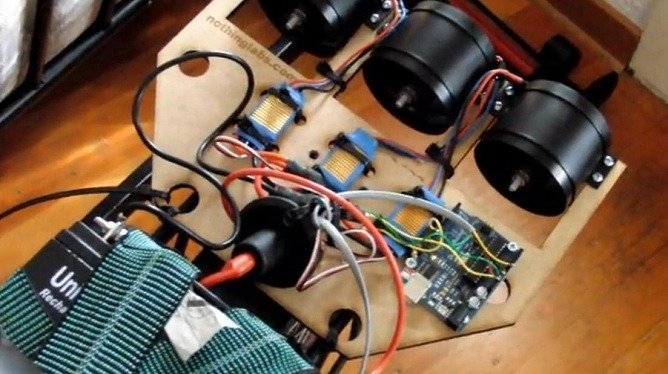 ---
7. Fastest Bathroom
The Bog Standard created by Edd China (UK), consists of a motorbike and sidecar hidden under a bathroom suit- including a bathtub, basin and a laundry bin. Using controls hidden under the basin, Edd has driven the vehicle at a top speed of 68km/h.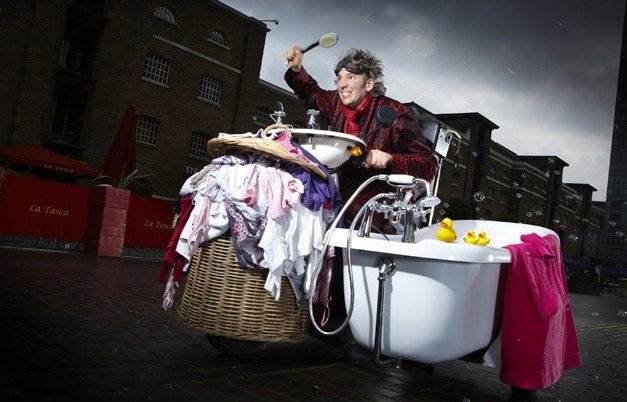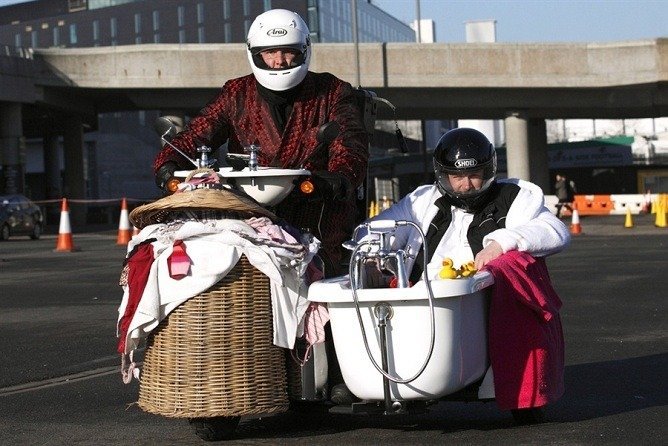 ---
6. Fastest scooter
Colin Furze from United Kingdom has supercharged a mobility scooter so that it can reach a top speed of 115.21 km/h. It took Colin three months to convert the scooter, which features five gears, a 125-cc motorbike engine and twin exhausts.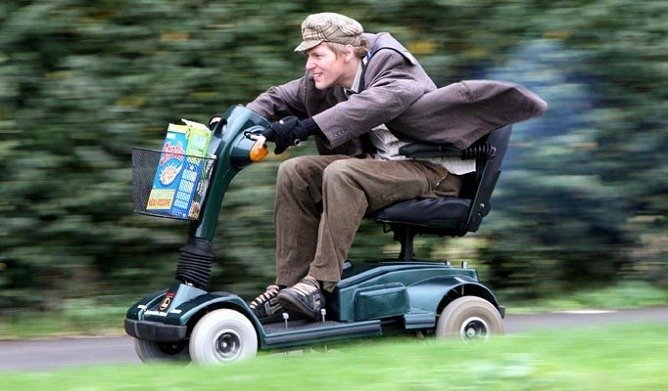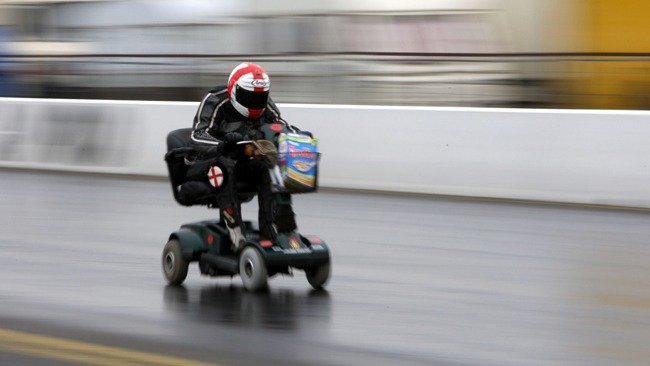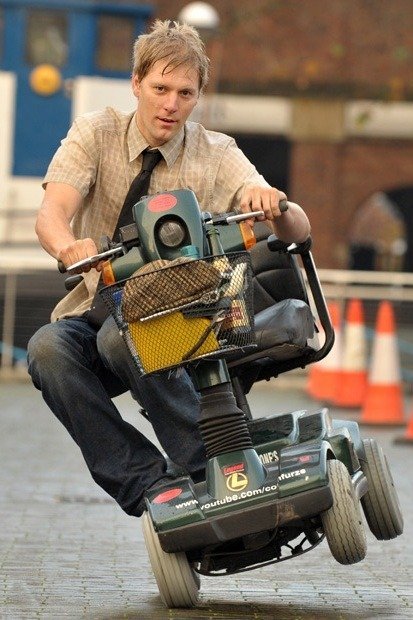 ---
5. Smallest Van
The smallest roadworthy van is "Wind Up", which measures 104.14 cm (41 in) high, 66 .04 cm (26 in) wide and 132.08 cm (52 in) long. Perry Watkins (UK) made the car from a Postman Pat coin-in-the-slot children's ride in seven months up to May 2011. The van has insurance, road tax and all the usual features including lights, indicators, brake lights and windscreen wipers.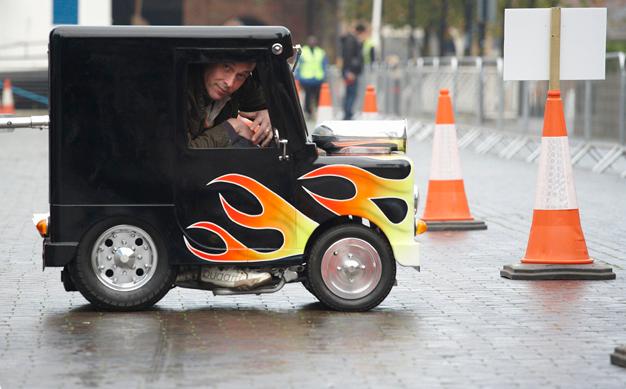 ---
4. Heaviest Ride-able Pedal Bike
The heaviest ride-able pedal bike was built by Wouter van den Bosch of Netherlands in May 2010. This monster bike weighs 750 kg (1,650 lb). It is made from steel tubes, bicycle parts, four small tires at the back and one huge Michelin tractor tire, measuring 1.95 m (6 ft 4.7 in) high, at the front. Wouter made the bike for his fine art degree but he is not sure whether it's an art or not.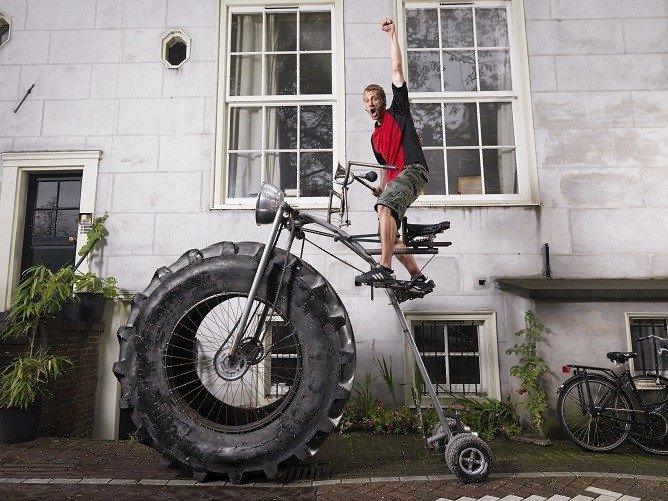 ---
3. Lowest roadworthy car
On 15th November, 2010 by Heidiki Mori and his students from the automobile engineering course at Okayama Sanyo high school in Asakuchi Japan created the lowest road worthy car, named Mirai meaning "Future" in Japanese. The car measures 45.2 cm (1 ft 5.78 in) from the ground to the highest part of the car.
---
2. First submarine car
A Swiss company Rinspeed created the world's first true submersible car, called the 'Squba'. First shown at the Geneva Motor Show in March 2008, the car is powered electrically by three rechargeable lithium-ion batteries. It can be driven straight into the sea and floated until a hatch is opened to allow water to flood the body and gradually sink the car. It can effectively be driven submerged to a depth of 10 m (33 ft).
---
1. First flying car
The ultimate off-roader, the 'Terrafugia Transition' is the first road-able aircraft or flying car. Previous flying cars needed extra equipment or wings to be added but this two-seater plane can fold its wings and turn into a car at the touch of a button. The Transition took flight for the first time in March 2009 at Plattsburgh International Airport in New York, USA. It can reach a top speed of 100 knots (185 km/h) in the air although Terrafugia have not said how fast it can go on land. The company is now developing a production version, which they are marketing with the line:
'Simply land at the airport. Fold your wings up and drive home.'
YOU MAY ALSO LIKE: Top Ten Countries by Gun Ownership