Here Are Some Of The Best Winter Adventure Travel Destinations In The US To Add To Your Bucket List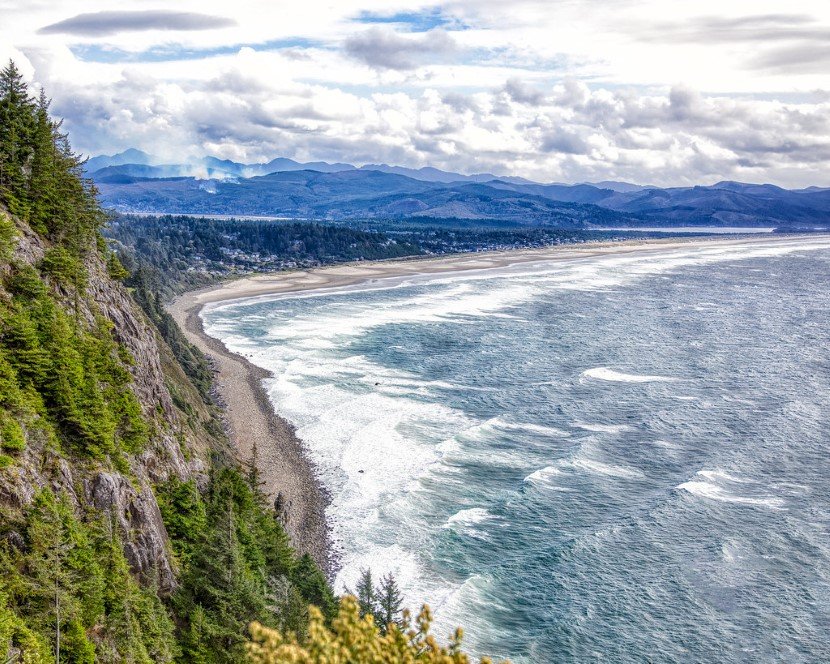 Image Credits: Sibnet2000/Flickr
For an avid traveler, it may seem like there are never enough places to venture every year. But the world is vast, and there are magnificent sights to see for miles on end. From snow-peaked mountains to deserts to luscious forests, there are no limitations to all the places worth visiting in your lifetime. 2020 has been an especially stressful year for most, so with winter right around the corner, we have compiled a list of places you can visit in America this winter for adventure travel to let off some steam. So pack your masks, warm clothes and essentials, and dive right into this list of outdoors adventure travel destinations to fuel your wanderlust.
Places to Visit in California for Adventure Travel:
Red Rock Canyon State Park
The desert cliffs of Red Rock Canyon State Park are one of the best destinations in Southern California for hiking, camping, and exploring. It is located between the El Paso Range and the Sierra Nevada and there are 50 campsites available in the Ricardo Campground, out of which campsites number 1, 2, 6, and 45 are ADA compliant and accessible for anyone with disabilities. Rather than a reservation system, tourists are entertained on a first-come, first-served basis – so try to make it there on time to grab a spot!
Joshua Tree National Park
The Joshua Tree National Park has magnificent sights galore, a variety of wildlife, and quite a number of activities. Located right at the intersection of the Mojave and Colorado deserts, it is named after the bristled Joshua trees found in this region.
Although snowfall isn't common, it is still possible to witness the occasional snow if you're lucky.
You can also find the Cholla Garden there, home to the Cholla cacti well-known for suddenly jumping on its visitors as it is loosely attached and will cling on you if you brush past it.
If you head over to the Barker Dam, you would be able to see some of the interesting wildlife present in the region.
Death Valley
Known as the land of extremes, the Death Valley in Eastern California is the largest national park in America, outside of Alaska, covering 3.4 million acres. The hottest temperature on Earth was recorded here on July 10th, 1913, hitting 134°F, or 56.7°C in the air. The unofficial ground temperate recorded on July 15th, 1972 was a scorching 201°F, or 93.8°C.
So, winter is the perfect time to visit and get to see the diverse nature that springs to life when the weather cools down. The weather is mild on winter days with lots of Sun, but it may get colder in the night.
Yosemite National Park
Renowned for its waterfalls and ancient sequoia trees, Yosemite National Park receives around 5 million visitors per year, mostly in summer or spring. So if you wish to evade the crowd, December to March are the ideal months to experience its snow-topped peaks, wilderness, and the infamous Tunnel View. The Yosemite Valley and Wawona areas can be reached by car, so you can easily head over there and pass through the longest tunnel in California, the Wawona Tunnel, on the way.
California Coast
If snow isn't quite your cup of tea, you can head right over to the California Coast. Even in winter, it is pretty warm and sunny. It stretches for over 800 miles, and the scrumptious food and coastal cities will definitely make your road trip worthwhile. Some of the coastal cities you can visit are:
BearFoot Theory has also provided a 6-day itinerary that you can check out if you wish to take a road-trip along the California Coast.
Places to Visit in Oregon for Adventure Travel:
Crater Lake
Crater Lake is one of the gems of America, notable for being the deepest lake in the United States, the 2nd deepest in North America, and 10th deepest in the world, with an average depth of 1148 feet. It is 5 by 6 miles across and was formed about 7700 years ago following the collapse of a cluster of volcanoes called Mount Mazama.
As the lake has no inlets or tributaries, it has become famous for being one of the purest waters in the world, prominent by its deep blue color and clarity. Another reason for its popularity is the "Old Man of the Lake"; a 30-foot tall hemlock tree stump that has been floating upright for over a century. Thanks to the low temperature of the water, the gradual decomposition of the wood has allowed the mysterious stump to remain floating on the lake this whole time.
There are two islands in Crater Lake that you can explore.
The Wizard Island is 763 – foot volcanic cinder cone created when water first began to fill into the caldera formed after the explosion of Mount Mazama. Unfortunately, public access to this island is available only in summer.
The Phantom Ship is a small island on the southeast of the Crater Lake which has earned its name due to its resemblance with ghost ships, especially when it's foggy.
You can also drive for 33 miles around Rim Road, and it's definitely worth it. You would get to witness old volcanic ash formed into 100-foot tall solid rock formations, watch several waterfalls including the Vidae waterfall, or stop by the Pumice Castle Overlook.
Crater Lake receives an average of 44 feet of snow annually, making it one of the snowiest places in the United States. So if you're up for a snowy adventure, Crater Lake is the place to go.
Mt. Hood National Forest
Mount Hood National Forest had always been one of the best adventure travel destinations, but it's even better in the winter. It is located 20 miles east of Portland and extends for over 60 miles from the Columbia River Gorge to the south. Mt. Hood is the highest summit in Oregon and covers over a million acres.
There is a lot to do at Mt. Hood and there are tons of activities to choose from in Mount Hood National Forest, ranging from horseback riding, fishing, hunting, berry picking, and mushroom collecting, to skiing, snowboarding, sledding, mountain biking, and hiking.
The Trillium Lake Campground is a great spot to head to with your family, and it also has a magnificent view of Mount Hood.
Bend
Bend is a mountain town and the largest city in Central Oregon. There are plenteous winter activities to try out, such as hiking, dog sledding, ice skating, and more.
Redmond / Central Oregon KOA is also a camping spot worth considering, providing a glorious view of the Cascade Mountains. For RV overnight camping, some great spots are:
If you're into hiking, you can check out Smith Rock State Park and Pilot Butte, and if you're looking forward to a snow-free trail, Oregon Desert Trail is the way to go.
Places to Visit in Alaska for Adventure Travel
Fairbanks
Chances are you've already heard of the dancing lights of the north and the winter is the best time to head to Alaska to see them yourself. The temperature would be freezing though, so it would be smart to pack and dress accordingly. You can head to Fairbanks, which is considered as the best viewing area by many, through the Alaskan Railroad which connects Anchorage to Fairbanks.
Other Worth Visiting Places for Adventure Travel in America
Apostle Island Mainland Sea Caves, National Lakeshore Wisconsin.
The Apostle Islands National Lakeshore is a collection of 21 islands located in Northwest Wisconsin. It takes a mile-long hike across the frozen Lake Superior, which must be confirmed to be safe before crossing, to reach the sea caves. Although the hike may be tiresome, the unique ice formations in the sea caves are worth it. It starts when the ice is safe enough for the hike, and the last day of visiting is March 16.
Portneuf Mountain Range, Idaho
Located in the remote parts of south-eastern Idaho, the Portneuf Range is the perfect place to go for some backcountry skiing, but that's not all. The Portneuf Range Yurt System consists of four Mongolian yurt-like structures; Catamount, Inman, Jackson, and Skyline. The dome structures have clear plastic skylights for stargazing. There's also a variety of wildlife to keep an eye out for.
Ouray, Colorado
If you'd like to go for ice climbing, the Ouray Ice Park provides over 200 ice and mixed climbs and has been operating for 20 years, becoming one of the world's most eminent ice climbing destinations in the process. According to Canadian champion ice climber Will Gadd, "[It's] the most accessible, fun and user-friendly place to get really good at vertical ice climbing."
This non-profit ice park is free for all guests and is quite convenient to get to; you can fly to a nearby regional airport such as Montrose, Telluride, Grand Junction, or Durango, and rent a car from there.
Red Cliffs Campground, Utah.
The Red Cliffs in Utah are located 14 miles north-east of St. George. If you're looking forward to camping this winter, the Red Cliffs must be on your bucket list. You can observe a wide range of spectacular wildlife here, including the endangered Mojave Desert tortoise.
The Silver Reef Trail is a great hiking trail that would give you a view of the silver reef. The red rocks at this trail are laced with silver ore and the Jurassic Dinosaur tracks, which are still preserved there. You can also head to the well-known Red Reef Trail, which stretches for over 6 miles. To reach the Archaeological Site, you can take the Anasazi Trail.
Tettegouche State Park, Minnesota.
The Tettegouche State Park is located on the north shore of Lake Superior and covers an area of 9346 acres. It consists of six inland lakes, four waterfalls, and a beach on Lake Superior. Four of the lakes support northern pike and one of them supports walleye fishing. One of the waterfalls is the High Falls on the Baptism River, which is 70-foot tall, making it the highest waterfall in Minnesota.
You can go hiking on the park's 22 miles of hiking trails, or go skiing on the 12 miles of ski trails. The park also offers rock climbing, some popular spots including Shovel Point and Palisade Head. The park also has camping facilities available all year round, and other lodging options besides the campgrounds. These include the Tettegouche Camp and the Illgen Falls Cabin.
Hot Springs National Park, Arkansas
Last but not least, we have the Hot Springs National Park in Arkansas. If you're not into the freezing cold snow adventures, a hot spring in winter is the best option for you. Although the main spring contains water at temperatures as high as 143°F, the bathhouses pipe the water and release it at a suitable temperature for you. Two of the best bathhouses are the Buckstaff Baths, a 100-year old historic baths, and the Quapaw Bathhouse, which has both indoor and outdoor spring pools. Besides, you can also go hiking and camping. There are 26 miles of hiking trails around the hot springs, and camping is available at the Gulpha Gorge Campground.
The list definitely doesn't end here; there are still dozens of places you can explore in America alone. Regardless of the season, there's lots to see and lots to experience. So save up, stay healthy, and pack well before you set off on your next adventure travel. Happy travelling!