All new Ford Electric Mustang is coming out with five different variants
Ford never seems to disappoint when it comes to their cars and their specifications. From the best interior to a fascinating exterior, they have it all covered. Ford comes with yet another new invention; the Ford Electric Mustang Mach-E SUV. The big reveal of the entry into the electric-vehicle world has been made. Ford is venturing into the all-electric car world; expanding the Mustang family after 55 years which will bear similar principles that were used by the world's best-selling sports coupe. The shipment for these cars is expected to begin during the later months of 2020 while the rest of them would ship out in the spring of 2021.
Ford electric Mustang offers five different models with plenty of options in each category
This Ford electric Mustang is going to be available in a bunch of different variants and styles, setting it apart from its all-electric counterparts like Mercedes Benz and Audi. Being able to go from 0 to 60 miles per hour, one of the versions made, beating majority of the sports cars, while the rest of them would very closely rival a Chevy Bolt. Incorporating the concept of SUV like Volkswagen, Ford will sell versions of the five-seater SUV travelling 210 miles on a full battery while there are others that can go up to 300 miles. Ford is set to make its mark in the electro-car world.
With higher quality and a strong brand name comes higher price. We all are already familiar with Ford's usual price range which makes it affordable to only a single class which happens to be their target consumer market i.e. the upper elite class. This car is also not easy on the budget with the lowest price coming out at $43,895 which is a couple of thousand dollars over the average price of a car in America. People living in the US can get up to $10,000 deducted off the total, depending on the state they reside in. Ford also brought to people's attention that they would qualify to receive $7500 worth of tax credit if they buy their electric or hybrid vehicles.
1. Select Ford electric Mustang Mach-E
The Select model of the Mustang Mach-E costs $43,895 and it is set to begin shipping in the spring of 2021. Having both, Rear-wheel drive (RWD) and all-wheel drive (AWD) options, the Select Mustang Mach-E is set to create a personalized experience for its customers. Moreover, the battery pack available for both the versions is going to be similar to the one designed for the new Ford EV which comes in the standard range of 75.7Wh. With 255 horsepower and a range of 230 miles, the RWD version can go from 0 – 60 miles per hour in 6-7 seconds while the AWD version is 1 second faster but at the cost of its range; going 210 miles on a fully-charged battery. The rate at which these versions will charge is 115 kW as compared to other versions that come with 150kW.
Furthermore, a home charger is available with all the versions which is capable of plugging into 120V to 250V outlets. The company is currently partnering with Amazon Home Services for the installation.
2. Premium Electric Mach-E
The $50,600 Premium Mustang Mach-E comes with either a standard range battery pack or for an added fee, you can get 98.8kWh of an extended range battery pack. It also comes in both RWD and AWD resulting in four different range approximations. With AWD, you can get a standard range offering 210 miles or an extended range with 270 miles. But if you choose to opt for RWD, you could get standard range with 230 miles and extended range with 300 miles. However, shipping begins in the last leg of 2020.
Buyers would again be given the choice between performance and range like in the select model. The horsepower will vary between 255HP to 333HP. The AWD version will take 5 seconds to get from 0 to 60 miles per hour whereas RWD would approximately take 6 seconds. So the trade-off you face would make you pick whatever you value more.
The rest of the Ford Electric Mustang models are a little less complicated than Select and Premium.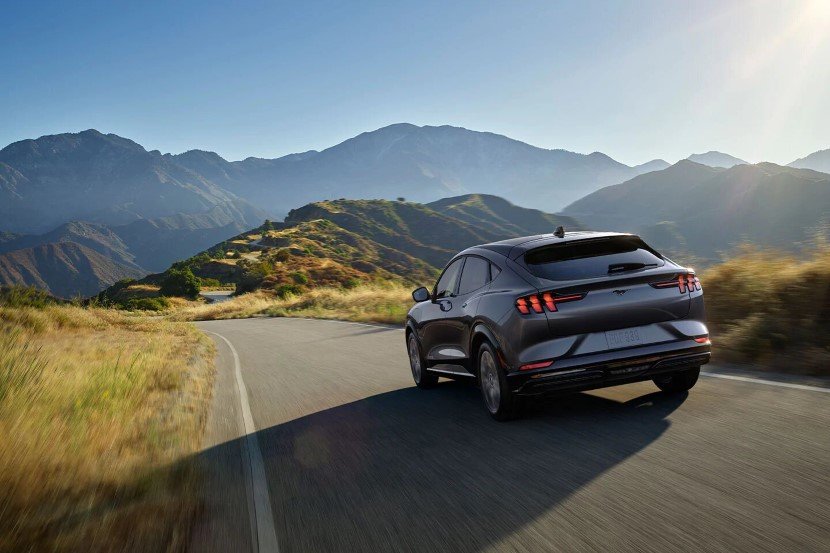 3. The California Route 1  Mustang Mach-E
With shipping starting during the early months of 2021, The California Route 1 Mustang Mach-E only comes in RWD configuration while offering an extended range battery pack. The price of this Ford Electric Mustang comes up to $52,400 with the estimated horsepower of 282HP and 300 miles of range.
4. First Edition
Another version of the California Route 1 is to launch along with the Premium model nearing the end of 2020 which would be known as the First Edition. This will come with AWD configuration, again, with extended range pack, with 333 Horsepower and 270 miles of range. Complete with a label, this special edition will be painted a bright blue color that will not be available for the majority of the other versions. It will also have red brake calipers and blushed aluminum pedals. The cost of this version will be $59,900.
5. Electric Mach-E Mustang GT
The $60,500, AWD configuration-only, Mustang Mach-E GT delivers only 250 miles using an extended range battery pack since it's mainly manufactured for performance. It is fit with special GT labels and a full metallic grille on the front. This version of the Ford Electric Mustang produces a total of 459 horsepower since the GT uses different motors for the front and back axles which is a much bigger electric motor that aids it to reach 0 to 60 miles per hour in just a little shy of 4 seconds. And if this is still unsatisfactory, then an alteration in performance will take it up to 3 seconds. The other versions with AWD had to employ different motors for the two, with 50kW for the front and 210kW for the rear.
Once the person purchasing the vehicle is done picking from all the options they have available, what they will find is something much similar to the Mustang Mach-E when they look at the rest of the things the SUV has to offer.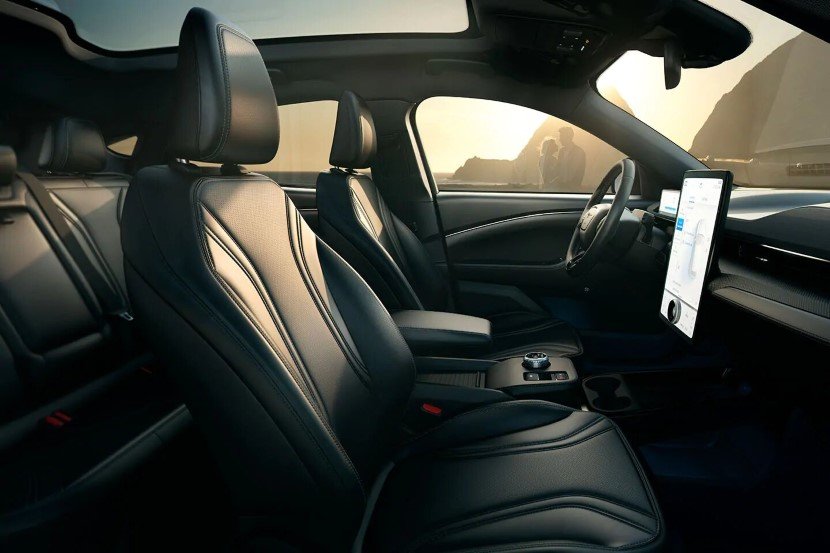 Interior, Storage space, and Comfort of the Electric Mustang

With plenty of space for your legs and head, the Ford Mach-E has a lot of storage space with 29 cubic feet for the back which is reachable with a hatch door, and 4.8 cubic feet for the front trunk around the area where the front combustion engine is located. According to Ford, the front trunk area can also be used as a cooler, and it has tiny drain plug at the base of the storage area without any sort of lining with fabric in place. There is also space for where it can hold beverages inside i-e. two cupholders inside the lip.
The driver monitoring system is going to be the same as all the new versions of the coming SUV's which is the CoPilot 360, second generation of Ford's advanced driver assistance system located right above the steering wheel. This feature will only be added if and when the monitoring system will be included as it is contingent on if they can get hands-free highway driving feature. At the back of this, relevant driving information is displayed on a 10.2 inch display. It has different modes including whisper, engage, and unbridled that can be set according to your preference.
The center of the dashboard has the vertical 15.5 inch vertical touchscreen display which will also be the first to be able to run Ford's Sync 4 infotainment system supporting wireless Apple Carplay and Android Auto and containing a charging pad beneath the display, USB-A and USB-C ports behind the pad, giving even Tesla a good competition. Furthermore, it also has light-up buttons and a knob for volume control which could also be used to control other features.
Fords decision to label the Mach-E as an electric Mustang rather than an SUV
The Mach-E is certainly rich with Mustang like traits despite being more of an SUV such as a similarly detailed body, headlight and taillight tri-bars, and an elongated hood.
The Mach-E is equipped with an original growl like noise. Depending on what mode you drive in, you have the option of turning down the engine sound to an extent but users would not be able to quiet the noise made outside the vehicle as required by law in Europe and the US as it may pose danger to pedestrians.
Electric vehicles is something that Ford has experimented with in the past like any other automobile company but they were never really fully committed to the idea even though they mentioned they were one of the earlier companies to join the electric vehicle world.
Using the Mustang name for its first ever legitimate electric vehicle shows that Ford has a lot of faith in its new creation and its evident by the way they have decided to market and sell this electric car.
All Images:© Ford