Electric Pickup Trucks' Releases Have Us All Hyped Up
Image source: Tesla
The classic pickup trucks are one of the biggest contributors of carbon dioxide emissions. Companies like Tesla have found the sustainable solution in the form of electric-powered pickup trucks, which not only reduce the carbon footprint, but also give a powerful alternative as quad-motor all-wheel drives. Electric pickup trucks offer massive torques in three to four figures of horsepower. Presently, electric pickup trucks are not available in the common market. However, there is an entire line-up of these brawny vehicles all set to be released as soon as next year. Some of these come from well-reputed, high-end automotive brands like Tesla, Ford and GM. Some of the most anticipated electric pickup trucks are listed below.
Recommended for you (article continues below)
Tesla Cybertruck
Tesla's Cybertruck has a futuristic design, featuring a stainless steel body, a four-door layout, and a big touchscreen control panel. The Cybertruck is designed in three variants: triple motor all-wheel-drive model, a dual motor AWD model and a single motor rear-wheel-drive. The Cybertruck is claimed to have 0 to 60 mph in 2.9 seconds, and a 14,000-pound towing capacity with 500 miles of range for the triple motor variant. Whereas, the dual motor model will have 10,000-pound towing capacity and a 300 miles of range. Furthermore, the single motor model will go up to 250 miles and tow 7,500 pounds. Even though the complete details of this electric beast have not been uncovered, Tesla claims to have received around half a million reservations for the Cybertruck. Following are the revealed details:
Expected start of production: Late 2021 and expand to 2022.
Expected price range: $39,900-$69,900, depending on the version.
Battery: To be announced.
Range: 250 to 500+ miles, depending on the model.
Motor: Options will include single, dual and triple motor versions.
Performance: To be announced.
Available to private buyers? Yes.
Method of sales: Tesla stores, online ordering.
Rivian R1T electric pickup truck
Tesla's Cybertruck may have taken the internet by a storm, but it wasn't the first time motor enthusiasts were given an electric pickup truck to drool over. Rivian announced their truck an entire year before Tesla brought their Cybertruck in the spotlight.
The R1T's design will allow it to go over 400 miles on a single charge with the top-spec model and a 180 kilowatt-hour battery pack. Two other battery pack options will also be available in the same truck; 135 kWh and 105 kWh packs. Both of them will offer 300-plus miles of range. Regardless of the batteries, the pickup truck will use four electric motors to produce the power, which will allow the left wheels to rotate in the opposite direction of the right ones to spin the truck on its axis. The biggest battery will offer 700 horsepower, whereas, the second-largest pack will provide 754 horsepower, and the smallest variant, up to 402 horsepower. The R1T will feature three 110-volt outlets and an air compressor. R1T will have a towing capacity of more than 11,000 pounds. The claimed 0 to 60 mph time for the R1T is of 3.0 seconds, a mere 0.1 seconds shy of matching Tesla's Cybertruck, which is still impressive.
Expected start of sales: June 2021.
Expected price: Starts at $70,500.
Battery options: 180 kWh, 135 kWh, 105 kWh.
Range: Up to 400 miles.
Performance: Up to 750 horsepower and 829 lb-ft of torque.
Available to private buyers? Yes.
However, an optional 400-mile battery pack will be released in January, 2022.
Ford F-150 electric pickup truck
Ford not only invested in Rivian for an electric pickup truck but also announced the release of the new F-150, at the 2019 Detroit Auto Show. This electric pickup truck will be available in the market in mid-2022. Appearance-wise, it takes after the existing non-electric F-150, except it can be plugged in and has a slightly higher ride height for fitting the batteries underneath the frame. There will be a front trunk instead of the combustion engine. Ford claims this will be the most powerful truck to be released yet, and will be able to tow heavy trailers. The all-wheel drive is expected to have a range of 300 miles. More details about the specifications are yet to be cast in stone, but it is expected that Ford will lead the charts of electric pickup trucks with the F-150 electric.
Expected start of sales: Mid-2022.
Expected price: Approx. $50,000.
Battery options: To be announced, will vary with battery size.
Range: To be announced; expected 300 miles.
Performance: To be announced.
Available to private buyers? Yes.
Method of sales: Ford dealerships.
Lordstown Endurance
The Endurance is the first vehicle built by Lordstown, an American startup. Endurance is all set for production. It is claimed to have a range of about 250 miles, packing the ability to produce 600 horsepower and tow up to 6000 pounds. Lordstown Endurance is also an all-wheel-drive, featuring an electric motor mounted directly in each of the truck's wheels, reducing the number of moving parts and possible maintenance upkeep. Lordstown claims to already have received orders from large businesses; 50,000 reservations from commercial fleets with an average of about 500 pickups per fleet. This could mean private buyers may not have access to it or at least until a while. For now, the only update is that Lordstown will begin beta prototype testing of the Endurance vehicles beginning in early 2021. This will be used for crash, engineering and validation testing. As a part of this testing, some of the vehicles may be sent to initial customers for feedback.
Expected start of sales: Early 2021.
Expected price: $52,500.
Battery options: To be announced.
Range: 250+ miles.
Performance: 600 horsepower.
Available to private buyers? No.
Method of sales: Direct from the automaker.
GMC Hummer EV
The GMC Hummer EV is looking good as a competitor with a range of 350 miles on a full charge, 1,000 horsepower and a 0-to-60 launch time of about 3 seconds. GM's popularized Ultium batteries will make a special feature in the electric truck as well. The truck will use two Ultium drive units with a total of three motors. Two motors will be installed in the back while one motor will power the front axle. Four-wheel steering is another promising feature that attracts stunt artists who can make the pickup truck do Crabwalks. Hummer has also uncovered that 10 minutes worth of fast DC charging would give about 100 miles of power. Hummer's adjustable air suspension system will come with an Extract Mode that raises the truck by as much as six inches to enable driving over obstacles or out of deep mud. The truck will be available with the latest version of GM's Super Cruise technology that enables hands-free driving on major highways.
Expected sale: Fall 2021 (only the most expensive Edition 1 will be available. Less expensive ones will come in the beginning of 2022).
Expected price range: $79,995 to $112,595.
Battery: Capacity unknown.
Range: 350 miles.
Available to private buyers? Yes.
Method of sales: GMC dealerships.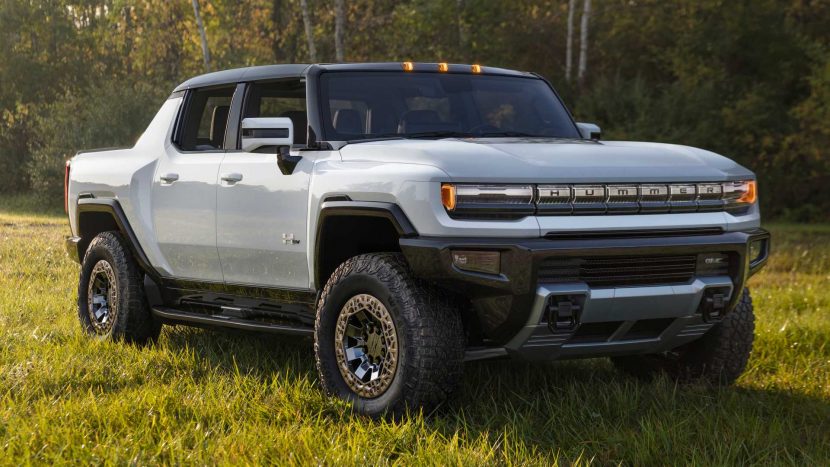 Chevrolet EV
General Motors plans to offer even more than just the Hummer EV. At the Barclays Global Automotive Conference 2020, GM announced to ramp up investments into electric cars to a whopping $27 billion. The cash influx will see 30 new EVs revealed in the next five years. By this, they also mean the upcoming electric Chevrolet pickup truck. Will the Chevrolet also boast the CrabWalk mode? Perhaps not, as it is designed to be more of a lifestyle truck with affordable pricing unlike its heavy-duty counterpart, the Hummer EV. The initially announced range for the Chevy was 400 miles, but later it was increased to 450 miles in a single charge. It is also likely to use GM's Ultium battery technology. More details on the pickup's specifications are still awaited, but it would be fair to expect it to be by Hummer's standards. Appearance-wise, it might be inspired by the Silverado.
Expected start of production: Summer 2021.
Expected price range: $50,000 to $70,000.
Battery: 50-to-200 kWh options.
Range: 400 miles.
Available to private buyers? Yes.
Method of sales: Chevrolet dealerships.
Nikola Badger
Nikola has uncovered it's pickup truck, Badger, with a driving range of up to 600 miles, peak outputs of 906 horsepower and 980 lb-ft of torque, a tow rating in the 8,000-pound realm, and an array of more tantalizing features. The Badger will be available with either a battery-electric or hybrid battery-electric/hydrogen fuel-cell powertrain. According to Nikola, the Badger will feature a 160.0 kWh battery pack and an optional 120.0 kWh fuel cell. Allegedly, the Badger will accelerate from 0-to-60 mph in approximately 2.9 seconds. Other fun features of the truck include a waterproof cabin with a hidden refrigerator as well as a water fountain that's fed by the truck's optional fuel-cell system. The reveal event for Nikola Badger, Nikola World, was to be held in Arizona in December, but has been called off due to coronavirus-related restrictions. The first prototype hydrogen fuel-cell trucks are scheduled to begin testing in 2021.
Expected start of sales: 2022.
Expected price range: $60,000 – $90,000 depending on drivetrain.
Battery options: 160 kWh.
Range: 600 miles.
Performance: 906 horsepower and 980 lb-ft of torque.
Available to private buyers? Yes.
Method of sales: Direct sales.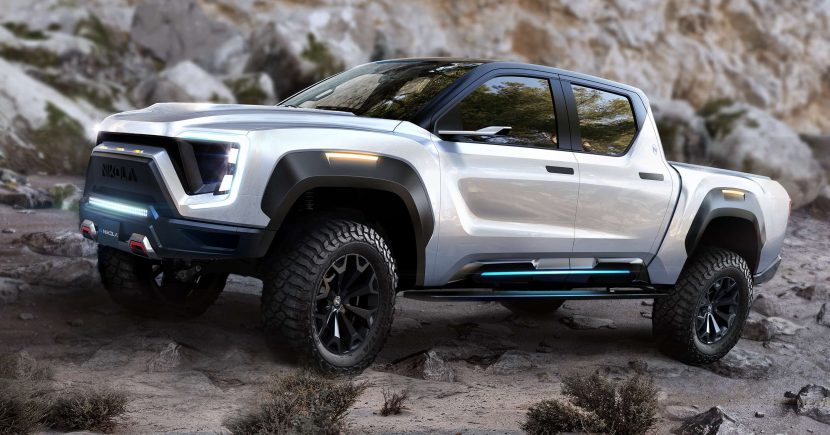 Bollinger B2
The Bollinger B2 is a new and improved version of the Bollinger B1, packed with fascinating specifications. Bollinger has claimed the B2 will feature 120 kWh and 180 kWh batteries which will make for a 200-mile range. B2 will also include 614 horsepower, 668 lb-ft of torque and a competitive towing capacity of 7,500 pounds. The truck will handle 5,000 pounds worth of payload, too. The doors and windscreen of the B2 could be removed for open-air driving plus there will be an optional roof made of glass panels.
Just like the B1 model, B2 is promised to have a sizeable 142kWh battery pack claimed to cover about 320km between charges. Bollinger's B2 has the longest bed length of any pickup truck on this list. It can extend between 5.75 feet to 8.17 feet when the rear seats are removed and the cab wall is opened. The B2 is an electric 4-wheel-drive pickup capable of exceptional off-road performance.
Does all of this justify its jaw-dropping price tag of $125,000? Time will tell.
Expected start of sales: 2021.
Expected price range: $125,000.
Battery: 120 kWh.
Range: 200 miles.
Performance: 614 horsepower and 688 lb-ft of torque.
Towing capacity: 7,500 lbs.
Available to private buyers? Yes.
Method of sales: Direct sales.
Atlis XT electric pickup truck
Atlis announced its electric pickup truck as early as 2019. The XT is expected to tow up to 35,000 pounds. An air suspension will create 12 inches of ground clearance and there would be a fifth-wheel gooseneck hitch for big towing jobs. The battery will be as big as 125 kWh and the truck will come with 300, 400 and 500 miles' worth of range in different variations. The XT was able to achieve 0-to-60 mph in 5 seconds, though, even a fully loaded Atlis XT can still accelerate from 0-to-60 mph in just 18 seconds. The interior has room for 6 occupants. The cargo bed will be removable so it could be replaced by a closed cabin to accommodate more space. The XT will come with an electric motor connected to each wheel, and a single-speed transmission to send power to each. Additionally, there will be an air spring suspension system and four-wheel steering. Atlis also offers the option of dual rear wheels for the XT. Atlis claims that recharging the XT to full capacity will be doable in just 15 minutes, and there are hints that they would set up their own charging stations just like Tesla.
Expected start of production: 2021.
Expected price range: $45,000.
Battery: 125 kWh.
Range: 300, 400, 500 miles variants.
Performance: Horsepower and Torque ratings to be announced.
Towing capacity: 5000-2000 lbs conventional; 35,000 lbs with 5th-wheel tailoring.
Available to private buyers? Yes.
Method of sales: Direct sales.
Best by specs
With the details of the electric pickup trucks all laid out, which one seems to be the strongest contender? That depends on the specification in question as they are all equally competitive in the bigger picture.
Best Range: Nikola Badger; 600 Miles.
Best Speed: Tesla Cybertruck; 120 mph.
Battery pack per kilowatt-hour: Rivian R1T; Variants of 105,135, and 180-kilowatt hour battery packs.
Best Value for Price: Tesla Cybertruck: $39,900.
Best 0-to-60 mph time: Shared between Nikola Badger and Tesla Cybertruck.
Best Horsepower: GMC Hummer EV; 1000 Horsepower.
Best Torque: GMC Hummer EV; 11,500 pounds per feet.
Best Payload capacity: Bollinger Motors B2; 5001 pounds.
Best Towing Capacity: Tesla Cybertruck; 14,000 pounds for the tri-motor variant.
Most Number of seats: Tesla Cybertruck; Six.
More electric pickup trucks to be revealed soon
The list does not stop here. There are several more pickup trucks on the horizon, many of which have just given us glimpses, for example, the Fisker Alaska, which was accidentally tweeted (or maybe just teased by Henrik Fisker). While the exact performance and specifications of these trucks are yet to be brought to the spotlight, it's good to know that the future of electric pickup trucks seems bright with so many options.