Now you can make your ordinary headphones wireless with this tiny device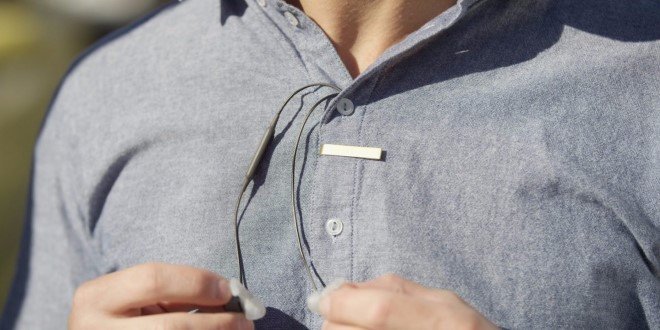 Let's be honest, we all cried a little when Apple proudly announced that the new iPhone 7 didn't have the 3.5mm headphone jack – it seemed as if the headphone jack had been murdered – I mean, WHY? And then we cried a bit more when other companies followed Apple's footsteps. The introduction of wireless ear plugs that cost £160 further exacerbated our grief.  While we were busy sobbing and mourning the death of the headphone jack and ultimately the wired earphones, one of us was busy thinking about how to save earphones from extinction.
We were first mollified by the introduction of Dongle, but thank God for Podo Labs who came up with this Bluetooth audio jack – the best solution to this nerve-wracking problem as of yet!
So, what is this device that everyone's lauding? It's a Bluetooth headphone adaptor called 'Jack' which looks like a tie clip. It acts as a remote connecting device between your phone and your wired earphones. Confused? Well, all you need to do is plug in your earphones into the 3.5mm port present on the Jack, and the Jack then connects to your phone through Bluetooth in order to transmit sound to your 'antique' earphones.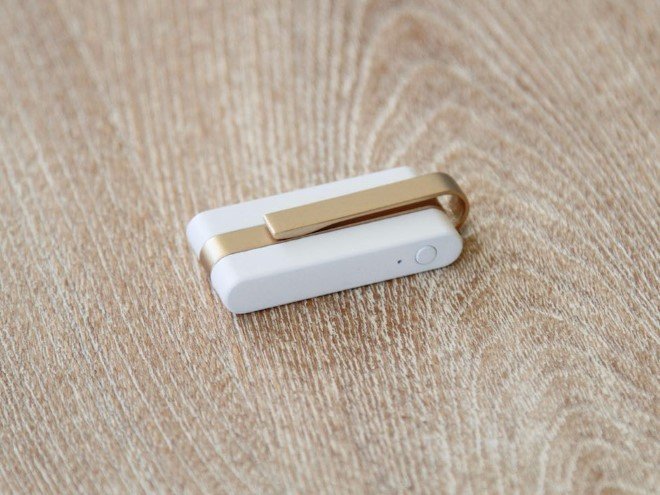 Image: Podo Labs
This isn't the first of its kind, but what makes 'Jack' stand out is the ability to transmit the same audio to you and your friend provided you and your friend both have a Jack. The two devices sync in upon one push and allow you to hear the same audio playing on a smartphone, tablet, PC etc. Now that's something we needed because there have been way too many times when we had to share earphones in order to watch a movie or a season together, and that sort of killed it! But thanks to the 'Jack', you can now watch Netflix together be it on a train or in school just by wirelessly connecting to the laptop and making your Jacks in sync!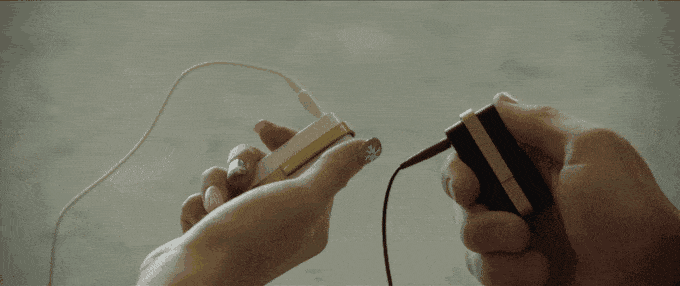 Recommended for you (article continues below)
Image: Podo Labs
Onto the little things that matter – color. The Jack is available in black/silver, blue/gold and white/gold. Podo Labs launched 'Jack' on Kickstarter with a funding target of $20,000. Previously, the Podo Labs successfully crowdfunded and shipped two versions of 'stick and shoot'  camera and raised over $1 million!
If you're worried about the Jack being compatible with your phone then worry not, it is compatible with all Bluetooth audio products and any 3.5mm aux, so basically you can even send sound from your non-Bluetooth TV to your earphones – movie theatre & whaaat? Moreover, it has a 300mAh battery which according to the creator gives 12 hours of playback. As for the price, early bird costs are $25 for one and $49 for two, with worldwide shipment.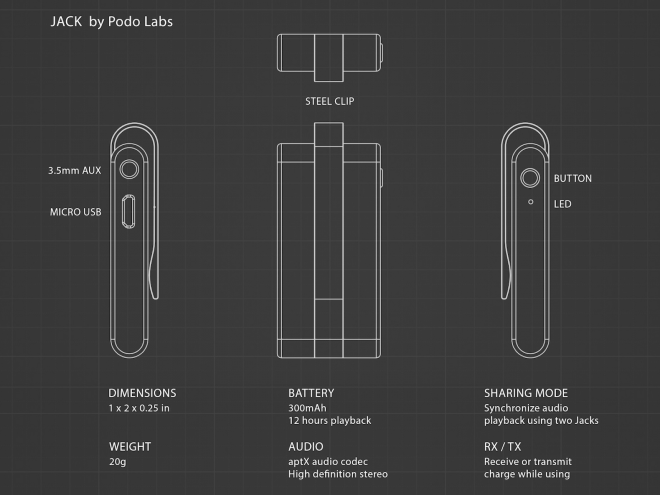 Image: Podo Labs
All in all, Jack sounds like a winner (unlike the famous Titanic's Jack we know of) so make sure you get one because the headphone jack is soon going to vanish from the face of this planet!
Source: Podo Labs / Kickstarter