True wireless earbuds, Powerbeats can run for 15 hours straight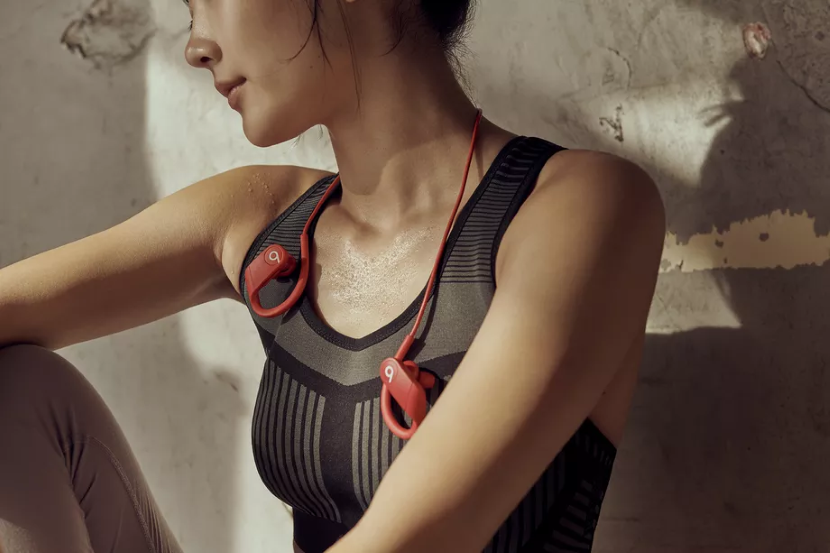 Beats
After the Powerbeats Pro, Apple's Beats has officially launched a new and improved version of Powerbeats true wireless earbuds, which are bound to draw in fitness fanatics. Rather than being named Powerbeats 4, they are simply called Powerbeats. They mainly resemble the Powerbeats Pro, which are considered one of the best true wireless earbuds owing to their exceptional sound quality. The new Powerbeats are equipped with a neckband design with a cord that runs behind the user's ear and keeps it out of the way, thus making them preferable for workouts and other physical activities. Despite being developed for iOS devices, they are also compatible with Android smartphones, tablets, and even TV sets, but iOS users can benefit from extra features.
Recommended for you (article continues below)
Features – Powerbeats True Wireless Earbuds
Like the Powerbeats Pro, the new wireless earbuds have an IPX4 rating for sweat and water resistance. Apple's H1 Chip enables the new Powerbeats wireless earbuds to have quicker pairing and hands-free access to Siri, which allows users to summon the voice assistant without having to press any button. The controls are convenient through reliable buttons on both earbuds. The power button can be found on the left earbud, whereas the right earbud contains the volume controls and a multi-functional button mounted on the side on the "b" logo for taking calls or controlling music. Unlike the previous models, most of the controls are on the right side which may be a slight inconvenience for the left-handed. They also offer an extensive wireless range which helps them transcend the previous Powerbeats models.
Upgrades:
One of the handiest upgrades in the new Powerbeats is its battery life, which has increased from 9 hours on the Powerbeats Pro to a remarkable 15 hours on a full charge. They support fast charging and only take five minutes to charge up for a whole hour of use. They can be charged through a lightning port in the right earbud and a USB-A to lightning cable, which is included in the box. They do not come with a hard-shelled case, but rather a soft cloth pouch. Unfortunately, they are not USB-C compatible.
Setbacks:
These wireless earbuds are notable for their phenomenal sound quality. Unfortunately, they have some salient setbacks. Some of them include the lack of active noise cancellation and customization and prominently more treble at a higher volume. Their over-the-ear hook design keeps the earbuds in place and prevents them from falling off during a workout. However, some may find them uncomfortable and irritating and it puts the people who wear eyeglasses at a major disadvantage.
Cost and Availability of Powerbeats True Wireless Earbuds:
Powerbeats are evidently cheaper than their predecessors. They are $100 cheaper than the previous Powerbeats Pro. Despite the expedient upgrades, these true wireless earbuds are priced at a staggering $149, which unquestionably makes them superior to most wireless earbuds in the market. They come in black, white and red colors. The new Powerbeats are available in the market since 18th March 2020 and can be purchased from Apple and the Beats website. They can also be bought at Best Buy, Walmart, Target, Amazon, and other retailers that may have other Beats headphones in stock. Overall, the new Powerbeats are considerably at par with the modern true wireless earbuds' requirements, all while being affordable and convenient.