Wristbuds is the world's first smartwatch that also charges earbuds inside the watch
In today's world, technology progresses with the aim of minimal wires and a more portable efficiency of a product. With that kept in mind, the project of Wristbuds was initiated. Wristbuds combines the best of both worlds as it is a smartwatch that can house wireless earbuds inside the watch itself. Sounds unreal, right? Mainly designed for the fitness freaks, Wristbuds allow the runners to keep a track of time and their fitness goals while providing them with easy to use earbuds for music. Wristbuds is supported by both Android and iOS hence compatible with everyone's preferences.
Wristbuds smartwatch claims to accurately track your health using latest PPG technology. It can track your physical activity in real time using advance motion sensors and allows you to analyze your health data on your smartphone via an associated app. Wristbuds can measure blood pressure, heart rate, distance traveled, step and calorie count. Once charged, Wristbuds hybrid smartwatch can last for four days with ease. Wrisbuds comes with a 4 GB internal storage memory card that is enough to store a 1,000 MP3 songs on the device so that you can go phone-free on your next morning run. But you'll have to pay an extra 30$ to upgrade to Wristbuds Pro which unlocks the device to store MP3 files.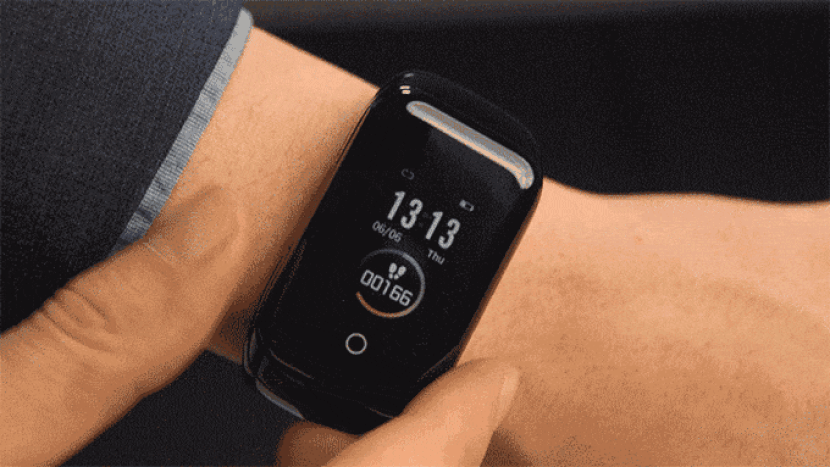 Wristbuds smartwatch has an advance touch system, with three taps it turns the device on or off and the double click starts or ends a song or picks up a call.
Turning the smartwatch around, there are two AirPods styled earbuds that function via Bluetooth. It is equipped with a 5.0 Bluetooth connectivity, CVC noise cancellation feature and a 90° rotation for comfortable use. It involves features for fitness, music and phone calls.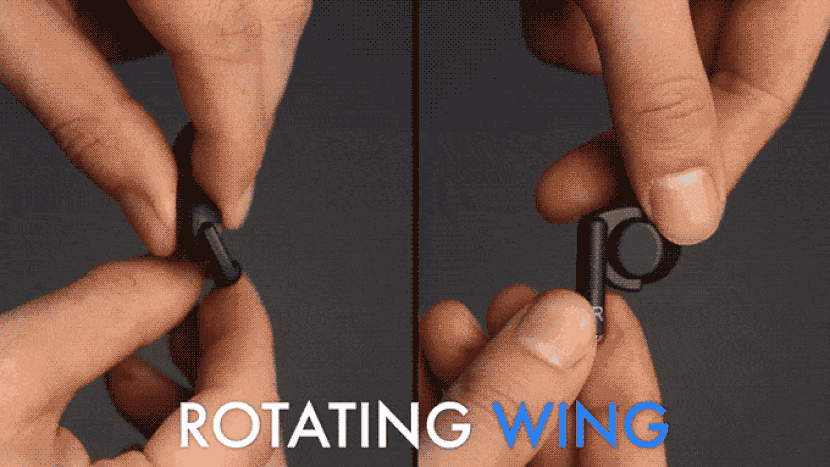 Recommended for you (article continues below)
The TWS earbuds inside the smartwatch are kept charged and ready for use on your wrist when needed. The earbuds take about 30 minutes to recharge and they charge while being inside the smartwatch case unlike AirPods and other bluetooth earphones that require an extra charging and carrying device for recharge. The earbuds are made lightweight and comfortable in order for them to stay inside the ear during vigorous exercise and running. They were made using ergonomic cochlear morphology to ensure the best of designs and with the 90° rotation angle, it provides comfort at any angle you chose to set the earbuds to.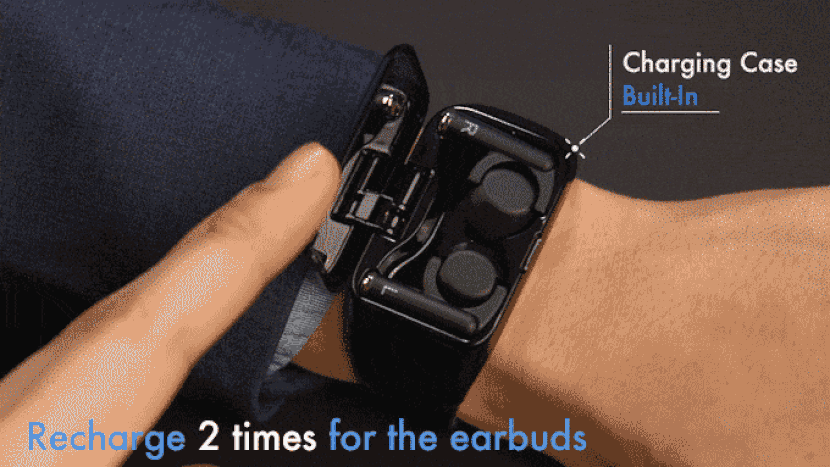 To ensure the earbuds project quality sound, it is made with the latest Graphene audio technology for strong beats and clear voice. Graphene is the newest substance that is now used instead of the conventional steel for many purposes as it is 100 times lesser in terms of weight and an excellent conductor of electricity, meaning it can transmit sounds with minimal loss. It develops a clear mid and high tone and hard bass. The noise cancellation feature ensures to omit any sort of extra sounds and deliver an enhanced music quality with its CVC noise cancellation that is based on an advanced algorithm that persists to maintain a standard quality. The Bluetooth feature of the Wristbuds has a connectivity range of 10m and keeps a stable connection. It has a 2x higher speed and 8x more transmission of data.
For the time being Wristbuds is seeking funds on crowdfunding platforms Kickstarter and Indiegogo for the initial production. With a pledge of $99 dollars, users can get their Wristbuds delivered to their household by April 2020 but according to the sources, there are usual early bird offers that apply. By using those offers, users can save up to $70 of the original retail price.
If all goes will, Wristbuds smartwatch will be sold on a retail price of $149.