Fly Anywhere With Ehang's Self-Flying Passenger-Carrying Drone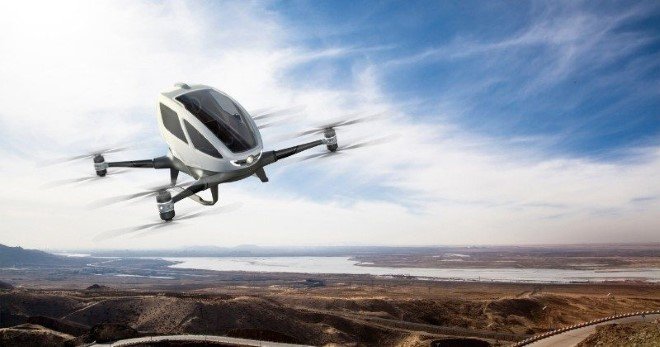 We had surveillance drones, video shooting drones, package delivery drones and now? Another must have vehicle for the richest: The passenger carrying drone! A Chinese company Ehang has developed and built an all-electric 440 pounds passenger carrying quad copter, which they have named as Ehang 184. It can carry a passenger weighing upto 260 pounds 500 meters in the air for 23 minutes, on a single charge. The project is still under development but has been publicly announced and show cased at several technology exhibitions in major cities around the world.
Ehang 184 offers you a pilot-less flight across city at the touch of a button: you simply board the vehicle, insert your drop-off location and enjoy the ride!
Ehang is best known for making amazing drones which are easier to fly but this autonomous aerial vehicle with passenger carrying capabilities has taken the definition of drone to another level. It is a lighter, greener and faster mode of transportation for those who can afford it. The estimated cost of the Ehang's eight-rotor drone is around $200,000 to $300,000 which includes air conditioning and in-flight WiFi.
Recommended for you (article continues below)
Since the model is still under development and testing phase, therefore it is facing some challenging questions from public. For instance, how will the vehicle behave in the case of emergency? How will it deal with the power lines or trees? How can it be reliable without fixed airways? The Company has claimed to have worked on setting up command centers across the world which will take care of air-traffic-control and failsafe.
No actual flying test has been experienced by the spectators so far; however, the company claims that the real time test with the passenger has taken place in china.  Ehang 184 will have to pass several regulatory tests of each country in order to be labeled as reliable and safe mode of transportation.
The expected customers of the Ehang 184 autonomous drone are people seeking transit from coast to island, hospitals and even taxi services.