MagicScroll is a 3-D printed flexible touch screen tablet that you can roll

Taking inspiration from scrolls in the olden days, research scientists at Queen's University Human Media Lab manufactured prototypes of a technological device that is unlike any smartphone or tablet ever seen.
"A source of inspiration was the old Rolodex filing systems that were used to store and browse contact cards. The MagicScroll's scroll wheel allows for infinite scroll action for quick browsing through long lists. Unfolding the scroll is a tangible experience that gives a full screen view of the selected item. Picture browsing through your Instagram timeline, messages or LinkedIn contacts this way!" said Roel Vertegaal, professor of human-computer interaction and director of the lab, in a statement.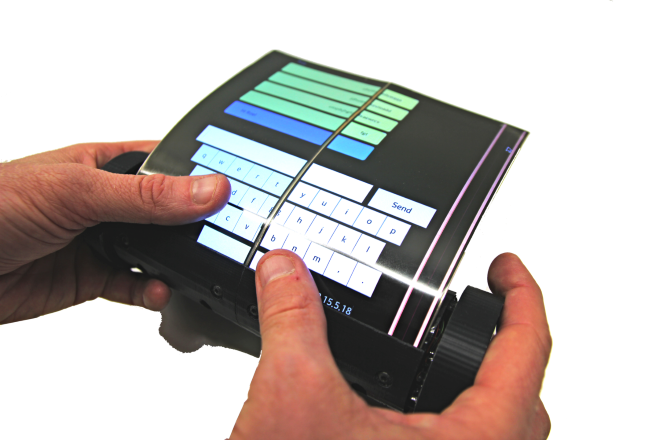 This cylinder-shaped, 3-D printed device entails a 7.5-inch touchscreen, which has a 2k resolution. A physical rotary wheel on both sides allow for a quick scroll through the content on the flexible screen. Furthermore, if the user desires to look at more information in a single space, all they have to do is unroll the screen out of its casing for a larger display. Once done, the screen can be rolled back in allowing the device to be tucked in the users' pocket.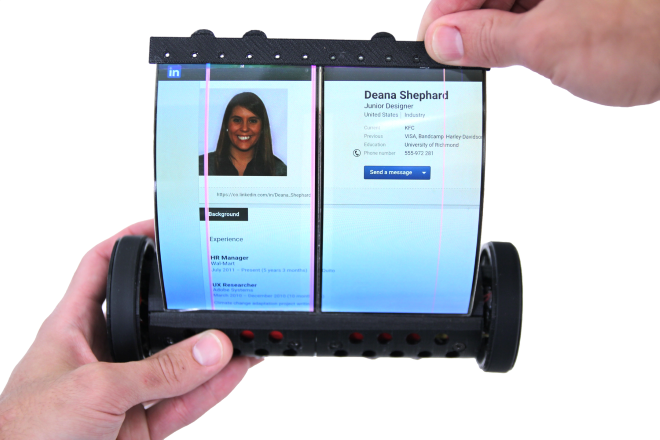 The gadget also proves to be a user-friendly mobile phone.  'As a phone, the cylindrical form factor allows for a better ergonomic fit for single-handed use,' the researchers elaborated.
However, the manufacturers do confess that the sizing needs reduction, even though a larger size somehow makes their invention more appealing as it mirrors huge phones that prevailed in the '80s. Despite its larger-than-normal dimensions, the prototype does present itself as a more lightweight and portable than conventional tablets.
Recommended for you (article continues below)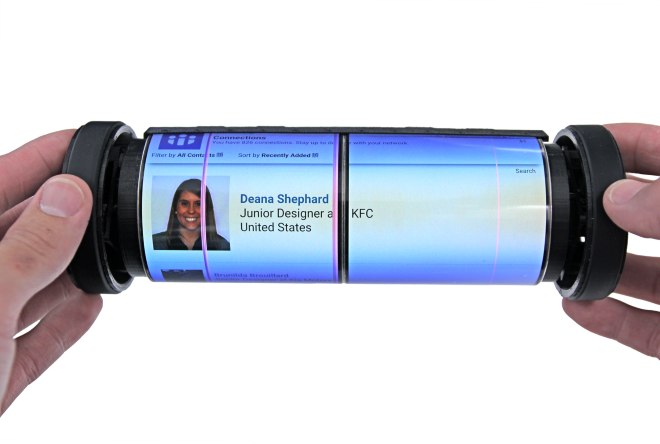 MagicScroll includes a camera allowing the user to control it via gestures, somewhat like the Nintendo's 'Wiimote' gesture system. Furthermore, robot actuators in the rotary wheel cause it to spin in place under multiple circumstances, such as when it receives a notification. In the future, the team hopes to develop it as a dictation or pointing device.
 "Eventually, our hope is to design the device so that it can even roll into something as small as a pen that you could carry in your shirt pocket," Claimed Vertegaal. "More broadly, the MagicScroll project is also allowing us to further examine notions that 'screens don't have to be flat' and 'anything can become a screen'. Whether it's a reusable cup made of an interactive screen on which you can select your order before arriving at a coffee-filling kiosk, or a display on your clothes, we're exploring how objects can become the apps."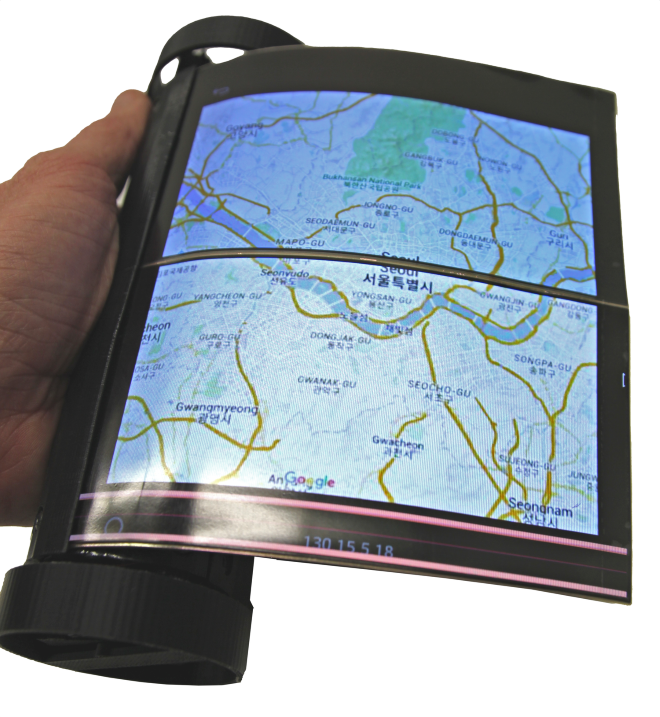 Although currently in its R&D phase, the research team will present the project at MobileHCI conference on Human-Computer Interaction in Barcelona this month.
All Images: © Human Media Lab
h/t: Daily Mail