Lumen reflective bike shines bright at night to keep riders visible on road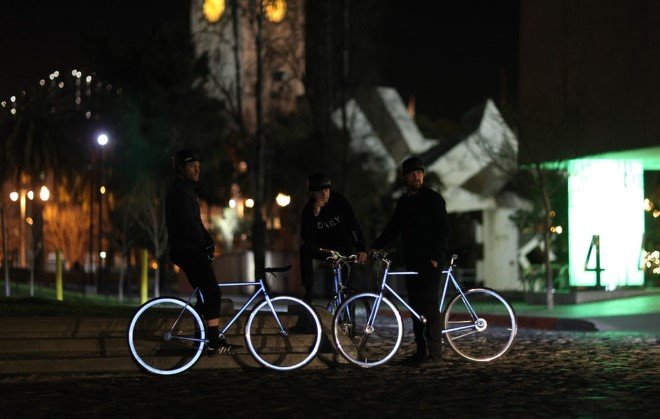 If someone asks you to cycle during the day, you'd cheerfully go out and pedal away but if asked at night, you'd become quite apprehensive. Nothing 'chicken' about that, it is dangerous to cycle at night since there are no lights whatsoever to protect you from cars driving into you! 'Why can't they just install lights of some form like they do in motorbikes and cars?' is the most frequently asked question. Keeping that in mind, the Mission Bicycle Company in San Francisco has invented 'Lumen'. During the day, the cycle looks like any other cycle but at night, the cycle's wheel rims and frame reflect light from car headlights that strike them, hence making the cycle visible to all those in cars.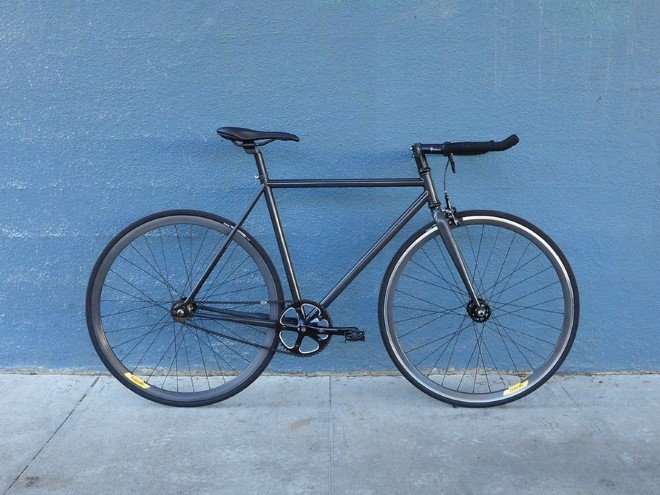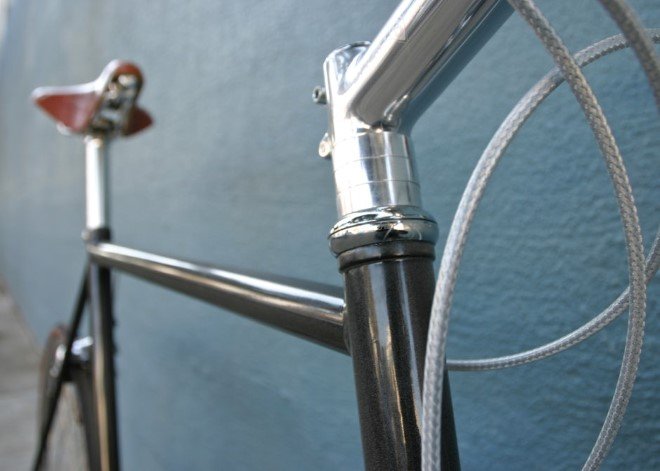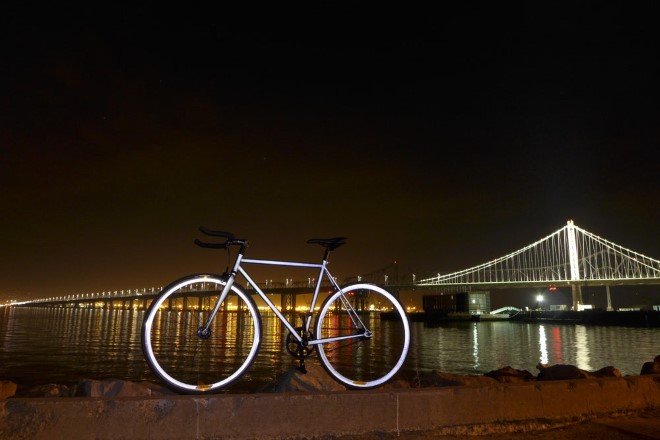 You might think it's like a reflective jacket – it isn't. The light that strikes the wheel rims and the powder-coated frame doesn't scatter in different directions, it actually returns back to the source through thousands of tiny spheres present. Thus, a pedestrian is not able to see the cycle at night unless he or she points a torch directly towards the bike. Jefferson McCarley, GM of Mission Bicycle Company, said that "Frankly, in an urban environment, the glow from glow-in-the-dark paint is barely visible. It's a pretty faint glow for riding on city streets that are often already fairly well lit. It's just not that bright. When light strikes the surface of the Lumen frame, it's hard to miss."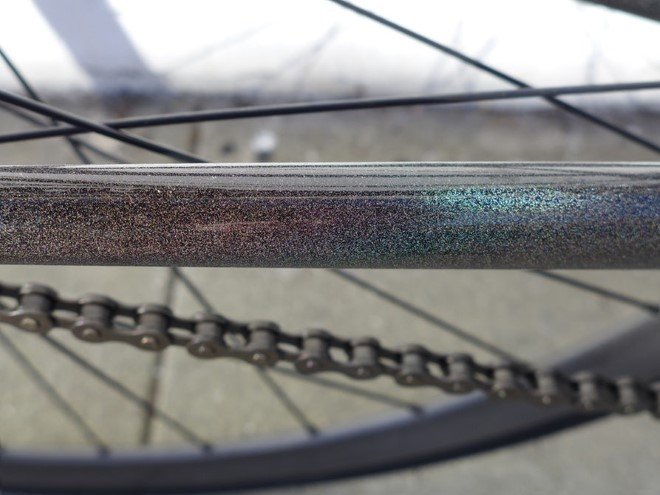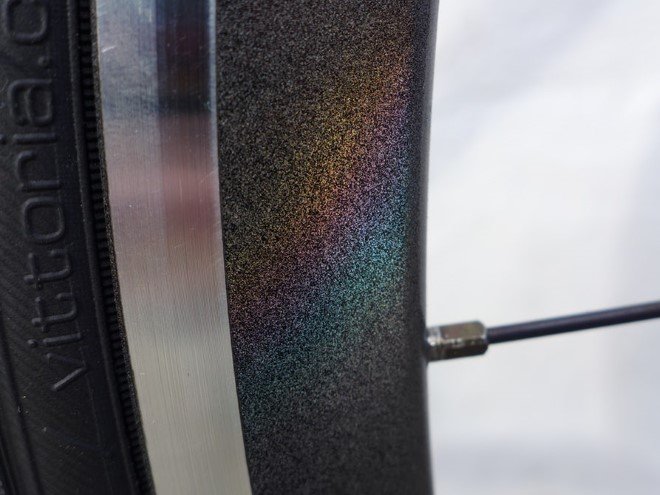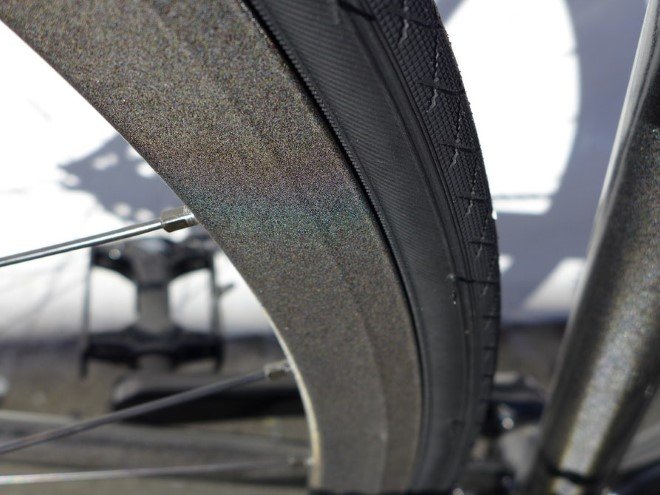 He added that, "The thing that I like about frames that have been coated with a conventional glow-in-the-dark liquid paint is that they are visible to everyone: the rider, pedestrians on the street, and the driver of any combustion engine vehicle. That's pretty cool. But I also think that it's cool that when I'm riding my Lumen (I ride one of the prototypes daily/nightly), everyone else sees a black bike. Day or night. It's a sexy dark grey colour that looks great. It's possible that the only one that sees the magical effect is the person behind a steering wheel. Or anyone that takes a photo of my bike with the flash on. Some people like the way that greenish-yellowish glow-in-the-dark liquid paint looks during the day. It's not for everyone. Some of us prefer the understated, stealth look of a dark grey frame that is a lot more visible to motorists than frame painted with a conventional black paint."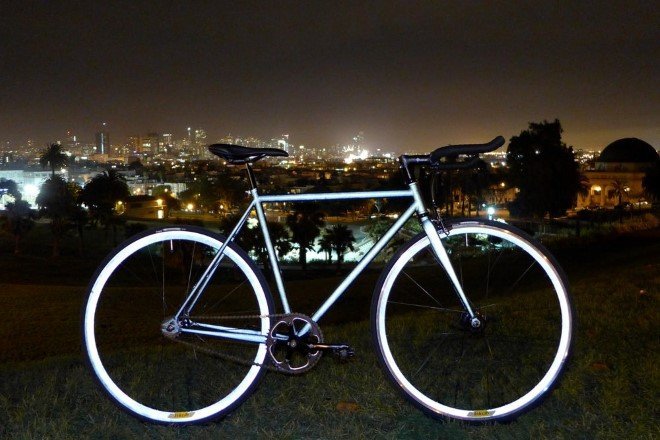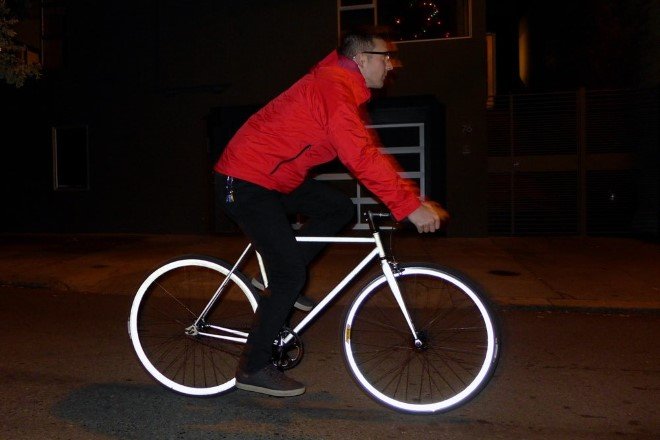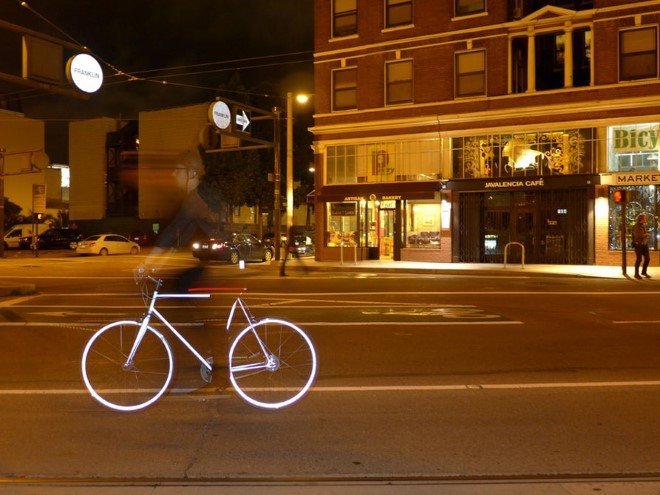 Recommended for you (article continues below)
Many prototypes have been covered with this powder as the tiny glass beads reflect the light back to the source which is assumed to be visible up to 300 meters away – say hello to the spotlight! While explaining how the retro-reflective effect works, Mc Carley said that, "Picture a deer caught in headlights. It's quite possible that all you see are two glowing eyes in the darkness in front of you. Here's how that works: when light enters a translucent object, in this case the eyeball of a deer, it goes all the way through to the back of the sphere and reflects back towards the source of the light. So, our frame is covered with tens of thousands of microscopic deer eyes. OK, they are synthetic. No deer was harmed in the making of the Lumen."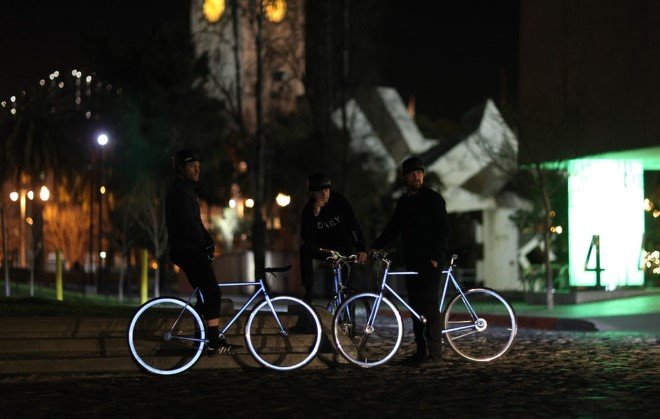 Mission Bicycle Company started a crowdfunding campaign on Kickstarter to commercialise the Lumen. They are offering three versions, each having a frame hand-built. All of the bicycles have 700c wheels except for one that has 650c wheels designed for shorter riders. The retail price of a single-speed, internally-geared Lumen is $499.  The specifications of the other three versions are as follow:
Single-speed Lumen 1 in black costs $1,245 and weighs 8.6 kilograms. It comes with a Valencia frame, Velocity Deep V rims, and bullhorn handlebars.
The Lumen 8 with Shimano Nexus 8-speed internal hub and twist grip shifter in silver costs $1,595 and weighs 10.9 kilograms. It has high rise handlebars, brakes front and rear as well as the Velocity Deep V rims.
Lumen 8SE costs $2,500 and weighs 11.3 kilograms. It is an 8-speed special edition which not only includes a Shimano Alfrine hub with trigger shifter but also a hand-made Continental Grand Prix Classic tires and a Sugino crank-set in addition to the Velocity Deep V rims, front and rear brakes.
Let's hope this comes out soon because many of us wish to see the city lights at night while cycling safely.
All Images via Mission Bicycle