Land Rover's drone-quipped Discovery vehicle will aid Red Cross in search & rescue operations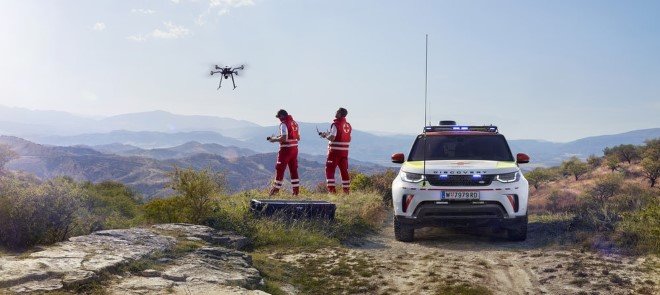 After an 18-month journey of perfecting and testing, Project Hero, the emergency vehicle concept car with a deployable drone is finally ready to enter the real world. This brainchild of Red Cross and Land Rover aims to carry out search-and rescue operations in inaccessible places to provide real-time updates and improve response time.
The vehicle, dubbed Discovery, has finally been put to service with the Red Cross Emergency Response Fleet. The 258 PS 3-liters TD6 Land Rover Discover helps response teams get to the affected area instantaneously. Once they reach the place of emergency, the team launches an eight-rotor drone in an effort to find people, and subsequently the back of the Land Rover unfolds to form a command center consisting of a touch screen computer and communications gear.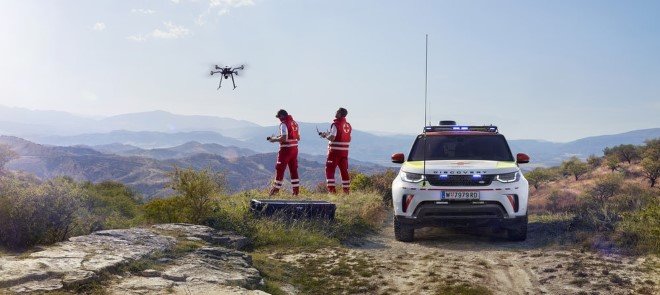 Image Credit: Land Rover
Spending almost a year and a half on a vehicle meant that Land Rover certainly went on to perfect the nitty gritty details of Discovery. The vehicle currently comes with four radio antennae, 360-degree emergency blue lights, high-intensity spotlights in the front bumper and roof rack a unique integrated carbon fiber loadspace command center. It also consists of two mobile Wi-Fi hotspots and a satellite phone to maintain connections among the crew in remote areas.
Image Credit: Land Rover
Recommended for you (article continues below)
Despite the amazing features that the Land Rover sports, it is the drone, that catches the eye. The drone comes equipped with a thermal imaging camera that enables it to spot a person from 440m and detect vehicles at almost 1,000m. In case the operator needs to track certain objects, he or she simply has to tap the item on the slide-out main computer touchscreens video feed to obtain the exact co-ordinates, which is quite imperative when the team is carrying out a rescue mission.
Image Credit: Land Rover
The Discovery will help Austrian Red Cross find injured and lost people and save them in minimal time. According to Michael Van Der Sande, Managing Director of Jaguar Land Rover Special Operations, "Our aim has been to help the Red Cross improve its disaster response and ultimately to help save lives. Over the past 18 months our engineers have worked closely with the emergency response team at the Austrian red cross, deploying land rover's technology and talent to create a unique solution to the requirements of the Red Cross in the region."
Image Credit: Land Rover
Source: Land Rover via New Atlas