22 of The Most Impressive Metro Stations of The World
Metro stations are often built in developed and densely populated cities to provide its residents a quality and fast-paced mean of transport. Metro stations are also lined across the famous tourist attractions of a city to let the tourists access those sights in a convenient fashion. But, how about making a metro station itself a tourist attraction?
Recommended for you (article continues below)
There are many metro stations that are not only handling hundreds of passengers travelling through but are also unique and elegant in their architecture, making them absolutely worth-seeing sights. We did a bit of research to accumulate a list of best looking metro stations from around the world. And, here are 22 of the most impressive metro stations of the world.
---
Arts et Metiers Station, Paris, France
Arts et Metiers Station gets its name from Musée des Arts et Métiers, a museum dedicated to the preservation of scientific instruments and inventions. The metro station is located across the street from the museum entrance. The metro station has a two sections, Line 3 and Line 11 that were opened on 19th October, 1904 and 28th April, 1935 respectively.
In 1994, the station was redesigned with a tempting science fiction theme by Belgian comics artist François Schuiten to mark the anniversary of the Conservatoire National des Arts et Métiers. The platform for the line 11 has copper panelling, portholes and wheels suspended from the ceiling in a steampunk style.
Image: Flickr / Gibran Kalaf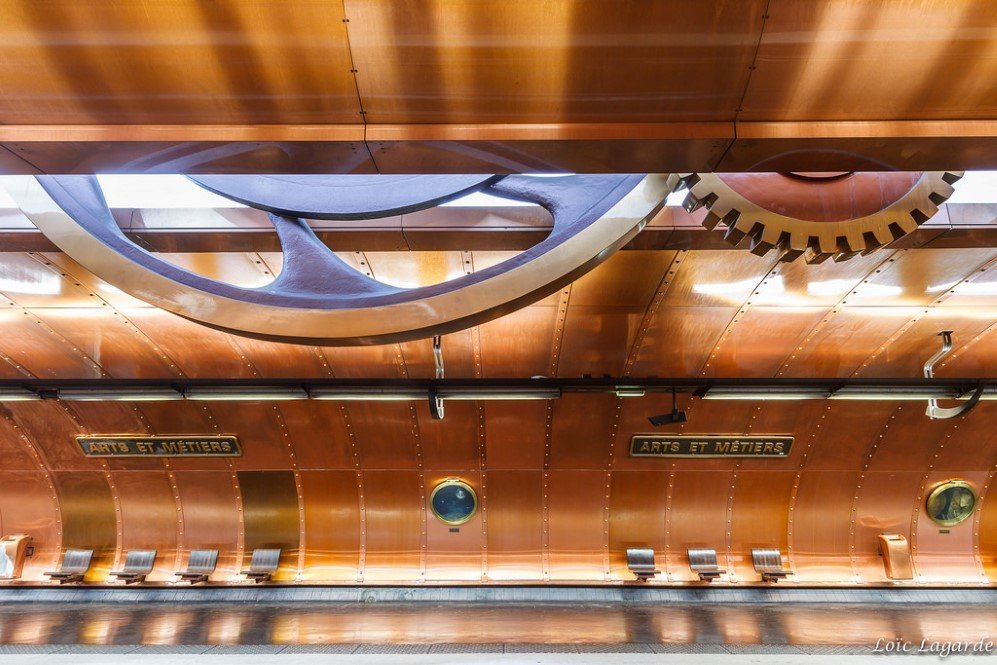 Image: Flickr / Loïc Lagarde
---
Plac Wilsona Station, Warsaw, Poland
During the Metrorail convention in 2008, Plac Wilsona Statoin won a Metro award for the best recently constructed stations. Built in 2005 and named after the 28th US president Thomas Woodrow Wilson, the Plac Wilsona Station has a giant shell or UFO like interior ceiling that keeps on changing colors from time to time.
Image: Flickr / Jacek Kadaj
Image: Flickr / Grzegorz Chorus
---
Avtovo Metro Station, St. Petersburg, Russia
Designed by architect Ye.A. Levinson, Avtovo Metro Station opened for the first time on November 15, 1955. Its unique and highly decorative design features white marble and ornate glass pillars, making it St. Petersburg's most beautiful station.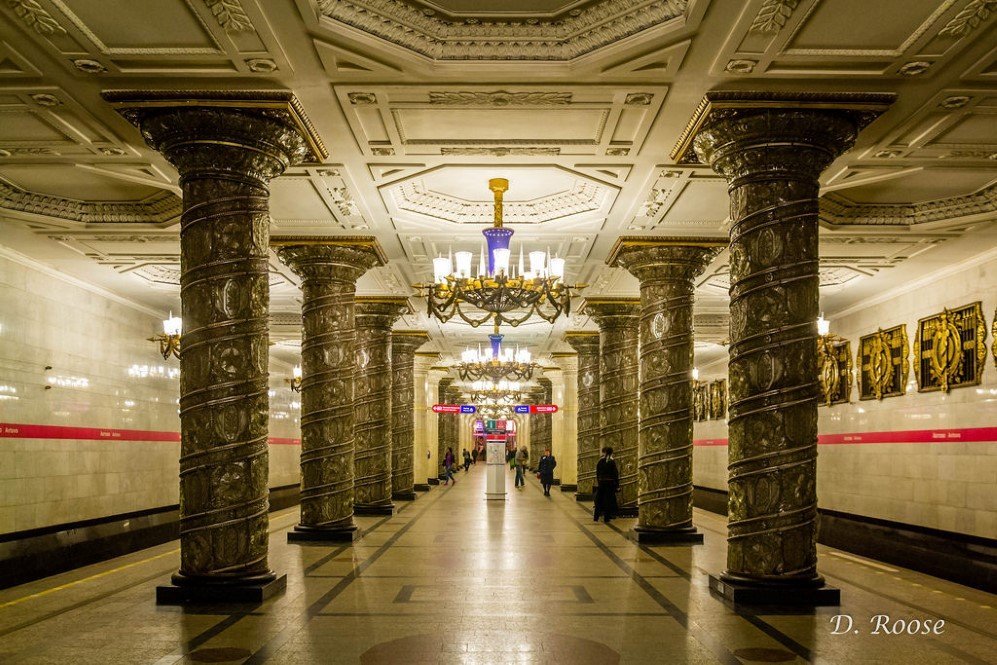 Image: Flickr / David Roose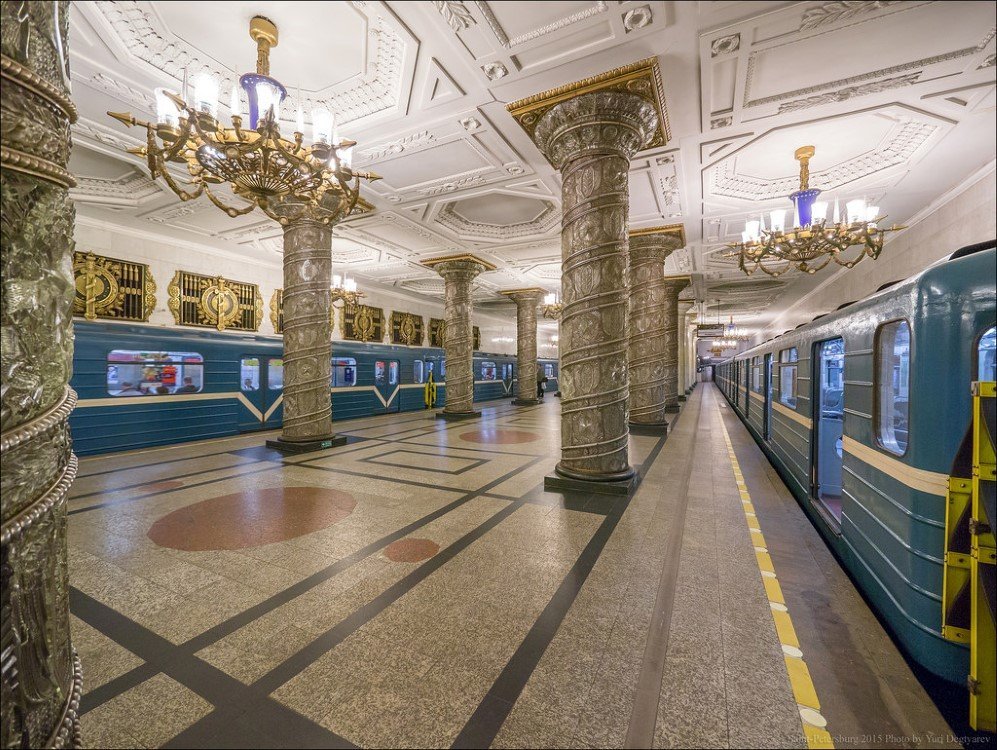 Image: Flickr / Yuri Degtyarev
---
Canary Wharf Underground Station
Over 40 million people travel through Canary Wharf Station each year, making it second busiest on the London Underground. The notable feature of the station's interior is its gorgeous glass canopy over the entrance.
Image: Flickr / Zach Williams
Image: Flickr / fkwiatkowski
---
Formosa Boulevard Station, Kaohsiung, Taiwan
Formosa Boulevard Station is famous for its world's largest glasswork installation known as "The Dome of Light". Designed by an Italian artist Narcissus Quagliata, the installation is no short of an artwork with 4,500 stained glass panels pieced together. The installation measures 30 meters in diameter and stretches 2,180 square meters of space in total. The Dome of Light is also offered as a venue for weddings.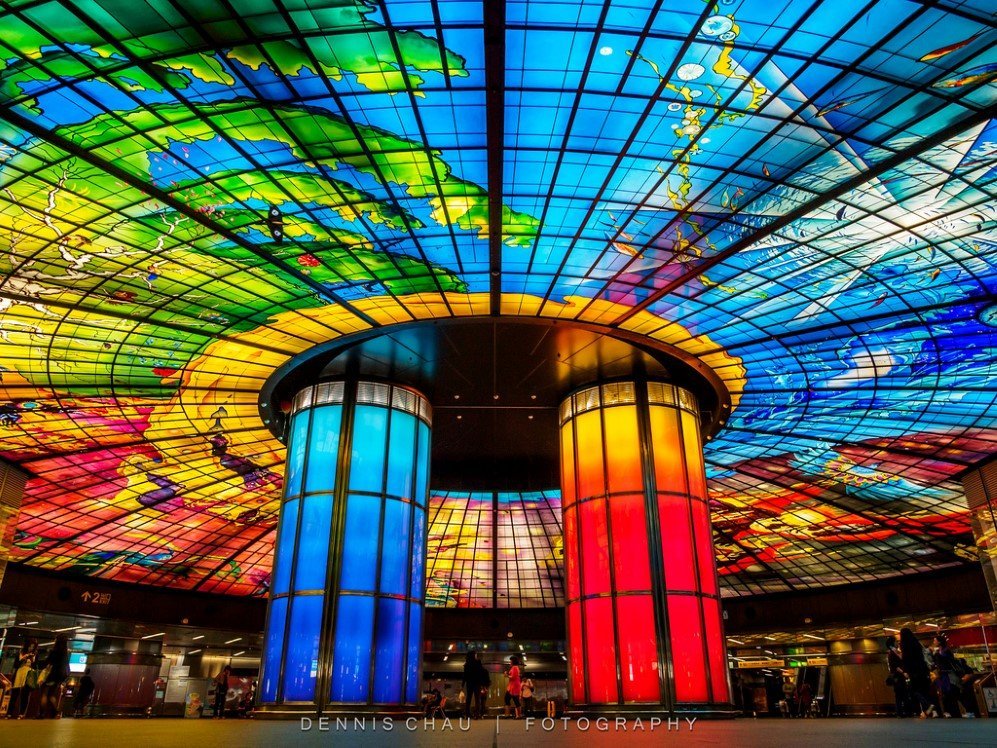 Image: Flickr / DENNIS CHAU | FOTOGRAPHY
Image: Flickr / Nobel Liu
---
Kungstradgarden Metro Station, Stockholm, Sweden
Commuting gets really interesting with metro stations as beautiful as Kungstradgarden. The station lies approximately 34 metres under the ground and is an outstanding piece of art in every aspect. The subway station is filled with word class modern sculptures, mosaics, paintings and installations.
Image: Flickr / Awais Javed
Image: Flickr / David Williams
---
Materdei Station, Naples, Italy
The station was designed by Alessandro Mendini and inaugurated in 2003. The metro stations of Naples were revamped under the project "Stations of Art" for making the environment beautiful and to promote art and culture.
Image: Flickr / Spongerbob
Image: Flickr / Salvatore D'Alesio
---
Stadion Station, Stockholm, Sweden
The station opened in 1973. The inventive decor of Åke Pallarp and Enno Hallek with theme of the Stockholm Olympic Stadium welcomes the visitors.
Image: Jonathan Nackstrand / AFP / Getty Images
Image: Flickr / Yoan Esquer
---
Mayakovskaya Metro Station, Moscow, Russia
Mayakovskaya station is a fine example of pre-World War II Stalinist Architecture and is one of the most famous metro stations of the world. The station features streamlined columns with stainless steel, a flooring pattern of white and pink marble. White and grey marble make-up the walls. The station was named after Russian poet Vladimir Mayakovsky.
Image: Flickr / Yuri Degtyarev
Image: Flickr / José Rambaud
---
Westfriedhof Subway Station, Munich, Germany
In 2001, Westfriedhof's platform was artistically improved by 11 gigantic, dome-shaped lighting fixtures bathing the surroundings in lingering shades of blue, yellow and red.
Image: Flickr / Khoianh
Image: Flickr / Robert Mehlan
---
Muenchner Freiheit Station, Munich, Germany
The station was opened on 19 October 1971 and rebuilt in 2009. The renovation work in 2009 gave Muenchner Freiheit Station a completely elegant look. The walls of the station are made ​​of lime green slats, the pillars are covered with blue tiles that are illuminated by blue light from above and the floor is covered with reflective granite slabs giving the station a magnificent look.
Image: Flickr / Gerhard Rasi
Image: Flickr / Vestman
---
Olaias Metro Station, Lisbon, Portugal
Built in 1998 to help transport the 11 million visitors of world's expo hosted by Lisbon in part to celebrate 500 years of Portuguese inventions. With coloured tiles of different geometric shapes, Olaias Station is a whimsically colourful space known for its own modern art work.
Image: Flickr / Carlos Pinho
Image: Flickr / Vitor Moreira.
---
Westminster Underground Station, London, England
Despite being one of the oldest metro stations of the world, Westminster station offers a futuristic look with its concrete and stainless steel design.
Image: Flickr / Gazmando
Image: Flickr / by D A Scott
---
Radhuset Station, Stockholm, Sweden
Giving a look of natural cave system, the Radhuset Station utilizes organic architecture including exposed and non-sculpted bedrock.
Image: Flickr / Romcha Gaspar
Image: Flickr / Ornaim
---
Slavyansky Bulvar Station, Moscow, Russia
This beautiful Russian metro station is decorated with a boulevard theme. The 4.5 metres high track walls are faced with green marble and stainless steel featuring artistic lamps illuminating the vault of the station. The floor is paved with black marble, drawing attention to its stunning architecture.
Image: Flickr / Jon Ayres
Image: Flickr / Jaime Silva
---
Marienplatz Station, Munich, Germany
The architecture at Marienplatz Station, the symmetry in its design is both mesmerizing and dreamlike at the same time.
Image: Flickr / Christian Beirle González
Image: Flickr / Reinhard Kuchenbäcker
---
Staromestska Station, Prague, Czech Republic
Staromestska Station is Prague's most visited and photographed metro station with its distinctive bubble-wrap design.
Image: Flickr / Anett Barany
Image: Flickr / Jan Jílek
---
T-Centralen Station, Stockholm, Sweden
"T" stands for "tunnelbana," which refers to "underground" or "subway" in Swedish. The underground station looks like an old medieval cave with bold blue and white coloured artwork.
Image: Flickr / Wolffslicht
Image: Flickr / Imagea.org
---
Toledo Metro Station, Naples, Italy
Lying 50 meters deep under the ground, the Toledo Metro Station in Naples Italy is by far the most beautiful metro station of the world. Opened in 2012, its design based around themes of light and water features a full range of shades of blue Bisazza mosaics on its ceiling, walls, and other surfaces.
Image: MARIO LAPORTA / AFP / Getty Images
Image: Flickr / Antonio Trogu
---
University of Naples Subway Station, Italy
Designed by New York-based American designer, Karim Rashid, the station boasts extravagant candy coloured patterns on its walls and ceilings.
Image: Flickr/ Oszkar Jozsa
Image: Flickr / Joy Jihyun Jeong
---
Szent Gellért tér Station, Budapest, Hungary
Named after Szent Gellért, patron saint of Budapest, the station was opened in March 2014. Designed by Artist Tamás Komoróczky, the mosaic interior decoration and tile work looks stunning.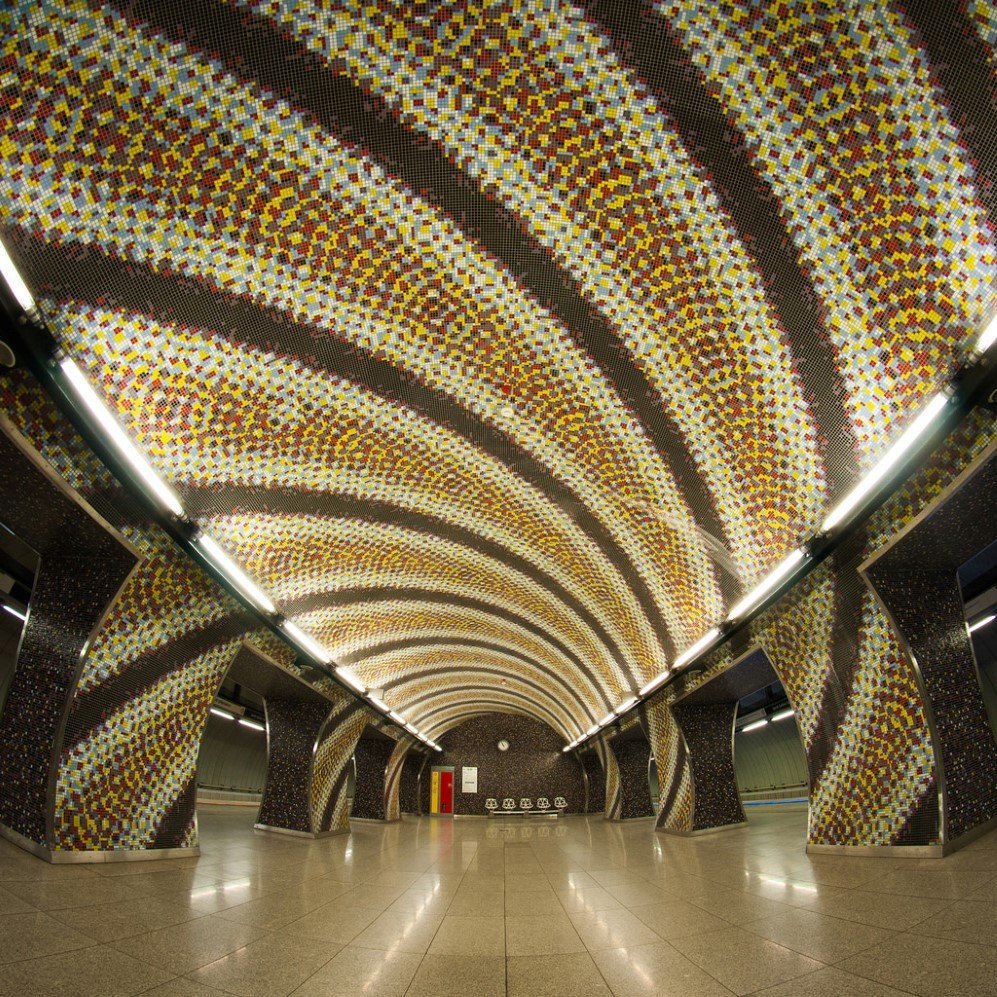 Image: Flickr / ЮЯБМОO
Image: Flickr / David Curry
---
Fulton Street Transit Centre, New York, USA
Completed at a cost of over $1bn, Fulton Centre is one of the most modern and elegant looking stations, creating a dynamic transport environment with 300,000 passengers travelling daily. The station boasts a huge atrium that ascends to 110 feet topped by a conical dome made out of glass, flooding the station with natural light.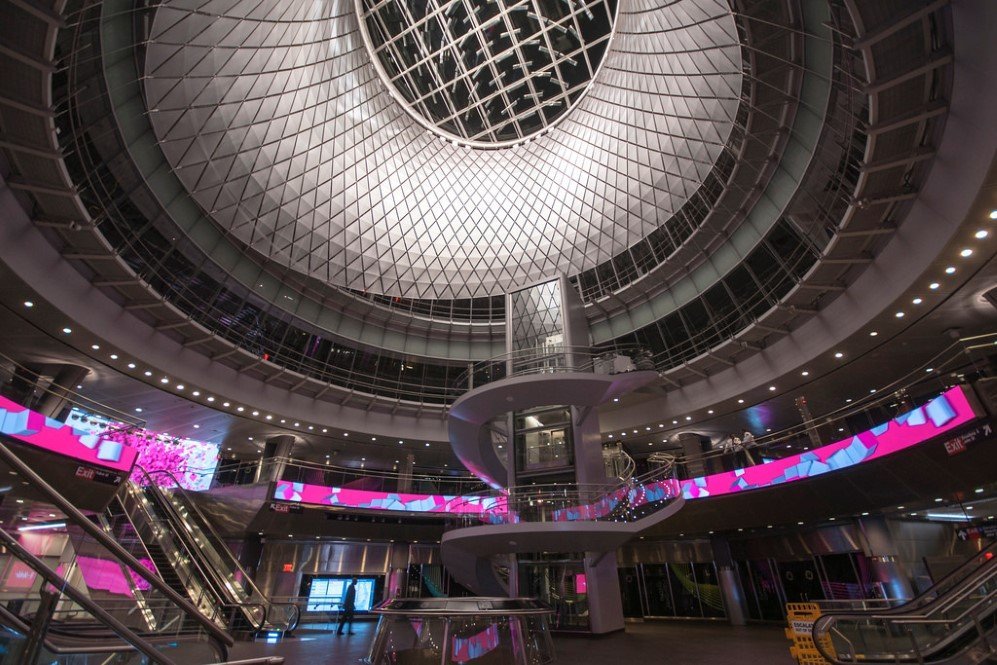 Image: Flickr / Nick Gagliardi
Image: Flickr / Anthony Johnson