Geodesic Energy Efficient Cabins by FUGU is Every Travel Junkie's Dream Resort
From a French Architectural company, FUGU, the world is introduced to geodesic energy-conserving cabins. Typically the center of attention of adventure lovers and travelers, the cabins are made to provide shelter in the midst of travel. The resort is made fully customizable and bearer of some of the harshest climates. The flexibility and strength of the resort are what makes it possible to withstand all that mother nature has to offer which is an impeccable trait considering the location of these cabins. The resorts are located at an altitude of 1,800 meters and were recently launched at the Alpin D'Home Hotel at the Hautes-Alpes' Les Orres ski resort in France.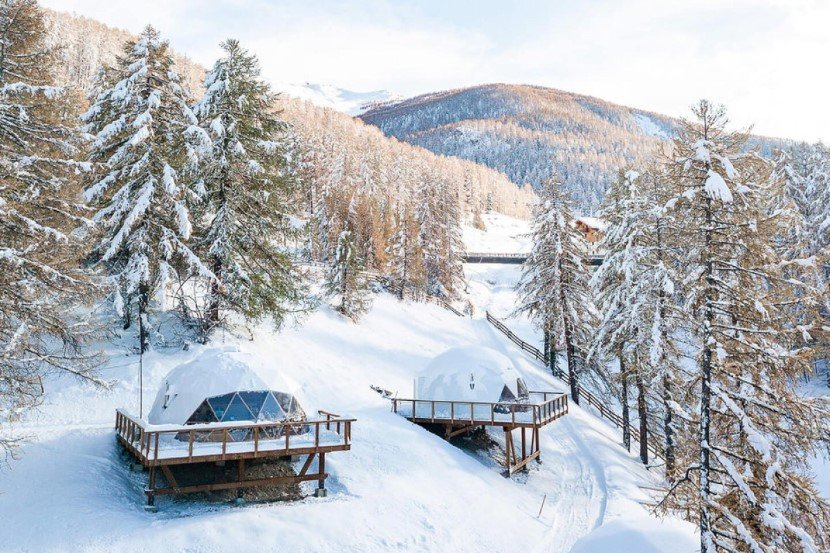 Since the resort is eco-friendly and customizable, they are a perfect selection for the construction of alpine resorts, glamping sites, and private guest houses. According to the company, the baseline purpose of these cabins is to provide nature lovers and people seeking tranquility a place where they can achieve serenity in isolation that is without disturbing the natural aura of the surroundings yet bringing them the best comfort and open air.
As these Geodesic cabins are made to withstand the harshest climates, they are equipped with the high techs of the architectural world such as solar ventilation, passive air circulation, and moisture protection system. The cabins are built on a slighter raised platform with CLT triangular paneling inside. The raised platform helps in conserving the soil underneath and to prevent any sort of footprinting. The core structure and the dwelling are made out of timber. The cabin was chosen to be of a dome shape in order to let a passive airflow and heat distribution so the internal warm temperatures can be maintained even whilst there's a massive cold spell outside.
Recommended for you (article continues below)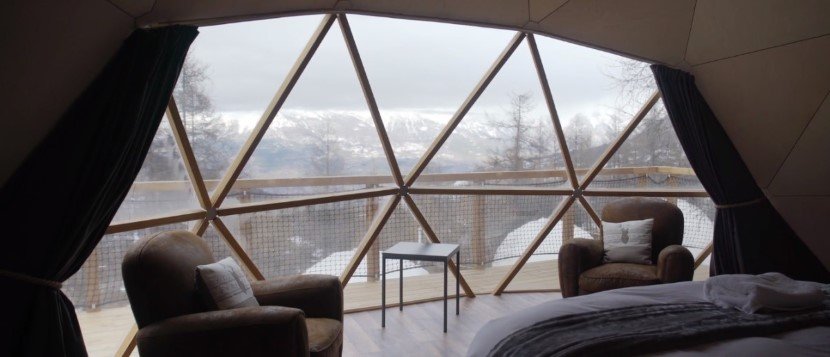 As for now, the cabins come in two prefabricated designs. The FUGU Delux is a 20 square meter cabin that can house two people with distinct living room, bedroom, and toilet spaces. The bedroom is made so to provide an outdoor outlook. The other mapping of these cabins includes a 40 square meter and can house four people with a compact kitchen space as well. Aside from this, the general necessities such as the bedroom, living room and dining room spaces are all part of the plan. However, there is an additional sleeping quarter on an elevated 9 square meter mezzanine level.
Image Courtesy: FUGU Hospitality
References: FUGU, Alpin D'Hôme, New Atlas