Pakistan's First Robot Waitresses Are Now Serving Up Smiles For Diners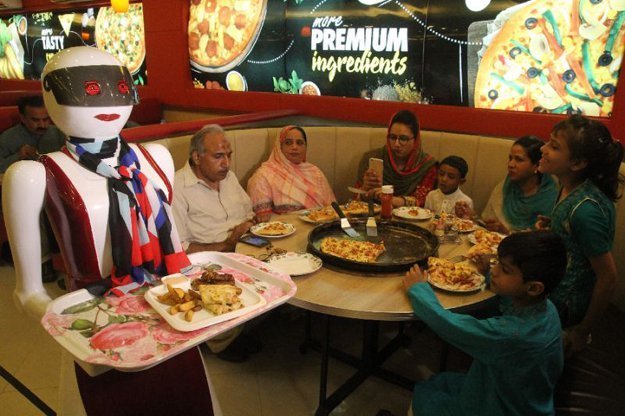 Pakistan has no shortage of talented youth regardless of the field. Despite having the all the shortcomings in academic structure, be it lab equipment shortage, expert faculty shortage and what not, still some of the students manage their way into directing their talent towards pragmatism. One such student Osama Aziz, an electrical engineering graduate from Islamabad's National University of Sciences and Technology (NUST) made the headlines when he introduced robots as servers at his father's pizzeria in an ancient city of Multan.
Osama inspired by his passion used to develop different kinds of robots as his semester projects. The concept behind robotic waitress is stirred by a restaurant in China which motivated him to translate his passion towards practicality. Osama had to deal with a lot of problem regarding balancing the robot during early testing stages as they are expected to handle round about 5kg of food at a time. But according to the developer, these sorts of kinks were resolved by building the female body structure. "The female body is helping the robot to maintain the weight it is carrying. Scarf has been put around its neck to imitate female appearance", said Osama.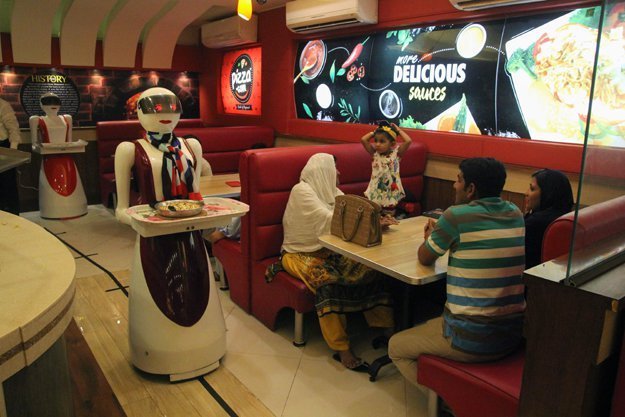 PHOTO: AFP
First of its kind around Pakistan to function commercially, it has a fiberglass body build on a steel base and it weighs around 25kg. According to Osama, all of its components have been sourced locally. "Since the popularity of the robots, there has been a surge in the business, and long queue of customers who want to dine here is outside the eatery", said the owner, Aziz Ahmad Jafari, Osama's father.
Restaurant has become quite a hit not only among the locales but people from the adjoining districts are also coming to dine in at pizza.com. Three robots namely, Rabia, Annie and Jannie have the capability to navigate, greet the customers, handover their orders and return back to the counter successfully. The interesting thing to be noted here is that, upon encountering any obstacle, robot stops and politely requests to give way.
Recommended for you (article continues below)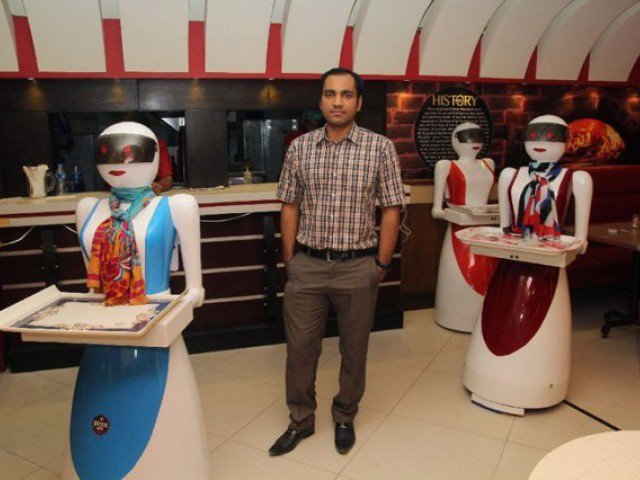 In this photograph taken on July 4, 2017, Pakistani engineer Osama Jafari (C) poses with robot waitresses Annie (L), Rabia (R) and Jennie (background) at his pizza restaurant in Multan. PHOTO: AFP
While Osama is also interested to introduce four more robots but according to him he is not going to fire any of the staff because he doesn't want anyone lose their jobs. "Much is needed to be done to improve its functionality", said Osama. Currently the robots don't take orders but Osama is working to infuse this and other features into its software in order to rectify the robots' look and feel.
Although Osama has received call from few businessmen, who expressed their interest in this machine, but he wants Government of Pakistan to support his idea in order to make it further artificially intelligent as such machines' implications can be remarkable outside the culinary places too.
Watch the video here: