Exercise at home, comfortably & perfectly with smart home gym, Tempo!
For a lot of people, simply going to a gym to exercise is a whole lot of a task. Most people find going to the gym very hard with their schedules already packed with work/school, family and friends. This is why at-home gym equipment exists. There are a lot of gym equipment available in the market, but the just-released Tempo is smart. Tempo is a connected fitness machine that offers streamable classes to its users, but, as this is something a lot of fitness machines already provide; so, Tempo's producers made the machine interactive as they offered tandem learning. Tandem learning is a mode of teaching in which the the learner and the teacher communicate directly. Tempo offers learning directly from personal coaches, instead of through prerecorded videos. This makes learning more effective.
Another feature of tempo that increases users' productivity is that Tempo makes sure that you exercise correctly. The machine has an installed camera, 3D sensors' system and an AI called Tempo Vision that detects, analyzes and displays the users movements which they can use to improve their exercising methods, as the guidelines about the exercises are also being provided. There is a dots' system that does the recognition of the body job and then analyzes your form, counts your reps and recommends you suitable weights to lift. The dots' and analysis system work by recognizing the 25 essential points of the body. Tempo Vision captures motion by emitting pulses of infrared light 30 times a second to generate a 3D model of the user's body with 80,000 individual points. Feedback is given by showing the difference between the correct way to exercise next to your performed position.
The machine stands tall just like a full-length mirror or a cupboard, with a display fitted in the front. This display is a 42 inches HD touchscreen that shows videos in 4K.
There is a cupboard/cabinet in the lower part of the armoire that can contain all your workout equipment such as barbells, dumbbells, mats etc. This helps to keep all your equipment stocked in an organized manner instead of you having to organize it somewhere else.
Recommended for you (article continues below)
There are three essential types of classes being offered which are for Strength, HIIT and Mobility. The strength once utilizes heavier weights and focuses on building lean muscle. The HIIT ones are High-Intensity Interval Training classes that help boost metabolism and the mobility classes combine yoga, myofascial release and making the body, essentially, more flexible.
Tempo is expected to start shipping in summer, 2020 and can be reserved for 250$. Users can get classes for 55$/month for 36 months, but if you want access to the whole class library, you can pay an extra 39$ every month for that.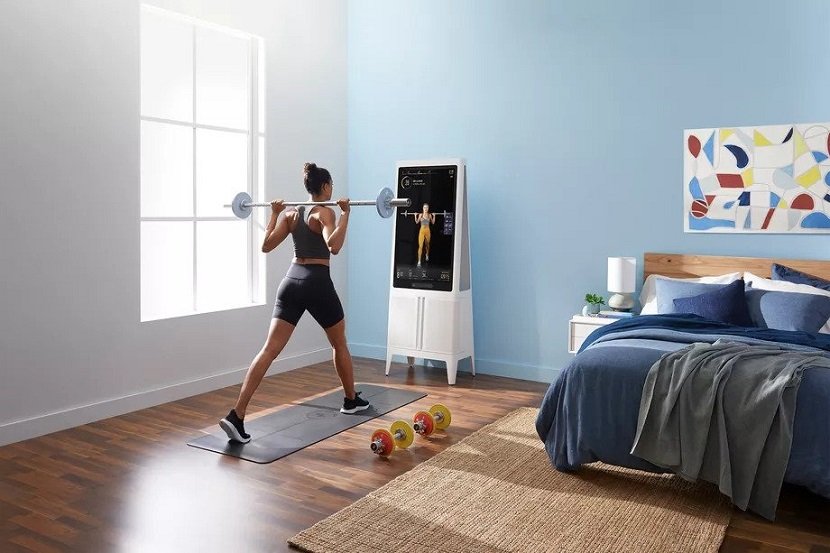 Images: © Tempo
h/t: The Verge