Experience the underwater life with WhiteShark's underwater scooter
Image Credits: Kickstarter
While the underwater world is literally breathtaking, it only lets you explore for a short amount of time before you run out of oxygen. This is where WhiteShark comes in; an underwater scooter that is bound to make your experience easier and more fun. The WhiteShark MixPro is a small sea scooter that is compact enough to carry underwater. The water scooter is able to attain speeds of up to 4 mph and will work for at least 60 minutes on one complete charge. It takes only 2 hours to completely charge the device and even flashes an alert when you're about to run out of charge.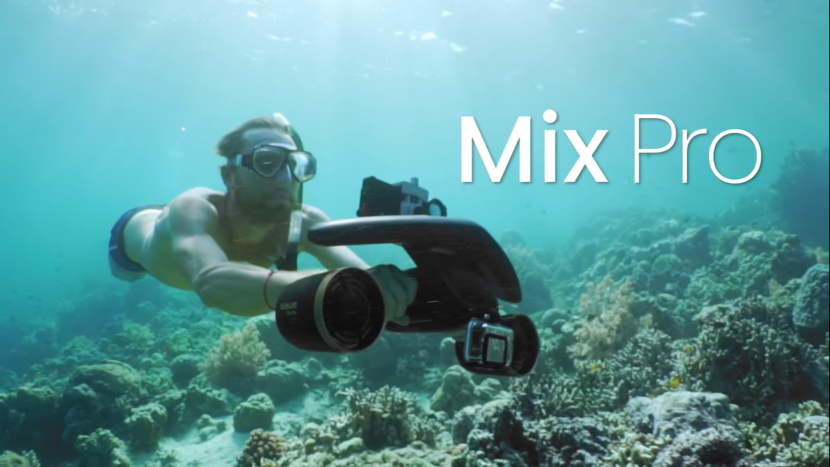 WhiteShark MixPro vs other similar devices like Yamaha 220Li
The underwater scooter weighs only 3.55 Kg and is smaller than most of its competitor devices. It can travel to a depth of up to 40 m at the highest speed of 1.8m/s. The battery life lasts much longer and you can even mount the action camera. Battery can be replaced within seconds as opposed to the rival devices which require a long time and sometimes even need special tools to do so. Apart from all of these technological features that make this the optimal underwater scooter, it is also much cheaper than any of the others on the market.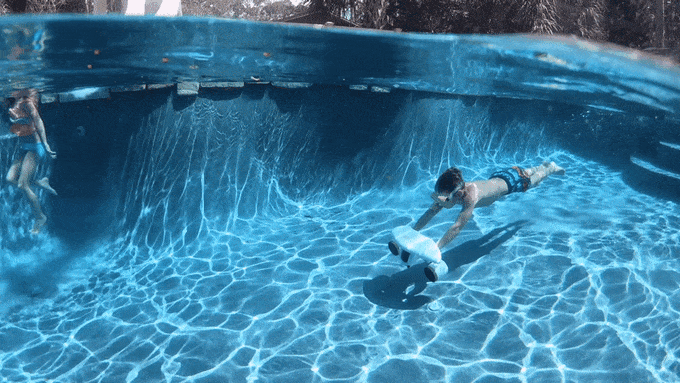 Experience the exhilarating underwater life with this underwater scooter
Whether you're having a fun family pool day or diving into the depths of the Atlantic Ocean, the WhiteShark pro helps you deep-dive and enjoy the complete experience. You can either enjoy the thrill of diving at 1.8 m/s or slow down and enjoy the dive at 1.2 m/s. Both options are available on this underwater scooter.
An LED indictor has been incorporated that indicates when the device runs out of battery and is put on standby. The LED light will flash, giving the diver enough time to safely return back to shore. It also switches colors when the speed of the underwater scooter is changed.
Use the mounting feature to capture underwater moments
A mounter equipped at the top of the sea scooter allows your phone to be attached so you can easily take pictures on the go. You can even turn your mounter into an underwater filming device by attaching it to the universal mount.
The WhiteShark underwater scooter is also compatible with multiple different accessories
You can use it with a variety of items like your smartphone that can be mounted on top of the scooter once you secure it in a waterproof case. Mount your action camera to document the most memorable underwater adventures and use the attachable selfie extension stick to click the coolest pictures swimming with the dolphins. For low visibility, a waterproof LED has been attached to light up the way.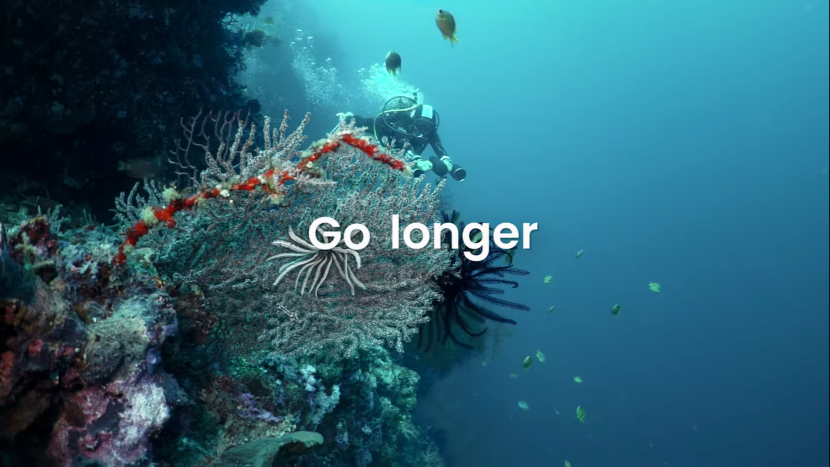 When attached you can dive into the family pool and have tons of fun. When diving and exploring deep underwater you can detach it. The attached floater helps keep the underwater scooter afloat so you don't lose it.
Dive up to 5 metres of depth with the regulator and detach the regulator to explore up to 40 metres under the water surface.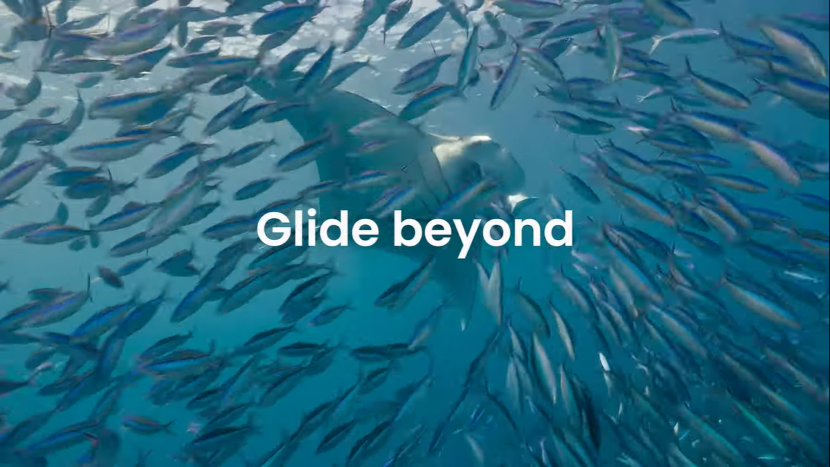 Alternate between two different speeds to enjoy the complete experience
The WhiteShark sea water scooter allows you to experience the dive using two trigger buttons that can speed up upon pressing. A dual trigger buttons ensures you don't accidentally thrust, specifically making it secure for children to use.
Feel free to carry it with you on flights as the lithium battery included in the WhiteShark underwater scooter is approved by the Federal Aviation Administration. With only 3.55 kg of weight, it fits well into your backpack so you can take it with you wherever you go.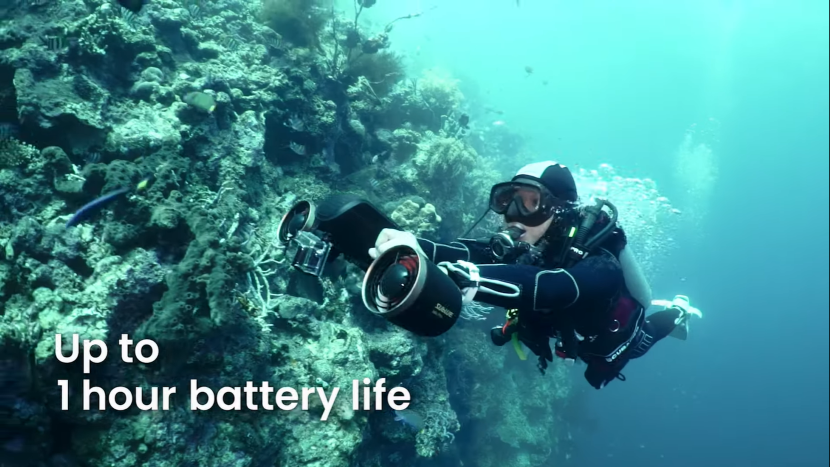 Easy and fast recharge
The lithium-ion batteries recharge within a matter of two hours and since one recharge can last for up to 60 minutes, this gives you enough time to explore the depths of the underwater world.
Extremely strong and durable
The underwater scooter has undergone some vigorous testing to ensure that it meets all the quality standards. A dedicated research and development team has been allotted the task of keeping the durability and the stability of the device up to par.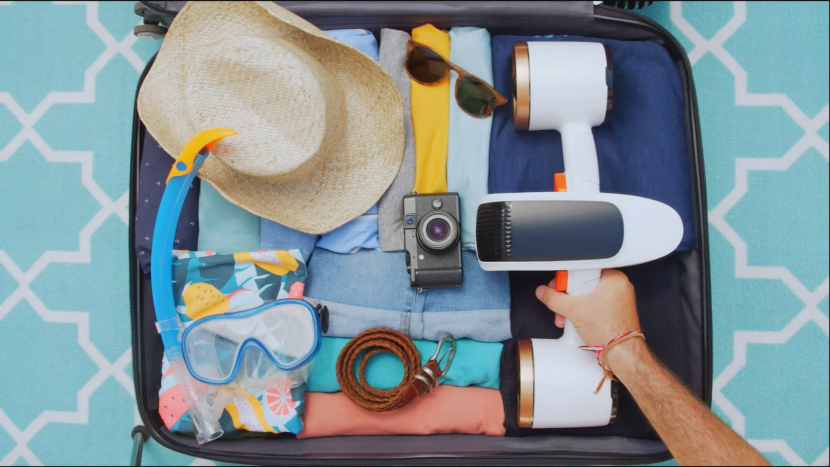 The underwater scooter is also salt corrosion resistant
After 168 hours of salt-corrosion and salt-spray testing each, the WhiteShark MixPro has been designed to resist salt corrosion so you can enjoy your sea water experience, stress free. It has also undergone a sand resistance test and can withstand the pressure even 50 metres below surface level without any leakages.
At a cost of just $399, you can purchase the beginner pack which includes one underwater scooter. You can even buy a professional combo for $729 which includes more accessories like an additional battery, two waterproof LED lights with their holders, a waterproof backpack and a selfie extension stick.
Currently the product is up and ready to be shipped worldwide.
All Images: Kickstarter