Red Shark Bikes make pedal-powered trimarans to let cyclists ride on water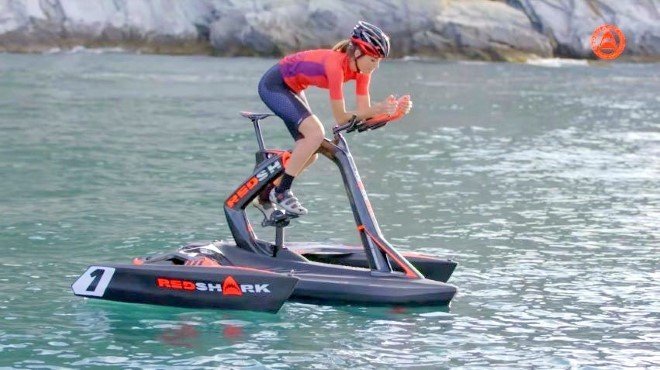 Josep Rubau is insanely famous for designing Volkswagen as well as the Tramontana supercar. The Spanish inventor has taken up a new challenge; he is now the CEO of RedShark Bikes, which designs and sells bikes you can ride on water surface. Confused? Keep on reading to find out more!
The "bikes" are basically trimarans, which use the rotation of pedals to drive the propellers. They are available in three different models; the recreation-oriented Fun, the rough-and-ready Adventure and the high-performance Sport model. All three versions are equipped with different features that fit their themes. While the "recreation oriented fun" and the "rough-and-ready adventure" models use high-density polyethylene (HDPE) as their base material, the third model is a result of very low-density materials such as carbon fiber-although it does have an HDPE coating underneath for added durability-so that it can give a better performance in terms of speed. If users wish, they can upgrade their fun and adventure models to a high-performance sports model as well.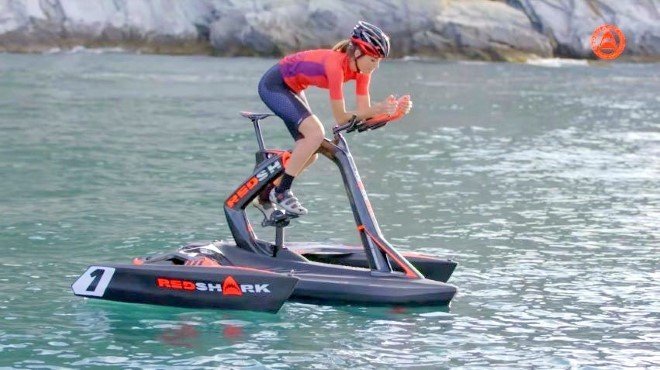 Image: RedShark Bikes
Recommended for you (article continues below)
Not only that, the Adventure version contains attached packs as well as a watertight trunk to add extra materials or travel gear while on trips. It also comes with a thick plastic coating that strengthens the bottom of the trimarans. A feature common in all three models is retractable rubber, salt-water proof drive shaft, stainless steel nuts & bolts and a foldable exterior, which allows them more portability while taking them along for the trip. In order to take them out into the water, users can roll them out using a small set of wheels attached to the back of the main hull.
Being on the pricey side, the three versions range from US$5,000 to US$11,000; with the Fun model at $5,783, the Adventure at $8,098 and the sports version priced at $11,570.
Image:  RedShark Bikes
h/t: RedShark Bikes via Design Boom