BMW rolled out wireless charging for 530e iPerformance plug-in hybrid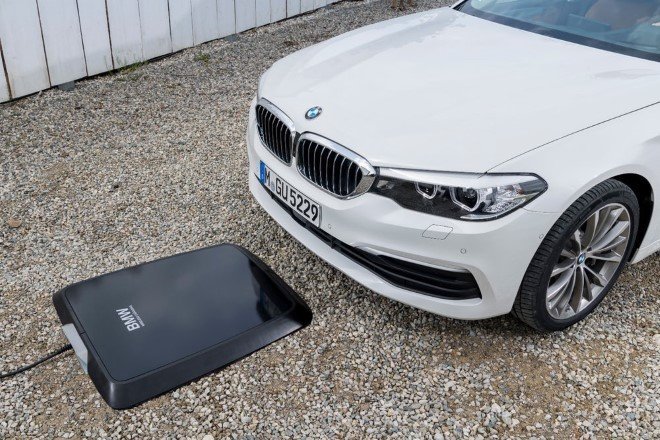 With the advancements of technology, electric vehicles like phones, can also experience wireless charging as well!
For now, this feature only exists in BMW's 530e iPerformance model. This one-of-a-kind charging system only exists in Germany for now and in the near future, it will become widely available in the United Kingdom, United States, Japan as well as China.
Through the mechanism of induction, the charger generates electromagnetic fields to charge the high voltage batteries within the car. All the user has to do is, put the base pad in the parking space, plug it to a socket in the wall, park the vehicle on top of the pad, and leave it to charge. Inductive charging ensures that no connections are necessary between the car and the charging pad; meaning you can drive off without unplugging or reorganizing the wires.
Image: BMW
The charging station or "GroundPad" is easily fitted wherever the driver parks their car the most i.e. a garage, a drive way or any parking space. The best part is, that since the GroundPad is unaffected by weather conditions, the user can literally install it anywhere they find convenient!
There is also a secondary component required for charging: the CarPad. Fitted under the car, the CarPad ascertains affective wireless power transfer into the car's batteries by transferring the electric current it gains from the charger into the battery. Normally, during the process, the CarPad and GroundPad are at a distance of 3.5 inches from each other.
Recommended for you (article continues below)
Image: BMW
With the use of Wi-Fi, the BMW Wireless Charging System helps bring the vehicle to the charging station and parks it at the correct spot. The infotainment screen installed in the car also helps navigate the car to the appropriate spot over the charging station by providing the overhead view of the car via a 360-degree parking camera and colored lines. A graphic icon also comes on screen once the car is parked perfectly. This sounds time consuming; however, the company has allowed a deviation of up to seven cm (2.75 inches) longitudinally and 14 cm (5.5 inches) laterally from the optimal position so that people don't go crazy over a single centimeter of deviation.
According to BMW, the charging system has a power of 3.5kW, accounting for three and a half hours of charging time and an efficiency of about 85%. Furthermore, the car is equipped with multiple safety features, one of which is buffering to limit the radiation just between the GroundPad and CarPad so it does not affect the passengers. Furthermore, sensors are in place to ensure that if foreign material is detected over the GroundPad, the charging system turns off.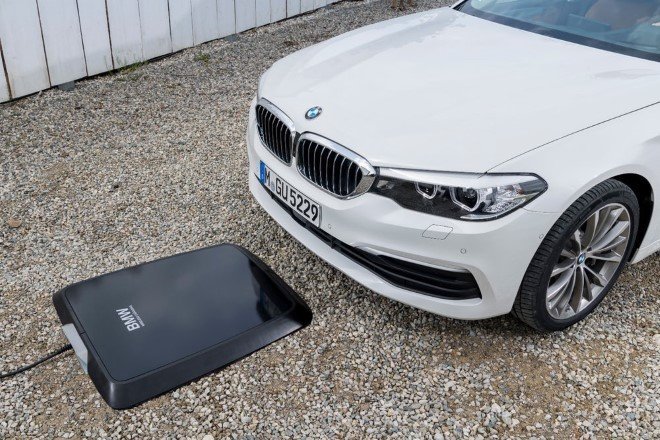 Image: BMW
It'll be interesting to see if BMW introduces this system to other models; as well as users adaptation to the relatively slow charging rates.