Drone rescue parachute system will save your drone from crash landing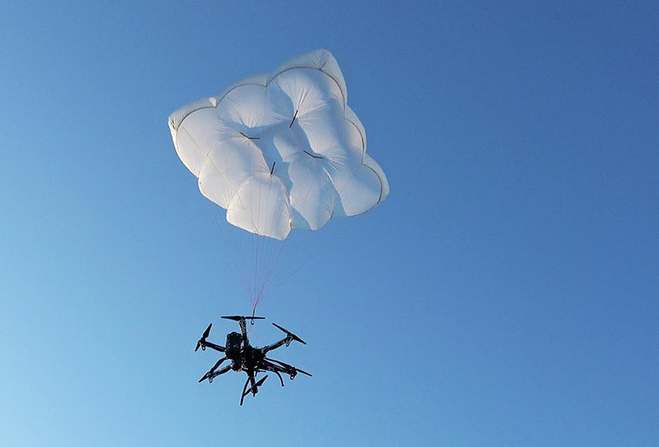 Drone Rescue is an Austrian company that has designed parachutes for multi-copter drones. Whenever these drones face trouble, these parachutes will bring them down to Earth safely and soundly. The chute will also prevent people from getting hurt when the drone safely lands as they become more widespread.
The parachute modules DRS-5 and DRS-10 were publicly demonstrated in Frankfurt at the Intergeo 2018. Although DRS-5 and DRS-10 are similar in design, they are built for drones of different sizes. The DRS-5 can support drones weighing up to 8 kg (18 lb), and the DRS-10 can support drones having weights in the range of 5 kg to 20 kg (11 lb to 44 lb).
The DRS-5 has been exhibited on the Facebook page of Drone Rescue and their YouTube channel for over a year, but according to the company, only now it's been publicly demonstrated for the first time. Both models, i.e., DRS-5 and DRS-10 are made up of a carbon cage which holds the parachute. It also houses the controls and sensors which work independently and are not dependent on the drone. The chute is deployed when the technology detects the drone in trouble. When the problem arises, or the pilot loses radio contact with the drone, the parachute is deployed electronically within milliseconds. When deploying, the motors of the drone are halted to make sure the parachute lines don't get cut, and the people are safe when it lands.
Recommended for you (article continues below)
Drone Rescue is also announcing another drone designed explicitly for the desired DJI Matrice 600 (M600) drone. It's a tailored variant of DRS-10 and is known as DRS-M600. A Black Box flight data recorder is also included in the system. It monitors the acceleration, altitude and the GPS data of the drone. The data is accessible through an online service provided by Drone Rescue.
Drone Rescue has been working in collaboration with a Graz (Austria) based Joanneum Aeronautics to test DRS-5 parachutes with drones of under 4 kg (9 lb). The parachute deployed successfully in more than 100 tests and landed the drone safely. The company claims that their system is lighter and functions efficiently in the worst case scenario.  The parachutes are said to be shipped to the customers in the final days of 2018.
h/t: Digital Trends