Boston Dynamics Atlas robot exhibit flawless parkour skills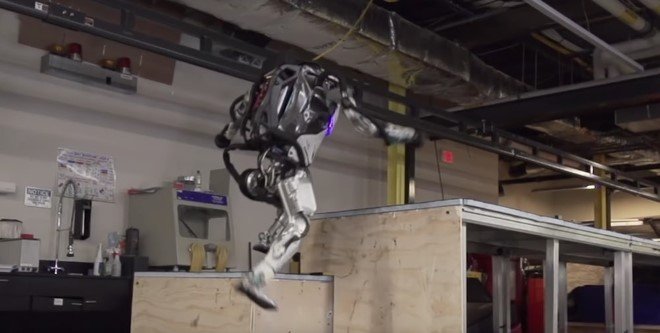 Boston Dynamics
Professional Parkour athletes might have a new competitor in town thanks to Boston Dynamics Atlas robot! According to the video released, it seems that Atlas robot has learnt a new skill of maneuvering through complex hurdles without any support or equipment. It's interesting to think that after its release a mere five years ago, Atlas left the tech industry in awe by carrying out human-like functions in spite of being connected to an external power source. Now, however, the robot moves independently and easily balances its arms, legs and upper body thanks to the installation of real-time computer-vision combined with control software. It even carries out some of the most impeccable physical stunts!
Boston Dynamics removed its external power tether back in 2015 and ever since then, the robot moves freely. One can even witness the remarkable progress made by this humanoid device on the company's website. They show how Atlas developed all its abilities by learning how to balance first and then eventually performed a highly impressive backflip all in a time span of two years.
By 2018, Boston Dynamics Atlas robot had moved on to training on complex terrains and environments in real-time. Eventually, it could run through the woods and even jog across bumpy landscapes. Now, we can witness it running and jumping over logs with infinite ease!
Recommended for you (article continues below)
However, the company has not disclosed the programming and functional details that govern the Atlas, which leaves us in a muddle on how the robot actually maneuvers. Nevertheless, Boston Dynamics does provide a vague detail in their video stating, "Atlas uses computer vision to locate itself with respect to visible markers on the approach to hit the terrain accurately."
Despite this impressive update, it is still unclear where Atlas will go from here. Even though Google's parent company, Alphabet recently sold Boston Dynamics to Japanese company SoftBank for an unrevealed amount but they gave no indication how the robot will be used in the future and whether it will upgrade any further. Nevertheless, if the robot does progress any further, it's kind of frightening to imagine its potential in the next couple of years.
All Videos: Courtesy of Boston Dynamics
Source: Boston Dynamics via New Atlas