Altwork Station Lets You Work While Lying Down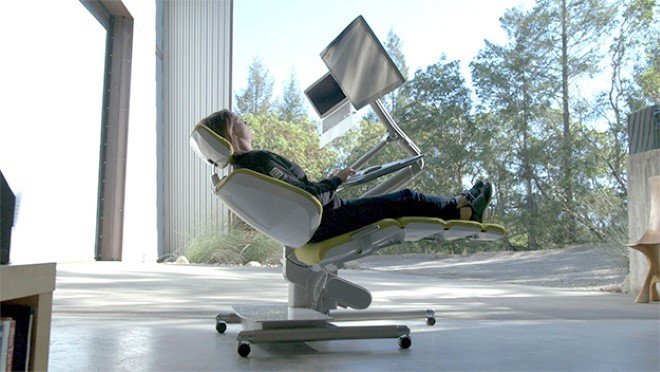 We often find ourselves complaining about working in the same position or posture for hours. We can't sit for too long, we can't stand for too long, nor can we lay down for too long – but our work space offers no flexibility, and so we are bound to follow the geometry of our desk space.
However, all that is about to change! Altwork Station is everyone's dream work desk! It is entirely adjustable, and consists of a motorized chair and swing arms for monitors as well as peripherals. So, basically you can recline the chair till the point that you're parallel to the floor and can change the position of the monitor so that it hangs above you! How amazing is that? Even though the company says it will increase productivity, we all know what we'll really be doing in that position – sleeping!
According to Altwork, it took them five years of engineering to prepare this workstation, and make it ready for production. If you think you can't resist sleeping in a reclined chair, then you can lock the Altwork Station into a normal sitting position. Moreover, you can even stand up and elevate the tray to convert it into a standing desk! In addition to this, there's a standard VESA mount on the armrest too so that one can attach the monitor to it. However, it can only bear a load of 35 pounds. If that's one limitation, then there are many pros to compensate that and make you go all gaga over this workstation! While standing, the desktop can be altered from 36 inches to 60 inches. As for the desktop space, its dimensions are 29 x 26 inches, and it is movable (ideal if you're only typing and not doing anything else though).
Recommended for you (article continues below)
So, there are two editions of the Altwork Station – signature and standard version – both have the same basic features. The signature edition has 3 frame colours, 4 desk and accent colours, and 10 custom colours! Whereas, the standard edition only has two pre-configured options. As for the price, the Altwork Station will cost $5,900 but that's good enough for the features it has to offer. It comes with a 5-year warranty and will work for at least a decade provided that it isn't overused!
Source: Altwork Station