Odake BladeX Pro is the new multi-purpose and ultra-thin monitor!
In today's world where science and technology are making life easier for people, the demand for new inventions is also increasing. Well, you all know the importance of computers, laptops and mobile phones. These inventions have made our life easier. All the companies are introducing new models to compete each other in the market. So, informing you all, another invention has made way in the line of laptops by Odake and that is "BladeX". The two variations "BladeX and Bladex Pro" are almost similar with all the same ports. The difference between the two is obviously the screen and the budgetary difference.
The idea behind its invention was to make life easier. You can use this amazing laptop for hot-desking as well as you can carry it with yourself where ever you want to go. Moreover, this is an extremely versatile invention. Odake states on the crowdfunding page that "BladeX is a major surface Pro without a computer or a TV without a tuner. It simply needs something connected to it".
Now let's talk about its features and advantages. BladeX is the slimmest and light weight monitor everas the device weighs only 860g (1.89 lb). The BladeX (1080p) has a 1,920 x 1,080 FHD touchscreen, whereas the BladeX Pro (4K) has a 3,840 x 2,160 4K UHD non-touch screen. The thickness for the display section is only 4.5 mm (a little under 0.2 inch). There is a stand which provides support to the monitor and this stand is the only reason for making the screen so thin. This amazing device is a full package. It contains speakers, battery and connectivity ports for a headphone jack, Micro-USB ports, HDMI port and two USB-C ports.
Recommended for you (article continues below)
When the BladeX is folded into its case, it is about 9 mm (0.35 in). The stand is quite adaptable with four viewing angles that is horizontal, vertical, studio mode like tablet and hand-held. Horizontally viewing position is featured with adjustable angles, vertical viewing position is in portrait mode for coding and composing. Moreover, you can use the stand as a prop in studio mode and if you want to play your favorite games then just use it in hand-held mode.
How about its battery? Well, it is important to emphasize on the fact that BladeX has a battery giving tough race to its competitors since many of those don't have a battery. In order to save space, some require an AC power pack which is then plugged into the wall. Otherwise, you can just draw power directly from the laptop through your USB-C cable. Furthermore, BladeX's battery is rated at 3,000 mAh and it lasts for around three hours per charge.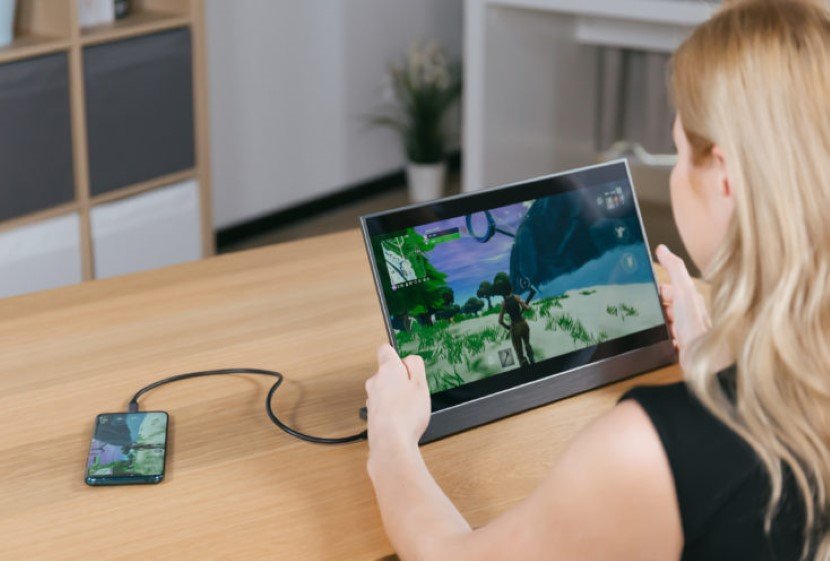 Odake has surpassed its crowdfunding goal of $20,000 and raised over $310,000 at the time of writing. Assurance from Indiegogo for the BladeX and BladeX Pro begin at US$209 ($359 RRP) and $309 ($599 RRP) respectively. The package includes all cables, and a choice of silver and black. In addition, the BladeX Pen is at $10, the BladeX Premium Case at $20 and the Odake Stand (to raise your BladeX) at $15 are also available. Isn't it amazing?
All Images: © Indiegogo