Lenovo's 'world's first foldable laptop' shows how future laptops might look like
The modern world is moving at a fast pace, shifting from one amazing technology to another. One such recent development is the new folding technology. Developers all over the globe are striving to create foldable cell phones, tablets, and laptops. For the technological powerhouse, Lenovo, this is no longer a farfetched dream.
At its recent Accelerate event in Orlando, Lenovo unveiled a prototype of what it terms "the world's first foldable PC." It is a device unlike any other that have come out before it. It is not a phone, tablet, or any hybrid but a full-fledged laptop, aiming to revolutionize the technological world.
The device is the size of two 13-inch laptop screens joined seamlessly together with a flexible OLED touchscreen on one entire side, boasting a 2K resolution display. When folded out, the screen ratio is about 4:3 and is roughly the size of a large hardback book. Lenovo says that it is less than two pounds in weight, making it one of the lighter portable systems. It is said to have a battery that can last up to a whole day.
While companies like Samsung and Huawei are focusing on expanding the size of a regular phone through this folding technology, Lenovo's laptop is an attempt to reduce the size of a regular laptop. The primary reason behind this is to create a device that is fully functional and efficient as well as portable.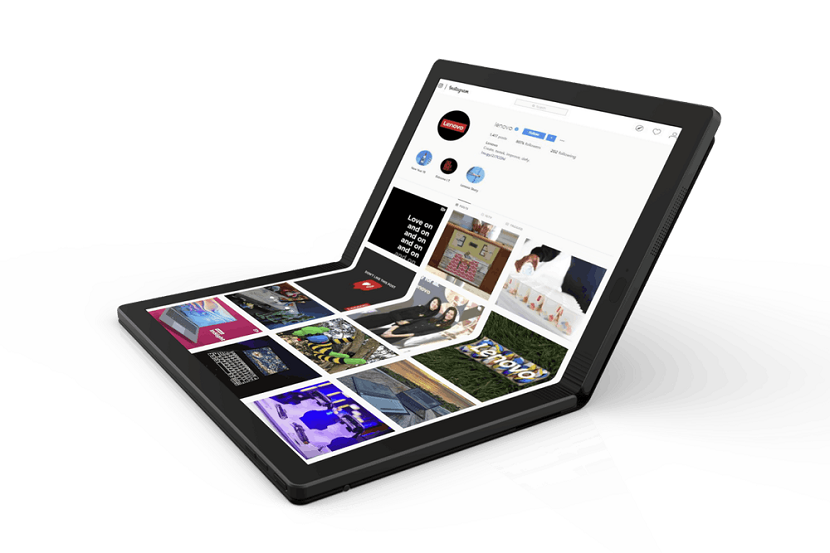 Recommended for you (article continues below)
The laptop has several built-in USB ports on all sides and will be shipped out with its own stylus. While it has a built-in pop-up keyboard and can be used in that manner, there is also the option of using a Bluetooth mouse or keyboard. This way, the device can function as a regular desktop. It will probably feature multi-screens as well, making it a truly exceptional piece of technology.
Those who got to test the prototype admitted that while there were several things still needing work, the device did indeed fold as advertised and Windows OS ran well on the touch screen. The folded size feels good to hold. However, people also commented on the things that were still being worked on. The folding mechanism did not feel quite sturdy as yet, and the picture quality was poor, with its colors changing rapidly if viewed from a different angle. Keeping in mind all this, many have expressed anticipation for the final product as it promises to be something truly spectacular.
The company is envisioning several styles of cases for this gadget; however, no other specific information has been released yet. Lenovo has been working on this prototype for three years now and plans to launch the finished product by 2020. For now, the device remains nameless, but it will join Lenovo's ThinkPad X1 series after its release, and surely, more details will follow then.
The video from The Verge provides a hands-on experience of the prototype and how the actual device exactly looks like.