Global warming makes January 2020 hit a record high monthly temperature!
©NASA
Global warming is a worldwide phenomenon and temperatures all over the world have consistently been seen rising. This has been proven by multiple future climate models, and visible facts. "There is destructive and unforeseen devil in the details of climate change." says BBC.
With rising temperatures, we've seen that the highest ever temperatures have been showing up in records, a lot, lately. Scientists have been keeping climatic records for the past 141 years, and yet last month, January 2020, was the hottest ever January recorded, in history, at the NOAA's (National Oceanic and Atmospheric Administration) National Centers for Environmental Information.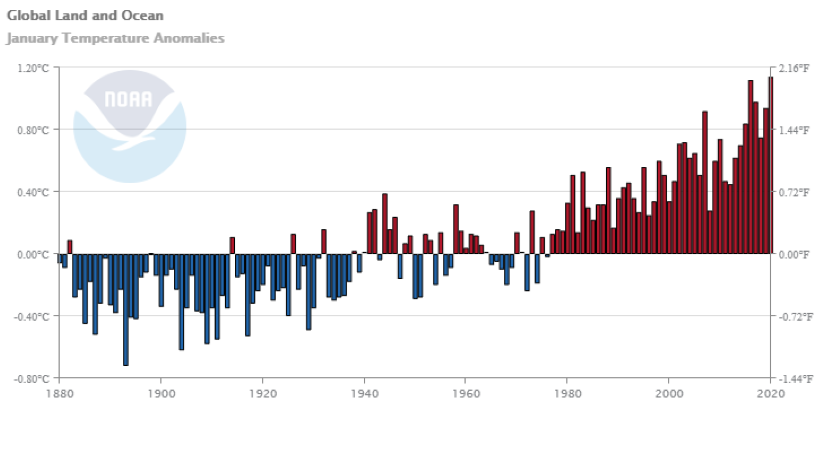 This Climatic report published by NOAA states that the temperate this January was about 2.05°F higher than the average monthly temperature for the 20th century. The second highest was recorded in January 2016 and it was 2.01°F higher than the monthly average of the century.
The temperature increase also came along with the absence of El Nino after 3 years. El Nino is the warm phase of the El Niño–Southern Oscillation (EL/SO). Scientists connect it as a band of warm ocean water that develops in the central and east-central equatorial Pacific, including the area off the Pacific coast of South America. It is essentially a pattern of water movements that leads to the sun warming the area and the water at the equator leading to rains.                                                                                         
This month had been the 44th consecutive January and 41st consecutive month to have crossed the century's average monthly temperature, and this is a very alarming situation for humankind.
It is also very important to mention that lately, no record-cold January has been observed and the temperatures are consistently rising, almost without any decrease. "Fewer than 20 daily record low temperatures were set in January while more than 500 daily record highs were set", says NOAA.
The rising temperatures are getting so bad that 2019 was itself the hottest year recorded and was topped only, in history, by 2016; the past five years have also been the hottest since 1880.                             
Certain areas had it the worst this year. Some places in Norway crossed 25°C above their average temperatures. Denmark and Finland had the hottest January ever.
Recommended for you (article continues below)
The consistent rise in temperatures, thanks to global warming, is expected to yield haunting effects on the earth for humankind. It is, therefore, very essential for us to save the planet and ourselves before it gets too late.
Check out NOAA's official report on January 2020 here.
h/t: Slash Gear