Ford's electric F-150 pickup truck which can tow a million pounds train
There is no better way to showcase your latest F-150 Pickup truck than by releasing a video teaser of its all-electric version towing a million pound train. In 2017, Ford had announced that it was all set to release the electric version of the infamous F-150 and sell a hybrid version by 2020 and no doubt, it does not seem to disappoint.
The video boasts an electric prototype successfully dragging the weight of 10 double-deckers across a distance of 100 feet. It later shows the same rail cars with an additional 42 regular, gas-burning F-150s also being pulled around. Linda Zhang who is the chief engineer on this electric truck project claims that the additional F-150s sum up to a weight of 1.25 million pounds.
This latest edition is all set to launch at around the same time as the battery-powered Mustang-inspired crossover. Ford claims that they are ready to invest $11.5 billion to make 12 of the same electrified models by the year 2022.
Recommended for you (article continues below)
As of now, the record for the heaviest load pulled by a car belongs to Tesla for their Model-X which was able to tow a 287,000 pound Boeing Dreamliner in Australia last year.
Ford has also decided to expand its consumer base by collaborating with Volkswagen on their electric and autonomous vehicles. Volkswagen is willing to invest $2.6 billion to further fund the project so that Ford can reach out to their electric vehicle MEB platform. They believe that all these efforts would be sufficient enough to deliver more than 600,000 European vehicles along with the possibility of another all-new Ford model.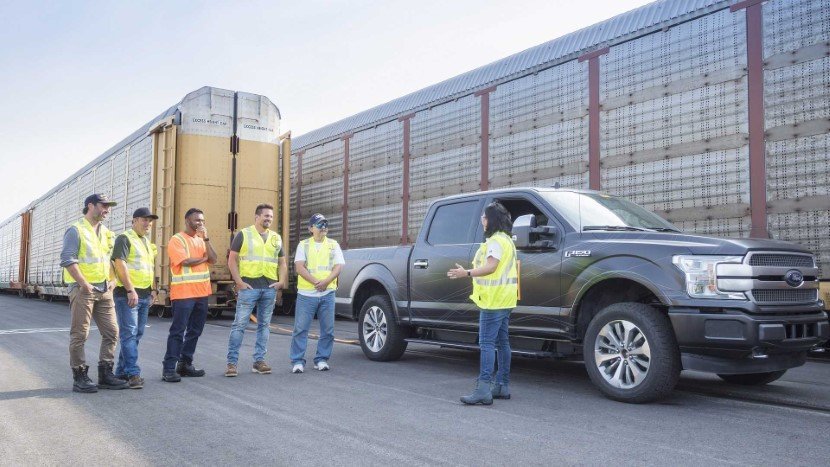 Ford also claims that they are ready to invest $500 million to use Rivian's technology for developing more electric cars. All in the hopes that this latest vehicle does not create a decline in F-150's popularity.
All images: Ford
h/t: The Verge