Some of the best dog walking apps that can be used to earn money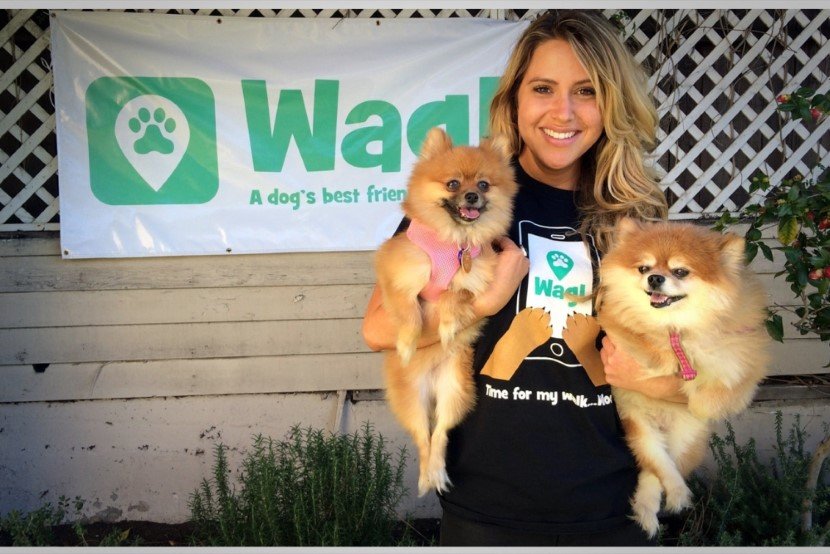 Image Source: Wag
Let's see what's the best dog walking app available in 2020. The apps have been thoroughly used to highlight the most optimal features of each. If you're an animal lover, it is also a great way to earn money while doing what you love.
The most popular dog walking app is 'Rover'
In 2011, a college junior, Philip Kimmey took part in a hackathon and came up with Rover which was later conceptualized as an Airbnb for dogs. Kimmey then teamed up with venture capitalist, Greg Gottesman, and a Microsoft alum and now a CEO, Aaron Easterly. The trio came up with the idea to pair dogs with dog people and have now managed to form the largest network of dog walkers and caretakers. The multipurpose app structure allows boarding, house sitting, grooming, daycare, dog walking and drop-in visits in 34,000 cities.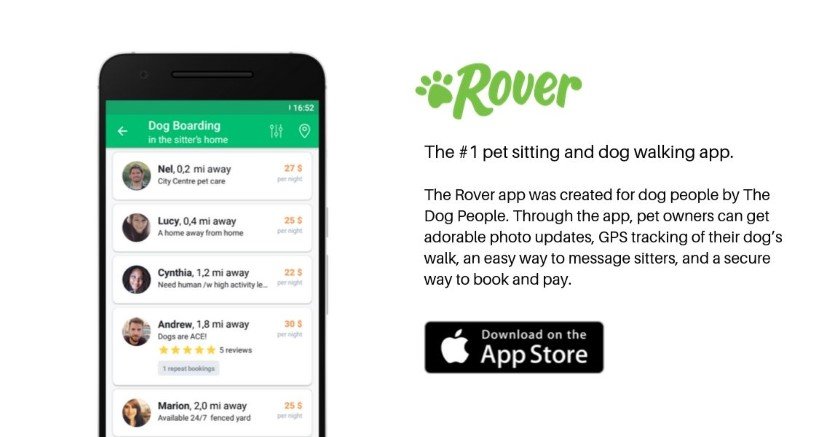 In order to successfully use the service, the app requires you to enter your location, the dates where you need the service, and the exact service that you want. You can opt for either a single visit or daily and weekly service. Once you fill in the details including your dog's weight, age, etc., the site will generate a list of all the potential and available dog walkers in the area along with the starting prices they are willing to offer the service for. Usually, the single strolls are around $15 to $20 weekly and the users can comfortably scroll through (stalk!) reviews and profile pictures of the person they'd like to pick as the caretaker. The app ensures authenticity by carrying out background checks on all the sites and their ongoing education.
For those interested in earning via the app, it approximately pays $10 per hour. All it requires is that you pass the background check and be over 18 years old.
The best on-demand walking app: Wag!
After receiving validation from high profile celebrities like Olivia Munn and Mariah Carey, the Silicon Valley start-up managed to earn a lot of recognition in a short amount of time. The app serves the purpose as quickly and swiftly as possible. Dog owners request dog walkers and within a matter of one hour, the walker arrives. This is what makes the app stand out from its competitors. Each of the walks is priced at $20 and can be ordered in 30 minutes to one-hour intervals. If the owner has more than one dog, then they can pay $5 additionally per dog, per walk.
Similar to Rover, the safety and security of your dog by the walkers is ensured by app through background checks on all the walkers. If you are worried that your pet has a different personality that needs to be catered to, worry not! The two options 'Furry Furball', which is for your introverted dog and sends different walkers to it each time, and 'Picky Pooch', which sends the same walker to your dog.
The app carries out real-time tracking and you can know the location of your dog at all times. This includes bathroom updates, photos, and even a report card after the walk. Apart from dog walking, Wag also offers overnight sitting, drop-in, boarding, and daycare. Wag even donates a part of its earnings to GreaterGood.org's Rescue Bank and plays its role in taking care of dogs across the country.
Wag! also pays over $15 per hour to its walkers and even rewards with liability insurance if you are certified.
The best walk-only app: Barkly Pets
A Washington D.C. based company was launched by the name of Barkley Pets. Three friends and neighbors, Chris Gonzalez, Jim Camut, and Dave Comiskey, decided that they needed to solve their dog walking problem and formulated the app. Once their business became popular in local areas, they expanded the service nationwide and now operate in 39 different cities across the United States.
For a 30 minute walk, the price is $20 and for an hour-long walk the price is $30 and an additional $5 is charged per pet. The dog walking app also provides training in person to all of its dog walkers. The walkers refer to a checklist made by the owner which includes all of the pet's personal preferences and special notes. The owners can also keep a track of their pets through iOS and Android.
Walkers can set their own rates and interact with users. All you have to do is sign up with a membership fee of $8.50, if you manage to earn over $100 a month. Otherwise, the app is completely free to use.
For odd hours, the best dog walking app: Fetch! Pet Care
The app is ready to function and provide you with the best dog walkers 24 hours a day, 365 days a year. Based on each individual dog owner, the app connects you to the perfect sitter from their network. The start-up began in Berkley, California in 2002 and was functional in over 70 locations. A free in-home consultation is provided before the first appointment to get acquainted with the dog walker. To keep the owner informed, calls, texts, and photos are sent regularly. An individual walk costs between $18 and $24. Fetch! also provides puppy training, overnight care, and a Pet Taxi that eases the anxious trips to the vet. With a backup reservation always available, your pet will always be walked, no matter the situation.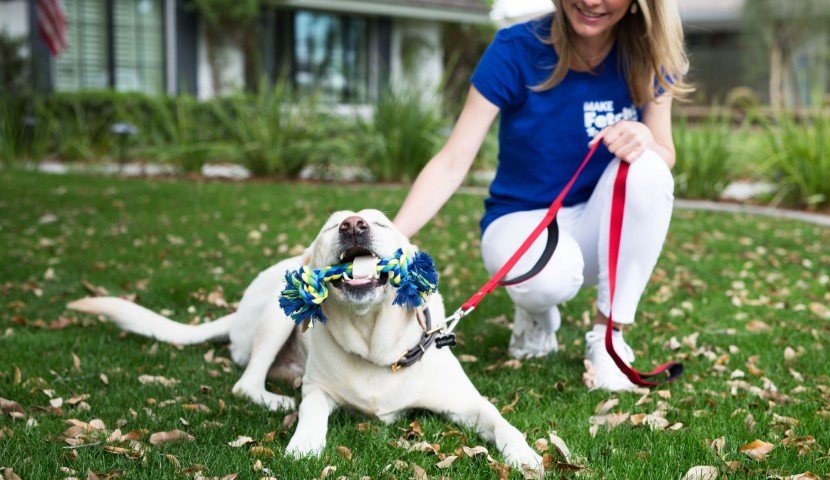 The best app for international travel: Petbacker
Petbacker is an app based in Singapore and covers all of the United States. It even operates between Italy and India. The app makes all matching and corresponding easier by allowing the walkers to set their price and the users to select the most suitable walker. Since reviews are easily available for each walker, it is easy to validate each of the present walkers on the app.
A report card is generated after each walk which includes information about the pet's care, a map of the places the dog has been walked, information on food and water, along with a picture. Petbacker additionally also provides features such as grooming, sitting, boarding, and taxi service. Even better, Petbacker offers a Royalty Reward program for each of its new users offering big discounts.
Petbacker pays over $16 per hour to its walkers and is a great way to earn money. You can easily negotiate your earnings, location, and availability with the users.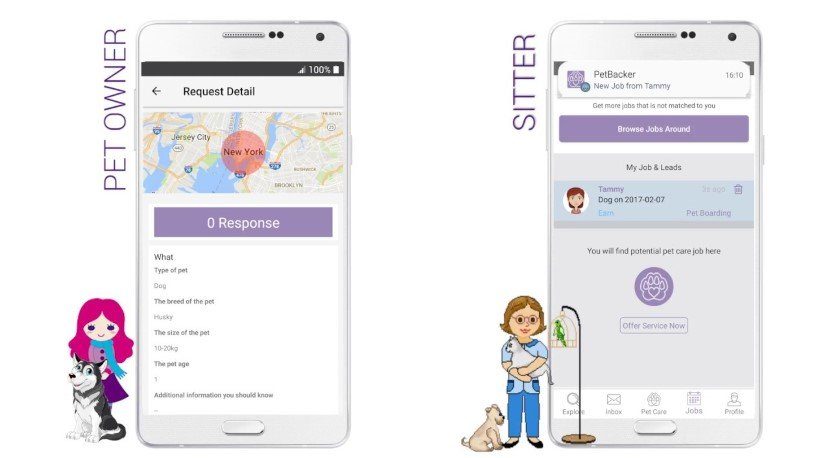 The best app for variable pricing: Holidog
This app offers a much more personalized experience as compared to other similar apps. Holidog has a range of features in addition to dog walking including boarding, sitting, and in-home visits. Holidog also lets its advisors go through the profiles of all dog walkers for approval. Each of the owners has to pay a small fee every time you book a walker but you can become a member and eventually be exempted from any additional charges apart from the walker's fee.
Walks are offered after every 30 minutes and the duration of a walk can extend up to 90 minutes. You can either opt for a recurring walk that happens every two, three, or four times a week or choose the "holidays" option for more walks in a week.