C'Seed reveals the world's largest 301 inch retractable Outdoor TV

©C Seed
In 2013, Porche Design Studio and C'Seed teamed up to launch a 201-inch outdoor television and then after a few years came their 262-inch 4K monster. Now, C Seed has once again brought their outdoor TV collection into the limelight with their 301 inch diagonal TV which can fold up its seven panels and lower itself into the ground when it's not in use.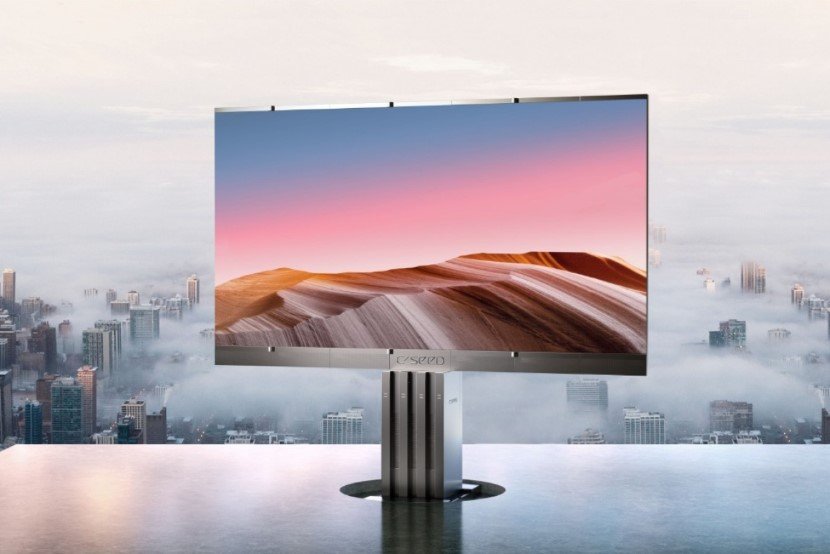 The TV which is made out of carbon fiber and titanium is also the world's largest outdoor TV. It boasts a height of 6m in a time span of 25 seconds with just the push of a button. Then in an additional 40 seconds the seven panels can each unfold and interlock with each other to give a magnificent display on its 301 inch screen.
The building materials used for this TV are durable enough to withstand extreme wind loads of up to 50 km/hr. In case of higher wind speeds, the TV will defensively fold itself up on automation and retract into the underground compartment.
Recommended for you (article continues below)
It is also not too heavy with a weight of about 1,650 kgs. The outdoor television is equipped with 3,956,736 LED lights with a luminosity rating of 4,500 nits. This allows the screen to be visible even during extreme and direct sunlight. Additionally, it has a 4,500:1 contrast ratio with 48-bit colour depth which means the display can showcase around 281 trillion different colours.

It offers a high resolution with its HDR technology which makes it more pleasing to the viewer's eyes and also includes six speakers and three subwoofers with 2,700 watts of power output.
With great technology, comes great price. The C Seed 301 costs US$1.5 million and is open for orders. Shipping is expected to start by midyear, 2020.
All images: © C Seed
h/t: New Atlas