Codecasa take cues form Nautical and Aeronautical Designs for the Yacht Jet 2020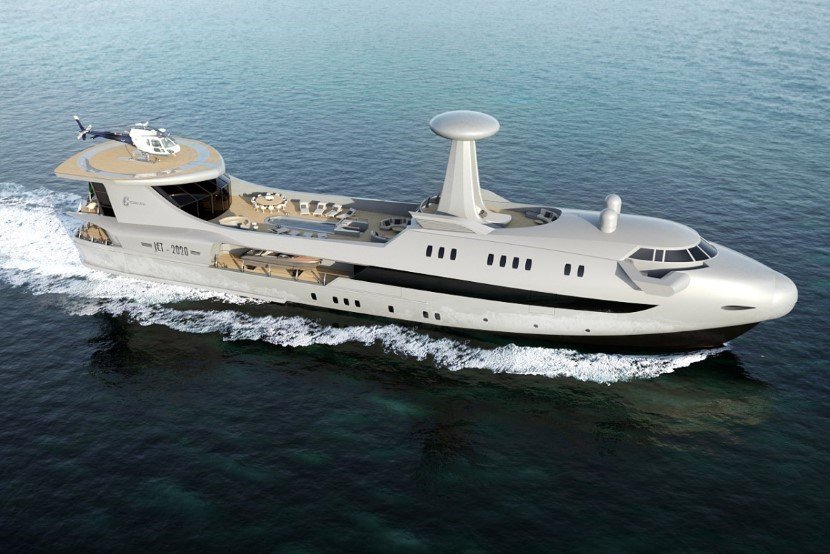 Codecasa Yachts
The latest headlines from Codecasa are their nautical merged with the aeronautical design of a yacht which resembles nothing more than to an aircraft with a rounded nose protruding right out of the control dock. The 230 feet (70m) long superyacht was designed keeping high-quality standards and the luxurious outlook that captures the entire essence of a yacht. The conjecture of the marine and aeronautical design was established for no other reason than to provide minimal and clean lines and extremely roomy interiors.
The 2020 jet yacht is built with three decks that give the yacht its aircraft appeal. The main deck is 66-foot sundeck where the guests have the opportunity to enjoy an immense outdoor pool which is designed to be 20 feet long alongside a sunbathing area and an, what is said to be a, covered gym. It also offers recreational and relaxing activities such as al-fresco dining, a bar and a large number of lounge furniture.
Recommended for you (article continues below)
To take forward the design appealing that of an aircraft, it is designed with compartments that resemble the jet engines carrying two tenders. The most mesmerizing feature of the yacht is its personal helipad that is located from a linearly stretched pathway from the main deck that appears much like a tail of an aircraft. In the middle of the helipad and the main deck is a glass-covered 'Skylounge', name given to an area that covers the dining and salon needs of the guests. In order to exit the Skylounge, the visitors would use an airdrop that opens to an aft beach club.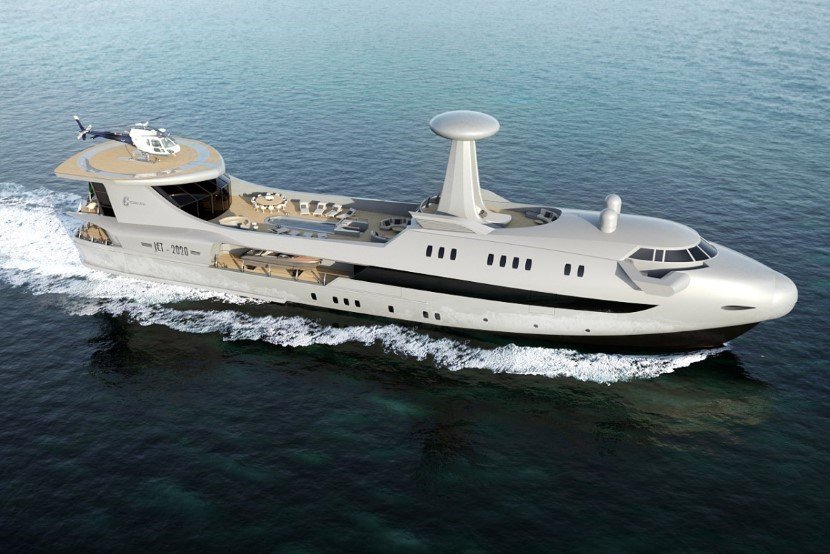 For overnight expenditures, the yacht provides accommodations in the lower deck for the guests. In front of the four guest cabins, it leads to crew cabins in the front whilst the owner's deck is located at the main deck, completing a bow. The two decks are connected via a lift and bridge deck. The bridge deck connects the captain's cabin through a corridor and to the wheelhouse. The yacht comes equipped with the latest technology that is available throughout the market such as radar antennas installed like the AWACS airplanes, that is via carbon fiber domes. The Codecasa yacht is a design made from 200 years of shipyard experience. The company is in the midst of finalizing the technical details of the yacht but plans to start the production of the Jet Flagship 2020 from the middle of this year
Image Courtesy: Codecasa Yachts
h/t: New Atlas