Cockpit of 1000 mph Bloodhound Car Looks Something from a Sci-Fi Spaceship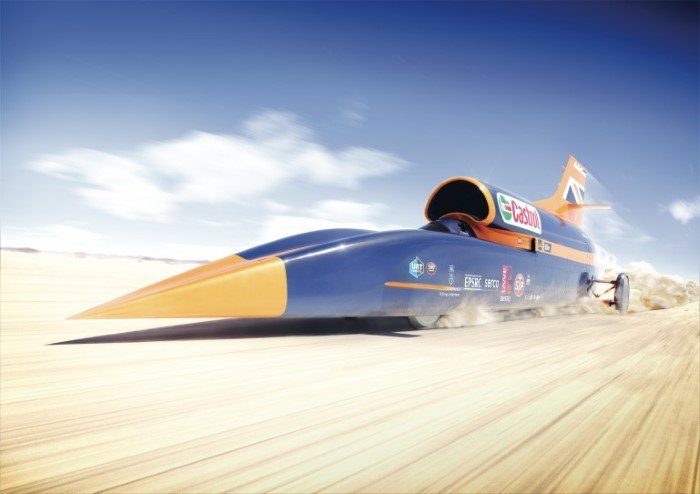 The Jet and rocket powered Bloodhound designed to go over 1000 mph is aiming to break the land speed world record later this year. The Bristol-based Bloodhound team will look to break the 1,000 mph mark on a 12 mile long custom-built strip in South African desert in 2015 and 2016. Former RAF pilot Wing Commander Andy Green will drive this supersonic beast.
Bloodhound is itself a massive engineering challenge but you've got to admire the sophisticated design of the car's cockpit that looks no less than that of sci-fi spaceship. This complex cockpit has been custom-built according to the needs of Wing Commander Green that took 10,000 hours to design and manufacture.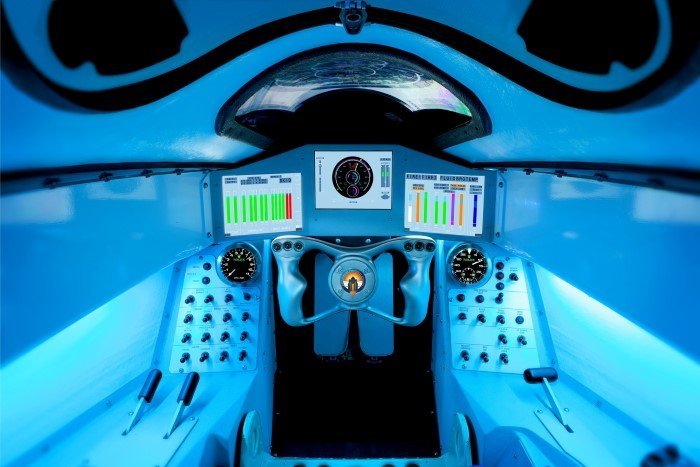 The cockpit has been made from five different types of carbon fibre weave and two different resigns. Three different thicknesses of aluminium honeycomb core were sandwiched between the carbon fibre layers to provide additional strength to the structure. All in all, the cockpit is made from 13 layers of carbon fibre and aluminium bonded together that measures just 24mm thick and weighs 200 kg (441lbs). The cockpit bolts directly to the chassis, right next to the jet, rocket and racing car engine.
Ballistic armour was added in an attempt to increase safety for the driver's compartment as the front section of Bloodhound will have to endure peak aerodynamic loads of up to three tonnes per square metre as well as considerable forces generated by the front wheels and suspensions at 1,000mph. Moreover, the roof of the cockpit has been designed to create a series of shockwaves that will slow down the air entering the engine.
The 44ft long, 6.2 feet, wide pencil-shaped Bloodhound car weighs 14,158lbs (6,422kg) when fully fueled and is powered by an EJ200 jet engine, two rockets and a Cosworth CA2010 Formula 1 V8 petrol engine producing a combine thrust of 13,5000 horsepower. That's more than six times the power of all the cars on a Formula One starting grid put together.
Recommended for you (article continues below)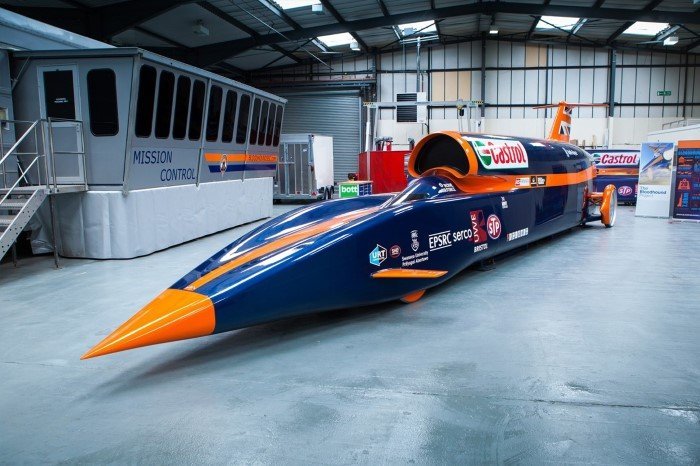 The windscreen of the car is has been custom-made from specialized acrylic to withstand an impact from a 2.2lbs (1kg) bird at 1,000 mph. Two layers of plastic were heated, stretched and bonded together to make a 25mm section that is thicker than the windscreen of a fighter jet.
Green will be seated in a custom-fitted carbon fiber seat with a complete 5-point harness.  RAF-style Adom mask will provide a clean supply of oxygen in the cockpit. Once accelerated past 1,000 mph, wheel brakes, air brakes and parachutes will contribute to stop the Bloodhound.
Below are the two videos in which the driver Andy Green explains the exterior as well as the interior of the cockpit.