35 Beautiful Cities With Magnificent Skylines
Apparently the whole world seems to have caught up into the fray of building tall with no upper limits. The 20th century witnessed the advent of skyscrapers dominating the city skylines. During the 1980s, more than 80 % of the world's buildings over 150m were in North America. However today, Asia and Middle-East are the paramount builders of the super-tall structures. Surprisingly, Europe hasn't really stepped in this competition of building upwards, with only few cities that are trying to blend their old historical architecture with modern skylines.
Skyscrapers contribute towards building a city's skyline that is often a reflection of city's economic strength. Moreover, skylines help to define a city's identity and getting hold of world-wide recognition. Cities try to build iconic buildings to boast their skylines that are often used as a marketing tactic to boost tourism. The Empire State Building, Burj Khalifa, and the Petronas Twin Towers are some of the iconic buildings that make some of the world's greatest skylines.
Recommended for you (article continues below)
From New York to Sydney, here are the 35 beautiful Cities with magnificent skylines in the world.
---
Toronto, Canada
In the native Huron language, Toronto means "meeting place" and rightly so, as it is Canada's most populous city having a population of 2,615,060 and is known for its modern skyscrapers. Toronto boasts an iconic skyline with the world's famous CN Tower leading from the front. In 1995, CN Tower was declared as one of the modern Seven Wonders of the World by the American Society of Civil Engineers. The 553m (1814 ft.) high CN Tower has two viewing decks – one inside at 446.6m (1,465 ft.) and one outside at 342m (1,122 ft.). There is also a revolving restaurant at 351m (1,151 ft.). Toronto has 2,235 high-rise buildings with First Canadian Place 298m (977 ft.), Trump International Hotel & Tower Toronto 277m (909 ft.), Scotia Plaza 275m (902 ft.), Aura 272m (892 ft.) and TD Canada Trust Tower 261m (856 ft.) being the tallest ones.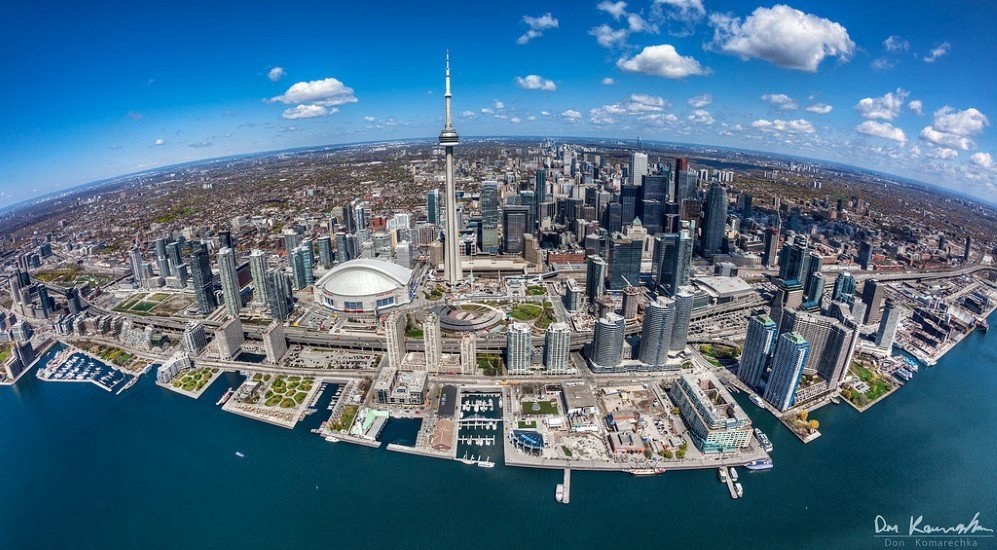 Image: Flickr / Don Komarechka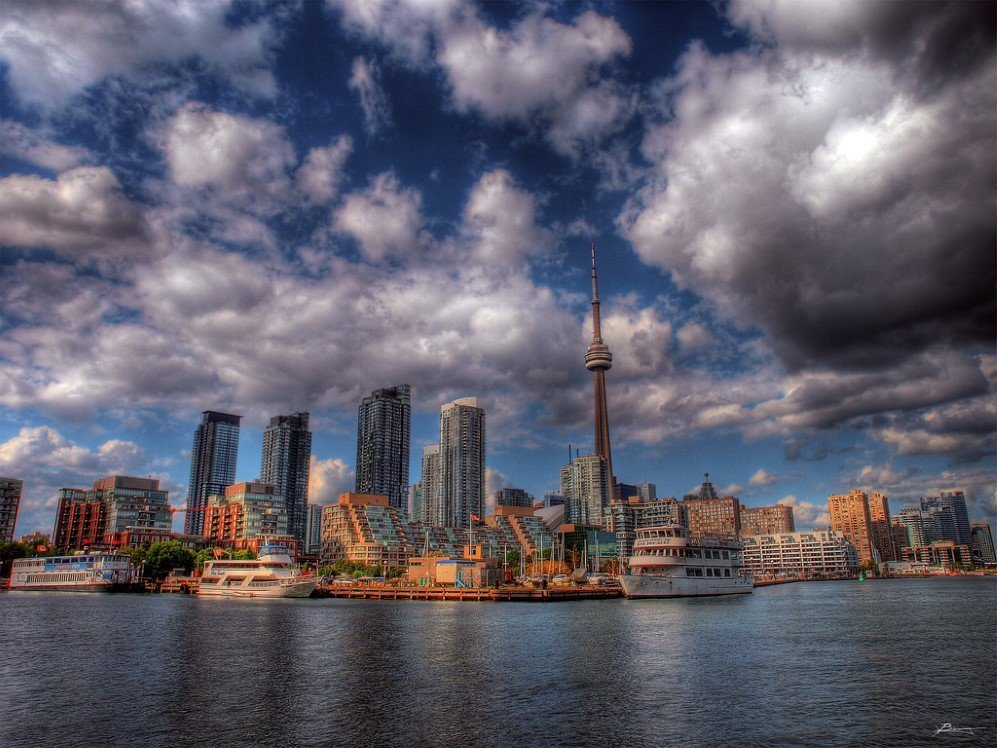 Image: Flickr / Paul Bica
---
Bangkok, Thailand
Bangkok, Thailand's capital, is a sprawling metropolis known for its sumptuous shrines and vibrant street life. Bangkok has been around since 1782 and has grown into a tourism hub for Southeast Asia. The tallest building on the city skyline is the 85-storey Baiyoke Tower II, rising to a height of 304m (997 ft.). Apart from the modern cityscapes, Bangkok boasts plenty of Eastern architecture, from the Grand Palace to its many Buddhist temples.
Image: Flickr / Tore Bustad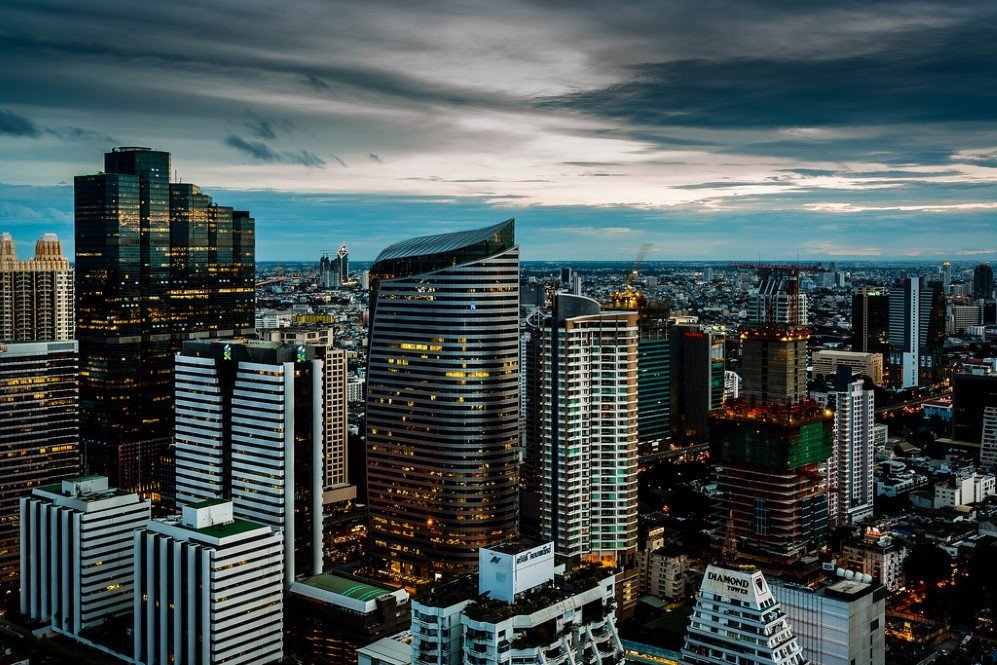 Image: Flickr / Tore Bustad
---
Beijing, China
China's rapid economic and infrastructure development has taken the world by a storm in the recent years. Beijing being the capital of China is a major economic hub in the region. With its famous historical architecture preserved in the form Forbidden City and the Temple of Heaven, Beijing picked pace to modernize its cityscapes. Construction of Beijing's 81-storey tallest building, China World Trade Centre Tower III at 330 m (1,083 ft.) is the testimony of Beijing's towering ambitions. On the other side, the city relishes some unique architectural marvels in the shape of CCTV Headquarters building known for its complex geometry. Apart from World Trade Centre and CCTV Headquarters, Beijing boasts 941 high-rise structures including Fortune Plaza Office Building 1 267m (876 ft.), Park Tower 250m (820 ft.), and Beijing TV Centre 239m (784 ft.) among the taller ones.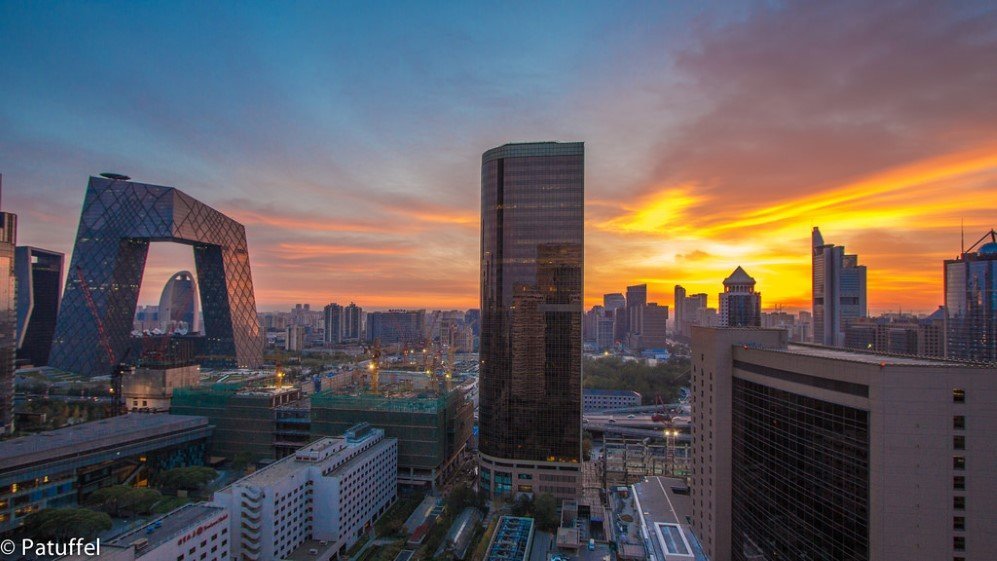 Image: Flickr / Patuffel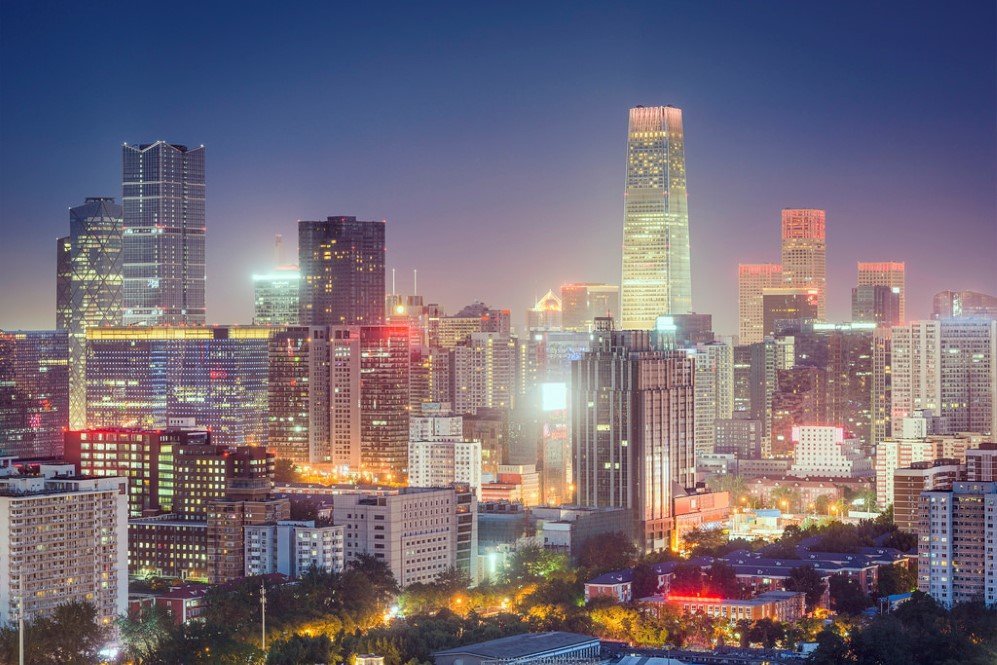 Image: Flickr / Santa Fe Relocation Services
---
New York, USA
New York is considered to be the pioneer of tall commercial buildings and trendsetter when it comes to modern skyscrapers with the construction of the iconic Empire State Building towering to 102 stories, back in 1930 which was then the tallest building of the world and remained until 1972. Today, New York holds 6,092 high-rise buildings including the 104 storey One World Trade Centre which is America's tallest and world's third tallest building reaching a staggering height of 541m (1,776 ft.). Other notable figures over New York's skyline include 432 Park Avenue 426m (1,396 ft.), Empire State Building 381m (1,250 ft.), Bank of America Tower 366m (1,200 ft.) and Chrysler Building 319m (1,046 ft.).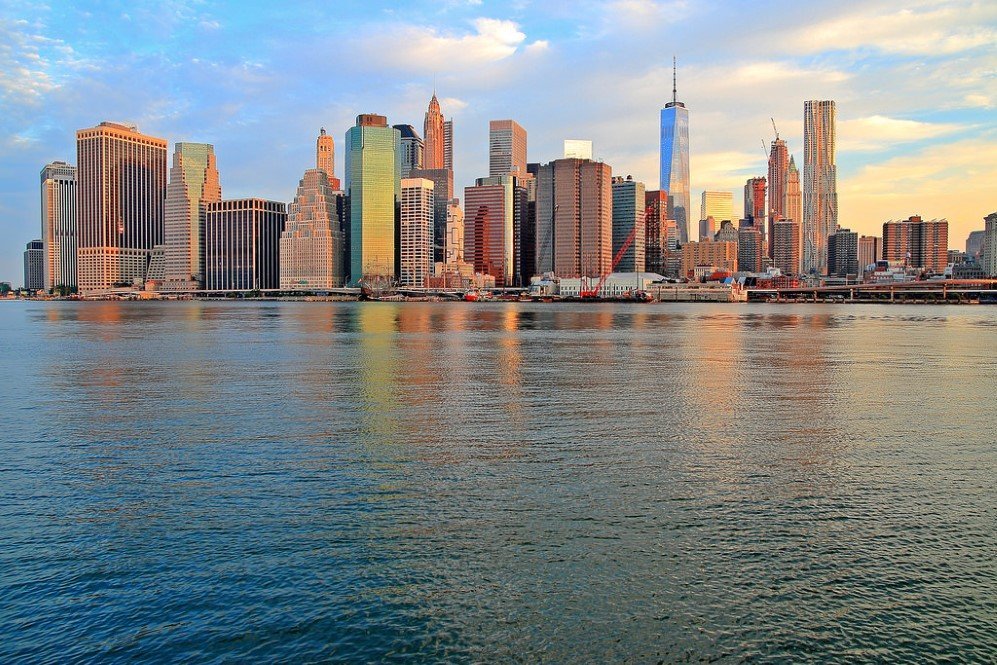 Image: Flickr / Patrick Marella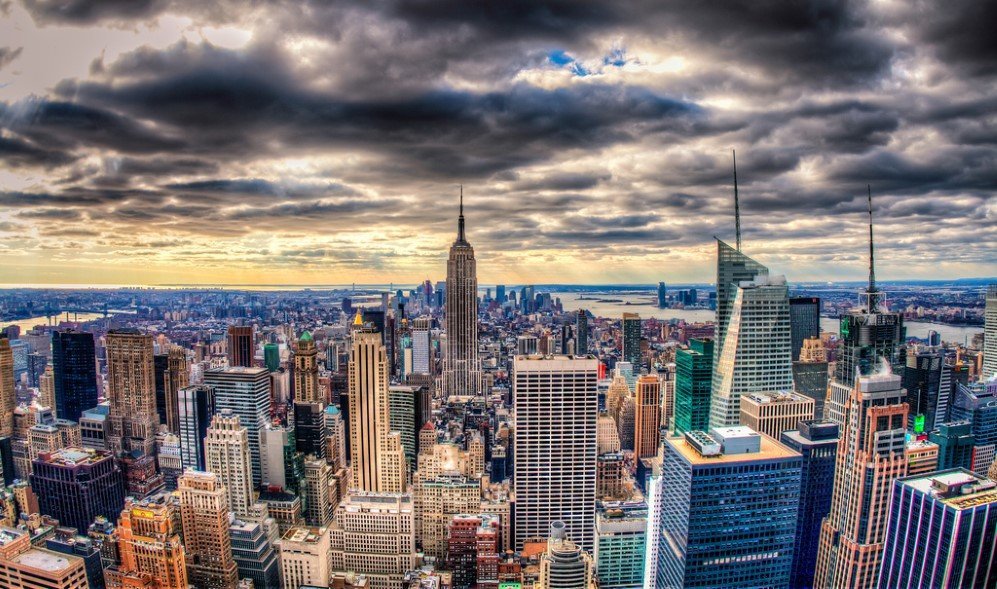 Image: Flickr / Baron Reznik
---
Buenos Aires, Argentina
Buenos Aires architecture is heavily influenced by the traditional styles of Barcelona and Madrid. The Argentinian capital has one of the highest skyscraper counts anywhere, with high-rise buildings spread as far as the horizon, accommodating a population of nearly 3 million. Among the 1,714 high-rise structures shaping the skyline, the tallest ones include Torre Cavia 173m (567 ft.), Torre Renoir 2 172m (564 ft.), El Faro II 170m (558 ft.), Mulieris torre Sur 161m (528 ft.).

Image: Flickr / Patricia
Image: Flickr/ Ashabahia
---
Chicago, USA
Chicago, the third-largest city in the United States, is home to 1,264 completed high rise structures, 107 of which measure 152m (500 ft.) or more. Based on the average height of its ten tallest completed buildings, Chicago has the tallest skyline in USA and the third-tallest in the world. Few of the Chicago skyline's tallest buildings include Willis Tower 442m (1,450 ft.), Trump International Hotel and Tower 423m (1,389 ft.), Aon Centre 346m (1,136 ft.), John Hancock Centre 344m (1,127 ft.) and Franklin Centre North Tower 307m (1,007 ft.).

Image: Flickr / Meridith112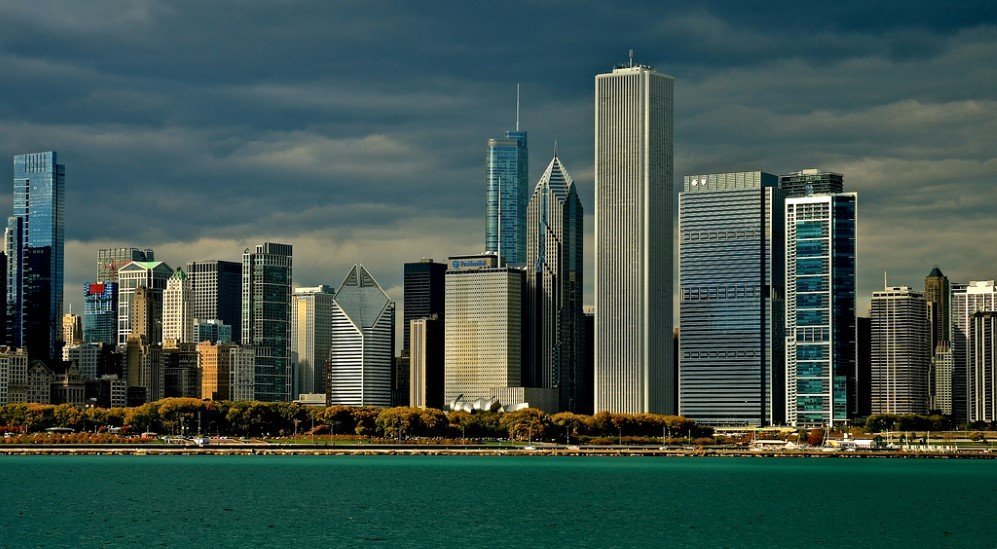 Image: Flickr / Meridith112
---
Seoul, South Korea
Seoul, the capital of South Korea, is one of the densely packed metropolis with a population of 10,117,909 and 3,048 high-rise structures. Seoul reflects a fine blend of modern architecture and well preserved historical heritage. Three International Finance Center is the tallest building of the city that rises 279m (915 ft.) high. With Namsan Hill forming the back-drop of city's skyline, other notable structures include Tower Palace Three, Tower G 264m (866 ft.), Mok-dong Hyperion I, Tower A 256m (840 ft.), KLI 63 Building 249m (817 ft.), Trade Tower 228m (748 ft.). Moreover, the 556 m (1824 ft.) Lotte World Tower will be Seoul's tallest building once completed in the near future. It will feature the highest observation deck at 497m (1630 ft.) and also the highest hotel on floors 86 to 119.

Image: Flickr / Slack12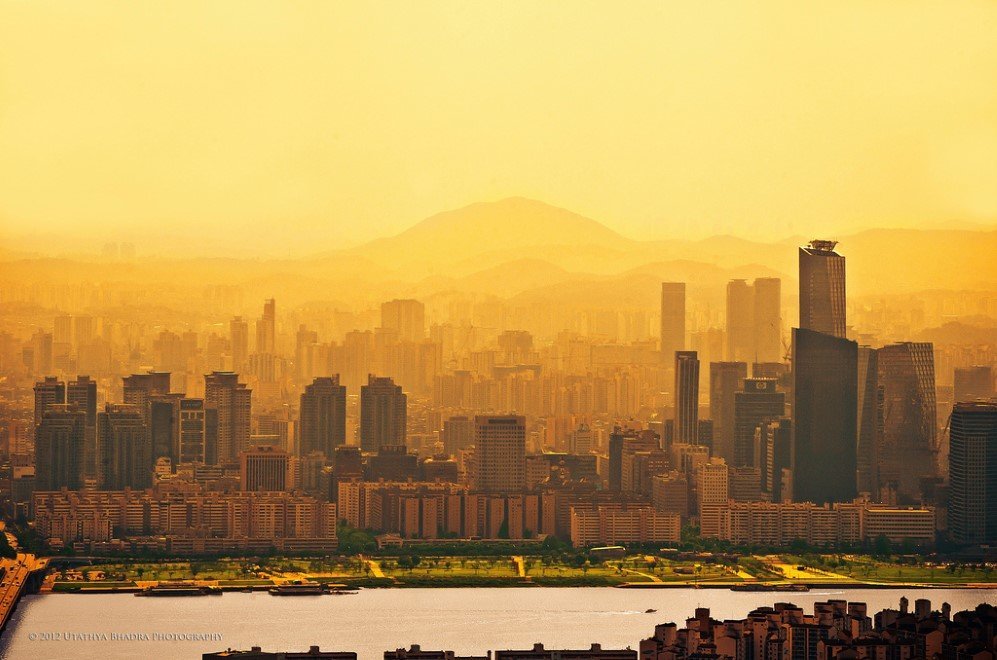 Image: Flickr / Utathya Bhadra
---
Chongqing, China
Chongqing is one of China's largest and rapidly growing cities that you might have never heard of. Perched on steep hills, overlooking the confluence of two rivers, Chongqing contrastingly holds shining office towers amidst polluted air. The city's industrial economy boosted the construction of high-rises and ended up having 481 of those and counting. The tallest buildings are located at the bay area with eleven of its skyscrapers towering to a height of 200m (656 ft.) or more. Few of the tallest buildings contributing to the city's skyline are Global Financial Building 339m (1,112 ft.), The Wharf IFS T1 316m (1,036 ft.), Yingli Tower 288m (945 ft.), United International Mansion 287m (941 ft.) and Chongqing Poly International Tower 286m (938 ft.).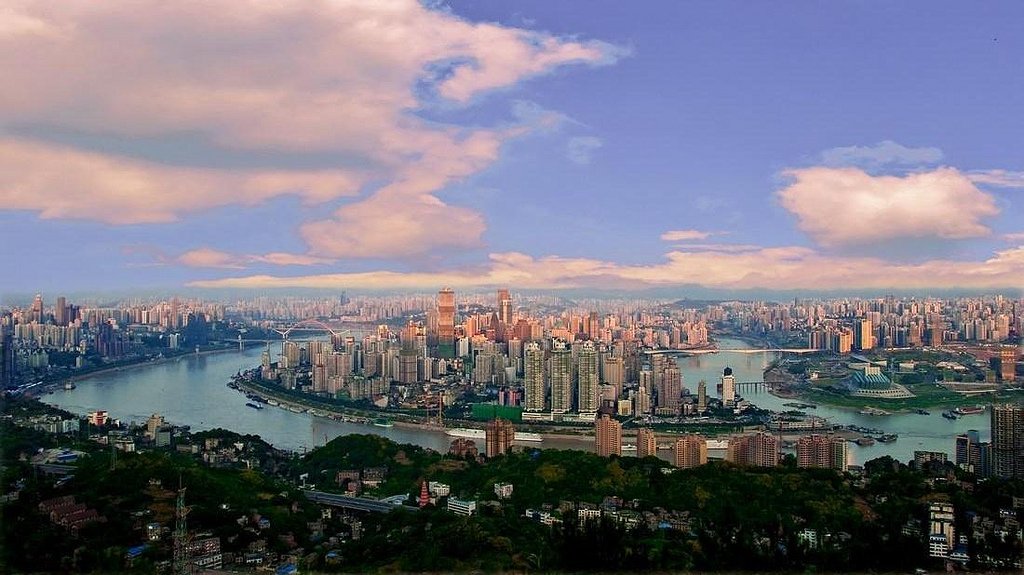 Image: Flickr / Lhasaguy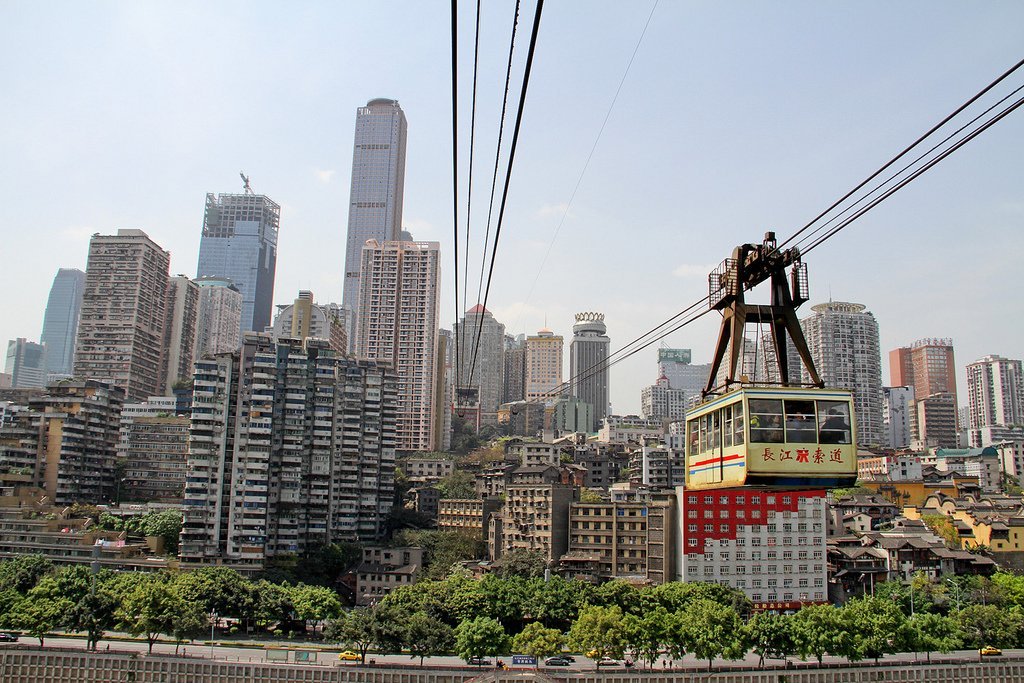 Image: Flickr / Ming YU
---
Doha, Qatar
Located on the coast of the Persian Gulf, Doha's skyline is relatively newer but glassier, glitterier and sparkling than anywhere else in the world. With 177 skyscrapers been built in the recent years, Doha is keen to add a lot more to its numbers. The tallest buildings lining across the skyline are Aspire Tower 300m (980 ft.), Al Fardan Residences 253m (833 ft.), Palm Towers 246m (804 ft.) and World Trade Center Doha Tower 241m (790 ft.).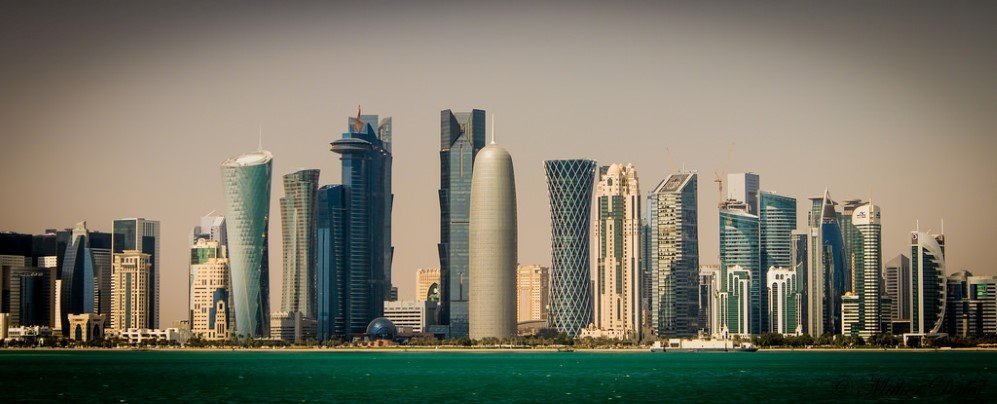 Image: Flickr / Maher Dalal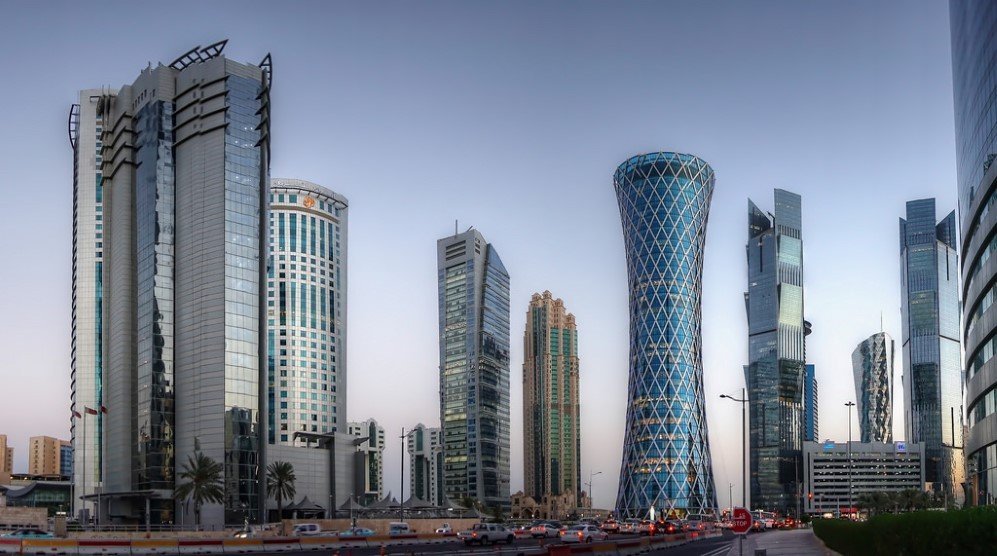 Image: Flickr / Yavuz Tugcu
---
Sao Paulo, Brazil
Though Sao Paulo, the largest city of Brazil hasn't got a towering skyline with its highest building only reaching to a height of 189 m (620 ft.) but holds the third largest concentration of buildings in the world to house a population of 18 million.  Most of the city's buildings are being used for residential purposes.
Image: Flickr / Marcos Leal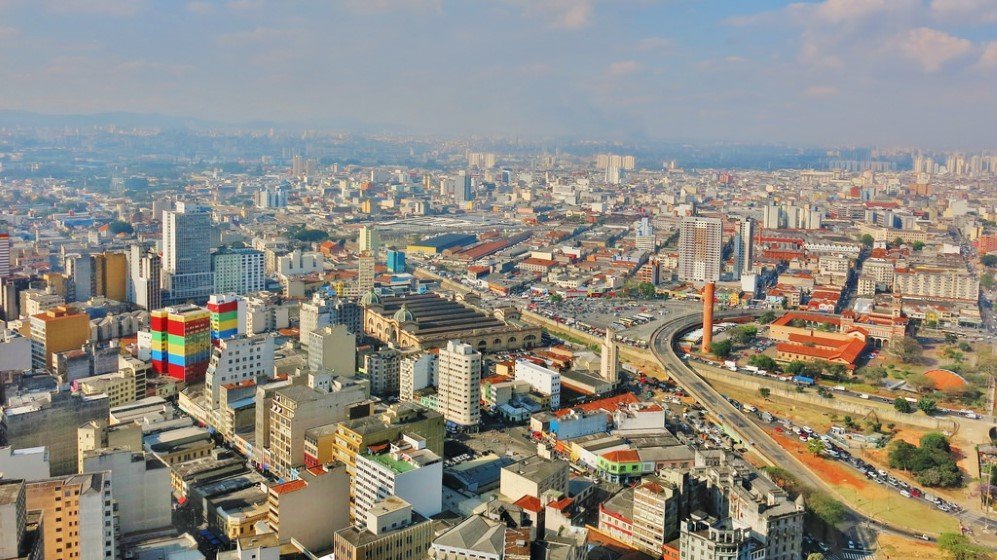 Image: Flickr / Michael McDermott
---
Abu Dhabi, UAE
UAE never fails to amaze us with its flabbergasting wonders. Although much of UAE's fame has come through neighbouring city Dubai, however Abu Dhabi is trying hard to mark its own identity. The oil rich state holds 183 high-rise buildings to its name and 54 are under construction.  The UAE's capital is a pleasant blend of the modern world and traditional Arabian culture, with its striking glassy skyline. The tallest structures building up Abu Dhabi's skyline include The Landmark 324m (1,063 ft.), Sky Tower 312m (1,024 ft.), Etihad Tower 2 305m (1,001 ft.) and Nation Towers – Tower A 268 m (879 ft.).
Image: Flickr / Beno Saradzic
Image: Flickr / Beno Saradzic
---
Singapore City, Singapore
Singapore, worldly renowned for landmark Marina Bay Sands is the fourth-largest financial center in the world with a magnificent skyline. The city holds 4,563 buildings to its skyline with 59 skyscrapers being 140m (459 ft.) high or more. Few of the city's tallest structures include One Raffles Place 280m (919 ft.), Republic Plaza 280m (919 ft.), United Overseas Bank Plaza One 280m (919 ft.), Capital Tower 254m (833 ft.), Marina Bay Tower 245m (804 ft.).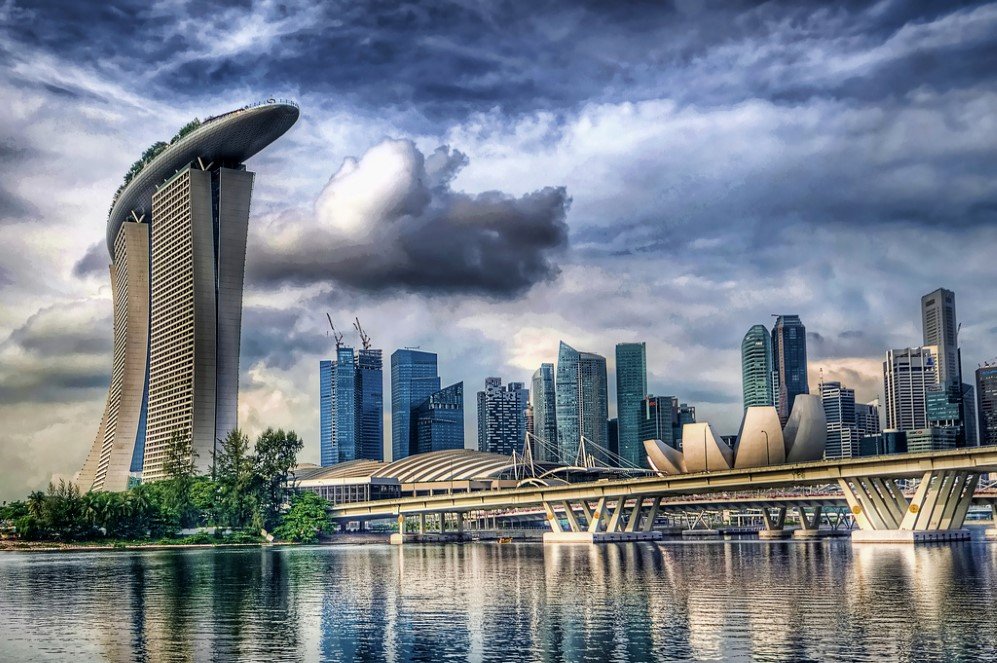 Image: Flickr / William Cho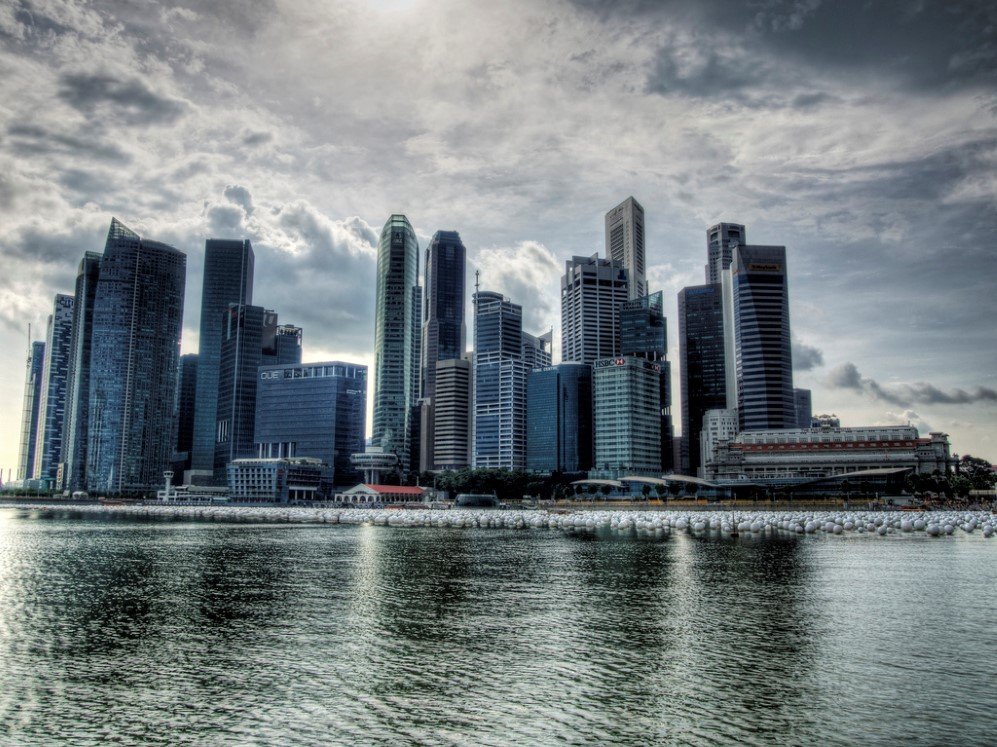 Image: Flickr / Neil Howard
---
Seattle, USA
The 184m (605 ft.) high iconic Space Needle sits right at the heart of Seattle making it the forefront of city's skyline. Seattle's skyline is ranked first in the North-western United States, and eleventh in the United States with 237 completed high-rise structures and 63 under construction. Out of 237, 39 buildings rise to a height of 122m (400 ft.) or more. The 286m (938 ft.) Columbia Center is the city's tallest building having an observation deck at 73rd floor. Other skyscrapers contributing to city's skyline include 1201 Third Avenue 235m (772 ft.), Two Union Square 226m (740 ft.), Seattle Municipal Tower 220m (722 ft.)

Image: Flickr / Martin Diepeveen
Image: Flickr / Howard Ignatius
---
Dubai, UAE
Dubai, the land of wonders is home to some of the world's tallest and bizarre structures. Dubai boasts more completed skyscrapers measuring 250m (820ft.) or more than any other city in the world.  Every building in the world now sits in the shadow of 828m (2,715 ft.) tall Burj Khalifa, the glittering glass and steel trophy that opened in Dubai, UAE in 2010. It is the tallest freestanding manmade structure of any kind ever built on the planet. Other tall buildings include Princess Tower 414m (1,358 ft.), 23 Marina 392.8m (1,289 ft.), Elite Residence 380m (1,250 ft.), Almas Tower 360m (1,180 ft.) and Burj Al Arab Hotel 321m (1,053 ft.), forming Dubai's pompous skyline.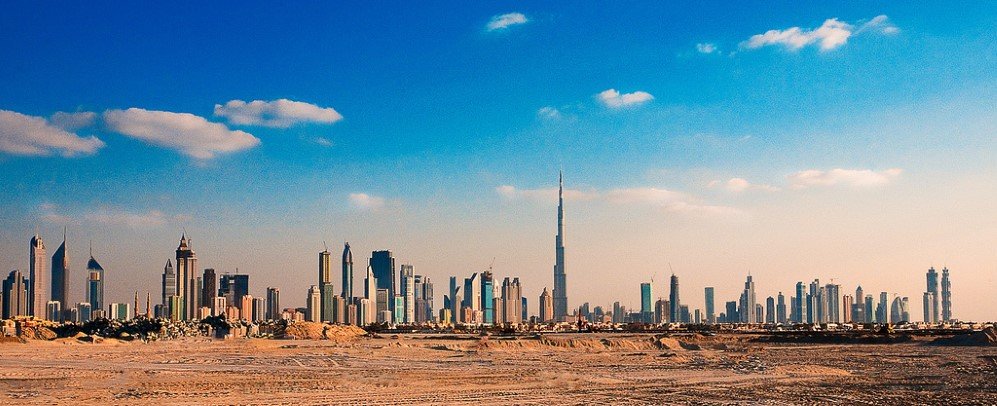 Image: Flickr / Gary McGovern
---
Frankfurt, Germany
With a population of 701,350, Frankfurt is 5th largest city of Germany and is one of the largest economic centers of Europe. Frankfurt is one of the few cities of the European Union that has a significant number of high-rise buildings forming the city's skyline. The chief highlights of the city's skyline include Europaturm 337.5m (1,107.3 ft.), Commerzbank Tower 259m (849.7 ft.), Messeturm  256.5m (841.5 ft.), Westendstrasse 1  208m (682.4 ft.) and Main Tower 200m (656.2 ft.). Commerzbank Tower is the tallest habitat-able building in Germany and the second-tallest building in the European Union with 56 stories.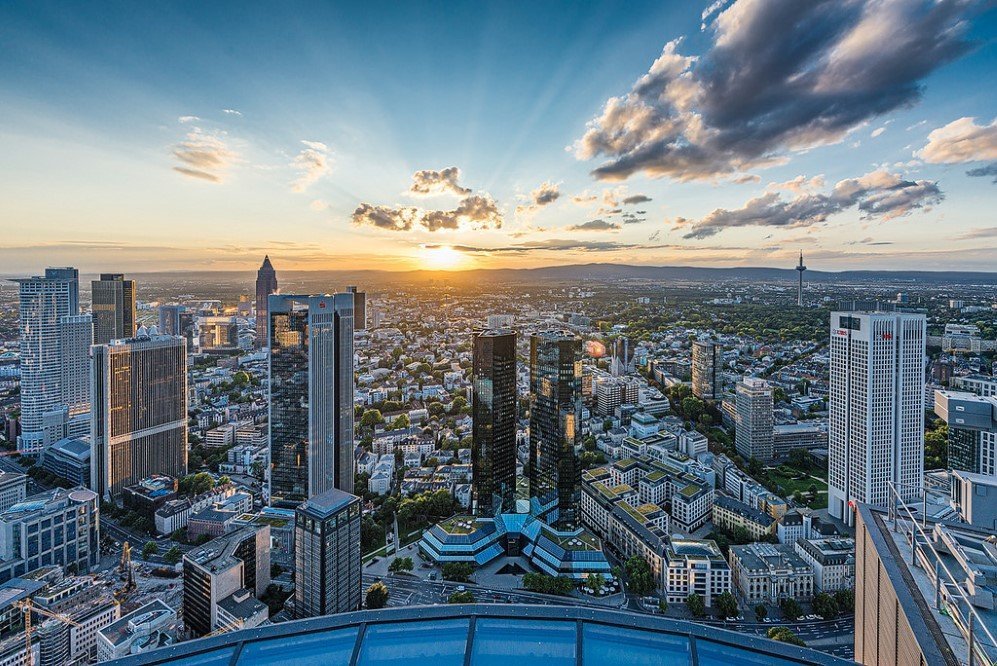 Image: Flickr / Peter Eberhardt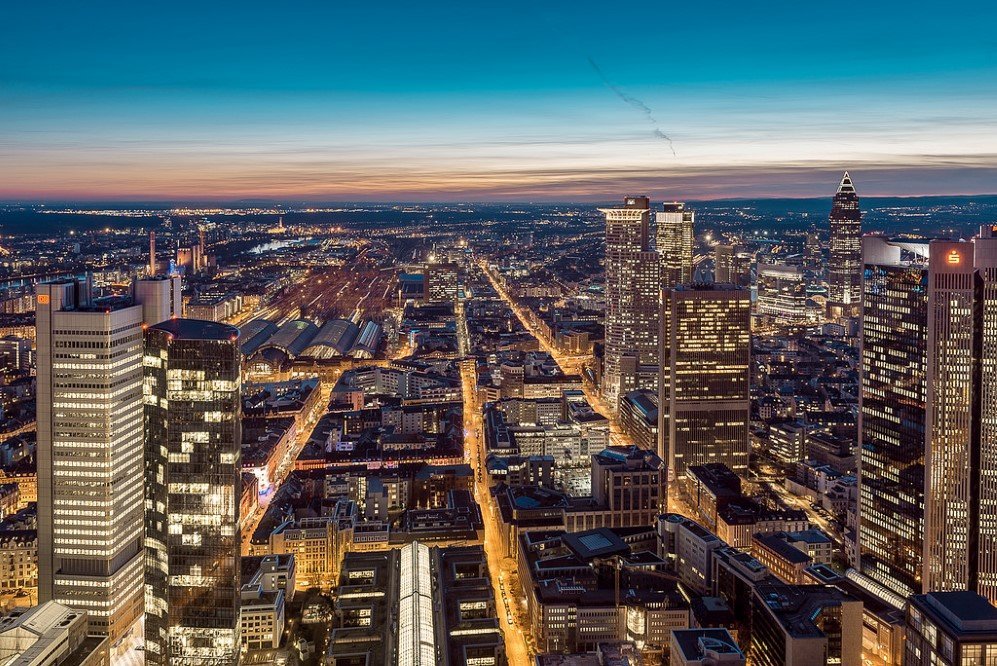 Image: Flickr / Peter Eberhardt
---
Guangzhou, China
Guangzhou, China's most prosperous centres of trade is home to country's few of the tallest commercial buildings.  Named "the City of Flowers", as each of Guangzhou's spectacular skyscrapers is surrounded by grand green spaces and flower beds. Each of its 547 high-rises is unique in its architecture and design that stands out in its own respect. The 391m (1,283 ft.), 80-floor, CITIC Plaza which appears transparent against the (unusually) clear blue sky is an aesthetically pleasing structure. Canton Tower, a TV and observation tower is city's tallest structure perched at an astounding height of 600m (1,968 ft.). Other taller structures include CTF Finance Centre 530m (1,738 ft.), Guangzhou International Finance Centre 438m (1,437 ft.) and Panyu Commercial Exhibition Centre 436m (1,430 ft.).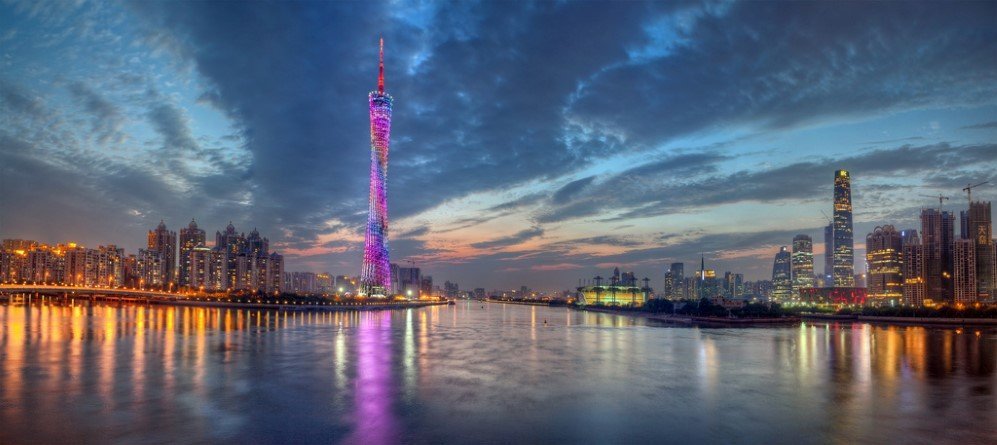 Image: Flickr / Achimar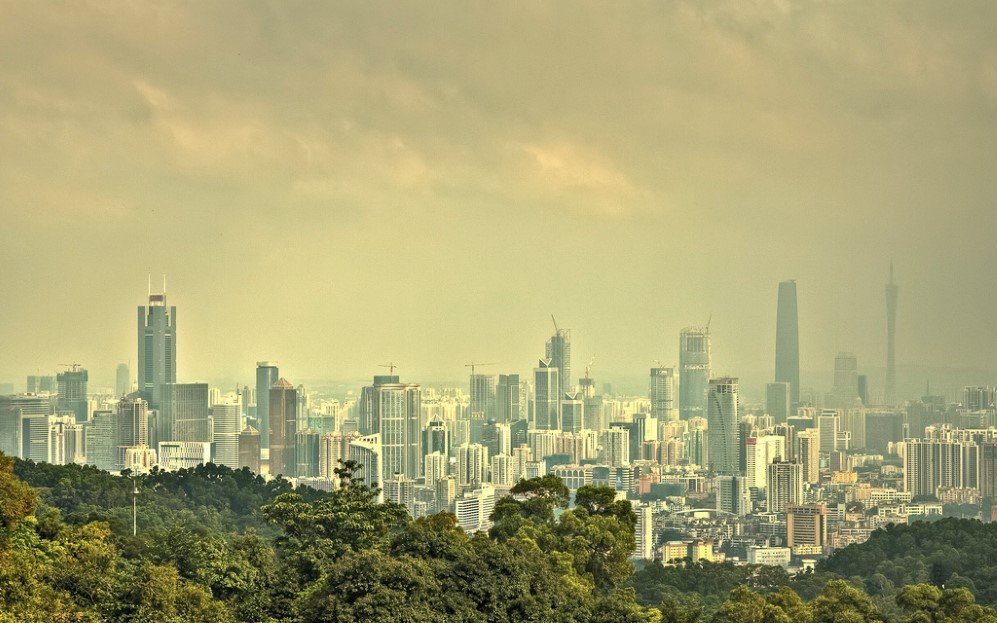 Image: Flickr / Sam Gao
---
Recife, Brazil
Recife is one of the largest cities in the Brazilian Northeast, and in recent years it has gone through an economic boom with a corresponding boom in civil construction. Recife is known mainly for its beautiful beaches and the colonial architecture. The large number of bridges in Rio Capibaribe and the historical constructions have left Recife with the nickname of the Brazilian Venice. Recife's skyline is not known for towering heights but for staggering numbers. The city brags 1,252 high-rise buildings with each one of them having 12+ floors.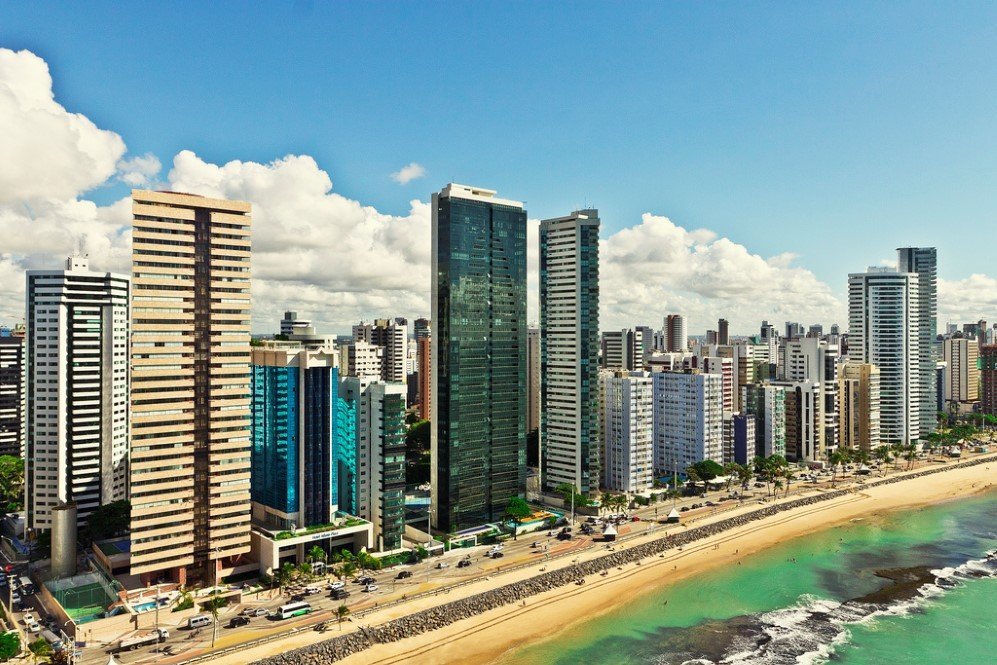 Image: Flickr / João Sheeperson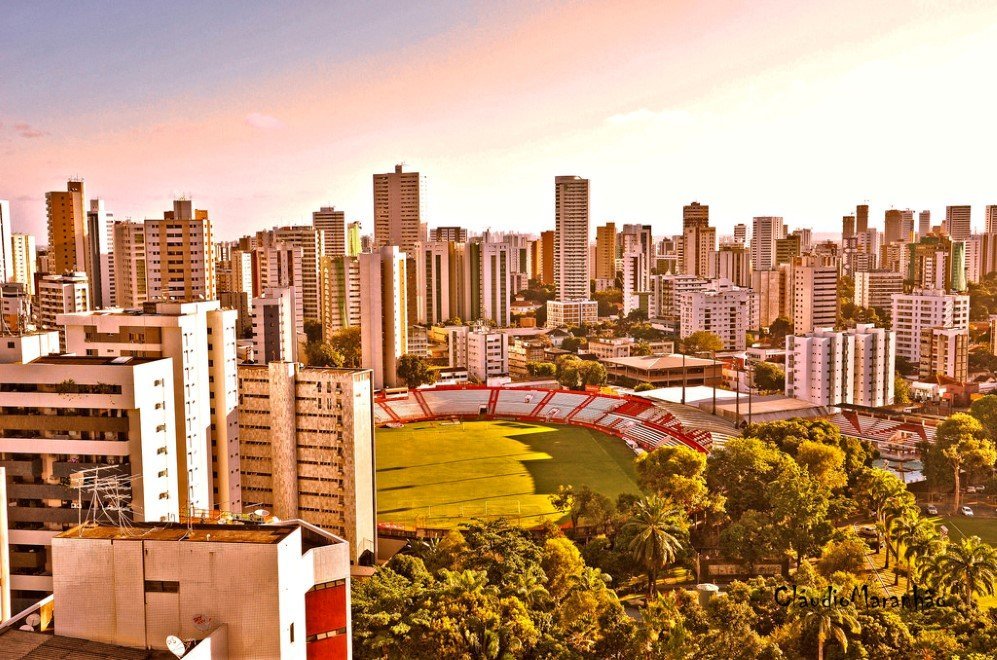 Image: Flickr / Cláudio Maranhão
---
Makati City, Philippines
With a population of 529,039 Makati is the 16th-largest city in the country and ranked as the 41st most densely populated city in the world. Makati is the financial centre of the Philippines having the highest concentration of multinational and local corporations. Ayala Avenue is known as the "Wall Street of the Philippines" where some of the tallest buildings and most important headquarters and financial institutions are located. The Philippine Bank of Communications' building known as PBCOM Tower is the tallest building in this area measuring 259m (850 ft.) high with 55 floors. In total, Makati city has 230 high-rise buildings forming a compact skyline.

Image: Flickr / Michael de la Paz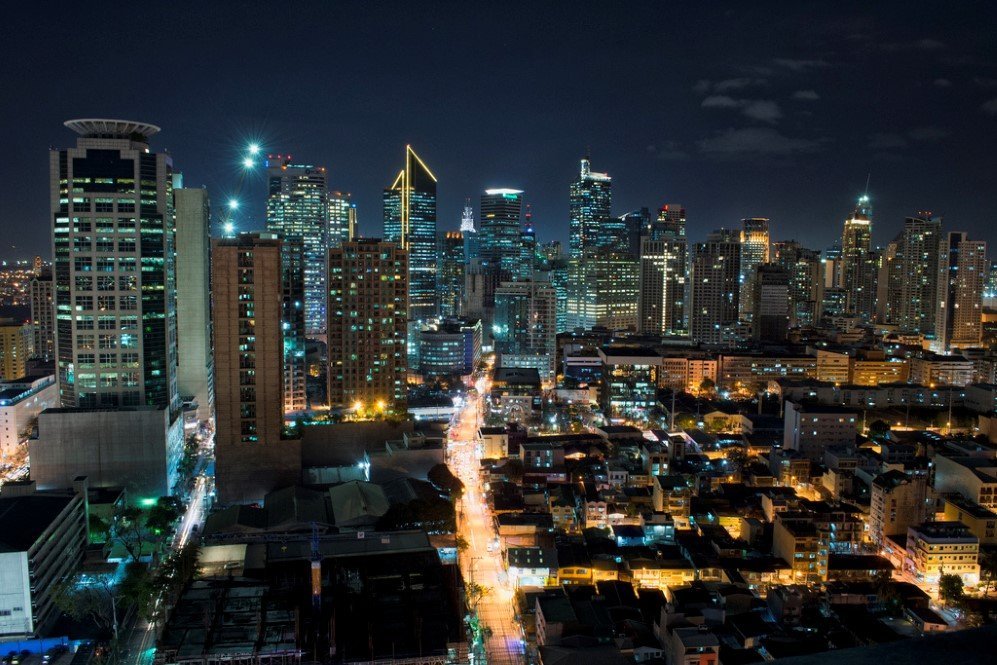 Image: Flickr / Carlo Rodriguez
---
Hong Kong, China
Hong Kong, the leading financial centre of the world has "The Best" skyline in the world due to higher concentration of high-rise buildings that isn't found anywhere else in the world. The lack of available flat land forced Hong Kong to build upwards in order to house a fairly dense population. As of now, Hong Kong holds 7,926 high-rise buildings earning it the title of "World's Most Vertical City". Hong Kong ranks first in the world in both skyscraper and high-rise count, with at least 52 completed skyscrapers over the height of 200m (656 ft.) and 272 skyscrapers over 150m (492 ft.). It also boasts four of the 15 tallest buildings in the world. International Commerce Centre 484m (1,588 ft.) Two International Finance Centre 416m (1,364 ft.), Central Plaza 374m (1,227 ft.), Bank of China Tower 367m (1,205 ft.) and The Centre 346m (1,135 ft.) are Hong Kong's tallest buildings.
Image: Flickr / Mike Behnken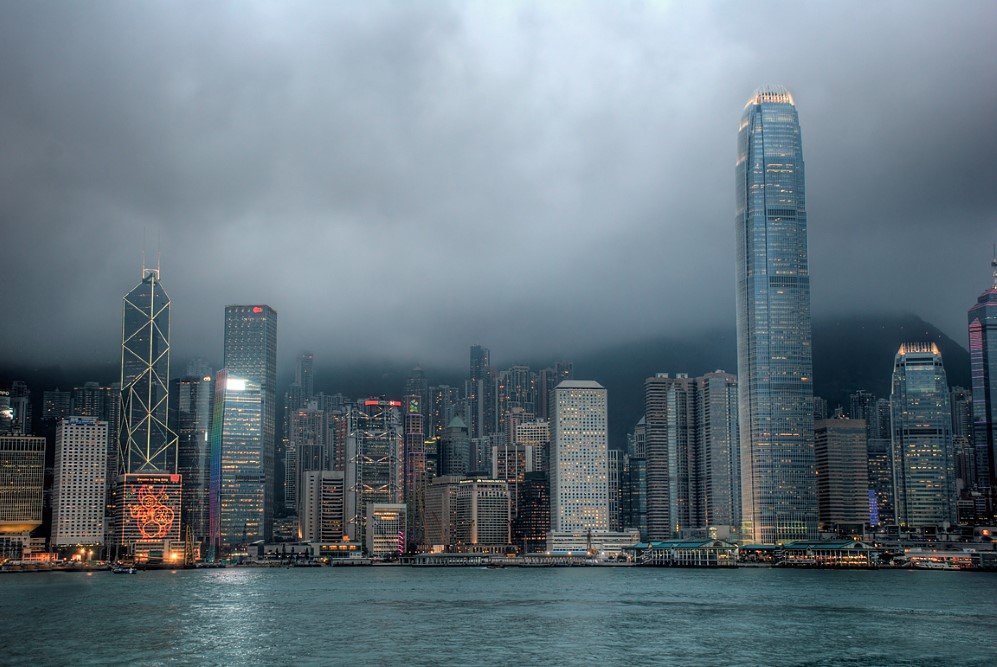 Image: Flickr / Felix Tchvertkin
---
Sydney, Australia
The iconic Opera House and the monumental Harbor Bridge gives Sydney a well distinguished skyline. Sydney, the largest city of Australia is now a home to 1,168 high-rise buildings with 30 of them reaching to a height of 150m (492 ft.) or more. Along with modern construction Sydney also boasts some historic architecture dating back to the early 1800s. Few of Sydney's tallest structures that form the city's skyline are Sydney Tower 309m (1013.5 ft.), Citigroup Centre 243m (797 ft.), Chifley Tower 241m (790 ft.), Deutsche Bank Place 240m (787 ft.) and Sydney Opera House 65m (213 ft.).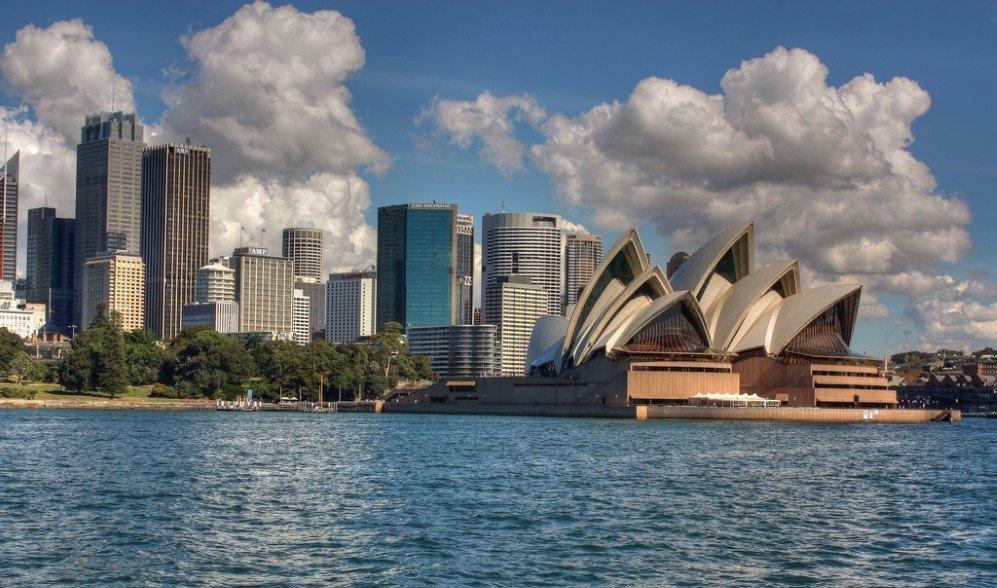 Image: Flickr / David McGinlay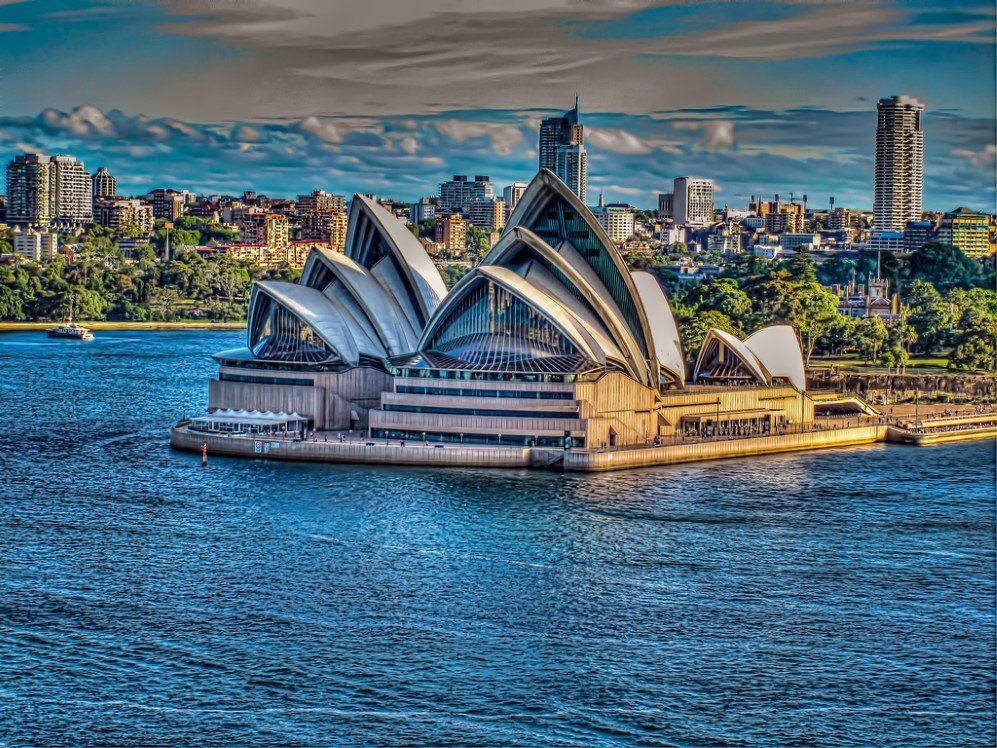 Image: Flickr / Khan Saqib
---
Houston, USA
The skyline of Houston is ranked fourth in the United States, behind New York City, Chicago, and Los Angeles, with 501 completed high-rises. The tallest building in Houston is the 75-story JPMorgan Chase Tower, which rises 305m (1,002 ft.) and was completed in 1982. Wells Fargo Plaza 302m (990 ft.), Williams Tower 275m (902 ft.), Bank of America Centre 238m (780 ft.) and Heritage Plaza 232m (760 ft.) fall one after the other on the Houston's tallest structures' list.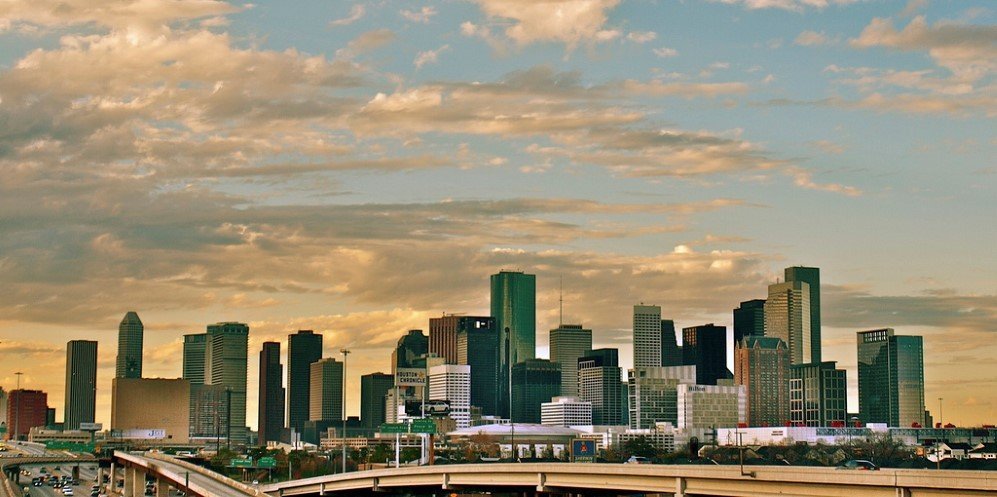 Image: Flickr /  Daniel Gillaspia
Image: Flickr / Neil Heeney
---
Kuala Lumpur, Malaysia
Kuala Lumpur, the capital of Malaysia is home to world's famous Petronas Twin Towers, the glass and steel clad skyscrapers with Islamic motifs, measuring 452m (1,483 ft.) high and are the tallest twin structures in the world. Architecture at Kuala Lumpur reflects a diverse blend of modern, Asian and Islamic traditions. 20 out of KL's 609 high-rise structures rise to a height of 183m (600 ft.) or beyond. Although Kuala Lumpur's skyline pretty much dominated by Petrona Twin Towers however, Kuala Lumpur Tower 421m (1380 ft.), Menara Telekom 310m (1016 ft.), Menara Maybank 244m (800 ft.) all add to city's skyline. The Kuala Lumpur Tower is also a significant highlight of KL's skyline that serves as a telecommunication and broadcasting station, has a public observation platform at a height of 276m (905 ft.) and a revolving restaurant.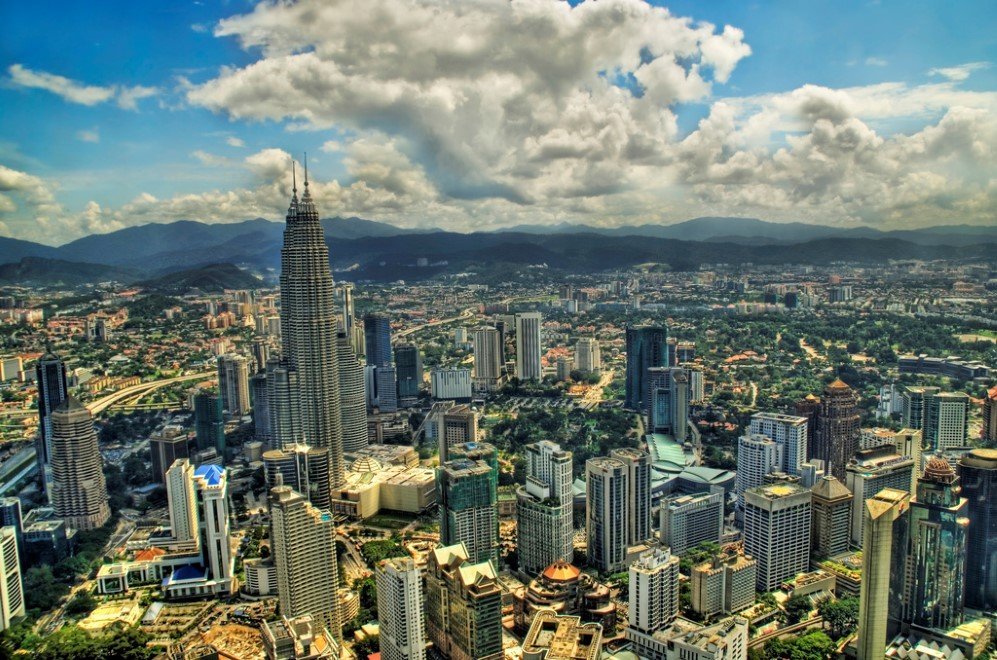 Image: Flickr / Trey Ratcliff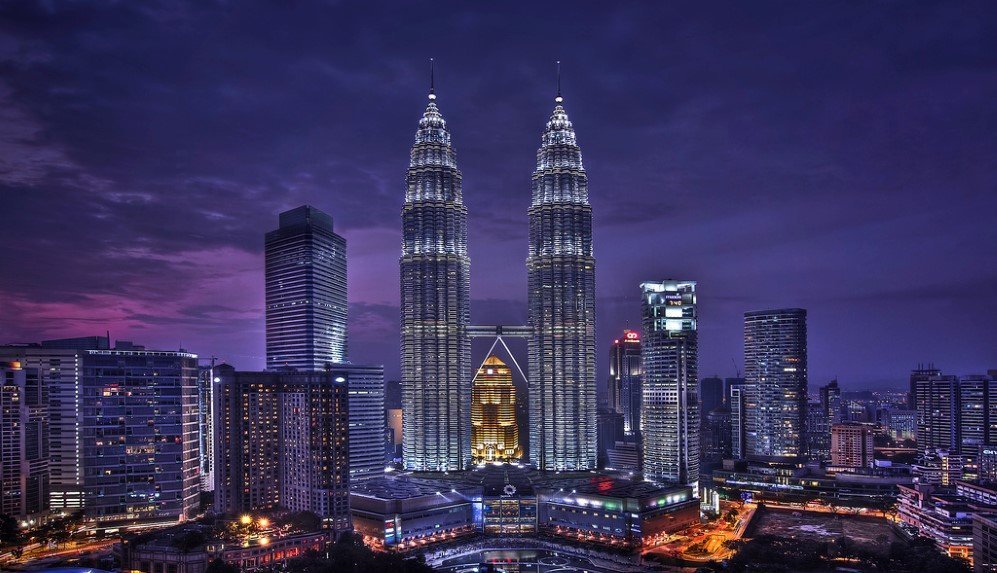 Image: Flickr / SIGMA Deutschland
---
Macau, China
Macau is one of the world's richest cities with the economy heavily dependent on gambling and tourism. Many of the big buildings in the skyline are sister casinos to the big names in Vegas. Grand Lisboa is the tallest building on the skyline, which is a 47-storey hotel/casino reaching to height of 258m (846 m). It took a whooping US$400 million to complete the construction of this structure in 2008.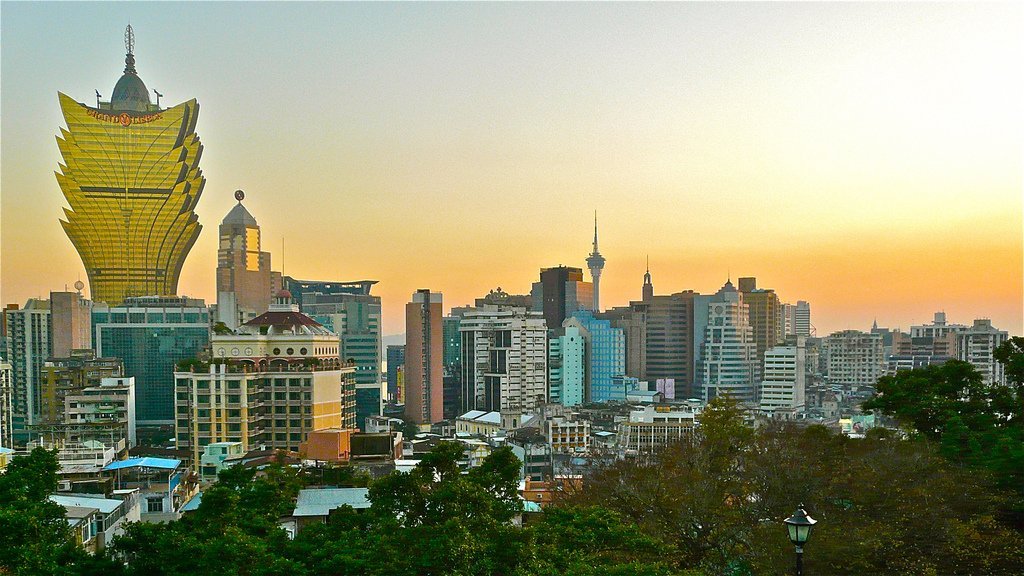 Image: Flickr / Sanfa Media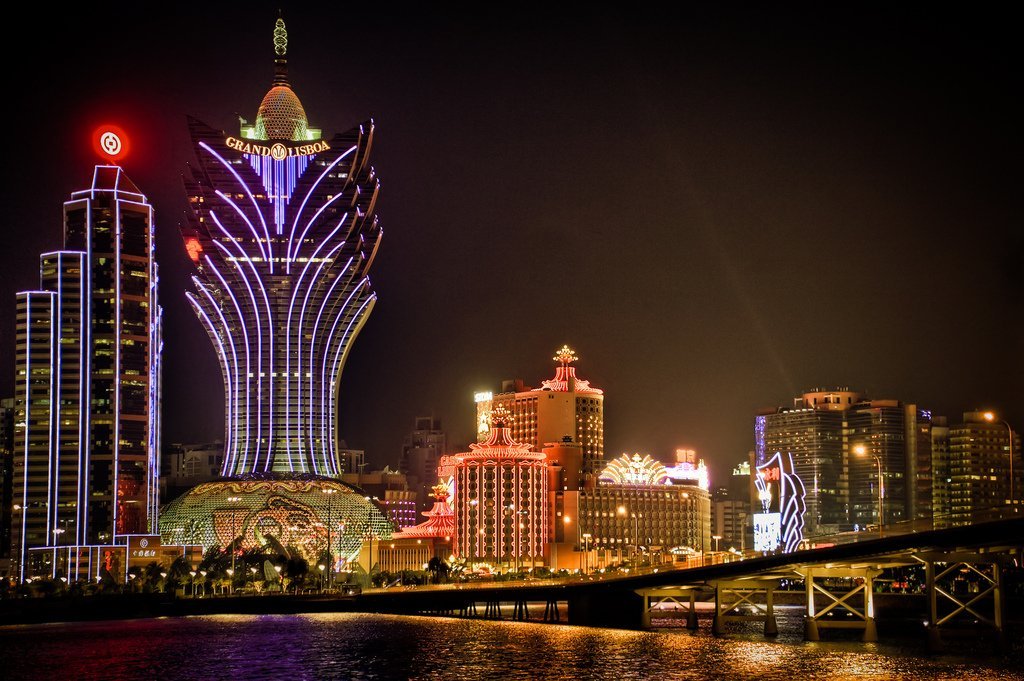 Image: Flickr / Torfinn Berset
---
Tokyo, Japan
Tokyo the most populous and also the most earthquake prone city of Japan was reluctant to have high-rise buildings due to engineering concerns until today. Housing a population of 8,967,665, Tokyo now have 2,773 high-rise structures, with 45 of those being 185m (607 ft.) or more. Tokyo Skytree 634m (2,080 ft.), Tokyo Tower 333m (1,092 ft.), Toranomon Hills 256m (838 ft.), Midtown Tower 248m (813 ft.), Tokyo Metropolitan Government Building 243m (799 ft.) and NTT Docomo Yoyogi Building 240m ( 787 ft.) are few of Tokyo Skyline's tallest structures. Tokyo Skytree, the radio and television broadcasting tower, completed in February 2012 is currently the second tallest structure of the world after Burj Khalifa.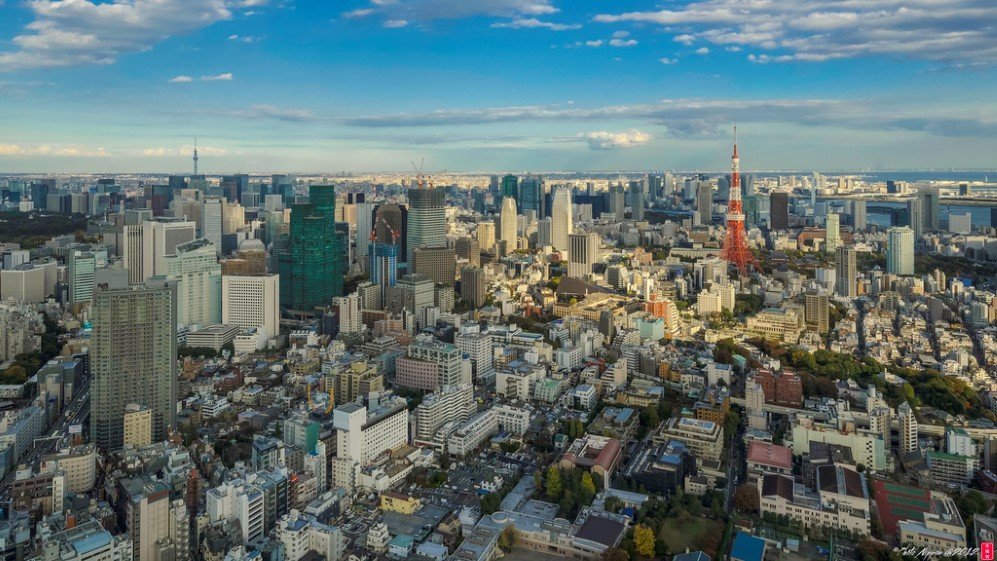 Image: Flickr / Warren Antiola
Image: Flickr / TOTORORO
---
Melbourne, Australia
Melbourne is ranked among the most liveable cities of the world. Melbourne is home to some of the tallest buildings, holding 5 out of Australia's 10 tallest buildings, with each of them averaging 50 floors and forming a skyline so spectacular that is known throughout the world. As a whole, the city overtook Sydney in 2011 as having the tallest skyline in the country and the 24th tallest in the world. Out of 581 high-rise buildings Eureka Tower 297m (974 ft.) is the tallest one.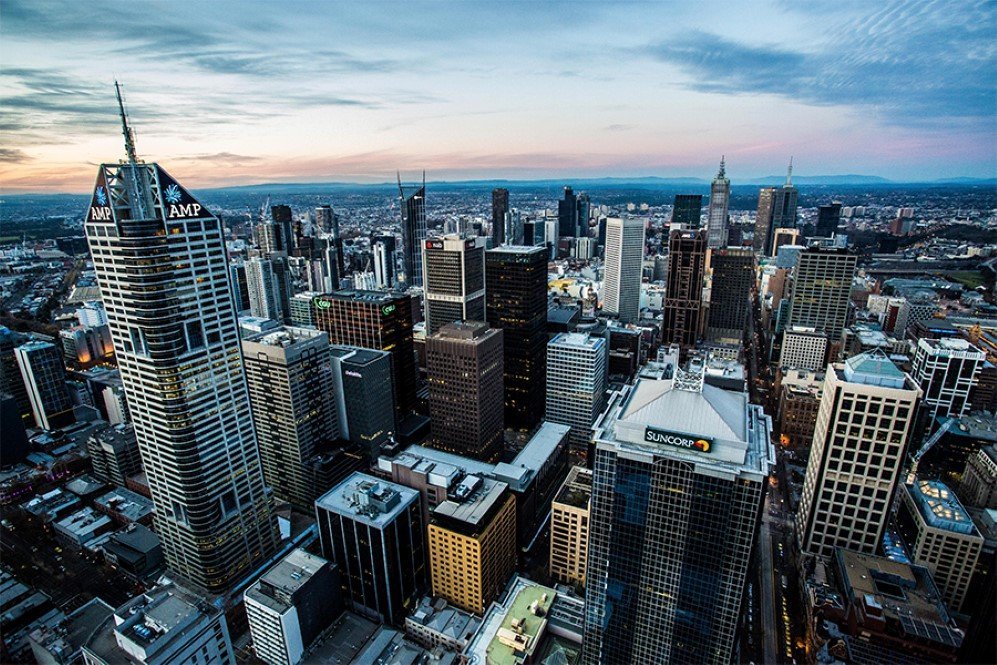 Image: Courtesy Bryce Wilson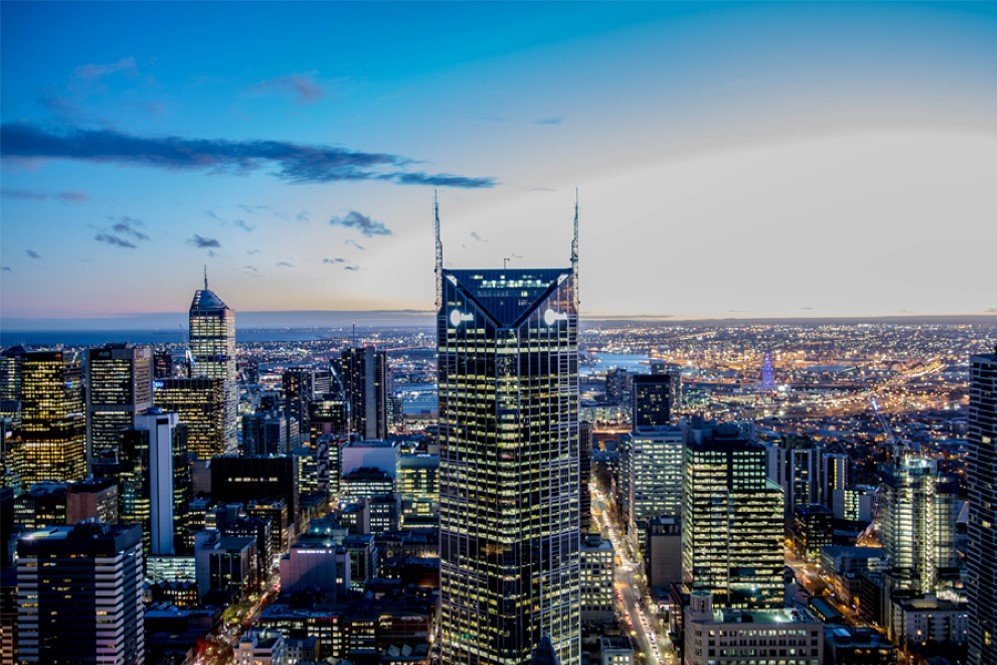 Image: Courtesy Bryce Wilson
---
Shenzhen, China
Back in 1979, the tallest building of the city was only five stories tall. Fast forward to today, Shenzhen has 477 high-rise buildings elegantly shaping-up the city's skyline and 95 of those are taller than 150m (492 ft.). Kingkey 100, also called KK100 is currently city's tallest building that reaches to a staggering height of 442m (1,449 ft.) with 100 stories.  Shun Hing Square (Diwang Building) 384m (1,260 ft.), SEG Plaza 356m (1,168 ft.), East Pacific Business Center Tower A 306m (1,004 ft.), Heung Kong Tower 303m (994 ft.) and Excellence Century Plaza Tower 1 288m (945 ft.) are Shenzhen's tallest skyscrapers.  Currently, a new mega-skyscraper Pingan International Finance Centre is under construction which will reach to a massive height of 660m (2,200 ft.). Once completed, it will become the second tallest building of the world after Burj Khalifa.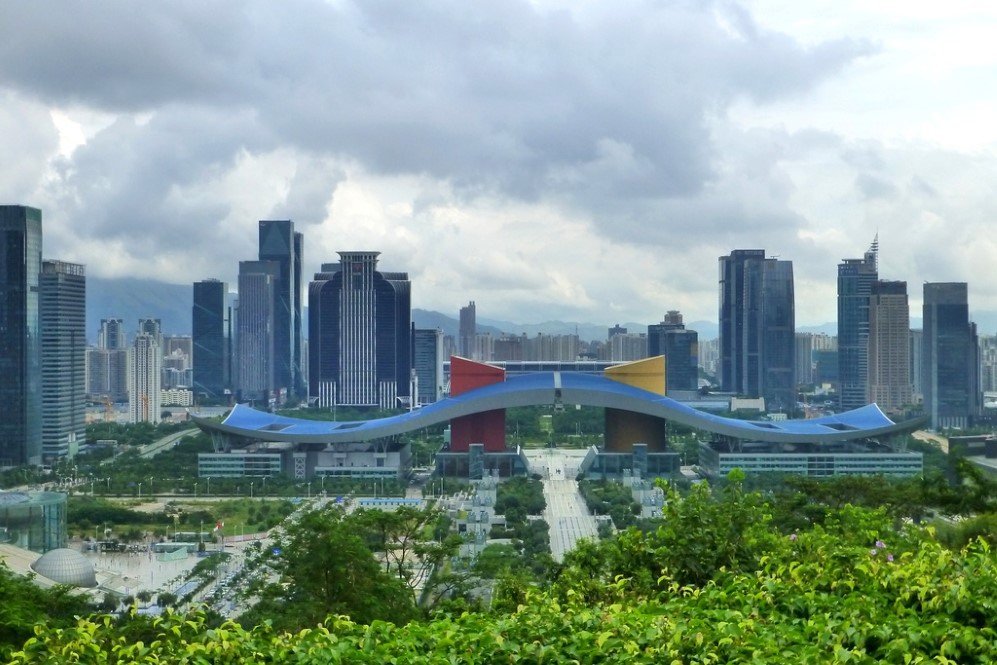 Image: Flickr / Chris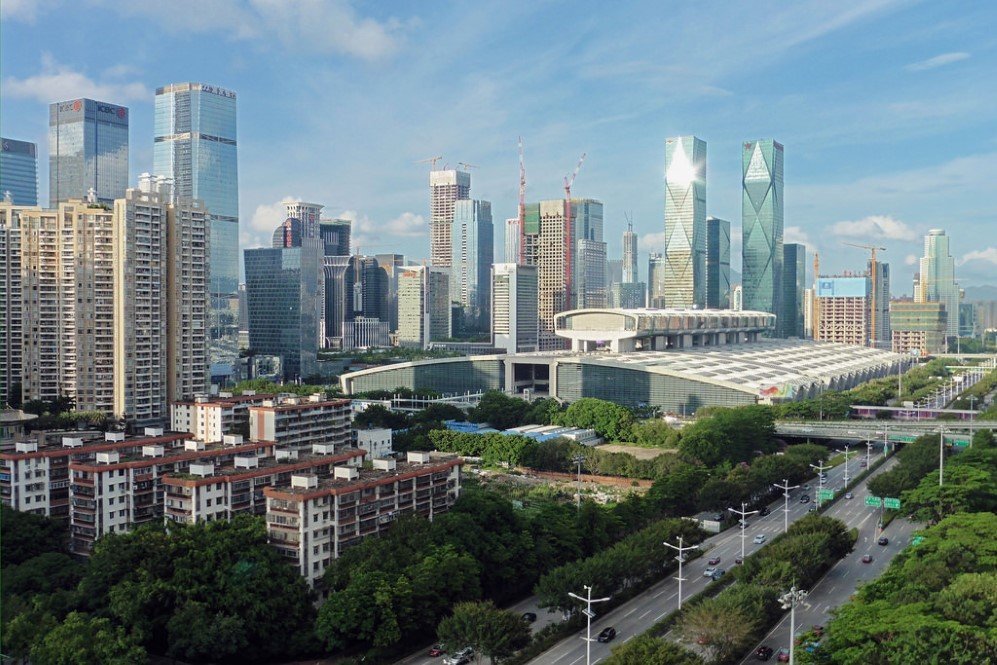 Image: Flickr / Chris
---
Miami, USA
Known as the Magic City, Miami is Florida's 2nd largest city with as many as 340 high-rises, 59 of which stand taller than 120m (400 ft.). Nine of the ten tallest buildings in Florida are located in Miami. The city's skyline is largely dominated by 240m (787 ft.) high, 64-storey Four Seasons Hotel.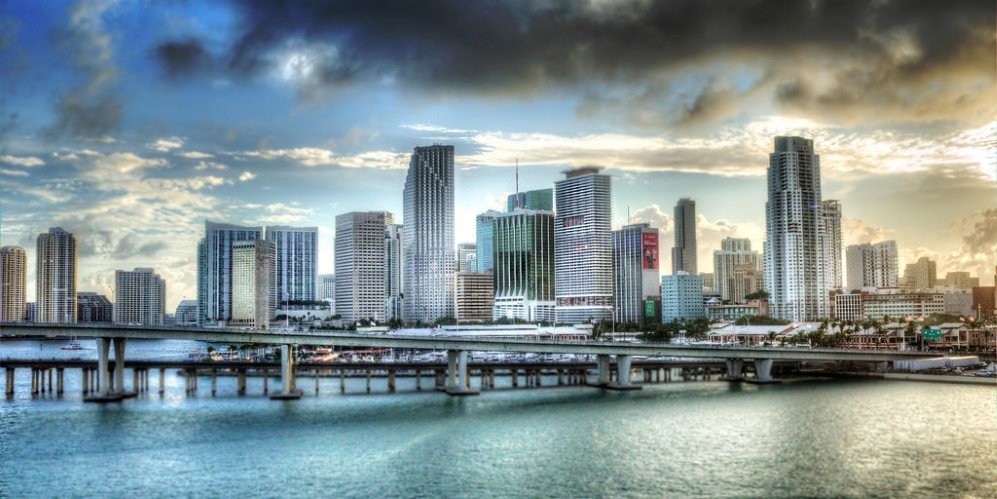 Image: Flickr / Tldoor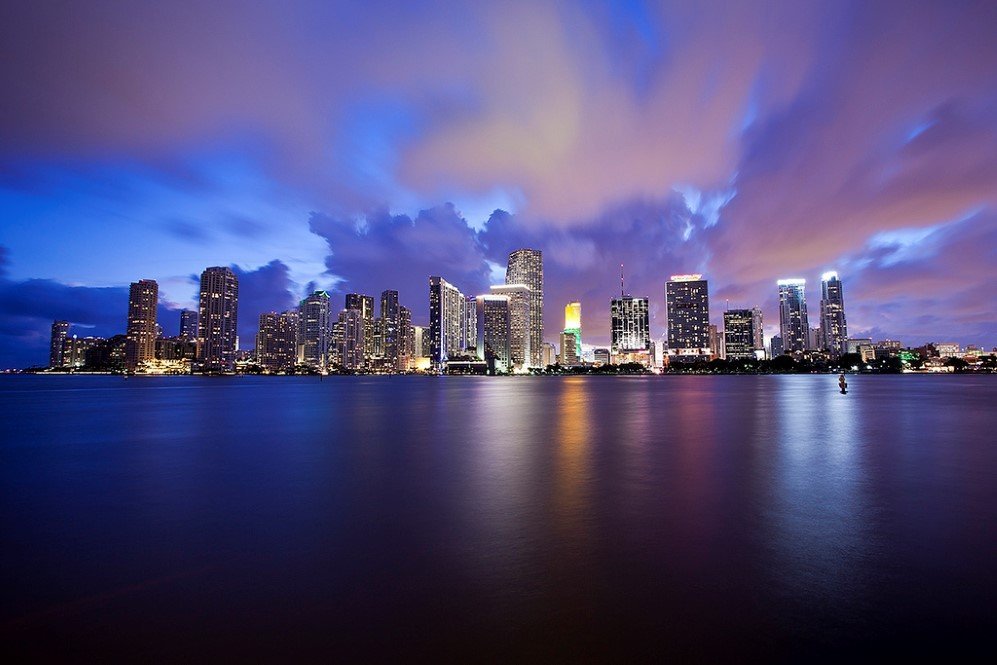 Image: Flickr / Dulkydunn
---
Moscow, Russia
Moscow has been around since 1100s and holds centuries old architectural heritage giving the city its own unique identity with Saint Basil's Cathedral among the most famous landmarks despite having been built in the 1550s. Today, this Russian capital is experiencing a rapid modernization with its top five tallest buildings being erected in the past 10 years. With 11,214 high-rises, Moscow brags one of Europe's most magnificent skylines.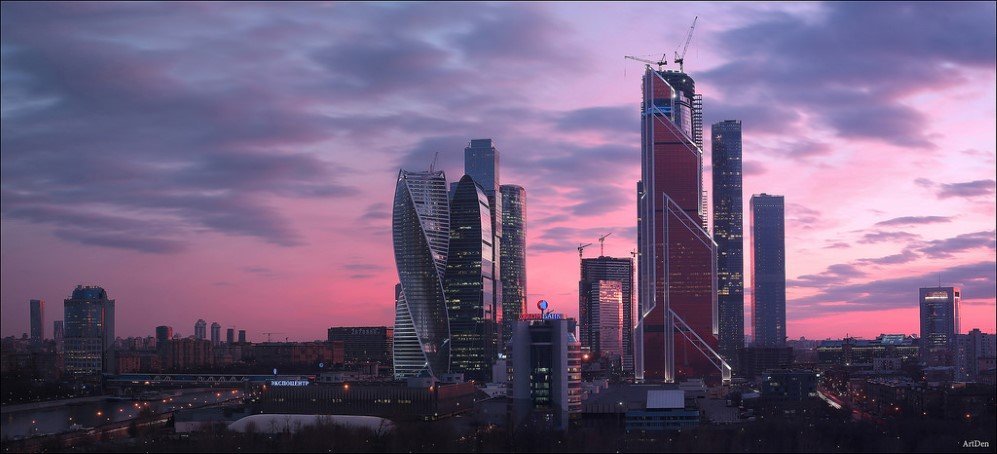 Image: Flickr / Artem Denisov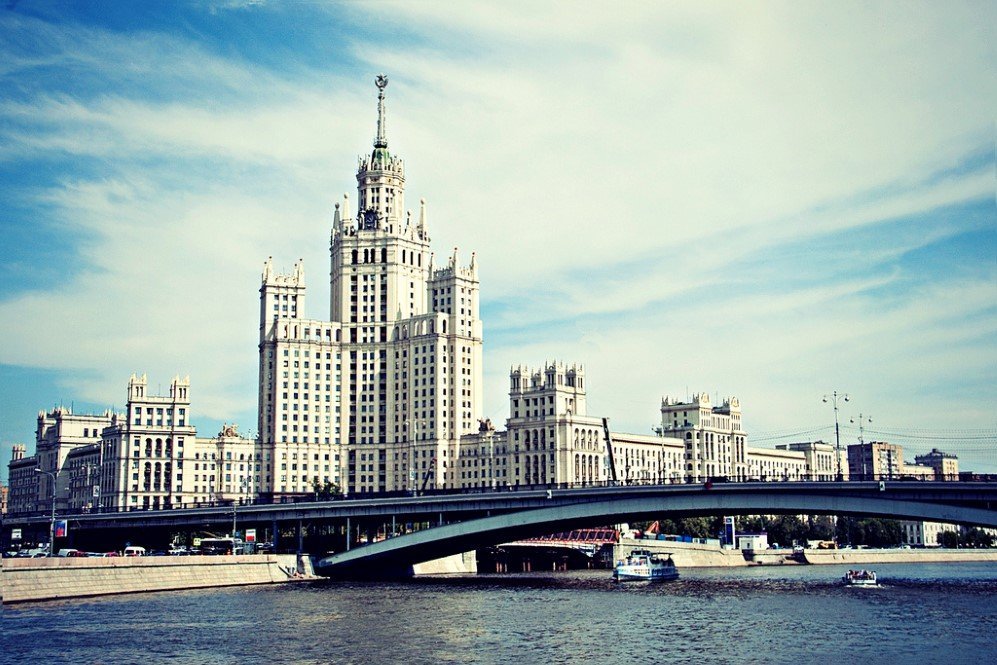 Image: Flickr / Kate Morozova
---
Osaka, Japan
Osaka is a major industrial and financial centre of japan experiencing a major boom in skyscraper construction projects in recent years. Since 2010, 12 buildings rising more than 150 m (492 ft.) have been completed. Skyscrapers tally has now reached to 1,356 and counting. The top 5 tallest structures towering up Osaka's skyline are Abeno Harukas     300m (984 ft.), Osaka Sakishima Building 252m (826 ft.), Kitahama Tower 209m (685 ft.), X-Tower Osaka Bay 200m (656 ft.) and ORC 200 200m (656 ft.).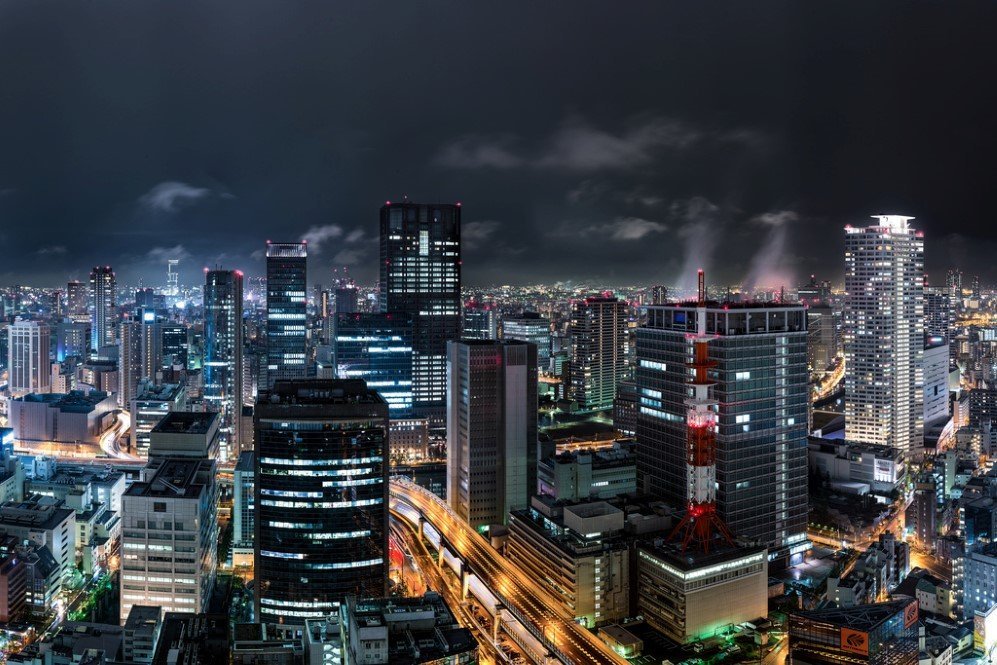 Image: Flickr / Rick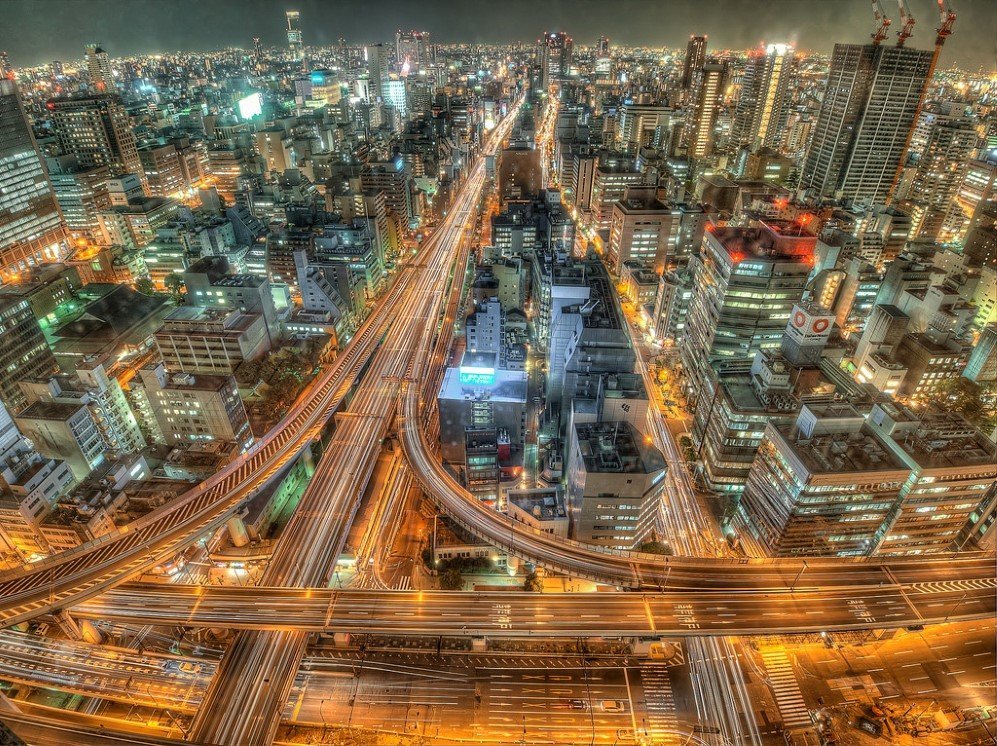 Image: Flickr / Ryusuke Komori
---
Panama City, Panama
Panama City benefits economically due to its proximity to the Panama Canal and has the most prominent skyline in Central America. From high-rises to Spanish colonial buildings to French- and Antillean-influenced townhouses Panama City has a wide variety of architecture to boast, all built during the construction of the Panama Canal. With 432 high-rise buildings, Panama City's skyline is ranked at 19th in the world.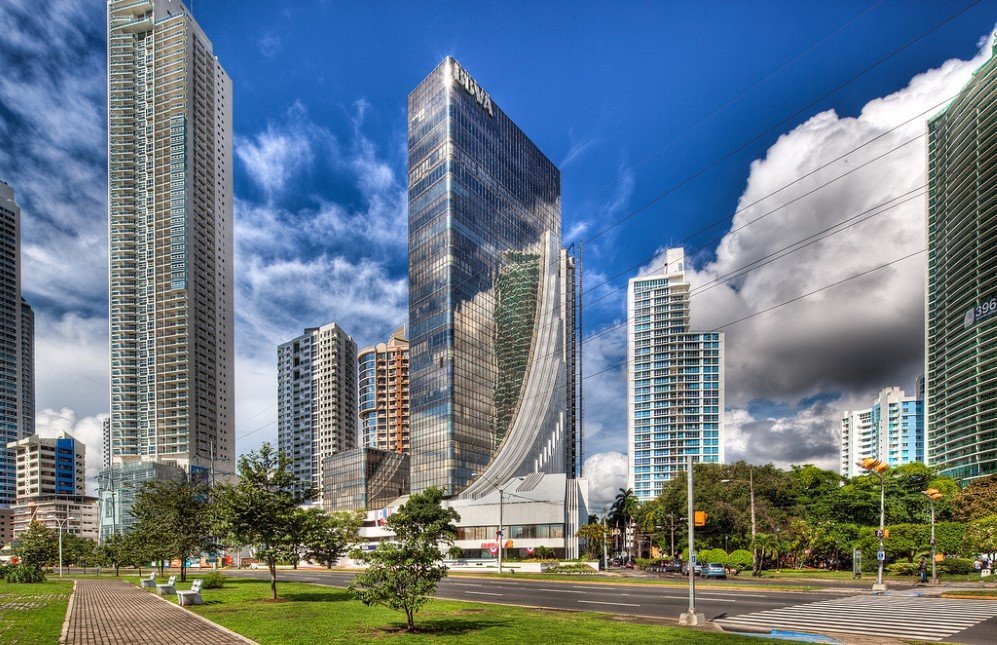 Image: Flickr / Adam Mizrahi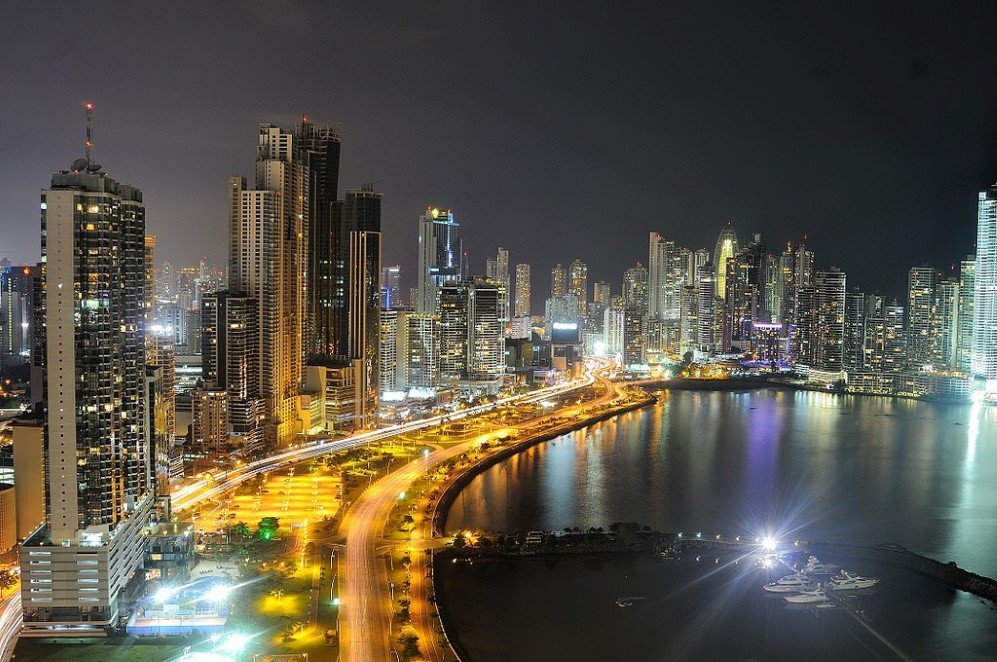 Image: Flickr / Thibault Houspic
---
Rio de Janeiro, Brazil
Rio de Janeiro more famous for the statue of Christ the Redeemer on the mountaintop, is a beautiful city situated on a mountainous harbour, the whole of which has been titled as a UNESCO cultural landscape. Same as Recife, Rio does hold a large concentration of high-rises but not as tall as one would find anywhere else in the world.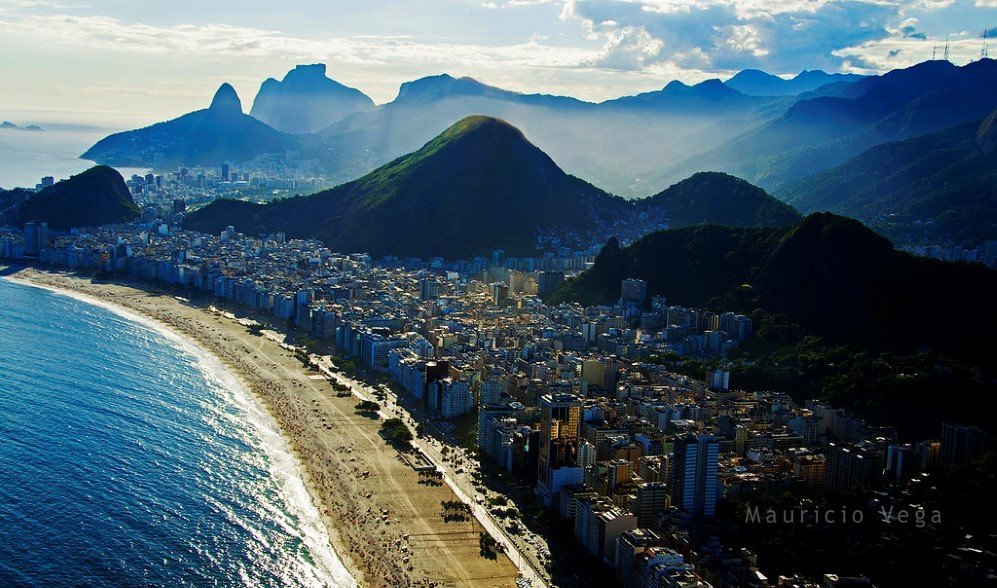 Image: Flickr / Mauricio Vega Larrea
Image: Flickr / Celso Avila
---
San Francisco, USA
Renowned for the magnificent Golden Gate Bridge, San Francisco's skyline is largely dominated by the iconic 48-storey Transamerica Pyramid building with its distinctive spire reaching to a height of 260 m (853 ft.). For the reason of frequent earthquakes rattling San Francisco, building heights are usually kept shorter as compared to rest of America.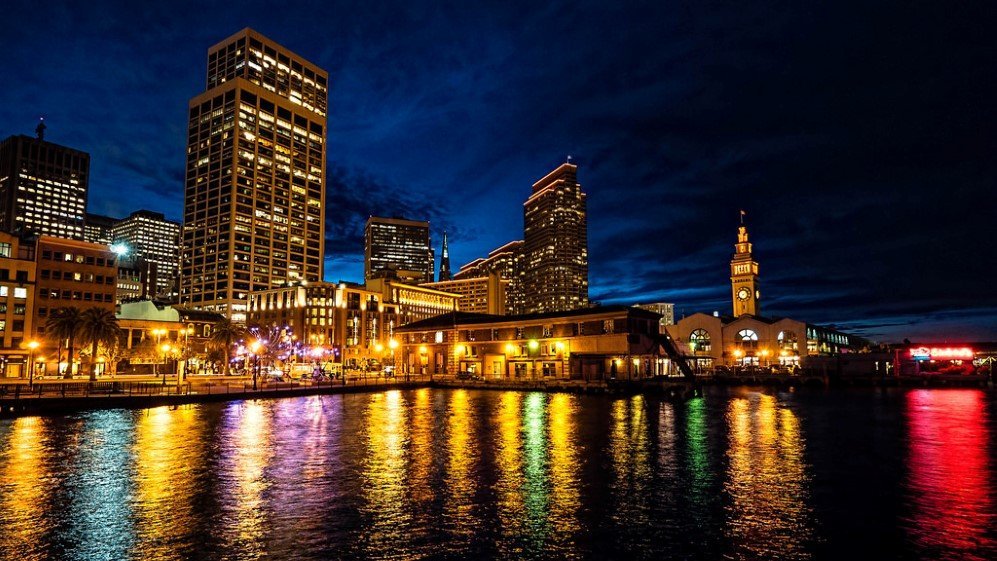 Image: Flickr / MFT Photographus
Image: Flickr / Jan Gosmann
---
Jakarta, Indonesia
Wisma 46 is definitely the most beautiful structure on Jakarta's skyline with its striking silver spire and turquoise blue facade. Jakarta is a city where Western-style skyscrapers exist harmoniously against the traditional Indonesian culture. Often seen as a famous tourist attraction, Jakarta is now a home to 547high-rise buildings including various hotels and commercial centres. Cemindo Tower is city's tallest building measuring 310m (1,017 ft.).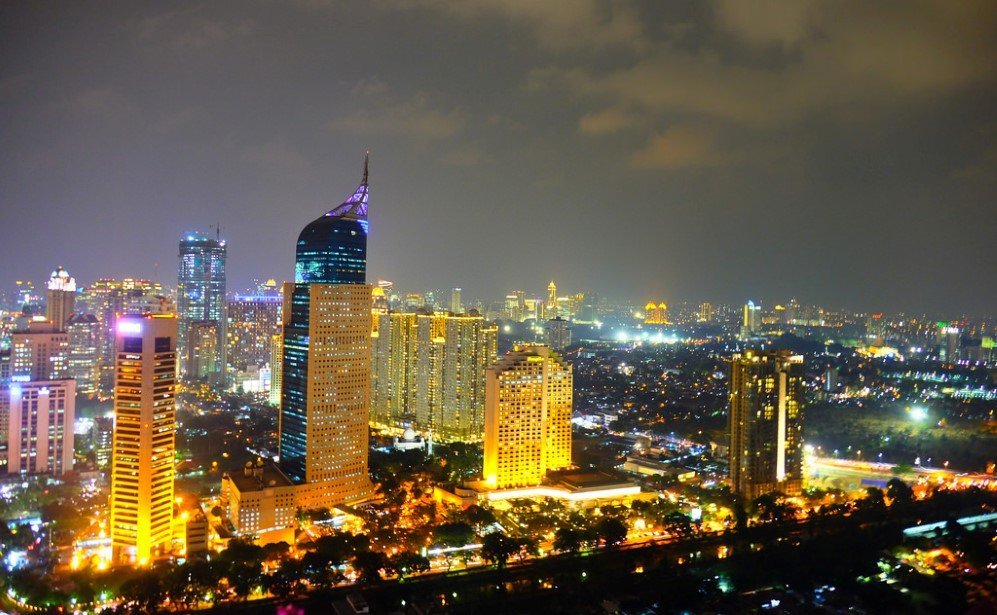 Image: Flickr / Mata Mayke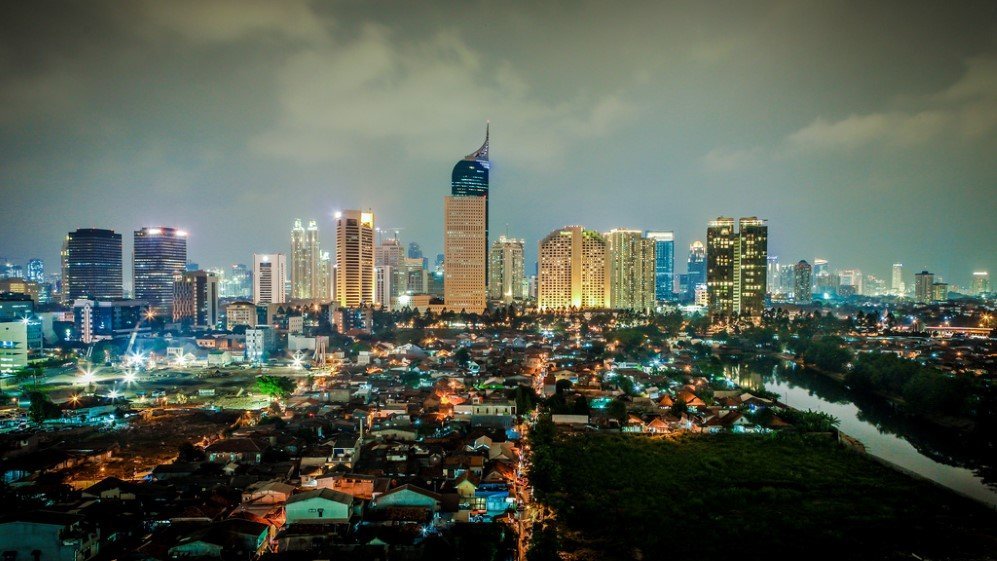 Image: Flickr / They Call Me Po
---
Shanghai, China
Shanghai is home to nearly 24 million people and in order to accommodate these many people, the concentration of high-rise buildings will automatically go up. Shanghai has seen 7,000 buildings with more than 11 storeys being erected in the past 20 years to tackle the ever so rising housing demands. The tallest skyscraper in Shanghai is the Shanghai Tower, which is 632m (1,614 ft.) tall which has been recently completed in 2015. But the more prominent feature of Shanghai's skyline is the 468m (1,535 ft.) high Oriental Pearl TV Tower with LED-illuminated spheres and a revolving restaurants. Shanghai World Financial Centre 492m (1,614 ft.), Jin Mao Tower 421m (1,381 ft.), Shimao International Plaza 333m (1,092 ft.), White Magnolia Plaza 1 320m (1,050 ft.) all add up to an impressive Shanghai skyline.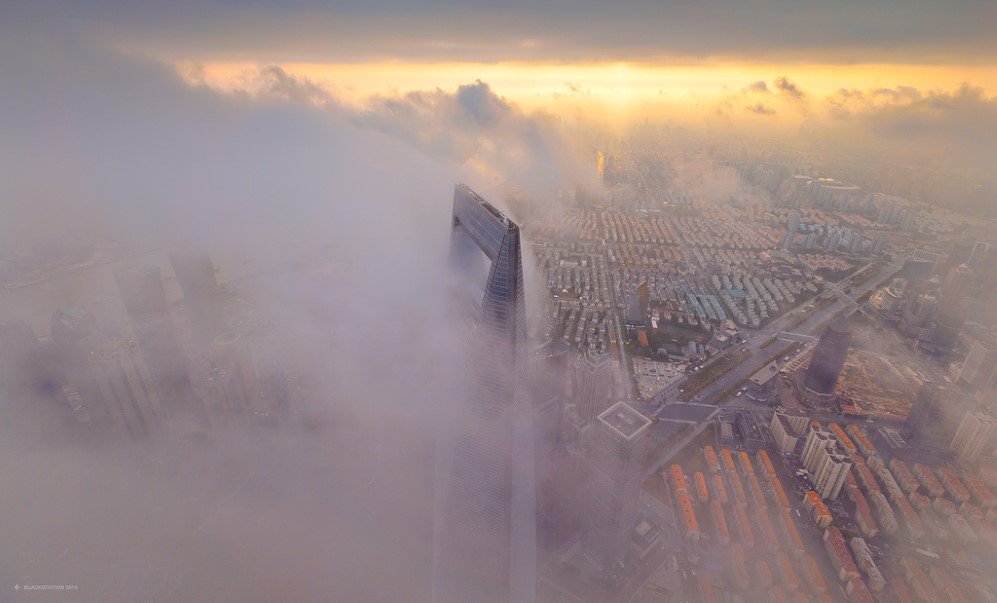 Image: Flickr /  Black Station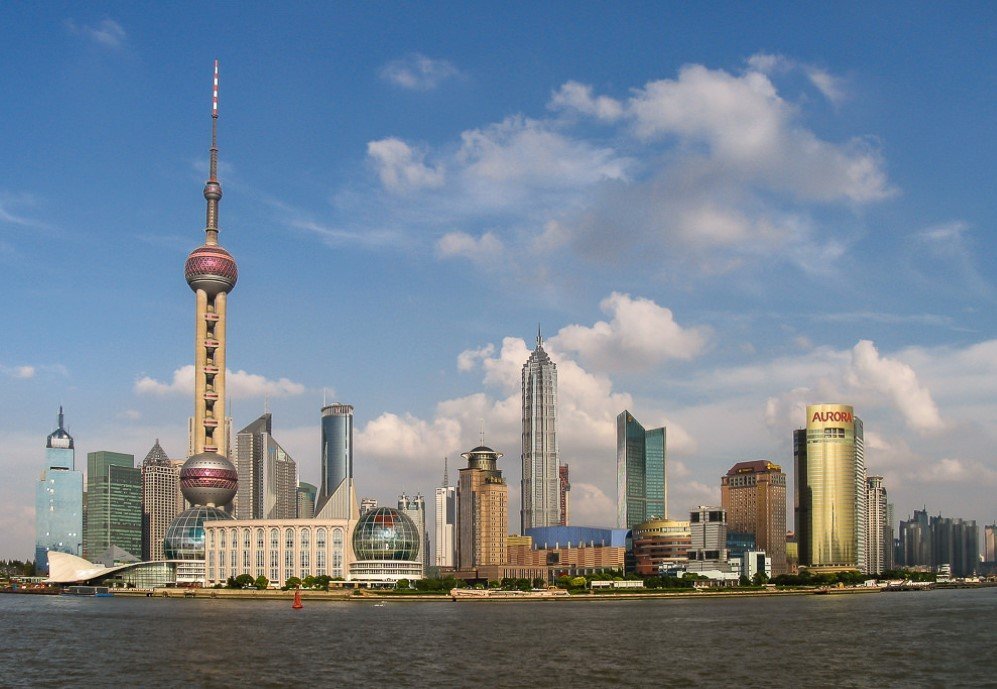 Image: Flickr / Jaume Martí
---
Warsaw, Poland
Warsaw, the capital and largest city of Poland is one of only a few cities in the European Union having a prominent skyline with fair number of skyscrapers and high-rise buildings. The Palace of Culture and Science is the tallest building in the city measuring 231m (757 ft.). There are about 20 buildings at the city centre measuring at least 100m each, shaping up Warsaw skyline. The building count isn't as large as the rest of the world would expect but definitely competitive when it comes to European standards.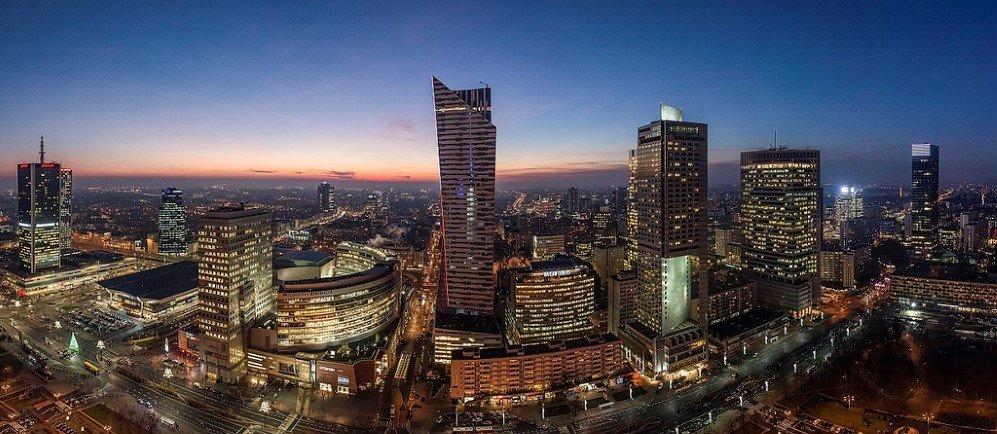 Image: Flickr / Fkwiatkowski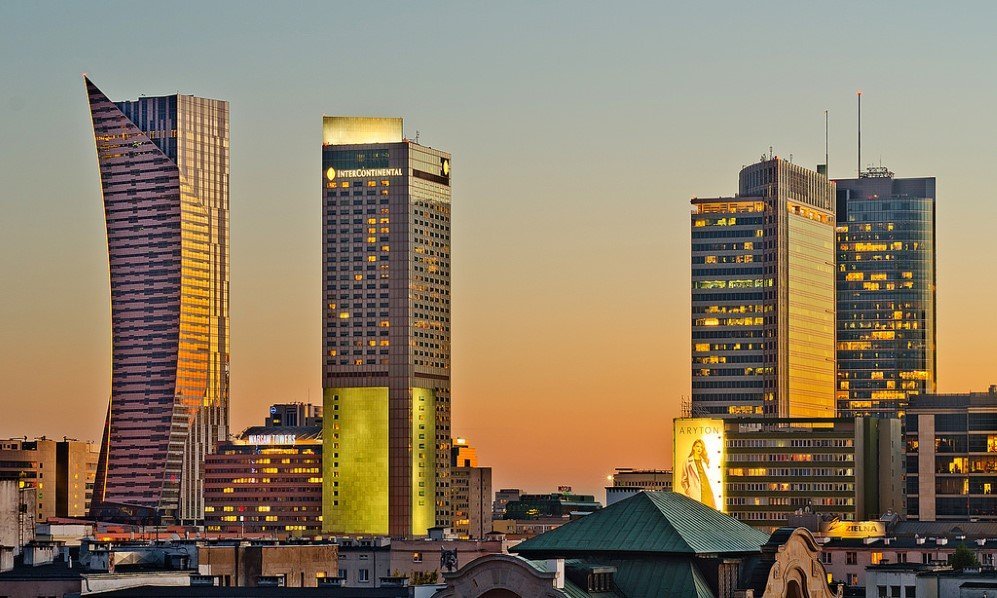 Image: Flickr / Sebastian Deptula