ALBERO 3-in-1 air purifier for home silently cleans air
ALBERO
With an increasing demand for good air quality, both indoor and outdoors, a company based in Italy has launched their 3-in-1 air purifier for home. The device incorporates nano technology to detect the allergens, bacteria, viruses, odors and toxic chemicals that could be present in ambient air and converts it to water, carbon dioxide and other harmless by products.
With its 3-in-1 functioning, it acts as an air quality monitor, air purifier and a curated lamp all at the same time. While it kills viruses and bacteria, it also gets rid of any pollutant gases that could potentially be present in the air including Carbon Monoxide, Nitrogen Oxide and Particulate Matter. It generates only 18 dB of noise frequency and within a matter of only two hours, 99% of the indoor air pollutants are efficiently eliminated. With advanced air quality sensors integrated into the home air purifier, it is able to track the air quality around you with high accuracy. ALBERO can also be controlled through a mobile app where it is able to detect and display the Carbon monoxide levels, Volatile Organic Compound levels, the temperature, humidity, gas leaks and the air quality profile.
While normal conversation tends to reach 60 dB and the HEPA air purifier works at 50 dB, ABERO uses only 18 dB which is even quieter than a whisper! The extremely low noise levels ensure you do not encounter any nuisance and you can leave the air purifier working while getting a good night's sleep. With ALBERO, you can start your day with a clean and fresh home environment.
Unpurified air can be extremely detrimental to people with allergies. The air purifier for home helps clean the ambient air around you and protect you and your family from getting sick. It also prevents the spread of any airborne contagious diseases and carcinogens which gives you an improved quality of life and increased productivity.
Indoor air is 5 times more polluted than outdoor air as it recirculates in the same area. The conventional HEPA filters are able to trap all the contaminants using activated carbon filters but are unable to destroy them. This causes all the bacteria and mold to accumulate and could lead to potential contamination over time.
Recommended for you (article continues below)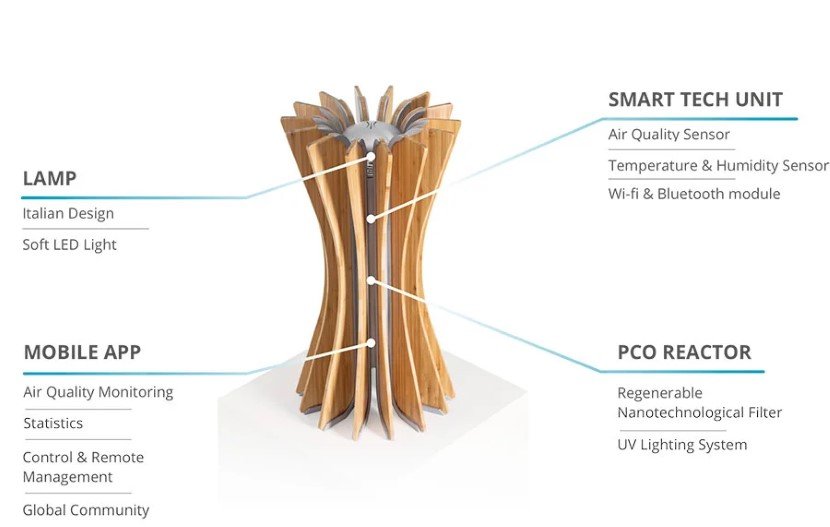 Through testing, it has been confirmed that within a time span of 2 hours 83% of the bacteria present is killed off and in two minutes' time, 84% of the NOx has been reduced. Since the majority of the pollutants are smaller than 0.3 microns, most of them escape the HEPA filter pores. Using ALBERO's air filter for home, within a matter of two hours, 78% of the PM 0.3 (particulate matter smaller than 0.3 microns) is reduced.
Photocatalytic oxidation is a nano scale process tested by NASA that has been undergoing extensive research for the last 25 years and is employed in this ALBERO air purifier for home. Since the purifier essentially destroys and vaporizes all the contaminants present, the filter no longer needs to be replaced regularly. All it requires is a rinse, every 6 months.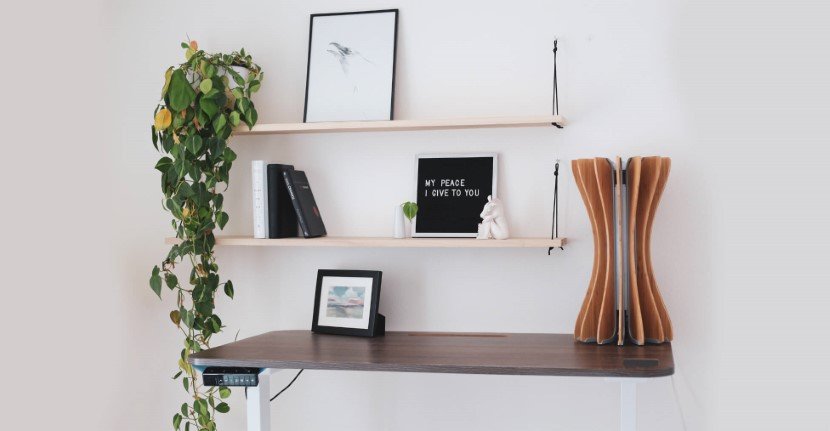 The filter is externally coated with nano-coating that helps keep it clean and free of all sorts of bacteria and dust. The nano coat also acts as a de-pollutant in the presence of sunlight.  While the HEPA filters demand frequent filter replacements adding to the cost, ALBERO allows you to save between $100 – $400 a year by incorporating such features. The filter is also accompanied with nano-silver pre-filters that can last up to 3 years.
Using the smart AI, Air quality sensors and the mobile app that have been integrated with the system, the user's habits can be detected and stored during air cleaning. Depending on the preference, the filter will clean out any toxic pollutants that it detects in the environment while keeping the energy consumption in mind.
Control your Air Purifier via an App
The app is available on both iOS and Android and can be accessed from anywhere with an internet connection. It allows you to control the home air purifier, away from home. The user can set the purification mode and control the lamp settings. Air quality levels are under continuous monitoring and displayed on the app with app alerts. You can even control all the ALBEROs in your house from one single app!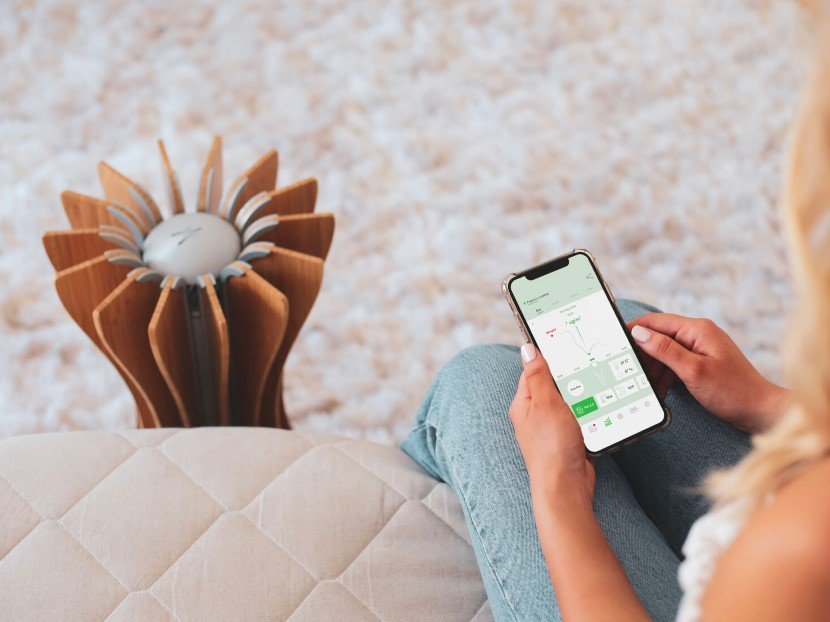 With an auto clean mechanism, the ALBERO will constantly clean your surrounding air to ensure optimum air quality. On silent mode, the purifier will continue working with minimal disturbance to anyone in the room.
ALBERO air purifier for home can also be used with voice commands like Google assist and Amazon Alexa. It can be easily operated using the buttons present at the top of the device for those who do not wish to engage with the app.
The titanium coated ceramic nano-filters are treated with silver and are non-woven and make the most optimum choice for a photocatalytic reaction compared to other filters. The alveolar design allows maximum surface area exposure for better purification. When compared to other PCO filters, this home air purifier does not produce any harmful ozone gas.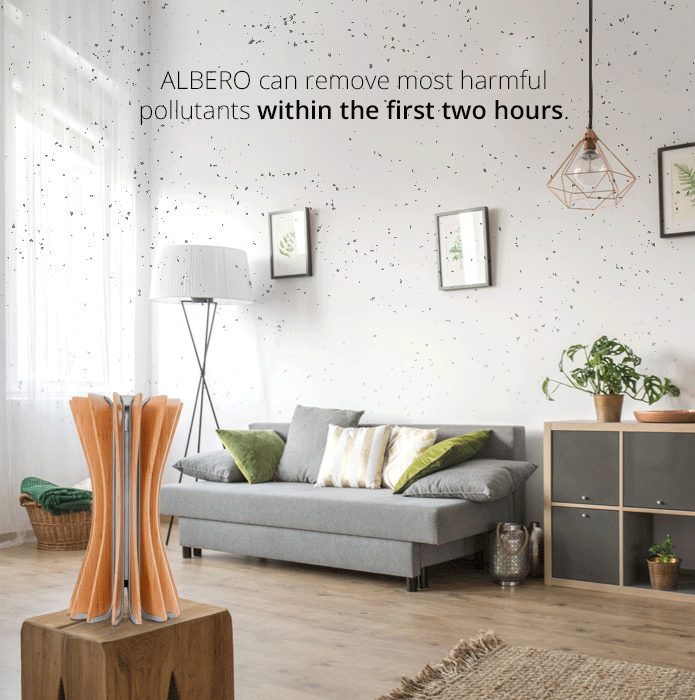 ALBERO utilizes micro electrical mechanical systems (MEMS) which are the best sensors available to detect air quality and take remedial measures through the system. The entire system only uses 20W-56W of energy with a 540 sq ft of coverage making it highly energy efficient. The device also multi-functions and works as a lamp at night and can be controlled via the app.
ALBERO air purifier for home works in five major steps:
Step 1 – Polluted air is taken into the filter.
Step 2 – The pre-filter catches large bacteria present in the air and kills it.
Step 3 – At the PCO (Photocatalytic Oxidation) filter, air is completely purified silently.
Step 4 – This air is recycled until it achieves 99% purity.
Step 5 – The parameters of the outgoing air are measured and the clean, fresh air is sent out.
Not only does this home air purifier play its part for the environment by cleaning the toxic and potentially harmful air, it is also made of sustainable materials. 80% of the ALBERO constituents are recyclable with only 12% of plastics present.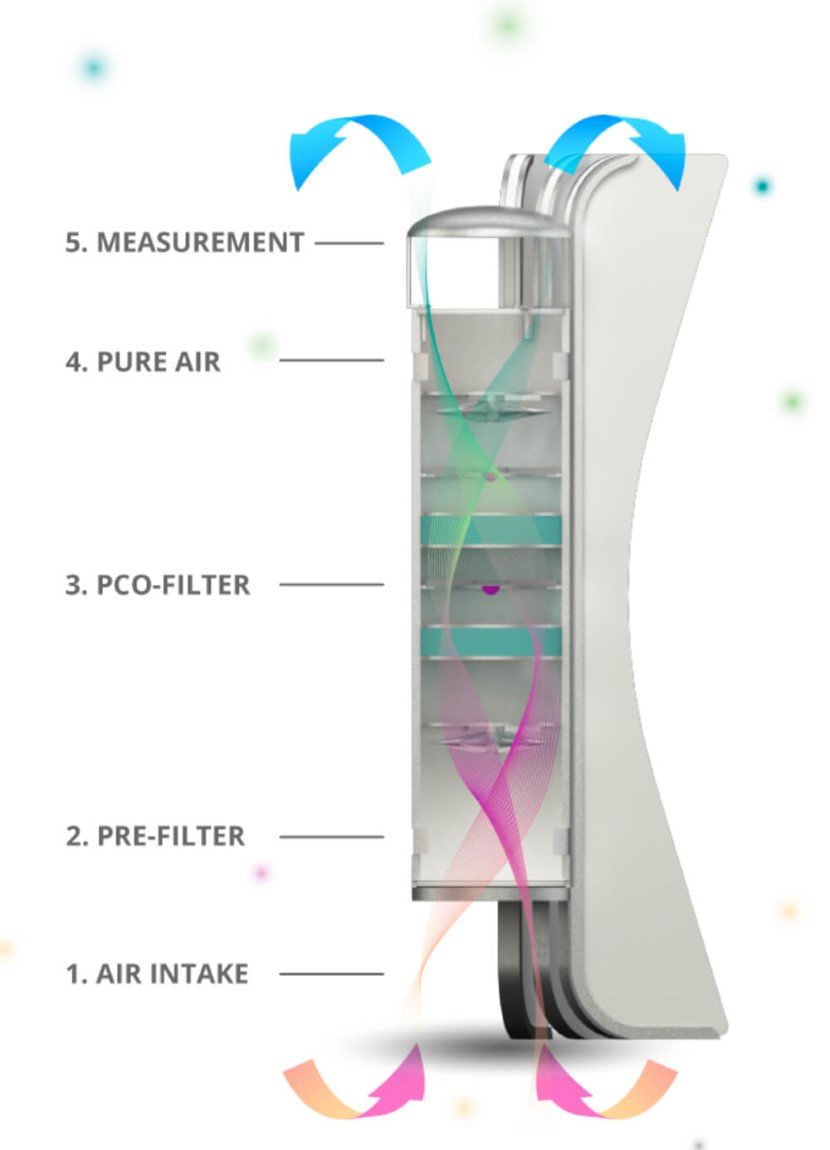 Air Purifier's Design and Dimensions
ALBERO is 19.7 inches tall, 11 inches wide and weighs only 10 pounds. The design is kept minimal and aesthetic so that the purifier not only cleans your air but also looks great at your table doing it! If you are an environmental enthusiast, you can also join the global initiative and keep track of how you play your part in keeping the world around you clean and healthy.
Price & Shipment
Shipping is expected to begin at the end of September 2020. For a price of only $399 you can get your hands on the entire package which includes the 3-in-1 home air purifier, two ceramic nano-filters, 2 nano-silver coated pre-filters, a power cable, a quick start guide, a free downloadable app and 12 additional nano-silver coated pre-filters that can last 3 years.
All Images: Indiegogo
Source: Indiegogo