Nest vs Ecobee: Choose The Better Thermostat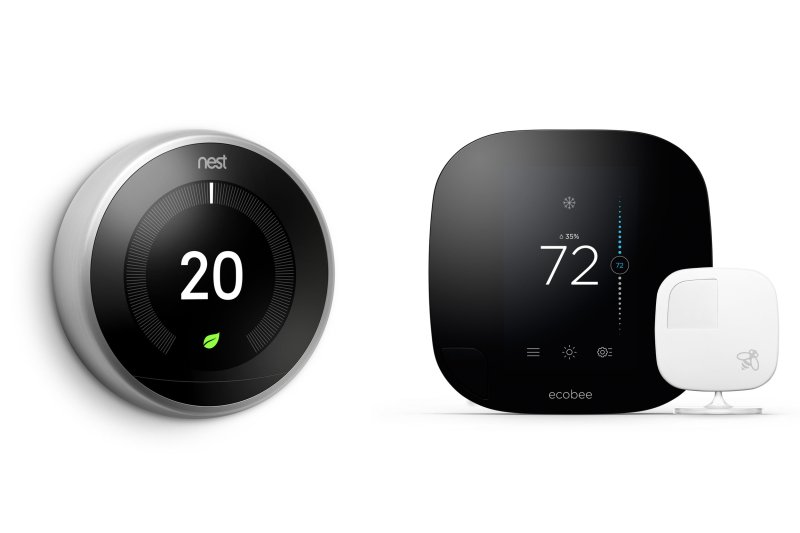 Image Courtesy: Nest, Ecobee
Smart thermostats make interactive, economic, and adaptive investments for your home. A smart thermostat can regulate the climate inside your home and keep the environment warm during winters and cold in summers. Nest and ecobee are two of the best options in the market. If you were to choose the better thermostat, you would have to dive into the specs. Let's dig into the Nest vs ecobee debate.
Nest vs ecobee: Which one is better for you?
Nest began an era of smart thermostats in 2011 and has managed to remain on top of their game with continually improved thermostats, new products, and a Google acquisition. However, the very first smart thermostat was by ecobee in 2008. It has stayed in the race with their competitive thermostat lineup over the years, with the most recent flagship, ecobee Smart Thermostat released in June 2019, having Amazon Alexa support.
In terms of appearance, cost, temperature adjustments, schedule learning, voice control, geofencing, energy-saving benefits and of course, compatibility with other smart devices, each of the Nest and ecobee thermostats have their own edge in the given domain. Let's get into a more detailed and close-up comparison for a final verdict on ecobee vs Nest.
Nest vs ecobee: Appearance
Both thermostats have rounded shapes. The Nest Learning Thermostat takes after the conventional thermostats like the Honey Well Round. The ecobee, on the other hand, is more like a rounded screen. Both have high-quality touchscreens that can display a variety of information.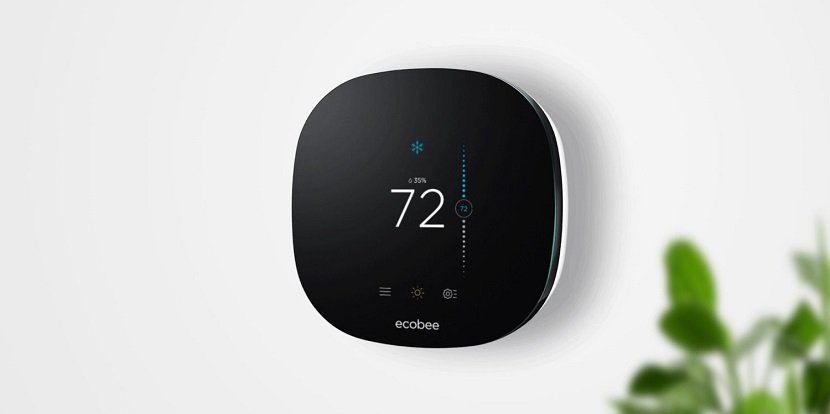 Nest vs ecobee: Cost
The primary Nest Learning Thermostat and the ecobee SmartThermostat both cost $249. However, they both offer budget-friendly versions of their flagship models as well. ecobee has the ecobee3 Lite and Nest has the Nest Thermostat E.
The ecobee3 Lite is similar to the ecobee SmartThermostat in terms of both, visuals and functionality. It doesn't come with a built-in Alexa speaker, nor does it have the accessory terminal. The ecobee3 Lite is sold as a standalone unit which means that no remote sensor is included. So, without the extra glitter, you can get this ecobee for $169 – or even less if there is a sale going on!
The Nest Learning Thermostat's lower-cost version, on the other hand, is different than the NestThermostat E as it does not feature the accessory terminal. Visually, the difference lies in the plastic body with a screen that has a matte finish. That's not bad at all for the price tag of just $129.99.
Nest vs ecobee: Temperature adjustments
The Nest Learning Thermostat can be manually operated to adjust the temperature by using the dial mechanism with the exterior ring. Thus, if the temperature adjustment technique used for conventional thermostats with the ring is your cup of tea, then Nest Learning Thermostat is your go-to.
The ecobee SmartThermostat offers a touchscreen to alter the temperature, much like how one would on their smartphones and tablets. This makes for a much easier adaptation.
Smart thermostats can be used in combination with wireless room sensors. These accessories detect occupancy and adjust room temperature automatically. For ecobee, each SmartThermostat includes one SmartSensor. This allows you to average the temperature of your room with sensors, whether the room is occupied or not.
With the Nest Learning Thermostat, you will have to buy Nest Temperature Sensors separately. These sensors require you to specify the desired temperature in a room at a particular time of the day. It detects the temperature automatically and responds according to it, making it a viable option for larger smart homes.
Schedule learning
Schedule learning is one feature that gives Nest a +1 over ecobee for sure.
With its schedule learning software, Nest Learning Thermostat initially makes a few assumptions about your routine that would more or less apply to any human behaviour. This is used as a baseline for the schedule. As you continue to adjust the thermostat to your preference of hot or cold, in a week or two then it "learns" these preferences at any given time of the day and makes a custom schedule just for you. This is a continuously evolving and updating procedure, so you won't be stuck with just one learnt schedule.
However, the ecobee does not have this feature. It does utilize a more conventional schedule. It lets you take the wheel and choose your desired time and temperature for when you are home, away, and sleeping. The set schedule does not change unless it is changed manually, which actually is not difficult at all and can be done from the thermostat, the mobile app, or the web console.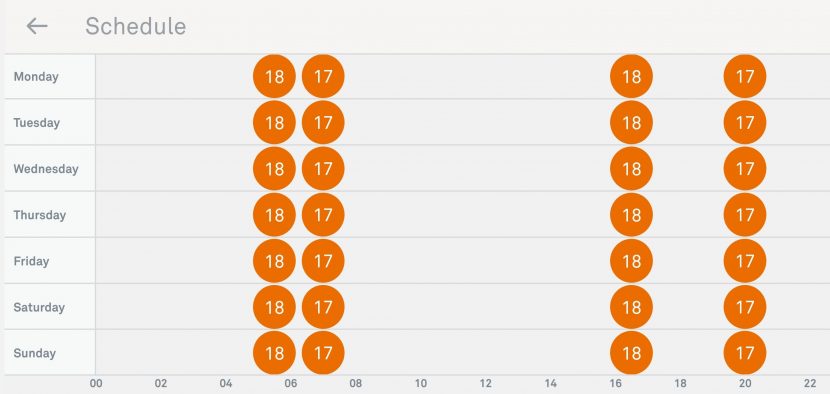 Voice control
Luckily, both Nest and ecobee work with Google Assistant and Alexa. However, there are some differences in how they work.
For Amazon Alexa users, individuals have the option to control their Nest thermostats either via the Alexa app or by speaking. Just by asking Alexa to turn the heat up or down. Google Assistant works in the same way, as do other smart devices that can hear voice commands, like Echo and Nest Hub devices.
The ecobee Smart Thermostat has the upper hand as it comes with a dedicated Alexa built right in, which means you don't need to use other devices. Just speak directly to your smart thermostat and say what's on your mind (best to stick to the topic of temperature settings, however).
It is important to note here that Nest doesn't support HomeKit directly, so if you're a HomeKit user, the ecobee would be a better choice.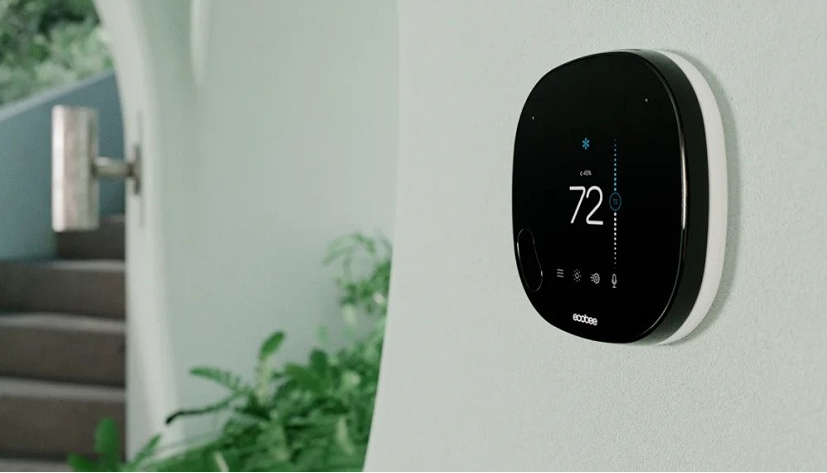 Geofencing
Many smart home products use your phone's GPS to figure out whether you are home or not. This is called geofencing. This is an especially useful feature for smart thermostats, as it can tell when you cross the geofence leaving your home, so it can automatically switch to away mode. Similarly, when you are on your way back home, you cross the geofence and it signals the thermostat to resume heating/cooling. By the time you're home, it would be as if nothing changed.
Nest comes with the geofencing feature built right into their app. It lets you create multiple accounts so that geofencing works with more than one phone's GPS. If you're wondering what if someone else is at home, like maybe pets or children? In such a case, you can rely on other Nest Protects (that's the Nest smoke detector) at home, that have motion sensors on them to detect motion in the house. Therefore, it knows someone is home so it will ignore the geofence trigger to switch to away mode.
With the ecobee, geofencing is supported too, but only for one phone. That makes it difficult to leave someone at home and trigger the away mode. One hack is to use third-party apps (IFTTT and Life360) that will let you have geofencing on multiple phones. However, it could get a little complicated.
Energy-saving benefits
The primary purpose of installing any smart thermostat is to lower energy consumption, carbon footprint and lower bills. So which of the Nest and ecobee thermostats does it better?
The Nest Learning Thermostat has a feature that signals you when you are in low-energy consumption mode. A leaf icon appears on the thermostat when the temperature is adjusted to lower energy use. For example, the Nest Thermostat set to 62 degrees or below when heating the smart home will always show the leaf icon, as will setting the thermostat to 84 degrees or warmer when choosing to cool your home.
As the Nest Learning Thermostat learns your preferences and schedules over time, the leaf icon appears more often as the thermostat will save energy based on your habits.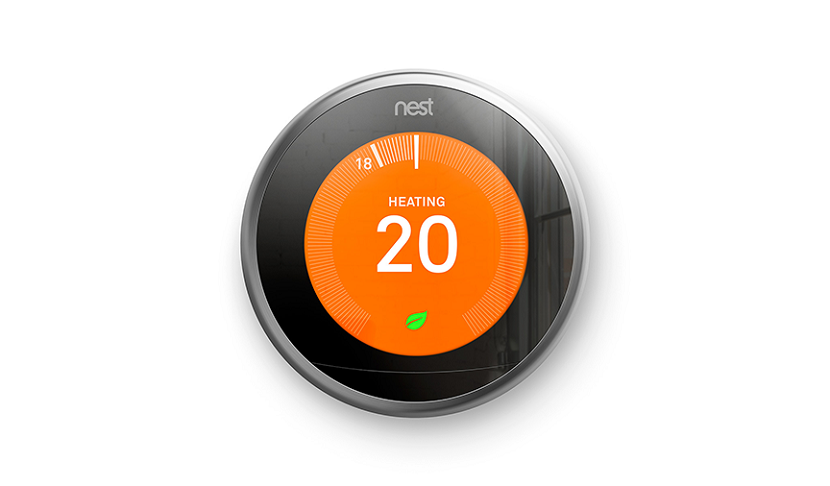 ecobee's Smart Thermostat is very similar when it comes to energy saving. It uses eco+ software and a scheduling assistant to learn when the house is active and adjust the temperature accordingly. The ecobee, however, is less intuitive operationally.
The energy reports differ for both smart thermostats as well. The ecobee takes the lead here; it records and analyzes HVAC data for up to 18 months as compared to Nest's 10 days of data. All temperatures and motion data from both the thermostats and the remote sensors are recorded. The analysis tool used for this is called Home IQ. It's accessible via the web console and is provided free of charge by ecobee for as long as you own the thermostat.
Compatibility with other smart devices
Both thermostats can be used in combination with other energy devices around the house for optimum operations. The ecobee Smart Thermostat is designed to recognize when there is a ventilator so that it uses cool outdoor temperatures when appropriate to reduce dependence on the air conditioners. In case of dehumidifiers, the ecobee can regulate indoor humidity to prevent frost buildup in colder weather coupled with humid indoor environments. It can also connect with humidifiers, HRVs, and other accessories to make sure they are used properly as well. Nest also offers a similar feature, known as Heat Pump Balance that allows you to choose how much auxiliary heat to use. This is beneficial since such heating options can be expensive. The Nest thermostat also figures out the heat pump's efficiency, the current weather, and weather forecast into the mix with the Heat Pump Balance feature activated, relying on data to determine the best auxiliary heat usage.
Final verdict
Let's get to the conclusion of the Nest vs ecobee debate. Both of these smart thermostats offer limitless benefits and are almost equal when it comes to your pocket. Nest Thermostat is the better option, given you own an Echo or aren't interested in voice assistants. If you require sensors to work hand in hand with your thermostat, better to opt for the ecobee. The Nest does wonders with its schedule learning, while ecobee makes up for it with its superior customization and data feedback. Considering these advantages over one another, both gadgets offer good value for money and in the end, it all comes down to your personal preference.