A Dream on a Wheel: RYNO Motorcycle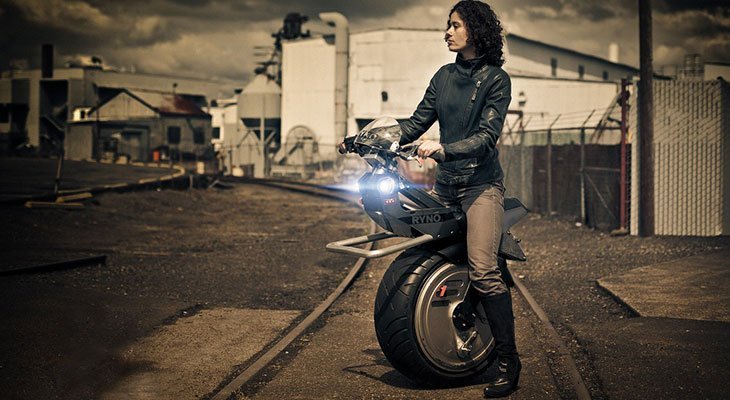 How often have you seen a child's dream being an encouragement for one of the coolest inventions? Can't say? But Chris Hoffman's RYNO Motorcycle is definitely inspired from her 13 year old daughter's dream. As Chris Hoffman states: "Seven years ago, my 13 year old daughter saw a one-wheeled motorcycle in a video game. She asked me if I could build one. I started playing around with designs and seven years later, here we are."
But what exactly a RYNO is? It's not mere a concept of today, but a prototype that has been in its construction, testing and trial phase for nearly seven long years. All the efforts and hard work has paid off with this fully functional and ready-to-hit-the-road version of RYNO. It is a single-wheeled, zero-emissions motorcycle using a technology that is somewhat similar to Segway, but more advanced.
RYNO employs "body positioning" for acceleration and deceleration. Move slightly upright to accelerate and slant back to decelerate. Quite like Segway, but using only one wheel rather than two. RYNO comes with a custom-built steel frame, at-rest bumpers, adjustable seat for different riders, 12V DC power plug, two high output SLA batteries offering 10 miles of travel and LED headlights.
Recommended for you (article continues below)
While designing and manufacturing RYNO, safety-whilst-driving has carefully been tackled. Fitted with a 240-millimeter-wide motorcycle tire (one of the largest tires), giving all the traction and road grip required for a safe ride. Weight limits have been set to reduce the risk of damage to the machine and safety of the rider. The rider must weigh at least 45-kg (100 lbs). The maximum payload including the weight of rider along with cargo is 117 kg (260 lbs.). The total weight of any handlebar cargo plus any additional attachments hanging from the handlebar should not exceed 4.5 kg (10 lbs.).
RYNO with a top speed of 25mph and a range of 30 miles will be available at a retail price of $5,295, once it hits its full scale production.
Source: RYNO Motors