Declutter your home inventively with the Clutterfree app!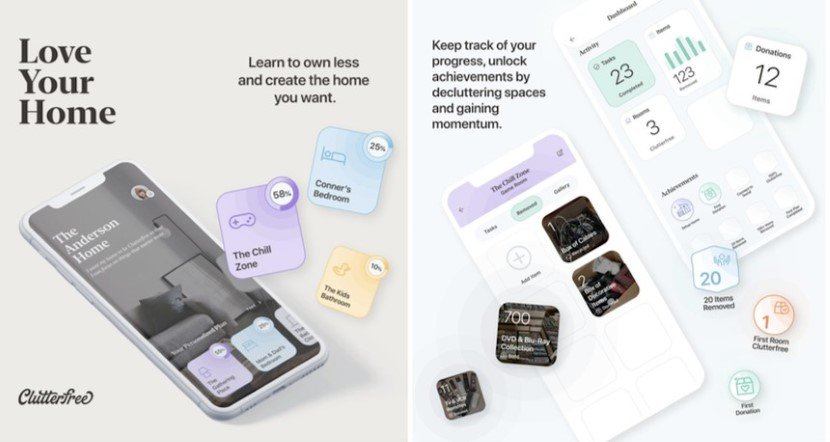 Declutter your home
Many, infact, most of us find it hard to declutter our houses for several reasons. Reasons being, busy schedule leading to the shortage of time, not having good management skills or simply because some of us are lazy enough to think through this. Usually, the process to declutter your home and how to manage takes the most of our time.
There is no doubt in believing that most of us would take a sigh of relief if someone helped us in deciding how to declutter and we just did the end part i.e. moved things around.
What if there was an app to help you with that? Yeah, an app has already been developed named 'Clutterfree' for the very purpose. No doubt that would save up a lot of your time. Not to mention, thanks to science and technology for bringing forth innovation and making things simpler for us.
The all new app called Clutterfree is developed by Joshua Becker, a minimalism expert, who is now taking his philosophy to another level with this app. He has published multiple books, written impactful blog posts and offered courses on decluttering to teach and inspire people over the years. The app offers a detailed guide on how to declutter your home.
The feedback and progress have been convincing so far as over 20,000 have signed up for the app within just a couple of weeks of the launch. It's not exactly a shocker since people have a lot of time on their hands while they are home-bound and its spring season which gives people an inherent urge to clean.
A problem that people might face while decluttering would be in disposing off their items and simultaneously, charities not taking donations because of either lack of resources to manage them or fear of contamination. In the meanwhile, it is still a good time to declutter your home and find a place to store these items like in a storage area, garage or a spare room.
Recommended for you (article continues below)
How does the app help to declutter your home?
The user description of their homes is provided to the app and it basis its recommendations on the kind of description provided by the users. Adding to its uniqueness, the app does not just offer a similar general guideline for every user rather it gives each user a proper customized plan that is best in accord with their description.
Each user, while signing up for the app has to describe their homes including details on the number of rooms, specifying each category i-e. living room, dining, bedroom etc. and gauging the difficulty level that the user might experience when decluttering the area. After completing this step, the next thing that is to be done is creating a priority list with a checklist for each of the separate rooms summing up what is to be executed. Upon finishing the tasks, they can be checked off, which updates the progress bar appearing at the screen-end.
Benefits of using the app
Keeping track of the progress made is invaluable to the process as it keeps the users motivated. They can even upload pictures on to the app to get a before and after through which they can get featured and get access to several articles and suggestions written by experts in the field which motivates you to remain focused. It also helps people to keep track of the items they may donate for taxes.
Now that people are spending a lot more time in their homes than anticipated, it could actually be cathartic to declutter your home and use the Clutterfree app to make the most of this experience. Starting off, it offers an initial trial period lasting 7 days after which it charges a fee of $5.99 each month. So what are you waiting for?