Crop One is going to establish the world's largest vertical farm in Dubai
While the population increases exponentially, the Earth's finite resources almost stay constant; this calls for sustainable use of resources. Keeping in mind the limited availability of land, Emirates Flight Catering has collaborated with Silicon Valley's start-up 'Crop One' to establish the world's largest vertical farm in Dubai!
Before we get into the project details, let's first understand the concept of vertical farming. It refers to the growth of crops in high-rise buildings, thereby reducing the typically large land requirements. Not only does vertical farming require less land, it is also considered to be water efficient as it consumes only one percent of the water of traditional agriculture – a big advantage considering the issue of water scarcity dominant in many parts of the world. In addition to this, this type of farming is also considered to be environmentally friendly as it doesn't involve the use of herbicides or pesticides. Vertical farms can be set up anywhere, be it on ships, trailers, apartments or even in space (remember The Martian?).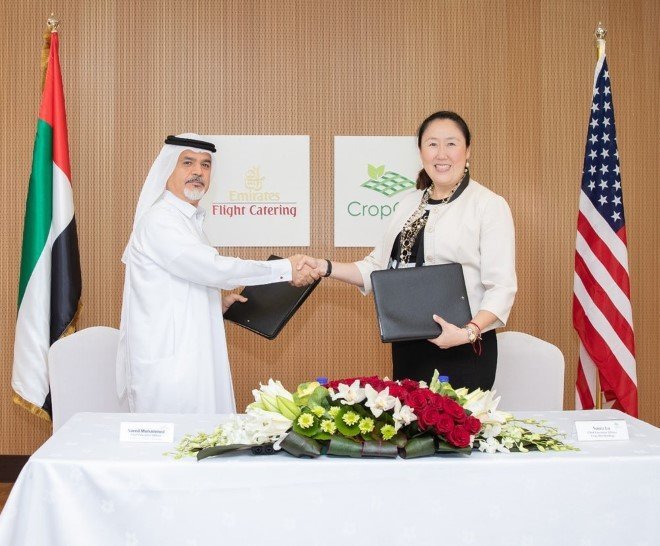 Recommended for you (article continues below)
Image: Crop One
According to the team, this vertical farm will cover an area of 130,000 sq. ft. (12,000 sq. m) and is expected to produce as much food as 900 acres (364 ha) of conventional farmland under optimum conditions – the anticipated yield being 2,700 kg per day. For now, this farm will grow various salads and green vegetables for Emirates Airlines passengers. As per the plan, the facility is to be set up next to Dubai's Al Maktoum International Airport, which indicates minimum transportation expenses and emissions as well as freshly delivered goods.
Previously, FarmedHere's 90,000 sq. ft. (8,400 sq. m) vertical farm in Chicago was considered to be the world's biggest vertical farm, but the title will soon be handed over to Crop One and Emirates as construction begins this November and the first in-flight meals provided by this very farm will be served in December 2019!
References: Emirates Flight Catering, New Atlas