Unveiled at CES 2019, LG's rollable TV is hitting the markets this spring
It has been a year since LG showcased its prototype of 65-inch rollable TV. Now, the company is planning to bring it as their flagship 4K OLED TV to the market for 2019. The consumers will be able to buy the finished Signature OLED TV R sometime this spring – for a premium price. Although it is similar to the prototype, the base station has been refined by LG, and for powerful built-in audio, a 100-watt Dolby Atmos speaker is added into it.
The TV makers are starting to realize that not everyone likes to have a big, black rectangle as the center of attention and most people don't have a TV in their living room. So, they are focusing on the aesthetics and are now designing products that can blend into the home's environment in a better way. This TV from LG can appear when you want it and disappears when you don't. Similarly, Samsung has introduced The Frame that acts as a hanging piece of art on your wall. When it's not in use, it switches between museum-content and some pieces by Van Gogh. Serif is also made by Samsung that looks like a piece of furniture, having a built-in shelving unit on top. But one thing worth noting here is that all TVs except the new one made by LG are always there and occupy space.
LG always takes the lead by going further, and this time they came up with a TV that can completely go away when you aren't watching it. It drops into the base very quietly, steadily and slowly and with only one push of a button, it can rise back up in around ten seconds. However, it doesn't come with a transparent base for the nerds to see the actual "roll" when the TV comes in or unfurls, but it looks stylish. LG has not made many functional changes to the LG Display prototype other than the changes made to enhance the base. There is no word about the durability tests conducted for OLED TV R, but this information would surely be available in the future that how many times the display is tested to go up and down.
This futuristic rollable TV comes with a mode that is known as "Line Mode." During this mode, only one-fourth of the panel shows up, giving you on-screen music controls and the option of controlling smart home gadgets. Some mood-setters have also been included in it, like the rain sounds and crackling fireplace. Google Assistant is already integrated into their webOS software but this year they have added support for Alexa voice controls, and with the single press of the Prime Video button on the remote, you can bring up Alexa. For device mirroring or easy media playback, LG is one of the few companies that is adding Apple's AirPlay 2.
Recommended for you (article continues below)
The music can be played on the speaker system from Atmos even when the TV is fully rolled up. The port selection is allocated at the back of the base. With its 2019 series, LG is making a move to introduce HDMI 2.1 to its futuristic TV. LG is confident that the customers won't lose anything when compared with the standard OLED sets regarding its performance or when it comes to its picture quality, contrast, brightness, and their powerful Alpha 9 processing chips. The customers will get all of the OLED hallmarks like great viewing angles, perfect blacks, and a wide mix of vivid HDR color.
For years, LG has been teasing with their rollable, bending displays at CES, but this time their product is ready for the consumers and it for sure will be expensive. The pricing for the company's "Wallpaper" OLED TV started at $8,000, but since this TV is more impressive than its wallpaper OLED TV, therefore, it will be significantly pricier than that. It is expected that their rollable 4K TV will hit retail in the spring – probably around March.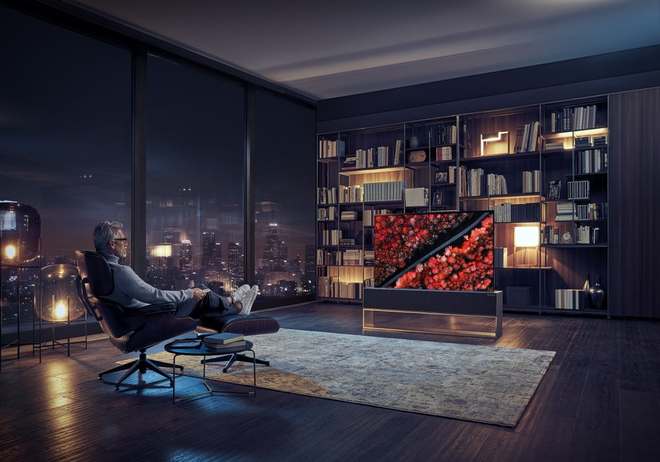 All Images: © LG
h/t: New Atlas