These winning entries from 'Underwater Photographer of the Year Contest' will leave you mesmerized
Photography is undoubtedly a challenging passion to have but underwater photography is a different thing altogether. To get the perfect composition in freezing cold water over long nights is a task that truly deserves acknowledgement and appreciation. Underwater Photographer of the Year Contest is a platform doing just that. Check out few of the winners and runner-up from different categories right here.
---
Recommended for you (article continues below)
"CYCLE-WAR" by Tobias Friedrich
Winner: Underwater Photographer of the Year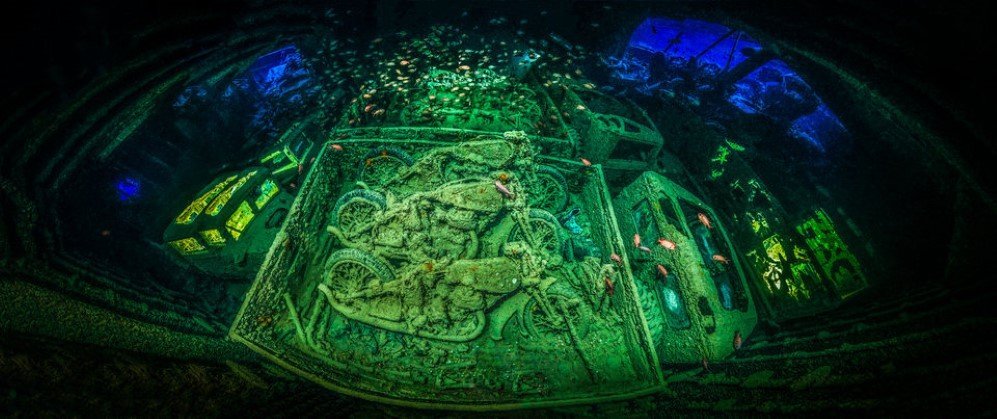 Image & Caption Credits: Tobias Friedrich
"For a few years now I had had this image in mind as the motorcycles on this truck inside the Thistlegorm lie so perfectly together, but you can only barely capture it because the wall is very close and you can't move backwards enough to capture the whole scenery. As a result I had to create a panoramic image of the same scene to capture the whole cargo deck, including some lights that give the image more depth."
---
"Love Birds" by Grant Thomas
Winner: British Underwater Photographer of the Year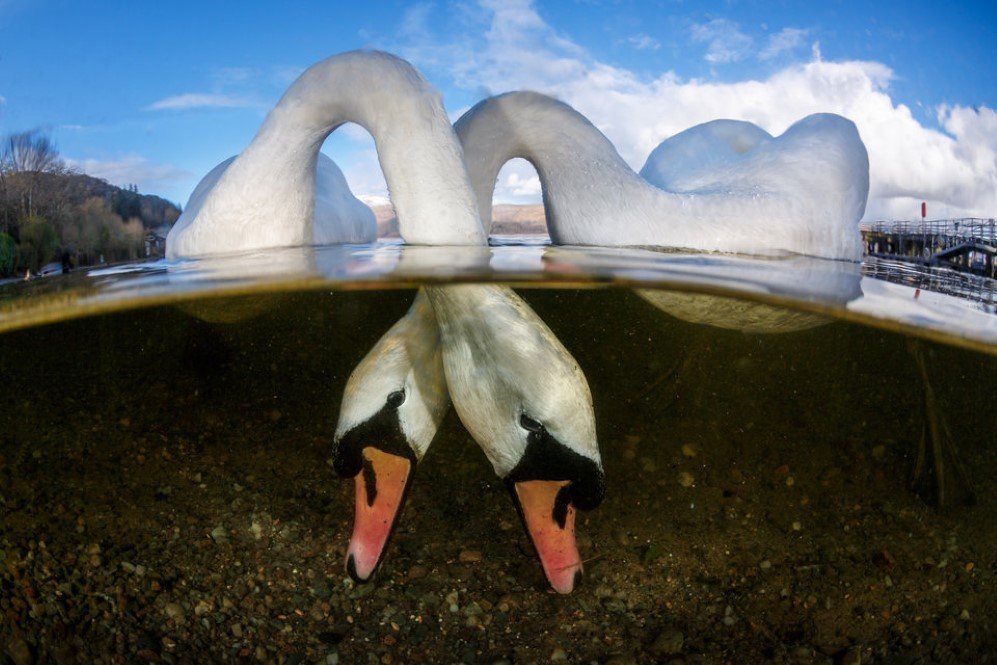 Image & Caption Credits: Grant Thomas
"I chose Loch Lomond as the location for this shot due to its idyllic scenery, water access and friendly swans. My initial idea was to frame a split shot of one swan feeding below the surface of the water but when I noticed how comfortable they were around me I was confident, with some patience, I could get that magical shot of the two. It was mid-day, sun high in the sky, I waded slowly into the shallow water, allowing the swans to become comfortable with my presence. When they began searching for food below the water line I just had to wait for that perfect moment of synchronicity."
---
"How many pike?" by Tony Stephenson
Winner: Most Promising British Underwater Photographer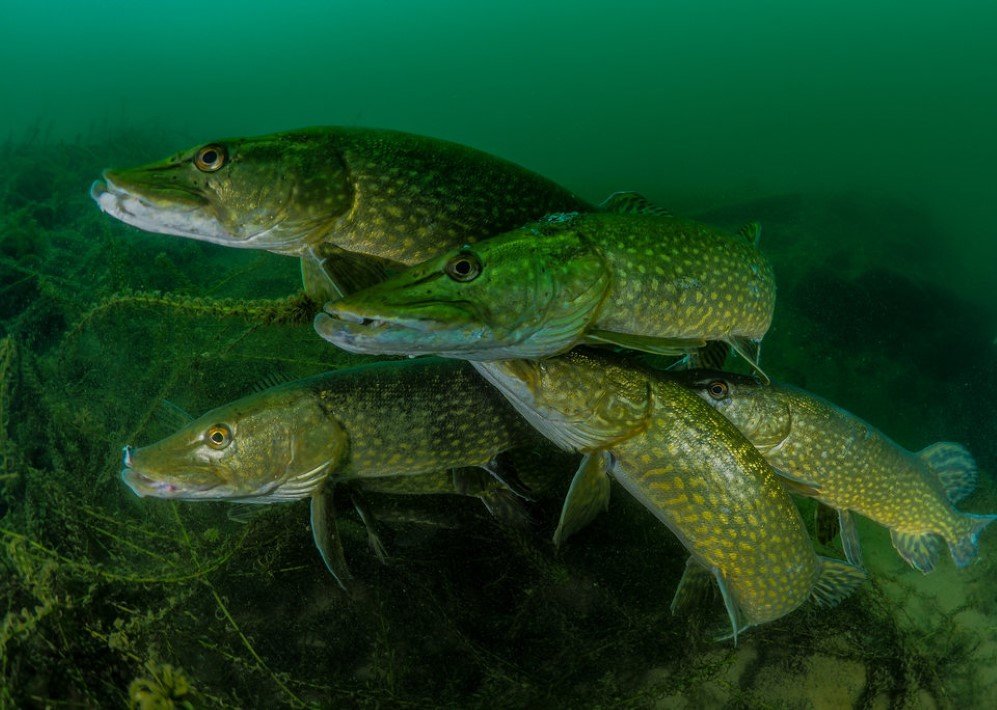 Image & Caption Credits: Tony Stephenson
"I love photographing pike and on this particular dive during the Easter holidays, a 'group' of males were looking for a mate. Once they found one they pursued her relentlessly and were completely transfixed on gaining her attention. This allowed me to get close in front of the fish, fill the frame and aim to get lots of good eye contact. I was delighted by the results."
---
"ROAR" by ManBD UiDive
Winner: Up and Coming Underwater Photographer of the Year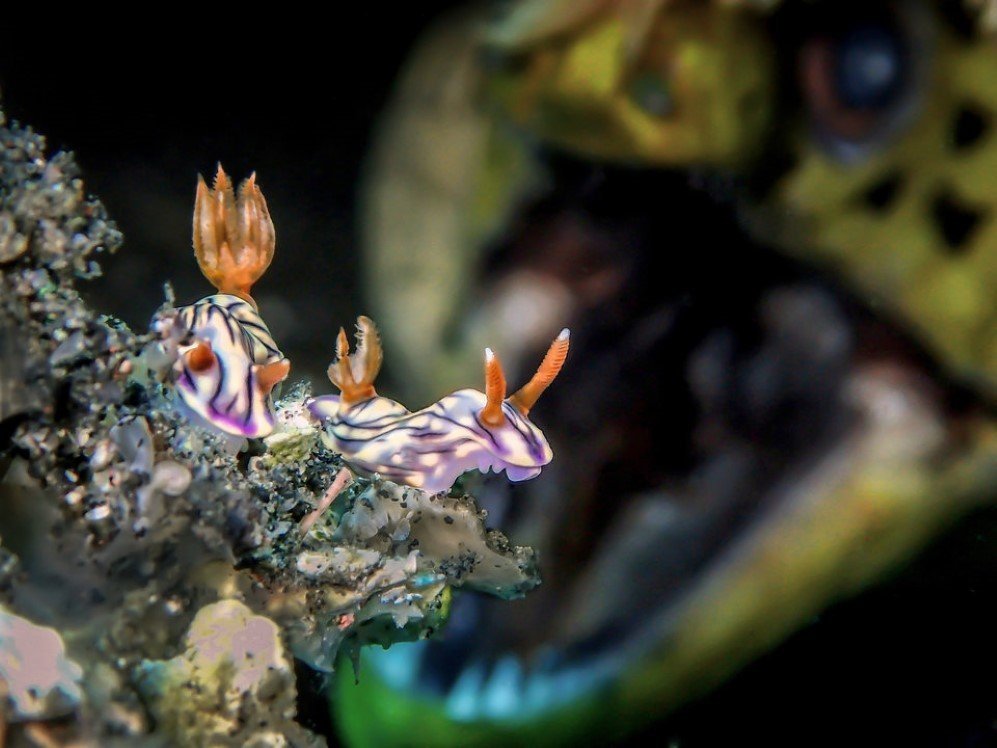 Image & Caption Credits: ManBD UiDive
"When I was shooting this nudibranch I was focusing on its behaviour to get just the right shot. While this happened a moray eel suddenly appeared out from the blue behind the nudi. To my surprise, another nudi appeared right behind the other one maybe to mate. I then decided to wait a while longer for the nudi to be in frame with the moray eel roaring behind. It took about 30 minutes to get this shot and it was well worth it."
---
"Humpback Whale Spy Hopping" by Greg Lecoeur
Winner: Wide angle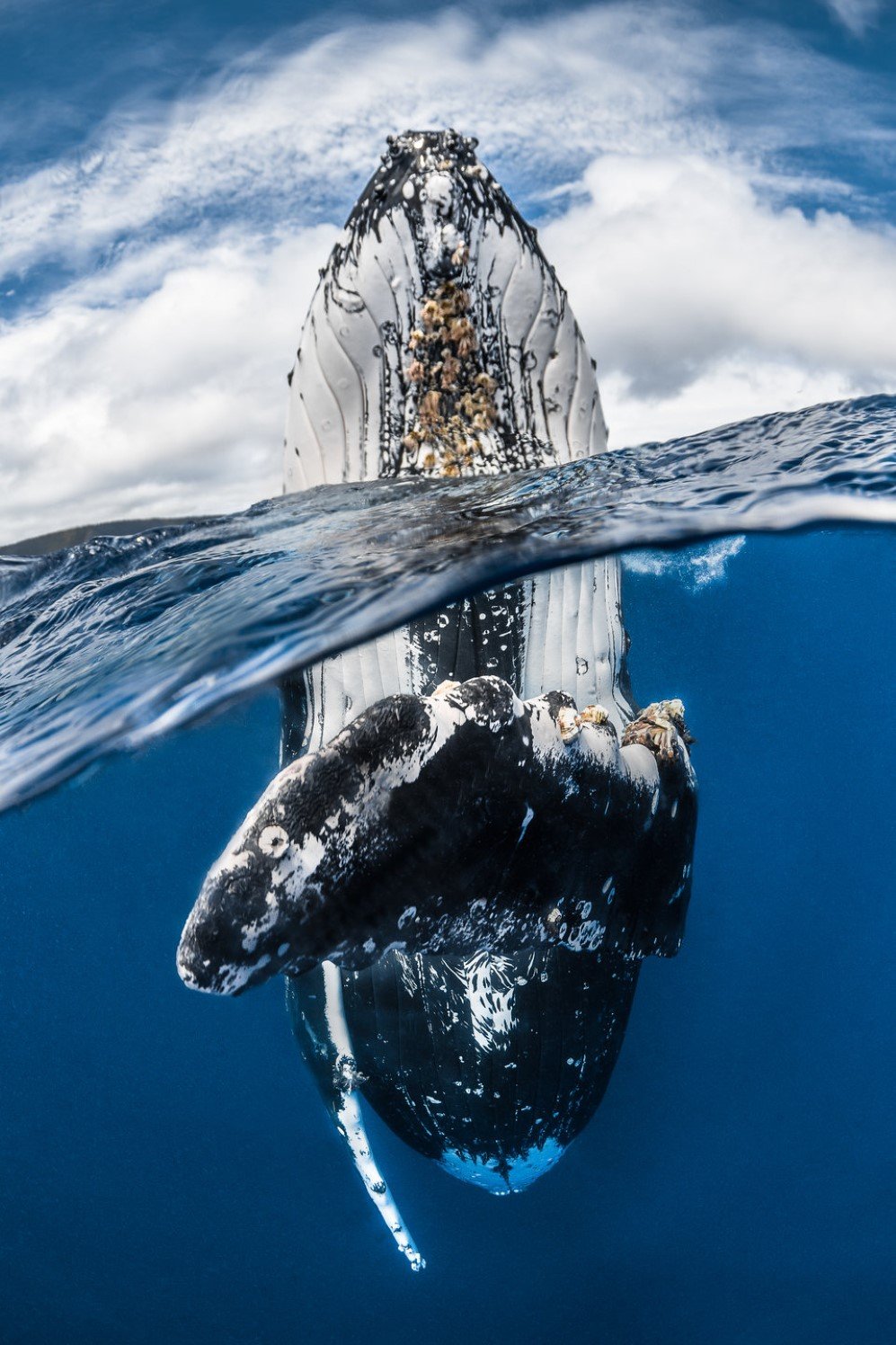 Image & Caption Credits: Greg Lecoeur
"Tonga offers probably the best opportunity to interact with the whales in blue water. Although weighing several tens of tons this mammal showed incredible agility and power in holding itself vertically in the water. It was very impressive and we could feel the power of nature but we were also invaded at the same time by a feeling of gentleness. I had the chance to freeze this moment with a split shot to recreate a spectacular moment."
---
"Seahorse Density" by Shane Gross
Winner: Macro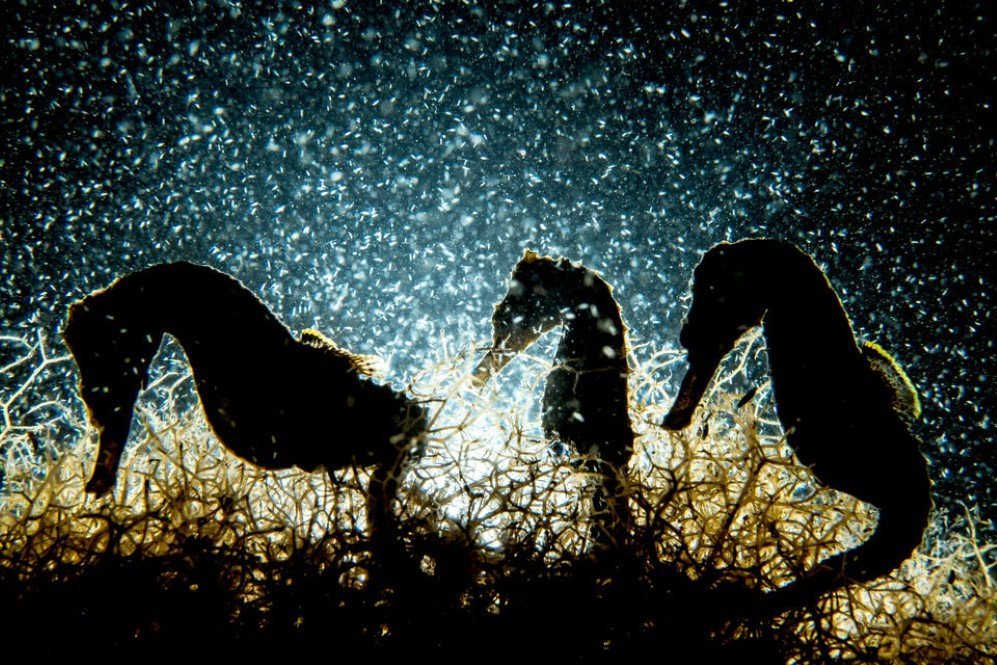 Image & Caption Credits: Shane Gross
"The pond I was in has the highest density of seahorses on Earth, but I've never seen three together like this before. I was camping on shore and had all night to shoot with the idea of backlighting a single seahorse, but finding three together was a real gift."
---
"Scratchy Seal" by Vicky Paynter
Winner: British Waters Compact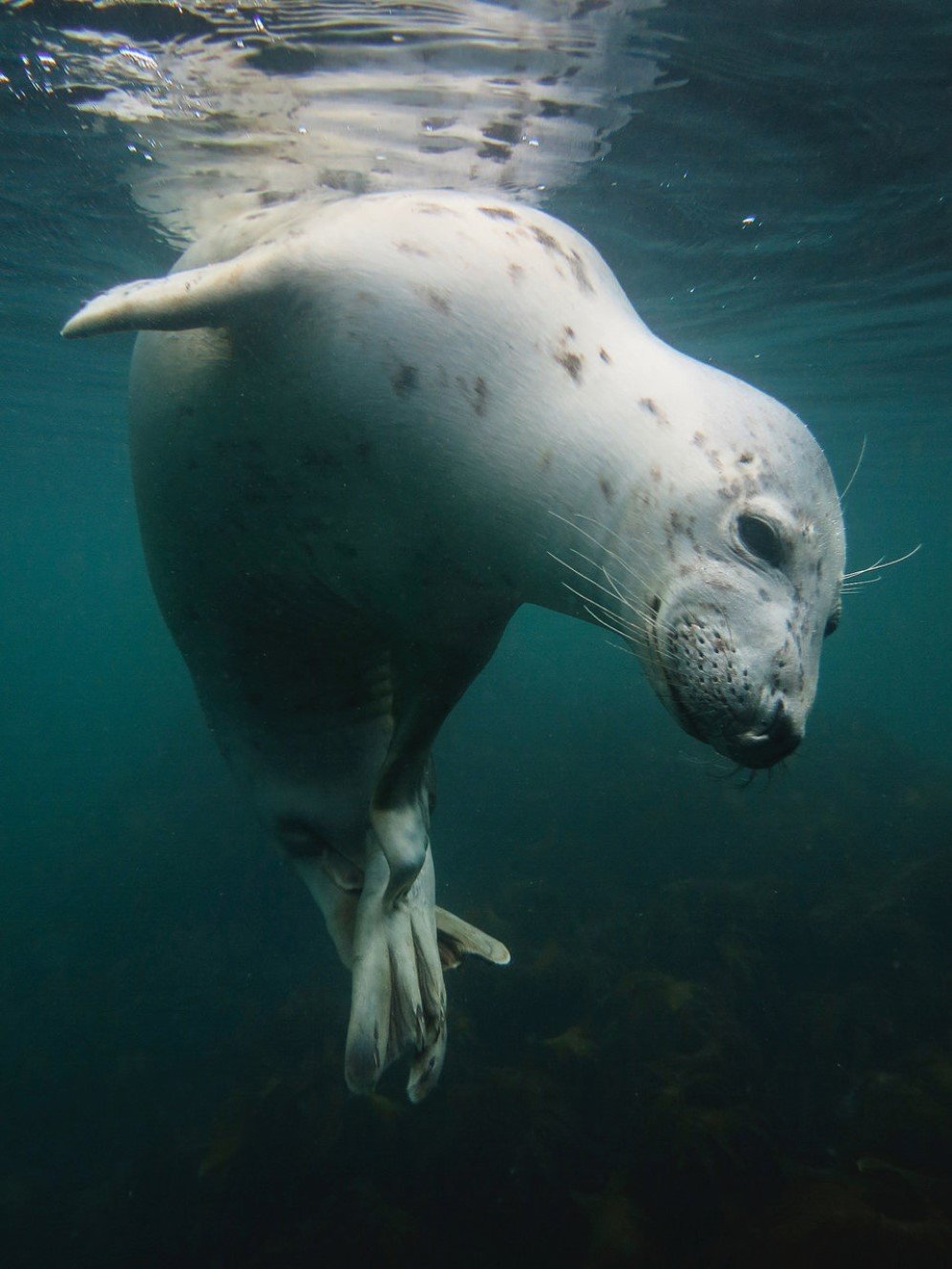 Image & Caption Credits: Vicky Paynter
"The Farne Islands are home to thousands of grey seals (also known as Atlantic seals), and each autumn hundreds of pups are born here. We'd arrived just before then but there were still plenty of younger seals keen to interact and explore these strange bubbling divers."
---
"Battle of the Tompots" by Henley Spiers
Winner: British Waters Macro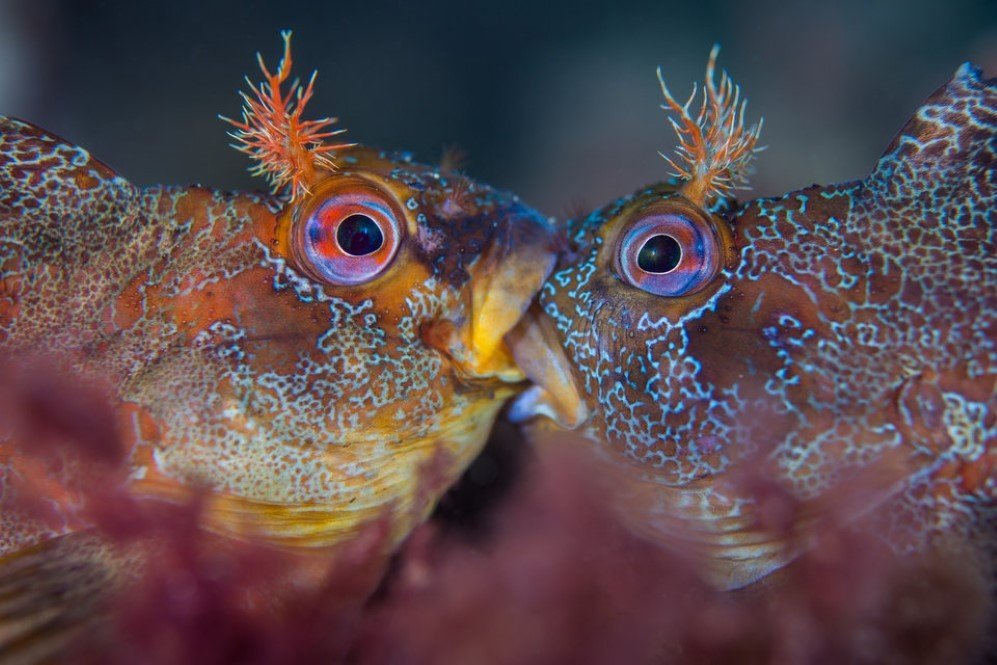 Image & Caption Credits: Henley Spiers
"Despite appearances, these two Tompot Blennies are not kissing but engaged in a ferocious battle over mating rights. The British summer is mating season amongst Tompots and competition is fierce."
---
"Shark Speed" by Nicholas More
Runner up: British Waters Wide Angle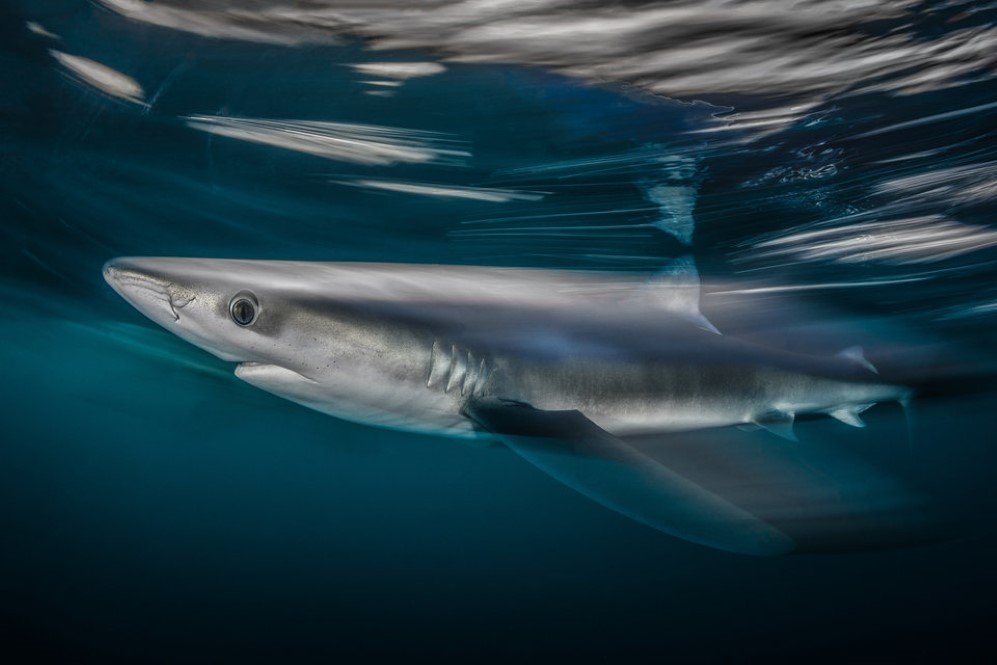 Image & Caption Credits: Nicholas More
"Each summer, I make a pilgrimage to Cornwall for a chance to interact and photograph blue sharks as they seasonally visit UK waters. On this particular day we had overcast conditions which allowed for slow-shutter speed 'panning' shots to capture the beauty, grace and speed of these charismatic predators, resulting in a dynamic portrait of these stunning animals in their open ocean environment."
---
'Friend or Food?!' by Songda Cai
Runner up: Macro
Image & Caption Credits: Songda Cai
"I've had many encounters with this conger eel and I've taken a few photos, but never have I seen it in such a picturesque manner as this, as if drawing you in by coiling its body and at the same time darting its eyes on a lone prey."
---
'The Hammer' by Jacob Degee
Runner up: Up and Coming
Image & Caption Credits: Jacob Degee
"The Great Hammerheads were slowly circulating around us. It was my last chance. The last opportunity to do what I had in my mind for months. 'Stay calm, be patient' was constantly echoing in my mind. Sitting on a soft sandy bottom, facing against the sun I could have only waited. And there she was coming directly at me."
---
'Safe Navigation' by Gianni Pecchiar
Runner up: Wrecks
Image & Caption Credits: Gianni Pecchiar
"There was only one chance to get this shot without disturbing the sediment."
---
'Morning Flight' by Filippo Borghi
Highly Commended
Image & Caption Credits: Filippo Borghi
During spring time from April to June on the coast of Baja California we can witness one of the most impressive migrations of the sea. Thousands of mobula ray's migrate along this coast. I try many times to find this incredible behavior but some how this has not occurred. This year, during a morning safari on the sea we saw a different group of beautiful mobular. I jumped in the water and we followed them for a couple of hours and during this time a small group moved into a shallow area where I was able to shoot in great light.
---
'Blue Nudibranch'by Ace Wu
Commended: Macro
Image & Caption Credits: Ace Wu
It is not easy to combine blue light in a traditionally lit image.You need to make the subject pop up while integrating the blue light into the photo naturally.
---
'Cenote Nariz' by Herbert Meyrl
Highly Commended: Wide Angle
Image & Caption Credits: Herbert Meyrl
Cenote Nariz is the entrance to a large cave system in Yucatan that I dove for the first time with my 3 buddies Tom Groesslinger, Rainer Schwanner and Michael Faatz. When I saw this perfect window opening into a large room ahead of us I signaled my team to stop. After mind mapping the spot I swam very cautiously through the window and placed 2 strobes in slave mode on either side behind the opening. Then I signaled my buddies to swim through the opening. 2 divers should be in the picture, catching the light from those strobes. For background lightning each one held a slave strobe and pointed it backwards. One diver (out of sight) fired off 2 more strobes for even more background lighting. After many photo dives together we have worked out our own signals, so they knew what I wanted and they performed perfectly.
---
'The Real Illusion' by Konstantin Killer
Highly Commended: Wide Angle
Image & Caption Credits: Konstantin Killer
In my style I put great emphasis on the model and on the background. Everything together must build a perfect picture. A picture must be able to tell a story and have a special effect. Another special feature is the effect lighting with underwater flashes which distinguish my photos from others. I love challenges and especially difficult shots. Most photographers are afraid of these challenges but I'm pretty good here, and this is exactly where I want to be. "Only your own Imagination sets the limit to possibilities"! I am working according to this motto. A photo shoot in 7 meters deep, in a diving pool Dive4Life Siegburg, Germany.
---
'Unusually Parked Car' by Pekka Tuuri
Highly Commended: Wrecks
Image & Caption Credits: Pekka Tuuri
This car went through the ice but luckily nobody was hurt. My friend dove the car and told me that it was a perfect photo subject. I drove four hours to get there on a sunny day. We cut a hole in the ice 20 meters away. When I got to the car I could not believe my luck. The car was perfectly placed on a slope and in shallow water so that I was able to get the icy ceiling in the picture. The picture is a manual blend of two images.
---
'Evening Snorkel' by Brook Peterson
Third Place: Wide Angle
Image & Caption Credits: Brook Peterson
I was practicing sunset split shots in the calm waters around Ras Um Sid when I noticed several people walking down the pier with snorkel gear. My first thought was to wait until they were out of the way, but then I realized that THEY were the story. I wanted to preserve how the colors in the sunset seemed to mimick the colors of the corals so I decided a silhouette shot would meet my needs best.
---
'Tannic water at Cenote Carwash' by Tom St George
Commended: Wide Angle
Image & Caption Credits: Tom St George
Maybe once a year due to prolonged and heavy rainfall the water at Cenote Carwash can become very tannic; meaning the water is stained a reddish brown by the tannins from decaying leaf and other organic matter in the run-off from the jungle. As soon as we dropped down through the water it was clear that things were very different from a usual dive at Cenote Carwash. It was extremely dark due to the tannic water filtering out a lot of the light (hence the high iso). The light coming through the water was very red and a bit like diving on Mars! I knew immediately that I wanted to take the classic 'Cenote Carwash entrance' shot but with this very different background with the intense shades of red.
---
'Swarm' by Rick Ayrton
Highly Commended: British Waters Macro
Image & Caption Credits: Rick Ayrton
I had been under Swanage pier for over an hour, I was getting cold and making my way back towards the entry steps. A little before getting back to the harbour wall there was a piece of the old pier with a hollowed out end. My eye was caught by movement within, a multitude of very small creatures moving fast to & fro. I had little time available and I fired off a few shots hoping the Nikon focusing would do its job. I had no idea what I had captured until I downloaded the images for review. I cannot say precisely what it is other than saying it is larval forms of a marine critter. I had a slow shutter speed dialled into the camera but the dark scene was frozen by the light from the flashguns. This is definitely a subject I would like to return to.
---
'OCD Diver Tries To Right Shipwreck' by Susannah H. Snowden-Smith
Highly Commended, Wrecks
Image & Caption Credits: Susannah H. Snowden-Smith
For six years, the 251 foot long ex-USS Kittiwake sat upright where it was sunk as an artificial reef. On October 8, 2017, it was discovered that powerful surge from passing hurricane Nate had rolled the ship onto its side. I raced to find a dive operator to take me out there, and was able to dive and document the shipwreck the very next day. I was showing those initial photographs to my husband and my friend when I had an idea: "Wouldn't it be funny if a diver with Obsessive Compulsive Disorder (OCD) was so bothered by the ship being on its side that they tried to right it?" The idea for a photograph was born! My friend Simon Claeys modeled for me in the photograph. In order to make it look authentic, Simon actually 'attempted' to push the ship upright. The bubbles in the photograph are from his effort.
---
'Surrounded' by Fan Ping
Runner up: Wide Angle
Image & Caption Credits: Fan Ping
Shark behaviourist Ms. Cristina Zenato has been studying Caribbean Reef Sharks near Freeport in The Bahamas for over 24 years The unique bond between her and the sharks allows her to get really close to them without putting them into tonic immobility and this has been helping many scientists, photographers and conservationists better understand and protect this beautiful species. Unlike in the movies, sharks in fact seldom attack humans on purpose and humans are not on their menu at all, on the contrary countless sharks are killed by humans just for their fins. Without these ancient animals the ocean will be completely different, and it will eventually become a disaster for mankind.