Hit the jackpot in online gaming through Twitch Bits!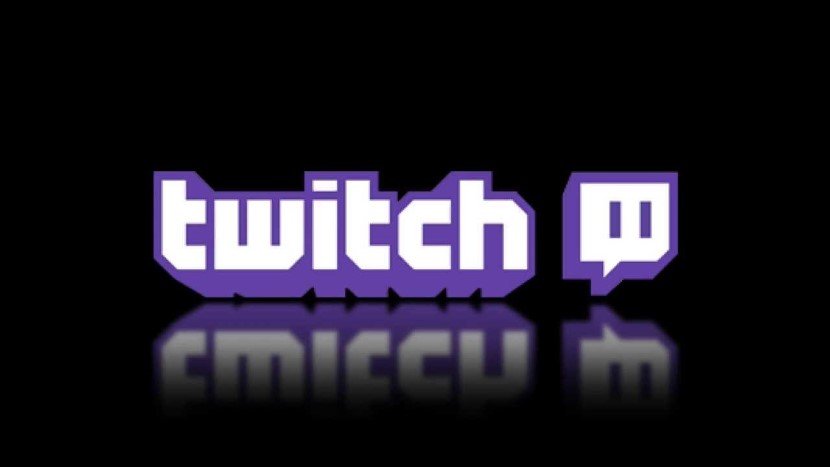 Image credits: Twitch.tv
A few decades ago, you would have been considered crazy to believe you could pay your bills simply through gaming. However, times have changed and now, gaming has become a credible way to make money online. The best thing about it is that you do not have to be an exceptional player; as long as you are entertaining your audience, you're good to go. During your time on the Internet, you might have heard of Twitch, even if you haven't, we are here to guide you on that. Twitch is a video live-streaming platform which was introduced back in 2011. Since then, it has opened doors for numerous gamers in the online gaming industry. It is ultimately the preferred platform for gamers who wish to live-stream their gameplay and earn money through Twitch bits.
Despite being a significantly smaller platform than YouTube, Twitch has gained the respect of gamers as it is dedicated solely to live streams, unlike YouTube. Several gamers on Twitch have influenced the gaming community and are earning money through that.
So, exactly how much money can you make by streaming on Twitch?
Types of Twitch Users
The type of Twitch User you are categorized as, affects your ability to make money through Twitch. Everyday users are usually uninterested in making money and spend their time supporting broadcasters. They must first gain a stable following and meet the criteria to become a Twitch Affiliate; a partnership program of Twitch.
If you are aiming to make money, the initial step is to become an Affiliate. The Twitch Affiliate Program looks for streamers who have at least:
50 followers
500 total minutes broadcast in the last 30 days
7 unique broadcast days over the last 30 days
average of 3+ concurrent viewers over the last 30 days
Once you become an Affiliate, the next step is to become a Twitch Partner. To meet the criteria for becoming a Twitch Partner, you must:
Stream for 25 hours in the last 30 days
Stream for 12 unique days in the last 30 days
Reach 75 average viewers in the last 30 days
Once you meet these criteria, you can send in an application to officially be labeled as a Twitch Partner. The applications are reviewed manually and it can take up to 7 business days to receive a response.
You can finally start earning money as soon as you are accepted as a Partner! Although, you would not start earning big numbers immediately, however, with enough devotion you could make big bucks.
But where would you get all this money from?
How are Twitch Bits the most essential source of income out of all the sources?
There are five ways available to Twitch streamers to earn money on Twitch including subscriptions, sponsorships, advertisements, donations and Twitch Bits.
Subscriptions bring in a large portion of a streamer's income. As soon as you become a Twitch Affiliate or Partner, a subscribe button will appear on the top right of your streams.
There are three tiers of subscriptions which are automatically renewed every month.
Tier 1: $4.99 per month (1 Subscriber Point)
Tier 2: $9.99 per month (2 Subscriber Points)
Tier 3: $24.99 per month (6 Subscriber Points)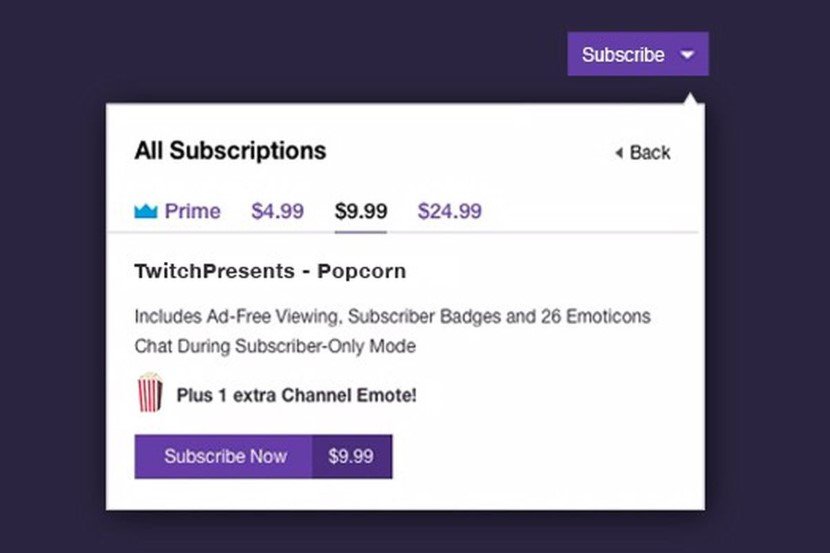 Your followers could be persuaded to subscribe to your channel if they find you interesting or worth spending their money for. Maintain a positive influence so you could be considered worthy of your subscriber's money. Once you gain a certain number of subscribers, you can upload personalized emotes which can be used by viewers in chats.
Subscribers are given special benefits which can differ according to the streamer. These benefits include ad-free viewing, exclusive chatrooms and competitions, special stream alerts, badges, and custom emotes.
A streamer receives only 50% of the subscription fees, but top-tier partners can receive up to 70%. Although, streamers are not allowed to reveal their income, if we assume a 70% cut, the top streamers make from $20,000 to $65,000 monthly, which is an insane amount to be made by playing games.
Seeing the number of users spending their time on Twitch attracts companies that wish to advertise their products. Companies that sell products related to tech or gaming pay streamers, with a large number of average viewers, to promote their products.
Streamers who manage to land a sponsorship can get paid anything between a cent to a dollar per viewer per hour, in a stream where they actively promote the sponsored product. This totals up to between $1,000 to $10,000 per hour of a stream with 10,000 live viewers. These numbers vary according to the company sponsoring the streamer.
Running advertisements is the most common way to earn money on any platform. Twitch streamers can choose between ads of different lengths, from 30 seconds to 3 minutes, and are paid accordingly. They can also choose between pre-roll, mid-roll, or post-roll ads, whichever they believe would keep their audience engaged.
Streamers can play advertisements whenever they want, as long as they are played at least 8 minutes apart. Advertisements are usually played when the streamer needs a break, to not displease the audience or interrupt the gameplay. They must carefully select the right number of advertisements which would benefit the streamer and not result in the viewers clicking away in irritation.
Streamers are paid by Twitch according to the CPM, or cost per mille, which means cost per a thousand views. This cost may waver from time to time, especially during the holidays or an anticipated game release or product launch. Regardless, the amount a streamer earns from ads is mostly confidential, as Twitch has signed a non-disclosure agreement. Generally, CPM rates are around $1 or $2, but they can reach as much as $5.
Despite these rates, most Twitch streamers prefer not to display ads, as it could lead to a drastic decrease in the number of viewers.
Streamers with a devoted fan base also often receive donations. These donations can be through third-party sites such as Patreon, which is a platform commonly used by YouTubers and creators.
Streamers can also receive donations through Twitch Alerts which makes interactions with fans more efficient.
However, third-party donations have their drawbacks. Several scams and fake donations have been reported, where the donator withdraws the donations and causes the streamer to lose the donations.
Twitch Bits are possibly the most essential source of income for a Twitch streamer. They can be considered a token of support presented by fans. But what exactly are Twitch Bits?
Twitch Bits are also a type of donation from the viewers in the form of virtual currency. Twitch Bits can only be received by Affiliates and Partners; they are paid 1 cent per bit donated by a fan. Similarly, by converting these Twitch Bits into USD, a donation of 100 Twitch Bits pays the streamer $1, 1000 Twitch Bits pays $10, and so on. Let's see how can viewers purchase these Twitch Bits.
How can viewers purchase Twitch Bits?
Viewers can purchase Twitch Bits directly from Twitch itself using PayPal or Amazon Payments.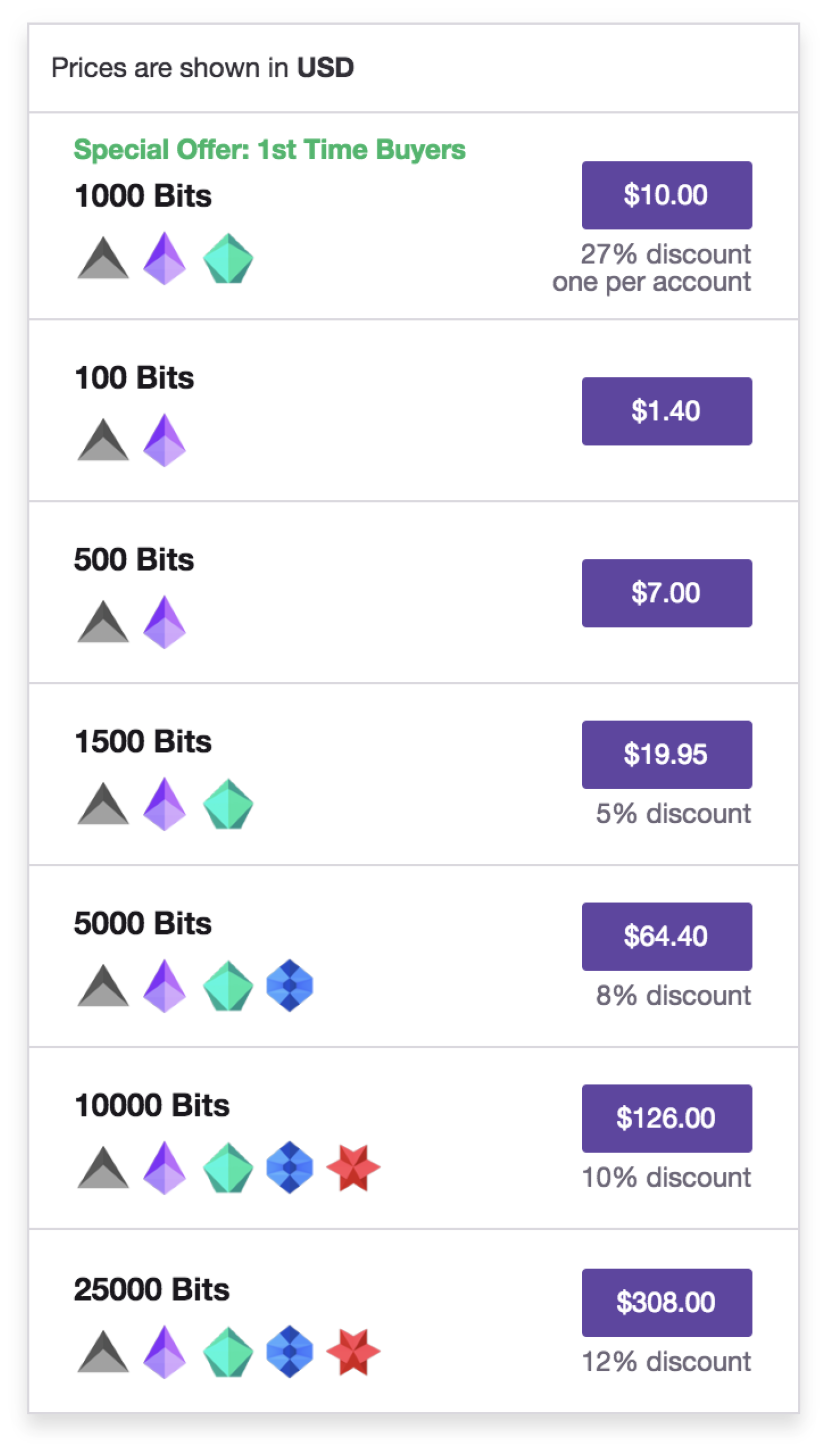 Viewers can also earn them by watching advertisements or participating in official Twitch activities such as completing surveys on TwitchRPG. You can earn 500 Twitch Bits upon completing a survey on TwitterRPG. There is no limit to the number of free bits you can earn.
There are obviously some restrictions to earning free Twitch Bits.
Free Twitch Bits earned through ads can not be cheered on your own Twitch Channel.
Getting Twitch Bits through bots or scripts on multiple accounts is not allowed.
Twitch bans any channel violating these restrictions, so it is important to remember not to abuse the free Twitch Bits resources.
Receive support from viewers through Twitch Bits Cheering

There are several ways Twitch Bits can be used instead of directly donating to the streamer. Twitch Bits can be used to purchase emotes and chat during a stream. This is known as Cheering, a feature first introduced in 2016. Spending more Bits on chatting and purchasing emotes can earn you a Cheer Chat Badge.
A streamer has the freedom to set the minimum number of bits a viewer can spend on chats and emotes to prevent unnecessary spamming of singular bits, which can lead to the chat and the stream slowing down.
Use Twitch Bits as tip for streamers
Streamers can also set up a StreamLabs Tip Jar where the viewers have the option to spend Twitch Bits as a tip for the streamer. This can help streamers keep their viewers engaged. This animated jar has an attractive design, and streamers can customize it according to their liking.
External sources of income for streamers other than Twitch Bits

Gamers can widen their horizon and earn through sources outside of Twitch as well, once they have gained a solid fan base. A devoted fan would support their favorite streamers as much as they can, which lands more bucks into the streamer's bank account. Some ways gamers earn money outside of Twitch are listed below.
Livestreams can last up to several hours, and very few avid viewers will stick till the end if you are lucky. So, a large number of gamers on Twitch re-upload highlights from their gameplay to YouTube, where not only can fans watch the video again, but it also allows YouTube users to discover their content and bring about an increase in their fan base.
YouTubers also make a considerable amount of money, from 0.3 to 1 cent per view. Some of the top earners on YouTube make from $10 million to $26, which is mind-blowing!
Fans love to buy merchandise in support of their favorite content creators. Gamers on Twitch can also provide their fans with the merchandise after they are confident about their fan base. Merchandise can easily be launched through StreamLabs' merchandise service.
NickMercs, currently the most subscribed-to gamer on Twitch, also has merchandise available for fans to purchase. He has 1.5M followers on Twitch and 950K subscribers on YouTube and makes $43K to $668K yearly.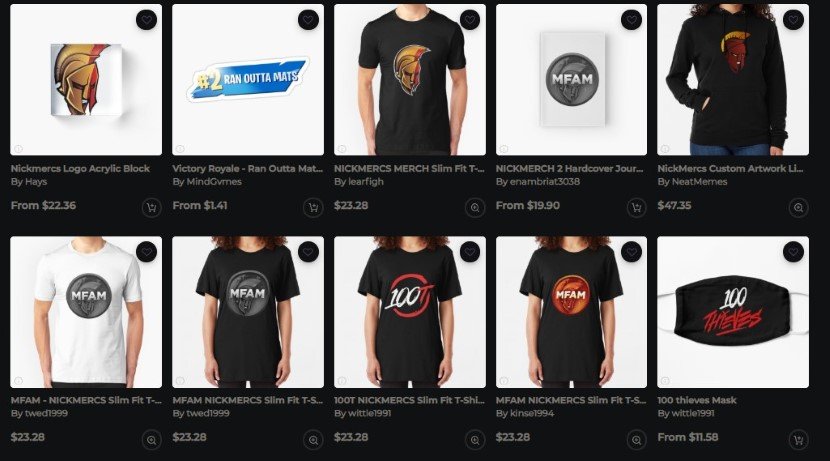 When a Twitch Partner plays a game sold by Twitch, or purchases in-game items, a small sales box representing a purchase offer appears below their stream. If a viewer clicks on the box and purchases an item or game, the streamer automatically receives 5% of the revenue.
Buying these items benefits the streamers, but the viewers who buy will be rewarded a Twitch Crate if they purchase items worth $4.99 or more.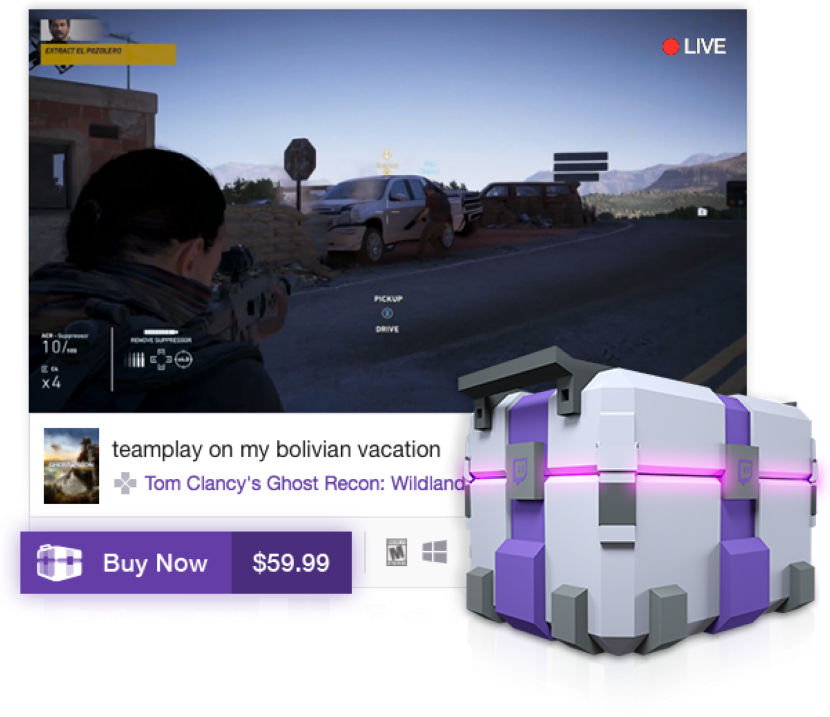 Twitch Partners can also sell T-shirts through the official twitch store, which is currently only available on Amazon.
Tournaments and Competitions
If you consider yourself exceptionally good and capable of beating a professional at a game, you can participate in a competition, individually or as a team. If you beat all your competitors and win, you could receive a huge cash prize. The teams that came first in place in the COD Warzone Showdown held on June 24th received a $6000 cash prize and bonus winnings that totaled up to $10,500!
If you are not confident about competing in an official Twitch tournament, you can still participate in tournaments on ESL Gaming or GameBattles by MLG and earn some money as you stream the gameplay for your fans over at Twitch.
Exactly how much does a Twitch streamer make in total?
In 2018, Disguised Toast on YouTube upload an enlightening video, giving an insight into the income of top streamers on Twitch.
In 2018, he earned $20,000 per month by streaming on Twitch through ads, subscriptions, and donations. Being able to earn this amount just by gaming is miraculous, and opens new doors of opportunities for millions of people.
Don't know where to start? Online courses have got your back
If you are new to the world of content creation then you would be needing some information before you dive into it. Well, it is the world ruled by technology, and everything is just a few clicks away. There are numerous online courses at your service, providing information on a vast spectrum of subjects.
Udemy is a site you can reach out to in order to get started.
The Complete Guide to Twitch Streaming is a much-recommended course, with a 4.4 out of 5 rating and over 2000 students enrolled. It covers every detail regarding streaming on Twitch, the required gear, and information to help build up your fanbase and start earning through your streams.
A bonus of learning on Udemy is the option to request a refund within 30 days of purchasing a course, which is reasonable considering the courses are only a few hours long.
To sum it all up
Despite seeming so, earning on Twitch is not a piece of cake. You must be dedicated to streaming and be willing to accept any backlash or criticism, which are inevitable especially when you are a newbie. You must stream regularly and keep your viewers entertained.
If you are planning to steer your aims towards earning by gaming on Twitch, we wish you the best of luck. Who knows, you might become one of the top streamers in a few years.
Image Credits: Twitch