This weird looking robot head might be your next job interviewer
Here is another innovation in robotics (when are they taking over, you wonder?). Furhat Robotics, a technological Stockholm based start-up, introduced its face-swapping AI robot who can alter its faces and personalities. Furhat (do not get inspired by the name) does one thing better than humans, and that is treating people unbiasedly, while it interacts with them just like other humans do, through communication, listening, speaking, giving emotional responses and gestures, and maintaining eye contact.
Furhat basically is a multi-faced (literally) robot that makes use of a project facial animation system to alter its display on the skull-shaped opaque mask. Life-like faces are projected onto the mask, which can be changed depending on its usage, letting Furhat be a master of identities, taking on any personality desired. By the way, Furhat does not have a body. With the ability to be customized to suit any character, it/she/he comes with pre-installed expressions and gestures.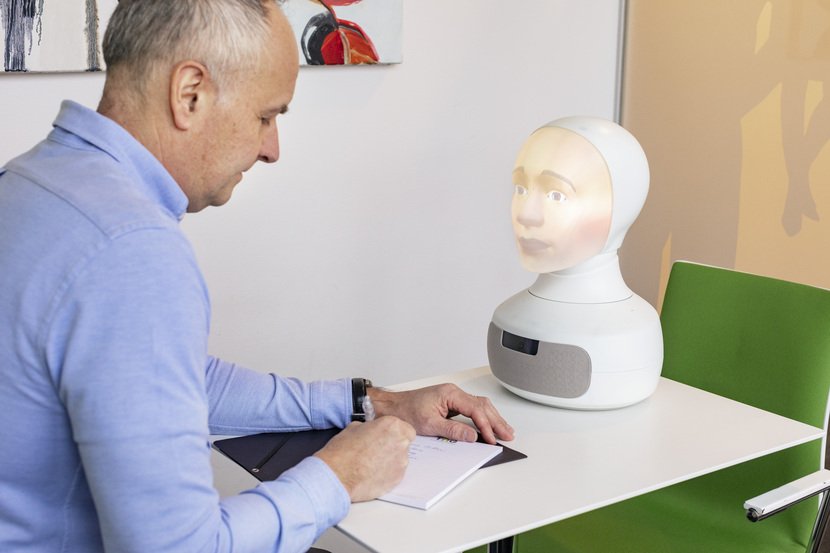 Furhat does not have a stiff neck though, as it is allowed three degrees of movement to impersonate human-type movement, letting it direct its attention to different people and things. Here's the technical stuff: a wide-angle, high dependability camera and beamforming stereophonic microphones allow Furhat (this could be creepy) and Furhat to intermingle with its listeners and speakers. Virtual speech direction is permitted by a pair of hi-fi speakers, 2.5'" in dimensions. As per Furhat, the device can also lip sync to your voice and speech pattern immediately, as it records your voice and analyses it (we stand corrected, this is creepier), while it supports a wide range of high-definition text-to-speech conversation dialects in more than 30 languages.
Recommended for you (article continues below)
The OS within the device brings about its communications using a conversational engine which is grounded on a cutting-edge computational prototype of tiered organized machines. This mechanism gives Furhat the capability to operate with both, inexpressive interactions and as well as very expressive ones, streamlining and conceptualizing multifaceted user demeanors when mandatory. This is what makes it smart, knowing when to speak and when to listen (unlike most humans).
This is one device where its makers state that they had no particular reason or purpose in mind when they created it. Though they recognize its implementation as an information hub to aid customers, provide comradeship, deliver training to personnel or maybe also teach a dialect. We see Furhat in action in TNG, a Sweden based recruitment agency, who has replaced its human interviewer with the AI robot, to perform test interviews. Furthermore, from this month onwards, it/she/he will be used to interview actual candidates for actual jobs, to eliminate the prejudices brought to the appointment process by human recruiters and interviewers. Furhat is working with the big guns, like Disney, Honda and Merck to find Furhat a place in their setups.
h/t: Design Boom