This shape-shifting robot transformer is actually a time clock
In this fast-paced unyielding world, MB&F and L'Epée 1839 are launching a creation that will slow down the world of its owner just a tad bit. This three-wheeled robotic looking clock is called the Grant. Along with its ability to tell time, this contraption also doubles as a toy that acts to bring tranquility to its owner's life.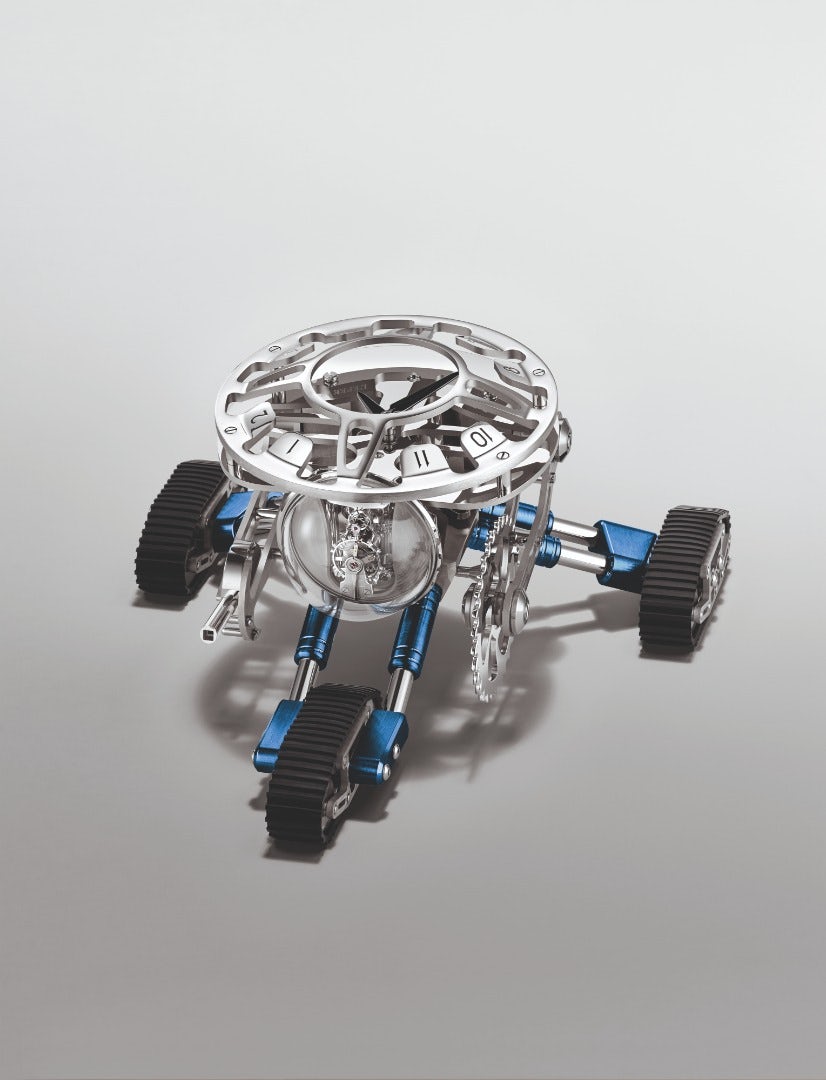 According to MB&F, the grant is a "Grendizer meets Mad Max meets Transformer", that is designed to slow down the seconds that keep slipping by. With an analog mechanical display on its rear end, the Grant gives its owner something soothing to look at while its clockwork rotates causing back and forth oscillations of the regulator along with the belly-button mainstream barrel, all of which is visible in plain sight. Furthermore, the clock consists of an hour and minute hand but no second's hand, putting emphasis on relaxing its owner.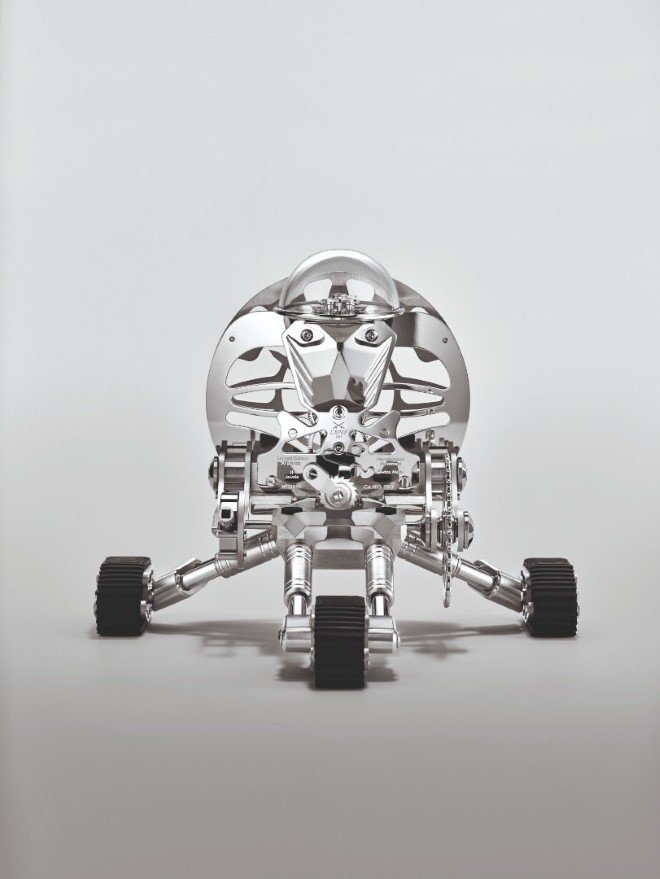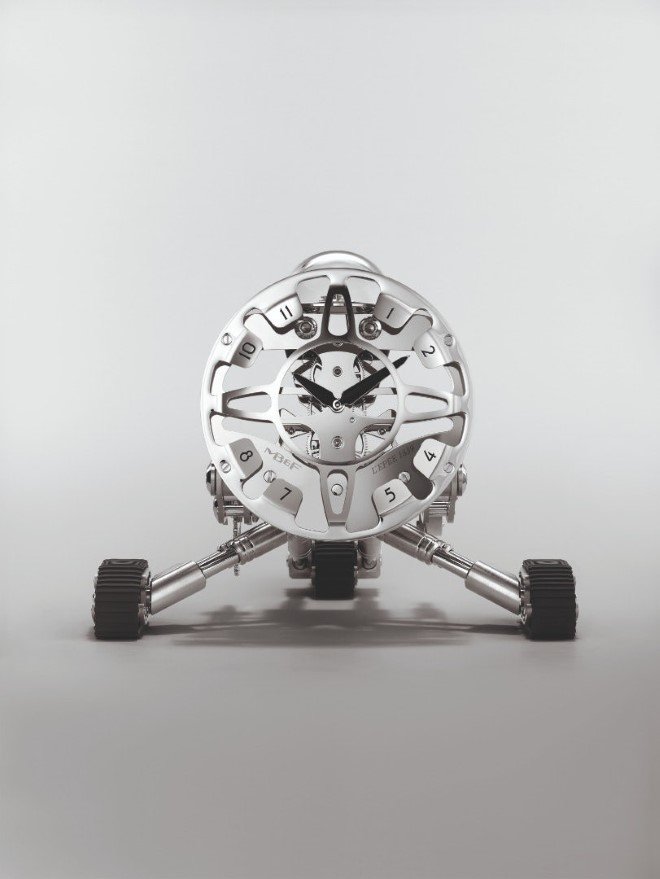 The metallic device contains a glass dome on its head that tells time, while the rest of its anatomy represents its toy-like abilities. With its rubber tank treads and its transformation abilities where it can change itself into three different forms, reveal a more fun aspect to it. Furthermore, its profile changes allow its owner to read time more easily, or unveil its face to the viewer. Once it changes shape to show its robotic facial features, you can also see its arms unravel to reveal a buzz saw in its left hand and a grenade launcher on the other one, which also plays the role of a winding key for the eight-day mechanism.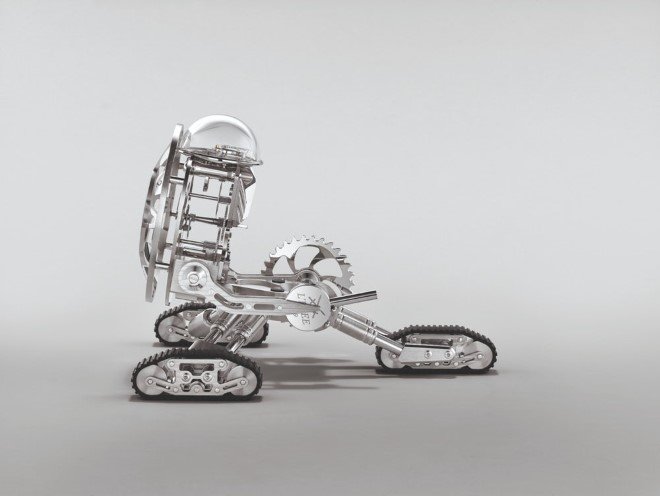 Recommended for you (article continues below)
In its robot form, the clock stands tallest at 166 mm (6.5 in). However, once it shifts back to its tank form, the clock is merely 115 mm tall (4.5 in) and weighs almost 2.34 kg (5.2 lb). Some of the materials used to create this device include 268 parts of stainless steel, nickel-plated brass and palladium-plated brass. The insides, created by L'Epée consist of 155-jewel, 2.5-Hz movement accompanied by an Incabloc shock protection mechanism. All components consist of hand-applied Geneva waves, Anglage polishing, sandblasting, circular and vertical graining as well as satin finishing!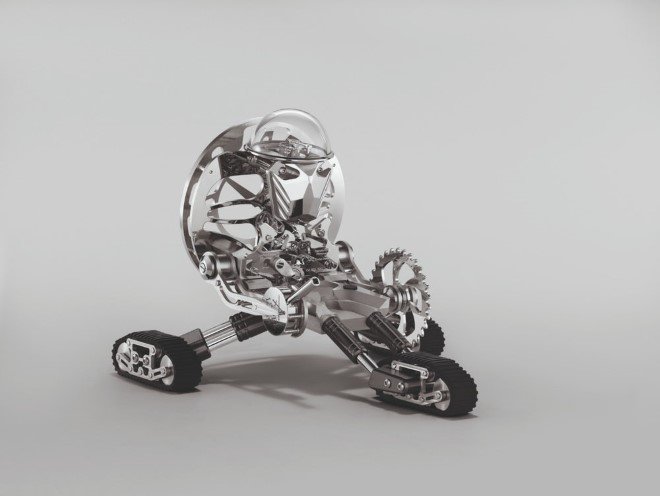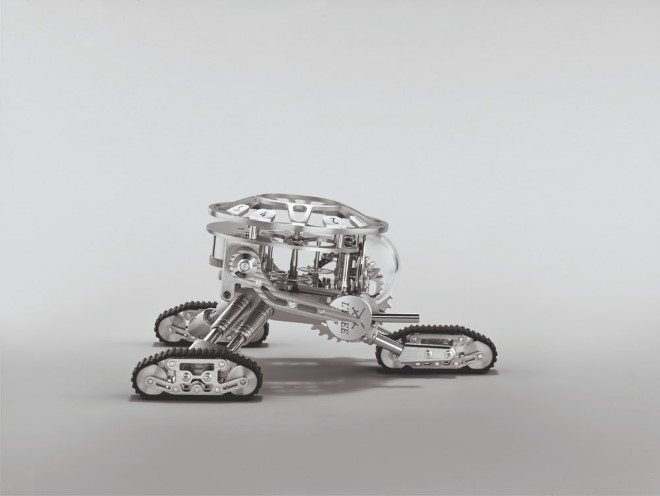 At CHF 22,200 (US$22,920), the Grant, named after British variation of the American M3 medium tank of World War II, does not come cheap. However, interested buyers can get this limited edition clock in three colors: Nickel, Black and Blue.
All Images: © MB&F
h/t: New Atlas